Thoughts on Every NBA Teams' First Weekend in Free Agency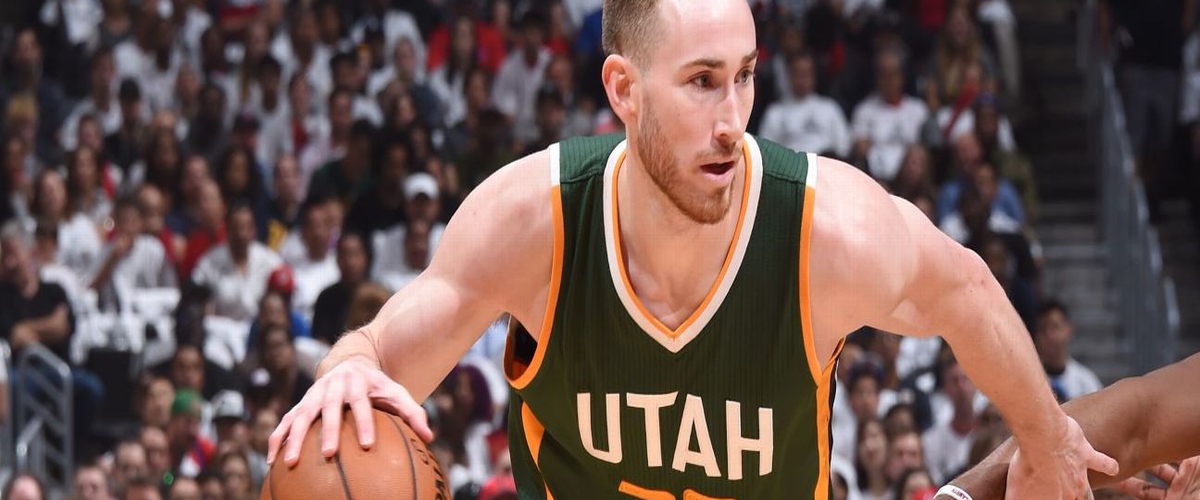 Gordan Hayward is the last All-Star caliber name on the free agent market after Paul Millsap agreed to a deal with the Denver Nuggets just a few minutes ago (maybe Derrick Rose?), so once the last domino falls on the 4th or the day after, a lot of stuff will start happening. Here is my take on what has already happened for each team.
ATLANTA
All the Hawks have really done so far is clean house, and the most recent move was waiving Mike Dunleavy. This team as constructed might make Orlando no longer the cellar team in the Southeast division.
BOSTON
Boston met with Hayward today, and it supposedly went well. They have waived C Tyler Zeller to create cap space, and are now just waiting it out on Hayward's decision. Should he join or not, they still have a lot to do.
BROOKLYN
Brooklyn has a lot of players on the roster already, although none are spectacular by any means. You have to figure they are building around G D'Angelo Russell and, well, the draft pick in 2027. They are looking at making offers to restricted free agents similar to last season, the Otto Porter's and Kentavious Caldwell-Pope's of the world.
CHARLOTTE
Charlotte brought in backup PG Michael Carter-Williams, which wasn't a spectacular move, but wasn't a bad one either. They now have better depth at the point guard position, assuming rookie Malik Monk is a combo guard, and have a once-upon-a-time All-NBA center.
CHICAGO
They have let PG Rajon Rondo and SF Jimmy Butler go, are likely to let PF Nikola Mirotic walk, and probably are looking for a taker for Dwyane Wade. They did add Justin Holiday and bring back Cristiano Felicio, though.
CLEVELAND
With or without a GM, veterans will flock to LeBron James. Kyle Korver stayed, and they added PG Jose Calderon as well. Neither helps their defense, and I'm not sure if Calderon really helps at all, but the Cavs are handi-CAP-ped at the moment.
DALLAS
Dallas hasn't done anything yet, and have been surprisingly quiet outside of restructuring Dirk's contract. They need to bring back Nerlens Noel still, but that will happen within the week.
DENVER
Denver kind of pulled a magic trick of its' own with bringing in PF Paul Millsap, and that likely spells the end of Kenneth Faried and Danilo Gallinari in Denver. With Darrell Arthur and Trey Lyles also at PF, Denver doesn't really need any more bigs, so look for them to try and get a better small forward or a collection of assets for Faried.
DETROIT
Detroit is probably waiting to match the offer sheet given to KCP. They've signed G Langston Galloway, but I don't think even Pistons fans care about that move.
GOLDEN STATE
Kevin Durant is still a free agent "technically", but he'll be back after they officially sign Iguodala, Livingston and Curry. They also are bringing back David West. Now all they need is more ring chasers.
HOUSTON
The Chris Paul trade destroyed the depth of this team, but bringing back Nene and signing PJ Tucker helps with that. They have a top eight that can at least battle the Warriors, even if they do get swept like everybody.
INDIANA
Why that awful contract of Victor Oladipo? Are they trying to get more Hoosier fans attached to the Pacers? Domantas Sabonis would be good if they didn't already have Thaddeus Young, TJ Leaf and Al Jefferson fighting for minutes with him.
LA CLIPPERS
After they re-signed Blake Griffin and didn't pay JJ Redick $23 million, I'm actually starting to like how the Clippers look. Should they add a solid small forward like CJ Miles or even Gallinari, who they can afford now thanks to no longer having CP3, this team might be better by subtraction. Except that the rest of the conference got much better.
LA LAKERS
Surprise, the Lakers are interested in fading veteran players. So far, they haven't signed any of them, but I've seen Rondo and Dion Waiters.
MEMPHIS
They just signed SG Ben McLemore to a deal, and that will help them get younger at that position with both Tony Allen and Vince Carter being old, and free agents. They should bring Allen back, but having McLemore take some minutes isn't a bad move.
MIAMI
They are also waiting on Gordan Hayward to sign somewhere, and are likely to bring back James Johnson and Dion Waiters should they have the cap space for it.
MILWAUKEE
They re-signed Tony Snell, which took away all of their cap space. They put Greg Monroe on the trade block, though, so maybe they can find a taker to help free some more space up for positions of need.
MINNESOTA
This has been the most active team this off-season, starting with the Jimmy Butler trade. They then went out to get PG Jeff Teague, PF Taj Gibson, and traded away PG Ricky Rubio for a first round pick. This team should make the playoffs for once.
NEW ORLEANS
Overpaying Jrue Holiday might have completely cap-strung this team for creating wing depth. They have none. Sorry Solomon Hill and Jordan Crawford, the starters at the 2 & 3 for the last month or so in New Orleans. Haven't heard of them? Well, Hill makes $13 million a year, so you should.
NEW YORK
Nobody knows the direction of this franchise, but I'm hearing they are interested in George Hill. At least that wouldn't be a terrible move.
OKLAHOMA CITY
Trust me, I like Paul George as a player, but I don't know how this doesn't ultimately backfire on the Thunder. He's going to leave, and now he has a year to legally tamper Russell Westbrook into going to LA with him. He'll make them a top five team out West this season, and at least they didn't give up anything too valuable.
ORLANDO
Orlando still has yet to make a move in free agency, and I'm not sure we won't see anything more than bargain bins and salary dumps from this franchise.
PHILADELPHIA
I was proud of the Clippers for not paying JJ Redick $23 million, but I'm also proud of the 76ers for signing JJ Redick to that salary. They are in different situations, and it's time they try and make the playoffs. Oh, and they added 12 minutes per game of F Amir Johnson.
PHOENIX
I don't know why they backed out of the Paul Millsap sweepstakes, but that would've probably pushed Phoenix into the playoff picture. This team has trade chips, and has the cap space to improve, but I don't know where they go from here. Maybe a trade foundation of TJ Warren and Brandan Knight for Kenneth Faried, Wilson Chandler and Jameer Nelson formed?
PORTLAND
This team has plenty of guaranteed contracts, but will likely still try and find some bargain players to help keep them alive after the rest of the conference got better.
SACRAMENTO
I don't like the idea of Otto Porter having a max deal, but that's probably the only way the Kings can get him from the Wizards. Then again, is getting him for that money really the right play for the Kings? I mean, they've actually been behaving like a franchise with a goal in mind.
SAN ANTONIO
They brought back Patty Mills, are trying to bring back Jonathan Simmons, and still have yet to add that star they wanted to. They won't get Hayward, so now you look at Rudy Gay and Derrick Rose being the biggest names out there that could be fits for the Spurs.
TORONTO
They re-signed Lowry and Ibaka, and while they are not done improving (since that's just the same team now), they at least can become the fifth guaranteed playoff team in the East.
UTAH
They brought back SF Joe Ingles for a steep price, and now they have their chance to convince Hayward to stay tomorrow. That will truly effect the trajectory of this franchise.
WASHINGTON
I wouldn't pay Porter that money, I'd pay three different role players fractions of that money to try and build a semblance of a bench. Jodie Meeks and Tim Frazier are upgrades over whoever they had, though, but that doesn't say much.
---