Injuries continue to haunt teams around the Association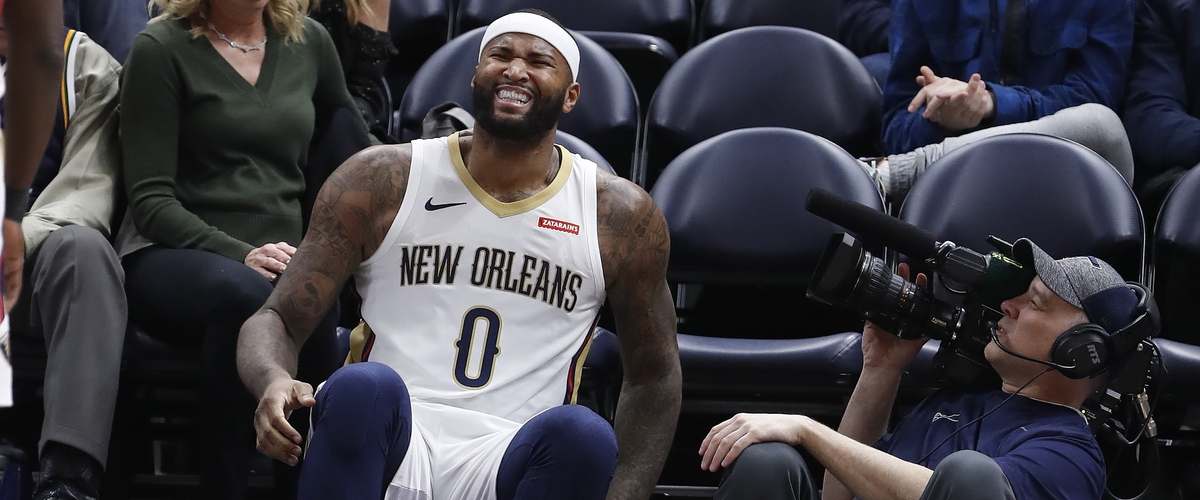 We are nearing the All-Star break of the NBA Season and there are a number of teams breathing a huge sigh of relief. The injury bug is biting everyone from contenders to the rebuilding. As of late the Basketball Gods have been harsh on the league.
(01/26): Last Friday New Orleans Pelicans bigman Demarcus Cousins ruptured his Achilles against the Rockets and was listed out for the season. He was playing the best basketball of his career and was slated to join Team LeBron as an All-Star starter. Cousins was ready for his first ever playoff run, but will have to wait 8-10 months instead to resume basketball activities. Do the Pelicans resign him? 25.2 PTS, 12.9 REBS, & 1.6BPG is a stat line worthy of a resigning in my book.
01/27: Remember when Mike Conley signed the largest contract in the NBA of 5yrs/$153 million, well that was two years ago. Following this season Conley will earn $28,530,608 for playing 12 games. His left heel has a bone intrusion and the Memphis Grizzlies announced Conley will sit the remainder of the year. Memphis has struggled in his absence and will miss the playoffs without their floor general.
(01/28): Two days after Boogie's huge injury, OKC guard Andre Roberson had to be carted off the floor following a severe fall. He landed awkwardly, as his plant foot gave way trying to catch an alley-oop from Russell Westbrook. He is also done for the season leaving the Thunder without a two guard. A position they can never seem to find out following the James Harden trade. Billy Donovan can go with Rookie Terrance Ferguson, Alex Abrines, Jerami Grant is an athletic defender similiar to Roberson, or seek a trade option? Interesting to see what happens there.
(01/30): The Team LeBron All-Star curse is unbelievable, and it continued as the Washington Wizards announced guard John Wall would be out 6-8 weeks on Tuesday. Wall had a hard time staying healthy this season and just doesn't look like himself. He showed flashbacks of playmaking ability this year, but his left knee will require arthroscopic surgery. Wall was often compared to fellow John Calipari guard Derrick Rose. Their explosive attacking play style woos early, but the damage in the future is the concern. Wall was named an All-Star reserve, but things are getting interesting in Washington, they have won three straight without him.
The Cleveland Cavaliers roller coaster of a season took a turbulent dip as All-Star Forward Kevin Love broke his left hand early in the 1st quarter versus the Pistons. Love has been a consistent option for the Cavs this season, despite the teams decline in a month of January to forget. The hand will not require surgery, but he will spend the next 2 months treating it. Cleveland is currently the third seed in the East and will host a hot Houston Rockets team Saturday night. Love will most likely return in early April.
(01/31): In a nationally televised contest between the Suns and Mavs Wednesday night, guard Isaiah Canaan injured his left ankle in a gruesome landing. He had to be carted off the floor, as fans, players, and coaches in the Talking Stick Resort Arena looked on in disbelief.
Take a look at it for yourself, it is comparable to Gordon Hayward on opening night:
Canaan is done for the year and prayers for him, that was an unfortunate play.
(02/01): On Thursday night, reigning Rookie of the Year, Malcolm Brogdon went down in a non-contact injury against the Minnesota Timberwolves. He will be out 6-8 weeks with a partially torn quad. Brogdon was seen on crutches in the locker room and declined to speak to the media after the game.
The reaction of every Milwaukee Bucks fan can be summarized in this tweet:
That's right, in case you forgot, Jabari Parker had been sidelined for a whole year following his second ACL tear. He made his debut a night after Brogdon went down and didn't disappoint. Parker scored 12 points in 15 minutes, as the Bucks defeated the Knicks on a Giannis Antetokounmpo game-winner Friday night.
This season has been plagued by hurt players, how weird is it that both the No. 1 (Markelle Fultz) and No. 2 (Lonzo Ball) picks in the draft are banged up? The midpoint of February will serve as a much needed breather for all 30 teams. Even the best team in basketball, the Golden State Warriors who are 40-11 can't wait for Feb. 16-18. "It's painful obviously that our guys are mentally fried right now," Head coach Steve Kerr said following a win Friday versus the Kings. An exhausting 82 game season has definitely taken its toll on the league so far.
---