Early Candidates for NBA's Most Improved Award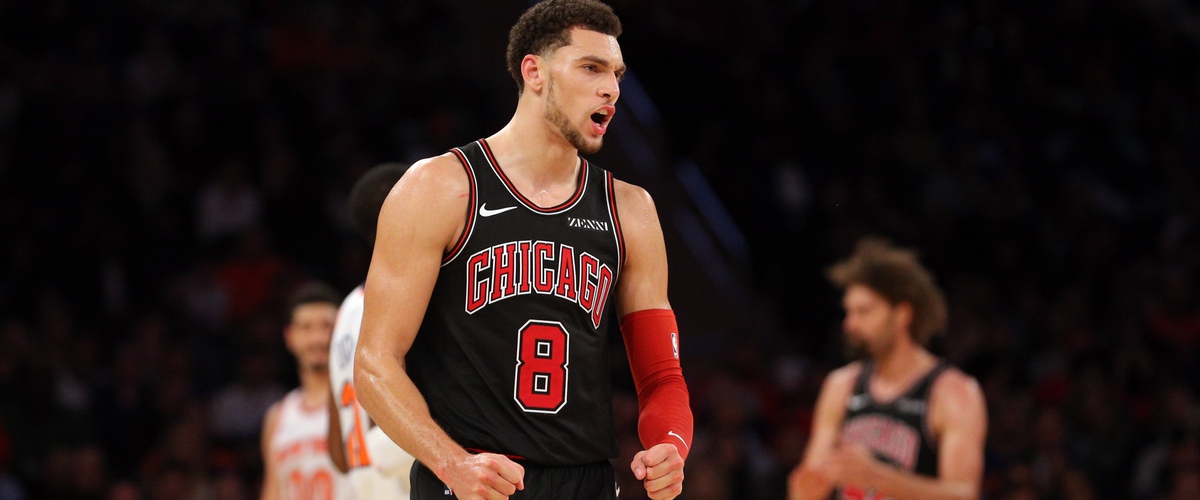 Player development is a vital aspect of the NBA today. Organizations are starting to put extra emphasis on each player they draft in June and how their play style translates to their respective system.
A team's culture plays a huge role on whether a prospect thrives or not. Young players need time to adjust to the speed and flat out skill level of the professional game. One sign that a player has honed his skills and is ready to be a franchise player is winning the NBA's Most Improved Award.
With that being said, let's dive into some players that have shown signs this early season they have finally hit their stride.
Zach Lavine, Guard, Chicago Bulls
The former slam dunk champion is showcasing why Sacramento offered him a four-year, $80M offer sheet this past Summer. He has been the best player for Fred Hoiberg's Bulls this season and has Minnesota regretting that Jimmy Butler deal bucket after bucket. The 23-year-old Lavine is averaging a career best in points (27.2), assists (3.9), and rebounds (5.2). Lavine dazzled the crowd at Madison Square Garden on Nov. 5 scoring a career best 41 points, leading his team to a 116-115 double overtime victory over the Knicks. He drilled the game winning freethrow with 0.2 seconds left in the contest.
His game looks well polished and he has added a solid mid-range jump-shot to his arsenal. At 6'5, Lavine also possess the ability to take his defender off the dribble and finish at the rim. It is great to see him still be able to play at a high level following his ACL injury just two seasons ago. We are witnessing the maturation of a player who has a bright future ahead of him. By the way he can still do this on a nightly basis:
Caris Levert, Guard/Forward, Brooklyn Nets
He was the talk of Brooklyn's training camp and won the starting job for Kenny Atkinson's squad. Levert has proven he is worthy of it, not only has he been a force on the offensive end, his 6-10 wingspan has made him a versatile defender. He is averaging a career best in points (19), rebounds (4.2), and assists (3.7). He has also made some huge clutch plays this year, including a game winning floater on Nov. 9 giving the Nets a 112-110 victory over the Denver Nuggets.
Levert looks comfortable on both ends of the floor and his numbers are translating that. Getting starter's minutes is a huge jump for some, but Levert has responded by playing the best basketball of his young career. Check out this sweet move on Eric Gordon from Nov. 2nd, when he scored a career-high 29 points versus Houston.
Pascal Siakim, Forward, Toronto Raptors
Toronto made arguably the biggest move of the off-season, acquiring Kawhi Leonard from San Antonio in a blockbuster, trading away Demar Derozan. The result, they sit atop the Eastern Conference with a league best 12-1 record. Siakim has played a huge role in the Raps early season success. Like Levert, he earned the starting nod and has been playing excellent basketball thus far. He has scored in double figures in 8 straight contests, including a career high 23 points versus the New York Knicks on an efficient 6/7 from the field on Nov. 10.
Siakam is proving to be a real two-way threat at the power forward position. Averaging a career high 13.3 points per game and 6.7 rebounds per game along with 2.1 assists, he has drawn comparisons to Warriors star Draymond Green. His ability to hustle and get gritty on defense combined with a slashing playmaking style to finish at the basket. Check out these drives and finishes, including a slam over Lebron James:
De'Aaron Fox, Guard, Sacramento Kings
General Manager Vlade Divac called his Kings squad a "super-team" during the off season and many laughed at his claim. They have responded by playing surprisingly solid basketball to start the season and are currently tied with the LA Lakers for the ninth seed out West with a record of 7-6. This all starts with second year general, De'Aaron Fox. He is cementing his stature as a top tier talent in this league. His breakout performance was on Nov. 1 against the Atlanta Hawks. Fox posted career-highs in points (31), rebounds (10) and assists (15) while recording his first career triple-double in the Kings' 146-115 win.
Fox broke a record set by Hall of Famer Magic Johnson, becoming the youngest player in NBA history to go for 30+ points, 10+ rebounds and 15+ assists. He is averaging a career best 17.7 points per game, 7.1 assists per game, and 4.5 rebounds per game so far this season. He has also refined his three point shot, shooting a career best 41% from beyond the arc. His quickness has been impressive and has played an essential role in his play-making ability. At the young age of 20, the sky is the limit for Swipa the Fox.
Josh Richardson, Guard/Forward, Miami Heat
Known as a tough nosed defender, Josh Richardson has become a go to player for Erik Spoelstra and the Miami Heat this season. Richardson was selected 40th by Miami in the 2015 NBA Draft. He played his way into the rotation and has improved significantly in his third year in Miami. The league has taken notice, his name was trending in numerous trade rumors involving Minnesota's Jimmy Butler. His game starts with defense, check out this great block in transition:
On the other side of the ball, Richardson has become a consistent scorer for the Heat and can get buckets in crunch time as well. He is currently averaging career bests in points (20.8), rebounds (4.0), and assists (3.5). On Nov. 3rd Richardson scored a career-high 32 points including six made threes in a 118-123 loss to Atlanta. Under the tutelage of Dwyane Wade, J-Rich has the makings of becoming another two-way star guard for fans in South Beach.
We are only 13 games into the season, but these players have earned the right to be in the Most Improved conversation. They are showcasing all the hard-work and dedication from the Summer has translated to the hardwood this Fall. Let's see if they can keep it up and continue to be game changers for their respective teams this regular season.
---