NFL Week 12 Sunday Picks: Fight For Final AFC Wild Card Spot Rages On
With the Thanksgiving feast behind us, the NFL turns another page in the season as we move closer and closer to the playoffs. Heading into Week 12, the AFC Wild Card race is a close jockey between five teams in the Ravens, Bengals, Colts, Dolphins, and Titans which makes every game matter that much more. This is the time of the season when teams get hot and make their playoff runs, so who has a shot at doing just that with a win this week? But first, let us take a look how our Week 11 picks shaped up as well as our Thanksgiving Day games...
Last Week: 9-4
Season Record: 101-57-2
This Week (So Far): 2-1
We have officially tallied 100-plus correct predictions on the regular season and have a winning record to start this week so far. Now let us move our attention to the Sunday matchups.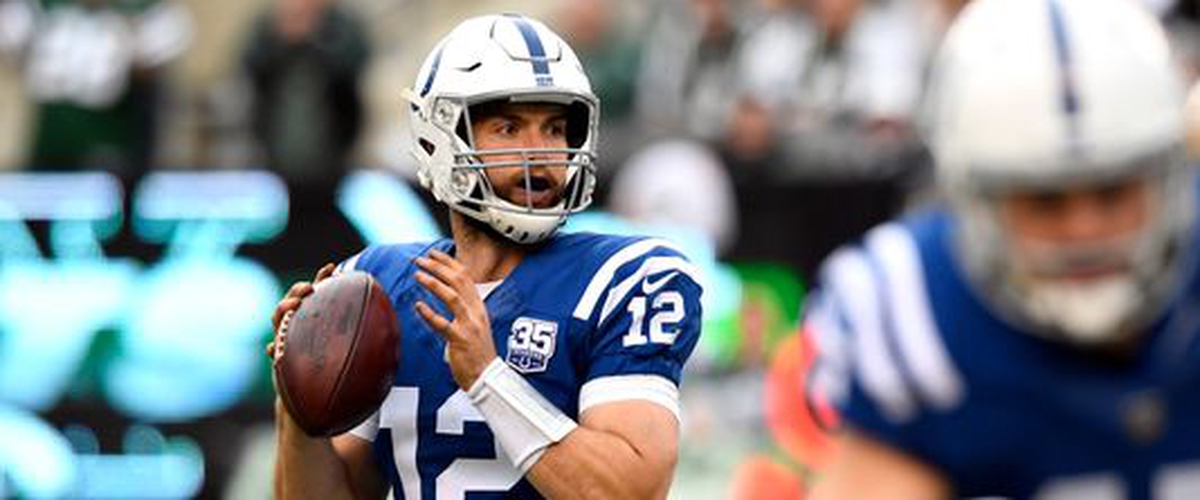 Week 12 Predictions:
Sunday Football
Jacksonville Jaguars (3-7) @ Buffalo Bills (3-7) 1:00 PM EST
One of these teams is essentially eliminated from playoff contention with a loss in this matchup as they both sit two games out of the final AFC Wild Card spot heading into the week. Nine wins could be enough to earn a playoff spot in the AFC this season, but in order for either team to get there they would have to run the table. The Bills are riding high after their blowout win with Matt Barkley against the Jets heading into the bye week while the Jaguars collapsed versus the Steelers last Sunday in tremendous fashion to lose a sixth straight game. This is going to probably be an ugly game to watch and I imagine that both defenses for these teams will put on a show or turn in a pitiful performance. If Blake Bortles makes minimal mistakes and the Jacksonville offense does not become one-dimensional when they are in control of the game, then the Jaguars will take this one. If they revert to the same type of play-calling that cost them the game in the fourth quarter last Sunday, then the Jags will be headed towards another loss in what has been a disappointing season. At this point, the Bills have nothing to lose this season and players are likely playing for their jobs next season. Josh Allen is back behind the helm too which is good news as they can continue to develop him as their hopeful quarterback of the future.
Bills 24, Jaguars 21
Cleveland Browns (3-6-1) @ Cincinnati Bengals (5-5) 1:00 PM EST
Cincinnati is a team that has been trending in the wrong direction for a few weeks now. Losers in four of their last five games, the Bengals are hoping to get some reprieve when they face the Browns at home. The Bengals have not been playing their best football on either side of the ball with a defense that has allowed 36.4 points per game while putting up just 20.6 points per game of their own during this five-game stretch. There seems to be nothing working for this offense, especially in the absence of receiver A.J. Green who did not practice this week but is listed as questionable for Sunday's game. Cleveland on the other hand is 0-4 in road games this year, losing by an average of six points a game, and with two of those road games have gone to overtime as well. The Browns got a huge performance from running back Nick Chubb before the bye week when the rookie rushed for 176 yards on the ground and a touchdown in a 28-16 win during Week 11. Up against a team like the Bengals who have been traveling in a downward spiral the last few weeks gives the Browns hope in a division matchup like this, especially if Andy Dalton is still without his top receiver. But Cleveland has yet to show any consistency this season in their performance to make me believe this is a week they can come away victorious.
Bengals 21, Browns 17
New England Patriots (7-3) @ New York Jets (3-7) 1:00 PM EST
Coming off a blowout loss to the Titans, the bye week could not have come at a better time for the Patriots who will look to run the table at the end of the regular season like they normally do and earn a bye week in the playoffs. Although Tom Brady has missed practice time with a knee injury and an illness, the five-time Super Bowl champion is obviously going to play in this game. The Jets seem to play the Patriots pretty tight at home with their last four matchups at MetLife being decided by seven points or fewer. New England is gearing up for three road games in the next four weeks coming off their bye and every game is crucial for them with the Chiefs and Steelers sitting ahead of them in the AFC standings. The Jets will basically just be playing spoiler given where they are standing at this point in the season and will have to do it with Josh McCown at quarterback with Sam Darnold still nursing his foot injury. After a lackluster performance by the defenses of both teams prior to their bye, one has to believe they want to come out in this one and redeem themselves which could make for a gritty, low-scoring division matchup. While many will question where the Patriots are at after their loss to the Titans, that game will likely be seen as just a blip on the radar after this game.
Patriots 27, Jets 20
New York Giants (3-7) @ Philadelphia Eagles (4-6) 1:00 PM EST
Although their last two games have been against the basement of the NFC, the Giants certainly have gotten some momentum built with this two-game win streak. Odell Beckham Jr. said New York would run the table and so far they are a quarter of the way there. Believe it or not, this team has a pretty good chance to win again this week against the division rival Eagles in Philadelphia. Having confidence in the Eagles offense is hard after being silence versus the Saints last week and playing from behind all game long versus the Cowboys the week before that. There just seems to be no consistency with this Super Bowl champion team and players are seeing accountability issues as well as the injuries piling up. A lack of accountability is a huge thing for a team to have and it shows signs of dysfunction in the locker room which can easily translate to the field like it seems to have done. While the Giants are far from perfect, they seem to be slowly building something and being just two games back in a wide open NFC East, this is their chance to emerge from the shadows and become relevant yet again in having an outside shot at the playoffs. If Eli Manning can limit the mistakes with the football and Saquon Barkley continues to do his thing, New York will be looking at a third straight win after a 1-7 start to the season. As much as I like Carson Wentz and the Eagles offense, they just have yet to turn in consistent performances that would make me believe that they will show up in this matchup.
Giants 28, Eagles 17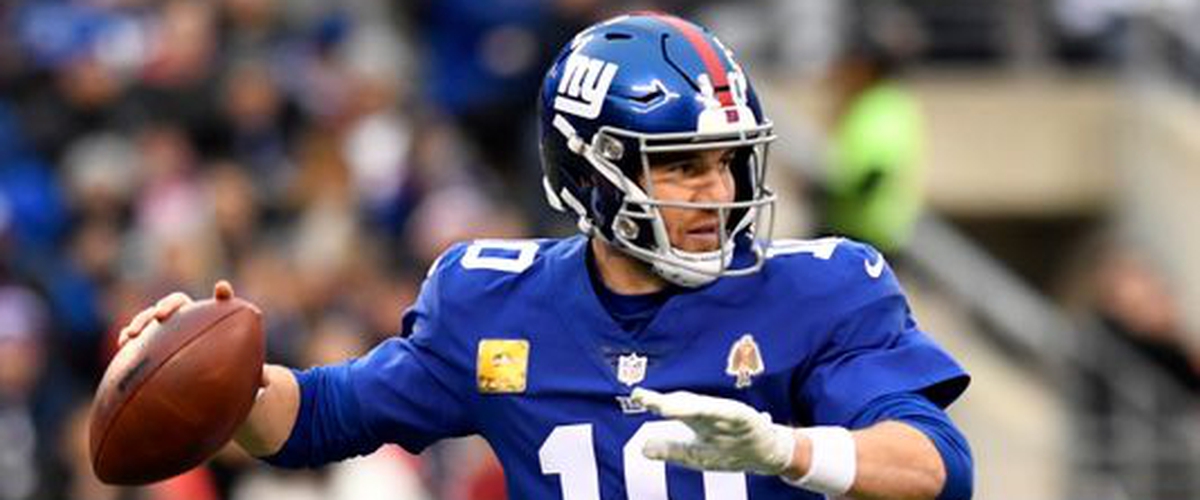 San Francisco 49ers (2-8) @ Tampa Bay Buccaneers (3-7) 1:00 PM EST
The quarterback carousel continues in Tampa Bay as it will be Jameis Winston earning the start against the Niners this week after coming in to relieve Ryan Fitzpatrick versus the Giants. Winston went 12-for-16 with 199 passing yards, two touchdowns, and a game-ending interception in the 38-35 loss. The 24-year-old needs to prove himself in these last six games to show the Buccaneers he was worth picking up the $20.9 million option he had for this season and can be the future for this team. Turnovers have been an issue for Winston his entire career with Tampa Bay and that is something the 49ers will look to force him to do this weekend. For San Francisco, they trot out Nick Mullens for a third straight game after two strong performances to start his NFL career. Mullens gave San Francisco a chance to win last weekend against the Giants despite throwing two interceptions and the Niners had a 23-20 lead with just over two minutes left before the defense collapsed and allowed the Giants to march down the field for a touchdown. I like how Mullens has performed since being thrust into this role on Thursday Night Football a couple of weeks ago and with the way Tampa Bay's defense is playing week after week, we could see a repeat of his debut performance this week. Jameis Winston will likely give the Niners 2-3 more drives via the turnover which I think Nick Mullens will use to his advantage. This is ultimately a battle for who will get the higher draft pick in April, the question is which team wants to lose more?
49ers 35, Buccaneers 24
Seattle Seahawks (5-5) @ Carolina Panthers (6-4) 1:00 PM EST
Back-to-back losses by the Panthers have them on the brink of elimination in the NFC South with the 10-1 Saints running away with the division. Carolina comes back home after a two-game road trip in which they were blown out by the Steelers and then handed the game away to the Lions last weekend. They are in danger of falling out of the playoff spot they currently hold and this week is a crucial home game for them against a Seattle team that is looking to sneak into the playoffs on the NFC side. This game is crucial for head-to-head tiebreaker if the final playoff spot came down to these two teams. The Seahawks have to be feeling good after a late rally to beat the Packers on Thursday Night Football last week and 10 days to prepare for the Panthers. Seattle lost two close games to the Rams and Chargers prior to their big prime time win and as long as they continue to utilize their run game to complement Russell Wilson the way they have, they will be a tough team to take out of the NFC playoff picture. While playing at home makes a huge difference for the Panthers considering they are 5-0 there, they just have not shown up in recent weeks. Cam Newton does not look as razor sharp as he did a few weeks ago and the offense has in turns been struggling this past few weeks. Look for them to start to get back on track versus Seattle although I think the Seahawks emerge victorious on the road.
Seahawks 24, Panthers 23
Oakland Raiders (2-8) @ Baltimore Ravens (5-5) 1:00 PM EST
This seems like a trap game for the Ravens even if it is at home. We have seen this team show up some weeks on both ends of the ball and then other times not show up at all. Lamar Jackson is the starting quarterback for this team with Joe Flacco battling a hip injury and performed well in his NFL debut. But is it really possible that Jackson can rush the ball another 20-plus times this weekend and not throw a single touchdown pass? Establishing the run is an important part of the offense in the NFL, but opposing defenses will pick up on a quarterback running it as frequently as Jackson does once tapes of his play are out there. He is definitely going to have to be more aerial this weekend and use his feet less. This is not college football where a quarterback can continuously run the ball in the manner he did last weekend. If we were not talking about them playing an Oakland Raiders team that has barely shown up to games this season and were gifted a win last Sunday, then maybe Baltimore would be in a little more trouble. But Oakland has yet to be competitive against a team that has not been at the bottom of the league in weeks, and they are not about to start now.
Ravens 21, Raiders 10
Arizona Cardinals (2-8) @ Los Angeles Chargers (7-3) 4:05 PM EST
Even though home games have felt like road games for this Chargers team during their time in Los Angeles, it is hard to imagine they lose this game after collapsing to Case Keenum last weekend at home. Both of Arizona's wins have come against teams at the bottom of the league and while they have been able to keep games close in recent weeks, the Cardinals simply do not have the offensive consistency to win against quality opponents. Do not get me wrong, Josh Rosen is developing and could very well be the future for this Arizona team at the quarterback position, but he is still a rookie and will continue to make mistakes. In seven starts this season, Rosen has thrown at least one pick in five of those starts and multiple picks in three of the seven starts. Los Angeles has a respectable defense even though they rank 16th against the pass this season and is sure to force the rookie to make some mistakes. Both teams are coming off heartbreaking losses last week, the only difference is one team is contending for a playoff spot and needs to prove they can bounce back from adversity right away.
Chargers 30, Cardinals 20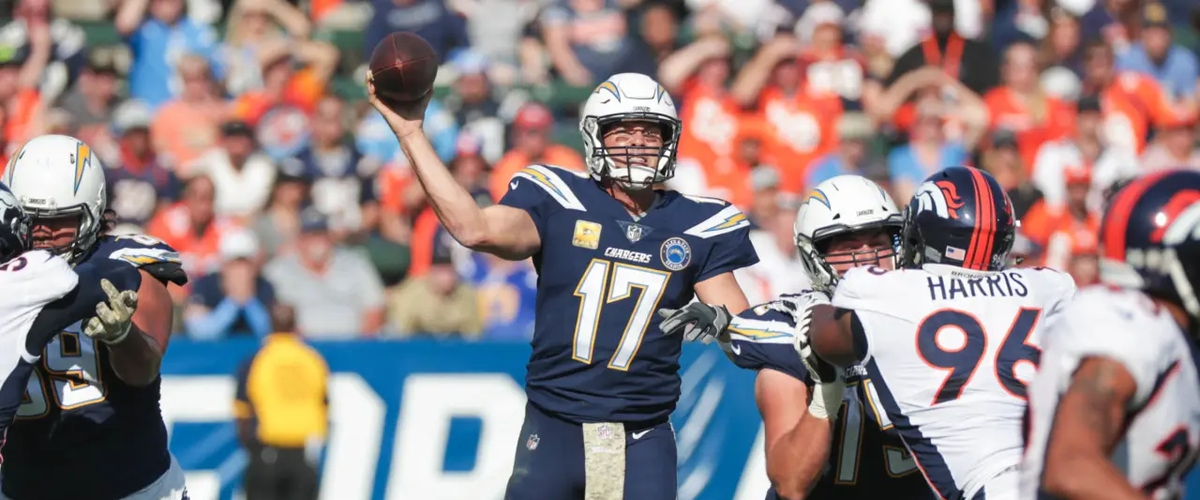 Pittsburgh Steelers (7-2-1) @ Denver Broncos (4-7) 4:25 PM EST
Believe it or not, I think this is a game that could get head coach Vance Joseph's job off the hot seat in Denver. Being able to beat quality opponents in back-to-back weeks would be a huge step forward for a team that has struggled mightily during his tenure. They gritted out a tough win against a Chargers team last week thanks to a great performance by the defense and a second half comeback led by Case Keenum who helped set up a game-winning field goal as time expired. Are things by any means perfect for the Broncos? No, but they can definitely prove they are trending towards improvement this week. Pittsburgh is coming off a comeback win of their own after trailing 16-0 towards the end of the third. Ben Roethlisberger had a tough time solving the defense of the Jaguars and perhaps the Broncos could give him similar troubles at Mile High Stadium this weekend. In his career, Roethlisberger is 2-4 in Denver and at a time when a win is crucial to keep control of a top seed in the AFC, righting those struggles is of utmost importance. I like the way the Steelers have been playing on offense and think their fourth-quarter comeback will give them momentum heading into this week. While Case Keenum has been a leader at times for the Broncos, he just has not done it on a consistent basis week in and week out.
Steelers 23, Broncos 14
Miami Dolphins (5-5) @ Indianapolis Colts (5-5) 4:25 PM EST
In my opinion, this matchup is one of the more underrated games on Sunday. Andrew Luck and Ryan Tannehill go head-to-head for the third time in their career since both being drafted in the first round of the 2012 NFL Draft. I think a lot of people forget the two thrilling matchups these quarterbacks had back in 2012 and 2013 that came down to the wire. Albeit the rosters were incredibly different back then, but these two guys balled out with both games being played in Indy which is the site of Sunday's game. Andrew Luck has been playing out of his mind for the Colts lately to help guide them on a four-game win streak and get them back into the AFC Wild Card picture and even still have a shot at the AFC North. Ryan Tannehill has missed his last five games with a shoulder injury, but he is definitely an improvement over Brock Osweiler for the Dolphins. This game gives one of these two teams an inside track on the AFC Wild Card race as the winner will move to 6-5 while the other drops to 5-6. Furthermore, if it came down to these two teams for a playoff spot after Week 17, the winner of this matchup would make the playoffs while the other sits at home come January. Head-to-head tiebreaker is on the line and in a tight playoff race, games against other playoff hopefuls are all that more crucial. I believe the return of Tannehill is what the Dolphins need to spark this offense on the road and if they gain the momentum early, I think they knock off the Colts coming out of their bye week.
Dolphins 28, Colts 24
Green Bay Packers (4-5-1) @ Minnesota Vikings (5-4-1) 8:20 PM EST
A loss in this prime time matchup delivers a huge blow to both teams and their hopes of making the playoffs. For the Packers, losing this road game puts them in a dire situation and could cost head coach Mike McCarthy's job at the end of the season. Losing for the Vikings would mean potentially falling out of their current playoff positioning and even further back in the NFC North which is led by the Bears. Green Bay's offense has been having issues for awhile now and the disconnect between Aaron Rodgers and Mike McCarthy is a part of the reason for this. Both of these guys need to be on the same page in order for this offense to run efficiently and get the team a win. The Packers are pretty mediocre when it comes to defense which is why it is imperative that they get their stuff together on offense to match other teams. After a three-game win streak, Minnesota has lost two of its last three games to potential playoff contenders in games that were not really as close as the score makes them out to be. These next two weeks are crucial for the team's playoff hopes considering they have a date with the Patriots in Foxborough next week. At the very least they need to split these two games in order to stay in the playoff hunt. Playing at home gives them a slight advantage as well considering the Packers are 0-5 on the road this season. This will be another gritty division game in the NFL this week, but home-field advantage definitely plays a role in the outcome of it.
Vikings 26, Packers 24
Monday Night Football
Tennessee Titans (5-5) @ Houston Texans (7-3) 8:15 PM EST
This would look like a much better matchup had Marcus Mariota not injured his hand last weekend versus the Colts. While he is likely to start on Monday, my confidence in his ability to show up this week is low. In just about one half of play last weekend, Mariota led one drive that ended in a score against the Colts and it was the drive he was injured on before the end of the half which was aided by a penalty to the defense putting the Titans in field goal range. Indianapolis has not exactly been known for their defense this season so to be held to three points by them in one half is a pretty big issue. Back in September, Tennessee took the first matchup between these two teams by a final score of 20-17, that was prior to the seven-game win streak the Texans embarked on. Now Houston has stormed to the top of the division, but a win by the Titans this week puts them right back in the discussion for the AFC North crown. By no means is this division battle over yet, but considering how effective DeShaun Watson has been at quarterback and how well the Houston defense has been playing, they are going to continue to be a tough matchup for their opponent each week.
Texans 20, Titans 10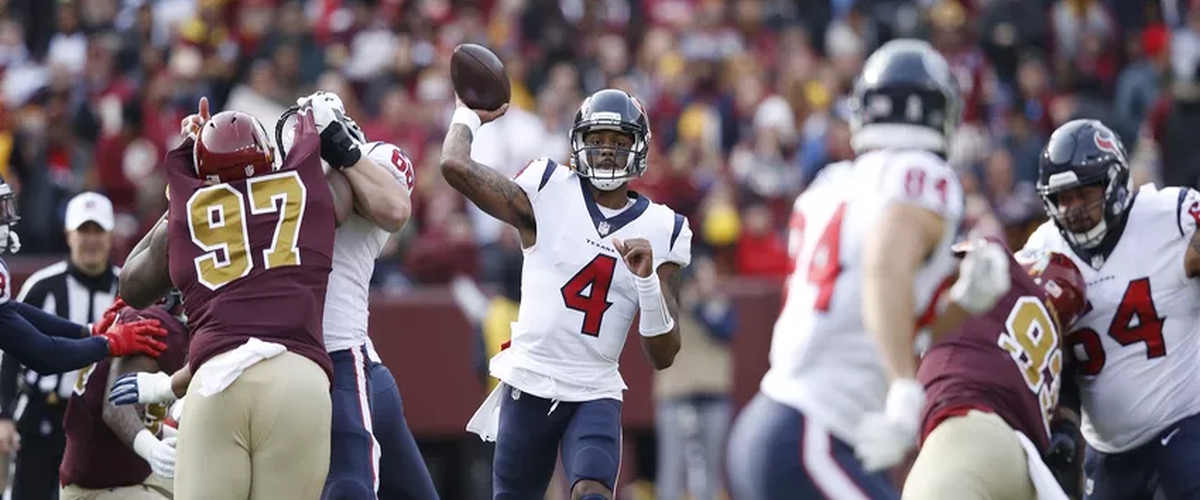 Questions or comments? Email [email protected] and follow @mtvhottakes on Facebook to know when new stories are posted.
---