NFL Week 8: As Second Quarter of Season Comes to Close, Playoff Picture Bears Watching
It is Week 8 of the NFL season which means for some teams they will be halfway through their 2018 season. It becomes the time of year when the playoff picture is something on the minds of everyone as they see where their team falls within the conference. Of course there is still plenty of football to be played, but the games become more urgent to win and this week boasts 14 games on the schedule with many of them potentially impacting the playoff hopes of some teams. Before we break it all down, let us see how MTV's Hot Takes did with last week's predictions:
Last Week: 10-4
Season Record: 64-41-2
Another win-filled week with only four incorrect picks for the second consecutive week. That brings us to a cumulative record of 21-8 over the last two weeks after an under .500 week at 7-8. Now the moment you have all been waiting for, the game picks for Week 8.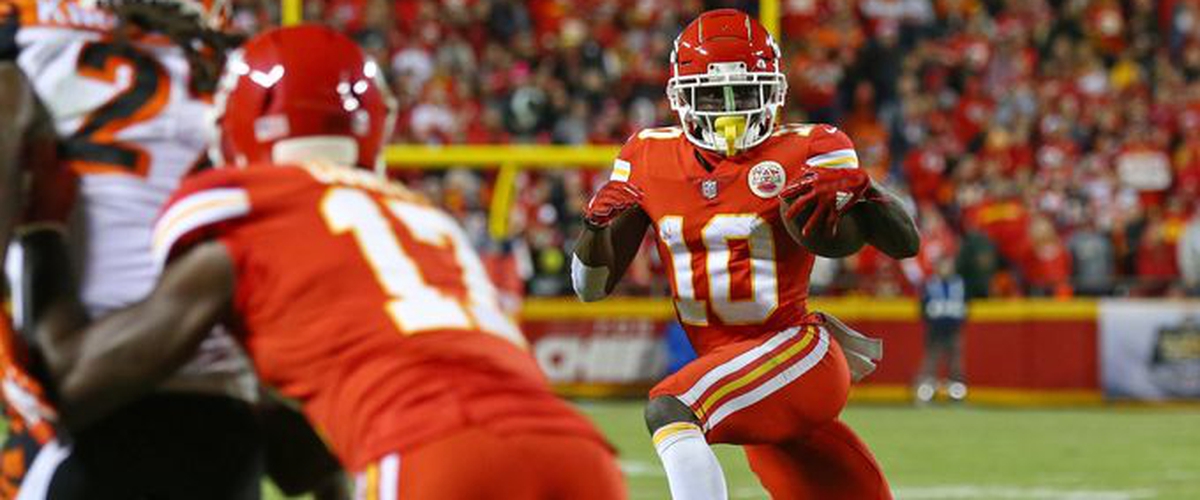 Week 8 Predictions
Thursday Night Football
Miami Dolphins (4-3) @ Houston Texans (4-3) 8:20 PM EST
The Texans have been riding high the past four weeks while the Dolphins have fumbled their way through them. After a 3-0 start, Miami has lost three of its last four games while Houston has rattled off four straight wins after losing their first four games. In recent years, the Dolphins have been terrible in prime time and if their defense plays anything like it did last week versus Detroit, DeShaun Watson is going to have a field day on them. Furthermore, the loss of Kenny Stills and Albert Wilson to injuries for this week's game further impacts the offense which will be manned by Brock Osweiler as Ryan Tannehill battles a shoulder injury. Osweiler has played well in the last two games in which he has filled in for Tannehill for. He has the ability to keep the Dolphins in this game, but with the receiving corps shredded with injuries and a suspect defense, Houston seems like a safe bet in this game.
Texans 28, Dolphins 17
Sunday Football
Philadelphia Eagles (3-4) @ Jacksonville Jaguars (3-4) 9:30 AM EST
Two teams who have significantly underachieved as the midway point of the year nears go head-to-head to see which team can underachieve slightly less than the other. The Super Bowl hangover has lingered for the Eagles so far this season, and they have shown no signs of getting out of it with inconsistent play which resulted in a 17-0 lead blown in the fourth quarter last Sunday against Carolina. Then you have the Super Bowl hopeful Jaguars who have followed up their breakout season with mediocrity. The once vaunted defense has been gashed apart for 121.9 rushing yards per game and has nothing working for them on offense. Blake Bortles has regressed back to his usual turnover form without a consistent run game due to Leonard Fournette's hamstring injury. Bortles lost his starting job in the second half in last week's loss against the Texans for Cody Kessler. Although he will start this week, Bortles will be on a short-leash as Jacksonville heads to London and tries to end its three-game losing streak. Unfortunately for the Jaguars, the Eagles have been just a little less inconsistent than them which is why Philly should come away with the victory.
Eagles 24, Jaguars 20
New York Jets (3-4) @ Chicago Bears (3-3) 1:00 PM EST
In the air or on the ground, Mitchell Trubisky has been a menace for the Chicago Bears the past three weeks. Even though he has turned the ball over which has cost his team the last two games, Trubisky is starting to look like the quarterback of the future of the Bears. This week he gets a matchup with the Jets defense that remained stout in both facets against the Vikings, but it was Sam Darnold's four turnovers that resulted in 13 points for the opposition last week in a 20-point loss to the Vikings. The Chicago defense has not proven to be very stout in the last two weeks and with Darnold's repertoire for turning the ball over, that could be all the Bears need to get some momentum on defense and turn it back to that top-five unit we saw earlier this year. A big part of the New York offense is running the ball with Isaiah Crowell, the run game for the Jets has produced six touchdowns in seven games this year. However, they will likely have to score in the air where Darnold makes most of his mistakes consider the Bears have not allowed a rushing touchdown to the opposition this year. Expect some mistakes from Darnold and look for Trubisky to get loose in the field, especially after his 81 yards of rushing last Sunday against the Patriots.
Bears 27, Jets 10
Tampa Bay Buccaneers (3-3) @ Cincinnati Bengals (4-3) 1:00 PM EST
Jameis Winston had another strong aerial game last weekend against the Browns with 365 passing yards, but turnovers continue to be an issue with the quarterback. Mistakes like this may not result in anything negative when playing a team like the Browns, but Cincinnati is a different team. The Bengals are coming off back-to-back losses to the Steelers and Chiefs in which the offense has not gotten much going in either of those contests. One could argue the offensive struggles date back to the game against Miami where the defensive scores essentially won them the game. Defense could potentially win them the game again this weekend as well given Winston's turnover troubles throughout his NFL career. No doubt it was pretty ugly for Cincy last weekend against the Chiefs, but KC has been steamrolling everybody with their offensive attack. The Bengals should rebound on defense and even if they get a mediocre performance from Andy Dalton and the rest of the offense, they should do just enough to come away with the win heading into their bye week.
Bengals 26, Buccaneers 21
Seattle Seahawks (3-3) @ Detroit Lions (3-3) 1:00 PM EST
This should be a matchup to watch this week and could quite possibly be an underrated one. The Lions have caught fire after a rough start to the season and the defense under head coach Matt Patricia has started to come together. Detroit has not been known for its run game, but the past two weeks it has produced three touchdowns and 346 rushing yards. While this was largely due to last week's 248 rushing yards by the offense, it still shows the Lions are gaining momentum in the run game. Even though this is a road game for the Seahawks, they have been playing much better on both sides of the ball and have won three of their last four games. In the last four games, they have has a running back record over 100 yards rushing and the defense has allowed just 16.5 points per game over the same stretch. Having a more balanced attack on offense has alleviated some pressure from Russell Wilson to make things happen in the air. As long as Seattle continues this trend, they should come away with the Week 8 victory coming out of their bye.
Seahawks 20, Lions 17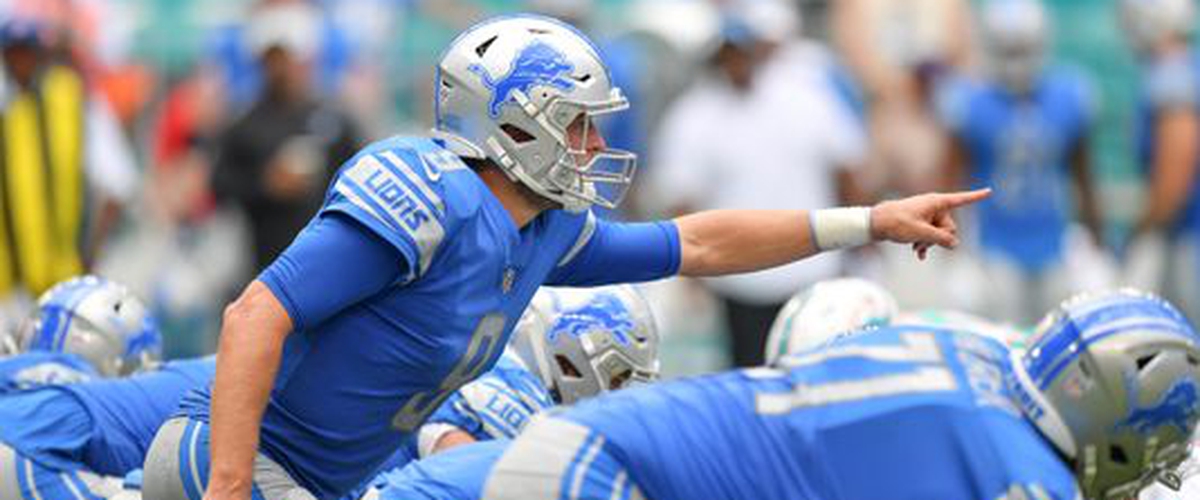 Denver Broncos (3-4) @ Kansas City Chiefs (6-1) 1:00 PM EST
This game has blowout written all over it. Sure, the Broncos won via the blowout last Thursday but it was against the Cardinals who are easily the worst team in football right now. There really is not much to say about this matchup as Denver seems doomed from the start. The Kansas City Chiefs are just too good on offense this year to be stopped and are averaging an insane 37.1 points per game this season which is best in the league by over three points. I know this is a division matchup and those usually tend to be tougher to win, but ask yourself if you can imagine Case Keenum matching the level of production Patrick Mahomes is bound to show in this game. Chances are you cannot do that which is why KC should take this one in fairly routine fashion on Sunday.
Chiefs 38, Broncos 17
Washington Redskins (4-2) @ New York Giants (1-6)
Surprisingly, I see this as a trap game for the Redskins as they head to MetLife and take on the Giants. New York may be 1-6, but they have lost four of those games by seven points or fewer. However, they also just traded away CB Eli Apple and DT Damon Harrison to the Saints and Lions which makes it seem like they are beginning to rebuild for the future. While the Giants purge the defense, they will have to prepare for Alex Smith and a fairly quiet Redskin offense. Smith has yet to top 300 passing yards in a single game this season and while Washington has their first win-loss streak of more than one this year, they are still playing Jekyll and Hyde. There is too much inconsistency in their offense from week to week that they are never a lock to win games they probably should win. On the bright side, the defense held the Panthers and Cowboys to 17 points a piece the last two weeks. It may just be up to them again if Washington wants to come away with a big victory against a division opponent.
Giants 23, Redskins 20
Cleveland Browns (2-4-1) @ Pittsburgh Steelers (3-2-1)
Will we have another tie game in the NFL this year? These two teams tied back in Week 1, but a lot has changed since then as Baker Mayfield is now the starter for Cleveland and Ben Roethlisberger is not carelessly turning the ball over on offense. Running back James Conner is looking better and better each week in the backfield with Le'Veon Bell still sitting at home losing millions of dollars in game checks. Conner has topped 100 rushing yards in three games this season and has seven rushing touchdowns so far this year. He is going to be hard for the Browns to stop, especially with Pittsburgh being at home this weekend. Cleveland has not won a game in Pittsburgh since Week 5 of 2003 when Tim Couch was their quarterback. Will Baker Mayfield end that 14-game losing streak? Probably not, but he will keep the Browns in the game for at least the first half until the Steelers pull away.
Steelers 28, Browns 14
Baltimore Ravens (4-3) @ Carolina Panthers (4-2) 1:00 PM EST
One can only wonder where the Ravens would be had Justin Tucker not missed the first PAT of his career last Sunday. But there is no time for Baltimore to wallow in their sorrows as they head to North Carolina to take on the Panthers. Momentum is high for Carolina after Cam Newton helped lead a 17-point deficit in the fourth quarter against the Eagles to get them a 21-17 victory on the road. The Ravens have a stout rushing defense that ranks 7th against the run, allowing 90.1 rushing yards per game. They were able to slow down the Saints last weekend, but as mentioned before Tucker's missed PAT may have cost them the game. Newton led the team in rushing last weekend with 49 rushing yards and look for him to go to the air for a majority of the game against the Baltimore defense. Running the ball could be very limited for both teams in this matchup, but the home team comes away victorious.
Panthers 27, Ravens 20
Indianapolis Colts (2-5) @ Oakland Raiders (1-5) 4:05 PM EST
The Colts looked good on offense last week, likely because they played the Bills and a matchup with Oakland this week bodes well to continue that trend. Andrew Luck has thrown 20 touchdown passes this season which is the 2nd-most in the NFL. But his team is 2-5 largely due to the fact the defense has been torn apart by injuries to key players. Oakland on the other hand has not shown anything on offense, scoring 20 or more points in just two of their games this season. That is not how you win football games which is why the Raiders are 1-5 after their bye week. While the Colts defense could provide Derek Carr and the offense with the opportunity to get more points on the board, it will be harder for them after trading their top receiver, Amari Cooper to the Cowboys. At the moment, it is hard to envision the Raiders winning another game until they show something on the offensive end of the ball which is why Luck and the Colts will leave Oakland with a two-game win streak.
Colts 30, Raiders 17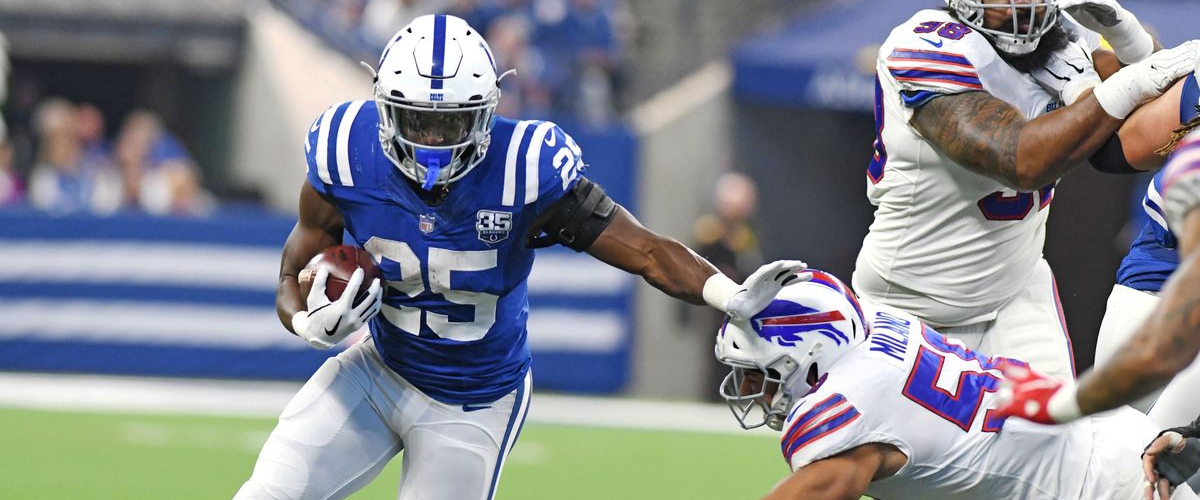 Green Bay Packers (3-2-1) @ Los Angeles Rams (7-0) 4:25 PM EST
This could be another good game to watch this week. As long as Aaron Rodgers is the quarterback for Green Bay, the Packers always have a chance to win against whatever team they are playing. That sentiment is no different for this matchup with the Rams who are the only undefeated team remaining in the NFL and have averaged 33.6 points per game. Nothing is stopping Jared Goff and Todd Gurley at the moment, the only thing the Packers can try to do is slow them down. If Rodgers wants to legitimately given his team a shot to knock off the Rams, controlling time of possession and keeping the Los Angeles offense off the field will be key. Doing that will at least raise the chances that the Packers can come away with a victory as long as they produce points, but we have seen how quickly the Rams can move the ball and score as well. This has the potential to be an offensive shootout between a veteran quarterback and a youngster making a name for himself in the league. But the 1972 Dolphins cannot pop the champagne quite yet on being the only NFL team to go undefeated.
Rams 35, Packers 28
San Francisco 49ers (1-6) @ Arizona Cardinals (1-6) 4:25 PM EST
Quite frankly, I am pretty sure the only people interested in this game are the fans of the two teams playing in it. There is nothing about this game that is remotely interesting except maybe the prospect of watching rookie quarterback Josh Rosen continuing to get a feel behind center. Other than that, this is going to be a downright ugly game for both teams which is why I am going to keep this section short. Both of these teams rank in the bottom third in points per game, but San Francisco has the 2nd-best rushing attack in the league with 137.4 rushing yards per game while Arizona ranks dead last in defending the rush. The Niners will likely exploit this weakness and run the ball down the Cardinals' throats en route to a victory.
49ers 17, Cardinals 7
New Orleans Saints (5-1) @ Minnesota Vikings (4-2-1) 8:20 PM EST
A rematch of the 2017 NFC Divisional Round in which a missed tackle by Marcus Williams allowed Stefon Diggs to go 61 yards for a game-winning touchdown. New year, new quarterback for the Vikings as Kirk Cousins in under center now. With Mark Ingram back, the Saints have shifted to a run-heavy offense considering they have Alvin Kamara and Ingram to complement each other in the backfield. If Kirk Cousins starts slinging the ball downfield, Drew Brees is likely to respond with an air show of his own which will turn this game into a shootout real fast. Just like last year, Minnesota is at home for this matchup, but their defense has been shaky at times. However, over the past three weeks they have started to come around and allowed 18.3 points per game. Losing CB Mike Hughes for the season and potentially CB Xavier Rhodes for some time are key losses to the secondary which will have to test out some young reserves. If this game is high in passing, then that gives Brees a big advantage.
Saints 35, Vikings 30
Monday Night Football
New England Patriots (5-2) @ Buffalo Bills (2-5) 8:15 PM EST
Blowout alert! Blowout alert! This is yet another game that is likely to end in total disaster for one team and that team is the Buffalo Bills. The defense has been porous at times this year and last week was an example as they allowed 37 points to the Colts. Additionally, having Derek Anderson is not exactly ideal if you are trying to jump start an offense and Anderson proved that last weekend when he threw three interceptions against a decimated defense. Tom Brady and the Patriots went to town on the Bears after some early game struggles and won 38-31 as Brady threw three touchdown passes and one interception. New England's defense is ranked in the bottom third of the league overall with a run defense ranked 21st and passing defense ranked 25th. If it were not Derek Anderson behind center, this would be reason to give Buffalo a chance to win this one in upset fashion against a division rival. Unfortunately for the Bills he is their quarterback, and they are facing Tom Brady, need I say more?
Patriots 31, Bills 3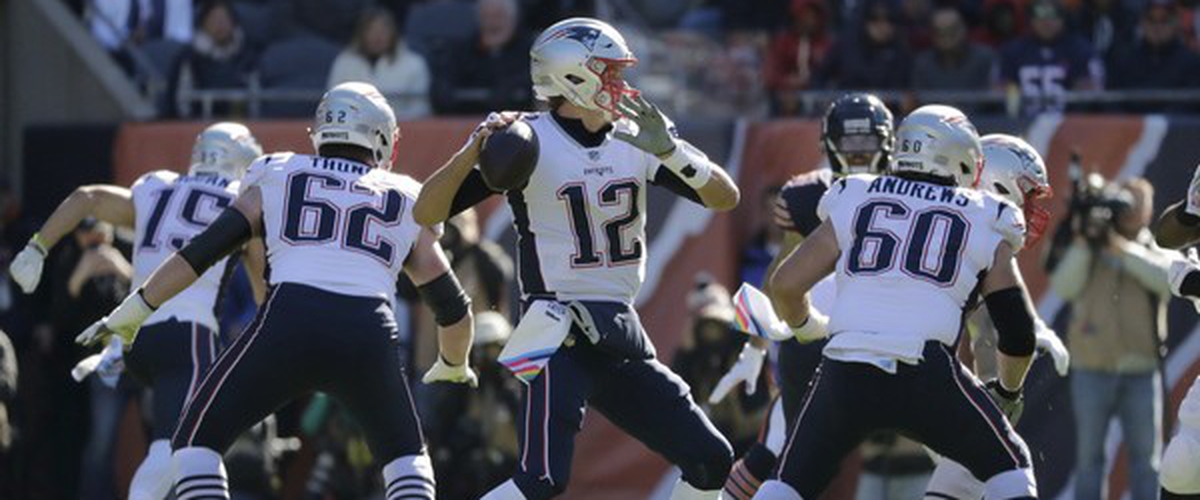 Questions or comments? Email [email protected] and follow @mtvhottakes on Instagram and Facebook to know when new stories are posted.
---