Christmas Wish List for Every MLB Team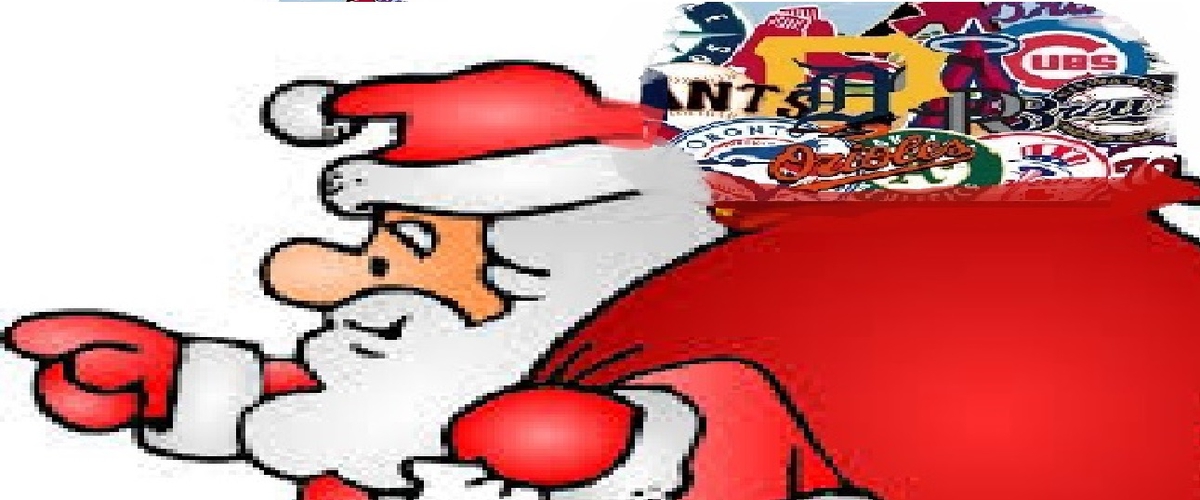 Largely because every team would feasibly love to have Bryce Harper and Manny Machado both players have essentially be left of this list.
Baltimore Orioles:
The removal of Chris Davis' deal, or at least a portion, at the time of the move it looked like Davis was well on his way to being one of the better power forces in the majors, and now we are here. Perhaps the only easier paycheck in baseball is Bobby Bonilla's annual grab. While they likely wouldn't be able to bring back Machado even with Davis off the books they could atleast field a serviceable squad. For the Orioles ole' Saint Nick would truly be a saint in the eye of Baltimore.
Boston Red Sox:
When your the World Champs everything seems good, they already brought back Nate Eovaldi, so there goes that one. We will go with a serviceable catcher, defense only goes so far to keep a catcher as a feasable option. While the primary duty of the catcher is defensivly, the Red Sox won it all last year with three back up catchers at best. They posted a combine -2.0 WAR. While Leon and Vasquez were solid defensivly, Blake Swihart was the top offensive catcher for the Red Sox posting a line of .229/.285/.328. Red Sox nation certianly doesn't need to see JT Realmuto to improve, Yasmani Grandal and Wilson Ramos are both on the market and would be an upgrade.
New York Yankees
Someone to man first base, can Bryce Harper play first base? Just kidding, the Yankees best option at the moment is Luke Voit, and this does not and should not thrill the fans in the Bronx. Voit showed potential posting a 1.9 WAR in 47 games, but if the Yankees are going to catch the Red Sox they are going to need to address this concern. There might be a potential for a platoon so adding a versatile guy such as a Marwin Gonzalez could be a nice fit. There are not an abundance of available first baseman on the market. If they do add someone it may come in the form of an unorthodox looking player like Mike Moustakas who has primarly manned 3B or Daniel Murphy who no longer appears to be an option at 2B.
Tampa Bay Rays
A power bat, they lost a 30 home run guy in CJ Cron to the Minnesota Twins, while Cron will plug nicely into the line-up in Minnesota, there is the risk of a power outage for a team who is already looking well behind multiple teams in their division, good news for them the Orioles and Jays are in their division. However, harsh reality no one seems to know that the Rays finished with 90 wins last season, and if they can find a creative way to replace Cron they could again be on the heels of the Red Sox and Yankees. Could LoMo be on his way back to Tampa, or do the Rays find another low key talent that fits their budget.
Toronto Blue Jays
The Jays need it to be 2015 again, what a time it was for them division champions, Joey Bats was at the top of his game, and there was power to go around. This team got old and injured, and on pace to fight the Orioles for the worst team in the AL East, maybe even the AL in general. However, not to be a pessimist here, the Blue Jays need for Christmas Vlad Jr. to be as much like his hype, and develop much like his father did. If Vlad Jr. is developing well he will become the key cornerstone for this franchise for sime time. Much is expect from him, and he is an early favorite for the AL Rookie of the Year award. While this won't be the Jays year they certainly could get a glimpse of the future this season.
Chicago White Sox
Somebody to buy into their vision. They have their hand in the race for Bryce Harper, and they are on pace to pay him more than they will likely net in ticket revenue. The White Sox have a promsing young core, maybe not as promising as the one the Cubs had, but Yoan Moncada, Omar Narvaez, Eloy Jimenez project to be part of the Sox long term future. However, they need a break, it may not be in the form of Bryce Harper, but they need someone to buy in. They need a solid veteran who will command this locker room and focus them on their future. Harper is a long shot, but Boras isn't afraid to send his clients to the highest bidder either. The White Sox have a lot of work to do, but landing atleast one big free agent this offseason points their rebuild in the right direction. A stocking stuffer would be for Moncada and Giglio to develop into serviceable players, they have had their hiccups so far, but are both full of potential.
Cleveland Indians
Outfield help, they need outfield help, far from being in major trouble in their division, the Indians could use one of their starting pitchers, quite possibly Corey Kluber to get themselve some help in the outfield. There are a number of potential trading spots, many analyst have circled the Cubs as a trade partner for their trio of young outfielders Schwarber, Almora, and Happ. While this is certainly a possiblity who knows what the Indians will be doing. Andrew McCutchen in my view would have been a nice fit, but some help in the outfield whether that is via free agency or trade could be on the way for the Tribe.
Detroit Tigers
Someone will give them a kings ransom for Nick Castellanos. While the Tigers certainly won't have any issues keeping him around they can net a boat load of talent for his services. He is their most valuable asset at the moment and it doesn't appear anyone will do them the favor to taking Miguel Cabrera off their hands for his final seasons. Detroit likely floats at the bottom of the AL Central this season, but at some point they deal Castellanos. Once Harper is off the market expect his stock to go up.
Kansas City Royals
Like their friends above from Detroit, Kansas City isn't going anywhere, but they could certainly improve the stock of their franchise if they are willing to part with Wit Merrifield. Teams around the league are salivating over the prospect of adding him and he will certainly add a couple nice pieces which could be opened as next year. Once again the gift of investment.
Minnesota Twins
All they want for Christmas is for Byron Buxton to be the player they have banked he would be. Sure there have been flashes, and his glove is looking good, but time for Buxton to put up or shut up, by shut up I mean the Twins can't rely on him anymore. Sure they can still plug him in the line up, but their future hinders on his success and the Twins need Buxton to be the premiere 5-tool type hype guy he's supposed to be. Even if the power isn't there they can at least hope for four tools. However, he's looking much more like Billy Hamilton than he is a potential Carlos Beltran.
Houston Astros
The Astros still have very few holes, they own one of the more impressive young cores in baseball, but Santa's on a budget this season, the Astros get Charlie Morton back. Morton has performed well for the Astros and he would help round out the rotation.
Los Angeles Angels
Mike Trout to sign an extension, the Halos want no part in a bidding war for Trout's services with the Phillies being rumored as the ideal destination the Angels will want to lock their young superstar up quickly. Once Bryce Harper signs the table is set for extension talks.
Oakland Athletics
Low cost starting pitching help, the A's are far from out of the discussion in the AL West pushing the envelope last season, but the A's will need to do what the A's do best and that is find a low cost option to finish out their roster.
Seattle Mariners
The Mariners get a lump of coal for their perpetual wasting of superstar talent they did it with Ichiro, and the same for Felix Hernandez who gave them nothing but loyalty and not once could they produce a winner. Now they are rebuilding again, and they appear no where inclinded to give Heranadez a chance of playing for a contender. Out the door already was promising closer Edwin Diaz, Jean Segura, and the overpaid Robinson Cano.
Texas Rangers
A third baseman for them would be nice, but even if they get someone to fill in I'm not sure how they replace Adrian Beltre's personality. Mike Moustakas could slot well as the replacement for Beltre. Beltre now on his way to the Hall of Fame leaves a Hall of Fame sized gap at the hot corner.
Atlanta Braves
A new starting catcher, sure they just brough back McCann, and Tyler Flowers currently is in that spot, but it still looks like their weakest position around the diamond. It's doubtful, but possible they can get in the JT Realmuto hunt, but plenty of options are still out there.
Miami Marlins
Begin to add more talent where it's possible, they lost some power when they traded Justin Bour and could be looking for an option there. Stocking stuffer, to deal JT Realmuto and get some immediate value. Realmuto doesn't want to be there may they can swing a deal with the Cubs and land Contreras and a young OF. Other rumored offers are coming fro the Mets and Yankees who are potentially offering Gary Sanchez.
New York Mets
Not be stupid this off-season, and this I certainly hope occurs they have two players at the age of 25 who posted a 3.0 or higher WAR in Brandon Nimmo and Michael Conforto, they have three pitchers with WAR's over 4.0, don't be stupid and deal them away. Rumors have them shopping Syndergaard and maybe dangling one of their OF's for JT Realmuto. If they need catching help go sign Grandal. Go get some help at first base. This team gets better if they keep their squad together and maybe add just for a hypothetical name Grandal and Logan Morrison. Don't be stupid NYM, you just added Diaz and a solid pen behind him. For Christmas don't be stupid.
Philadelphia Phillies
Some defense, my goodness, sure they get micro upgrade defensivly in Segura and McCutchen, but make not mistake neither are Gold Glovers at this point. Their offense has gotten better by adding McCutchen and Segura, but they lack a stable defensive player in most spots. There is still time, but they will have a hard time catching the Braves and maybe the Mets if they can't improve defensivly.
Washington Nationals
I would love to say Bryce Harper stays home, I think it's best for baseball to keep him in Washington, but we will have to see. For Christmas the Nationals an extension for Anthony Rendon who has arguably been their best player offensivly for the past three seasons. Rendon a star caliber player needs to be locked up.
Chicago Cubs
You can say sign Bryce Harper all you want, but what the Cubs need the most is for Kris Bryant to get healthy. If Bryant is healthy it makes up for a lot of their woes from last season offensivly. Not that David Bote didn't do a fine job in his place, he was no Kris Bryant. A healthy Bryant paired with Rizzo, Baez, and hopefully a rejuvinated Willson Contreras could be on path to tear up pitching with their faithful sidekick who may join the big ranks Kyle Schwarber. A stocking stuffer for the Cubs Yu Darvish stays healthy.
Cincinnati Reds
For the Reds it may be to not finish in last place, but I would say excellerate their rebuild. Scooter Gennett would make a nice trade piece, and if they could muster the courage maybe even Joey Votto. They can get soe nice pieces back for Gennett for a team which is still a few years at best away from contending.
Milwaukee Brewers
A cloning machine, this way they can clone both Christian Yelich and Josh Hader. Again, the Brewers may have few holes, but the more time these two are performing the more likely they are to win. For the Brewers this does not exist, and if it did the Packers would have first dibs on it in Wisconsin. So realistically, some starting pitching help, the Brewers one flaw last season was really they didn't have a guy in the rotation, maybe the can swing a trade or maybe they can sign someone, but the NL Central is a little more crowded this season and they may need some help.
Pittsburgh Pirates
For Jung Ho Kang to get healthy, for 2015-2016 Kang looked like everything that they Pirates hoped he would be, and injuries kicked in and he hasn't seen the firld since. Even to see him come back would be a nice step in the right direction.
St. Louis Cardinals
Christmas already came to St. Louis this year landing Paul Goldschmidt. St. Louis simply was greedy and opened their present early.
Arizona Diamondbacks
Unloading Zack Greinke's contract to restock their future. However, as a Cubs fan they get coal for dealing Paul Goldschmidt to the Cardinals, that's right I have some conections in the North Pole. Sorry D-Backs fans.
Colorado Rockies
Another bat to boost their solid line up. This could be the last year the Rockies are contenders in a few years with Arenado a pending free agent, so they have the pressure to maximize their success this season. Their rotation is staffed, and they simply need to find ways to win this season. If things go downhill early I know it may not be popular, but the Rockies may want to consider trading Arenado to get the ball rolling to the future and keep their contention window open.
Los Angeles Dodgers
To not be a three time World Series loser this season.
San Diego Padres
That their farm system starts bearing fruit for the big league club. Writers have them ranked number one, but it's only worth the title if they can produce. We have seen two clubs have recent success IE the Cubs and the Astros, but the Mariners are a perfecty example of how a good farm could go bad.
San Francisco Giants
Start looking for ways to get younger. They have a list of talented veterans who could land them a hefty haul, but something tells me they think they are still contenders. Maybe adding a big name will change this look, but if little changes over the next couple weeks they may want to start shopping some talent to prepare for the future as they already look well behind the Rockies and Dodgers.
---