Don't be So Quick to Label Kyle Schwarber Average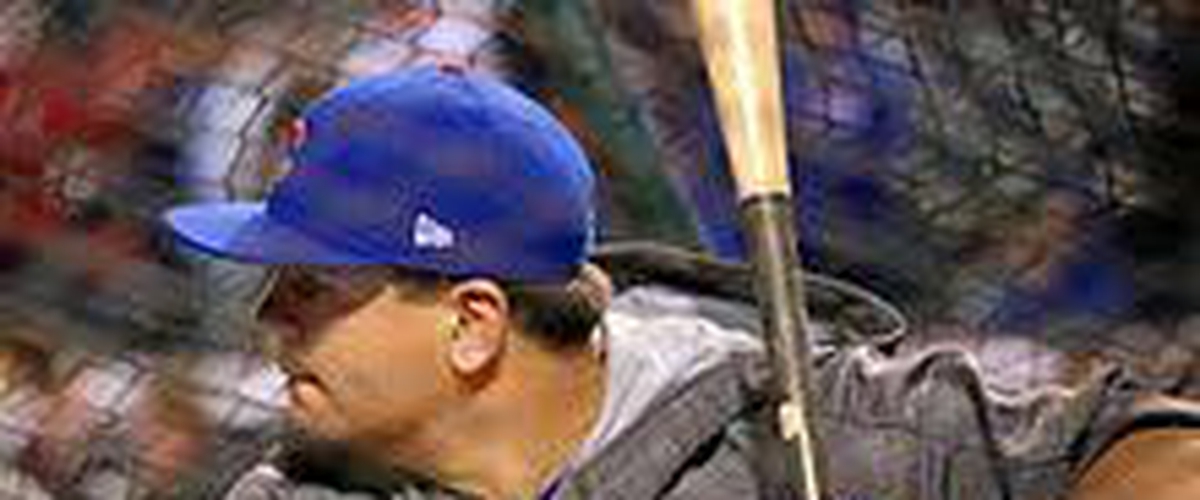 Recent reports have the Chicago Cubs unwiling to move Kyle Schwarber, and while fans may be looking on with their hands up, there is a rhyme and a reason for this. After two legendary post season runs the thermometer on Kyle Schwarber has cooled. While many expect Schwarber to headline the All-Star game or maybe even be in the American League by now the Chicago Cubs seem to have a far better grasp on their left fielder than most people seem to give him. Many have labeled him that he is what he is. We see the articles state Schwarber has plateaued. There are some on the extreme who has labeled the left fielder all a thunderous role player. While people can continue to pick at Schwarber's game, it does not appear his ticket out of Chicago will be punched any time soon. At the of 25, Kyle Schwarber's time with the Cubs seems far from over. If you simply tune out the Schwarber DH pundits and simply look at the numbers, Kyle Schwarber appears to be well on his way to becoming one of the games better left fielders.
Maybe Kyle Schwarber never becomes elite, but the Cubs don't need him to do so. If this is the future of Kyle Schwarber only a few adjustments to his game can propel the young left fielder back into the lore of Cubs fans and back into the All-Star caliber debate. Nonetheless, there are a few things we must look at.
Ignore 2017
The fact that Kyle Schwarber may have had an awful 2017 mind you this was his first full season, and one after an ACL injury. If you look at his track record it doesn't take a genius to see it was not indicative of his future, but people still seem to hold it against him. I present you exhibit A his OBP. Healthy seasons his OBP was north of .350, 2017, .315. In one season he double his WAR, and this was done with a slight drop in his power, but an increase in his overall value. There are countless examples of why 2017 should not be taken into account when assessing Kyle Schwarber fully.
Player Comparison's
For this next portion we are going to do a number of comparisons some ranging from last year and others from a span of his rookie year to now. First up 2015-2018
Player A has played 333 games since 2015. He has hit 38 home runs, 191 RBI's, with 44 steals. He owns a 7.0 WAR and a .359 OBP.
Player B has played in 346 games since 2015. He has hit 88 home runs, 187 RBI's. He owns a 5.7 WAR and a .317 OBP.
Player C has played in 337 games since 2015. He has hit 72 home runs, drove in 163 RBI's. He owns a 6.6 WAR and a .339 OBP.
Here we have three players who have played similar time, and hold a similar value by these numbers. Player A is Andrew Benintendi, Player B is Joey Gallo, and Player C is Kyle Schwarber. All three players at similar points in their career, and young. Benintendi highly regarded in Boston, and while he may be overshadowed by other players still well regarded. Gallo a big part of the future for Texas. While Kyle Schwarber is somewhat still brushed under the rug in recent times.
However, last year is what many are projecting to be what Schwarber is going to be, and what we can expect. NBC Sports Chicago covered some of this, but there is more to this story to be told. Many continue to chalk Schwarber up as a defensive liability, but he's primed himself into better shape.
Player A defensive value 7.5.
Player B defensive value 1.4.
Player C defensive value 3.2.
Player D defensive value 4.9.
Player E defensive value -0.4
Player F defensive value -17.4
Player's A, C, and D hold solid value in the field. Player A is Alex Gordon regarded as one of baseball's best defensive outfielders. Player B is Brett Gardner also a top defender. Player C is Corey Dickerson, Player D Kyle Schwarber, player E Benintendi, and plyaer F Rhys Hoskins. Kyle Schwarber quietly has shaped himself into a solid defensive outfielder, and if he continues to work on his game the Gold Glove prediction which he made last season may not be too far off. What set's his defensive game apart is not just his slimmed down improvements in the field, but he also has a great arm which has been used to mow down runners. Last season looks like a more promising projection for Schwarber, and provides a subtle jab to the commentators who continue to call Schwarber a DH only player.
Defense however, was only one of Schwarber's improvements, his offense begant to look more like the offensive numbers we expected from him. While Schwarber's power numbers took a slight drop, his overall game improved. In part time duty Schwarber had quite a season, while he was no where near NL MVP Christian Yelich, the separation between left fielders 2-10 is not overly wide. His 3.2 WAR ranked him 8th among eligible candidates, and when you take out the players who played primarily other locations, Schwarber ranks among the best LF in baseball. Last season Bryce Harper posted a 3.5 WAR, Schwarber posted a 3.2 and becomes clear why the Cubs may be hesitant to not only deal Schwarber, but go in big on Bryce Harper. Schwarber has gone from postseason legend, to an underrated talent.
Last season, the MLB Network Shredder ranked the top left fielders in baseball as:
1. Marcell Ozuna
2. Yoenis Cespedes
3. Justin Upton
4. Ryan Braun
5. Trey Mancini
6. Khris Davis
7. Adam Eaton
8. Andrew Benintendi
9. Marwin Gonzalez
10. Brett Gardner
Some MLB Network commentators placed Schwarber in their top 10, other names one could add to this list would be Nomar Mazara, maybe Adam Duvall of the Reds. Of these players listed only Andrew Benintendi, finshed better than Schwarber. Your top LF's in terms of WAR last season were Christian Yelich, Andrew Benintendi, Tommy Pham, David Peralta, Michael Brantley, Eddie Rosario, and Kyle Schwarber. Take that in to perspective and that Kyle Schwarber is technically only a "third year" player. Sure his hitting for average could improve, and it appears the Cubs think a change in voice will improve Schwarber and many other hitters. If Schwarber can simply bump his batting average up by .10-.15 points we are looking at a player knocking on the door of All-Star levels. Expect his power to be above 30 HR's again, and expect him more time in LF. This is a guy who has a .356 OBP, he is certainly a patient hitter, if his average goes up he's a dangerous player. While those around baseball continue to chalk him as a DH only guy, there seems to be an awfully high interest in a guy who is said to be one dimensional. While the papers will lie to you, the numbers do not. The Cubs have their guy, and unless an offer they can't refuse comes along, it looks like they have their LF of the future.
---