What Fresh Hell is this? Harold Baines a HOFer?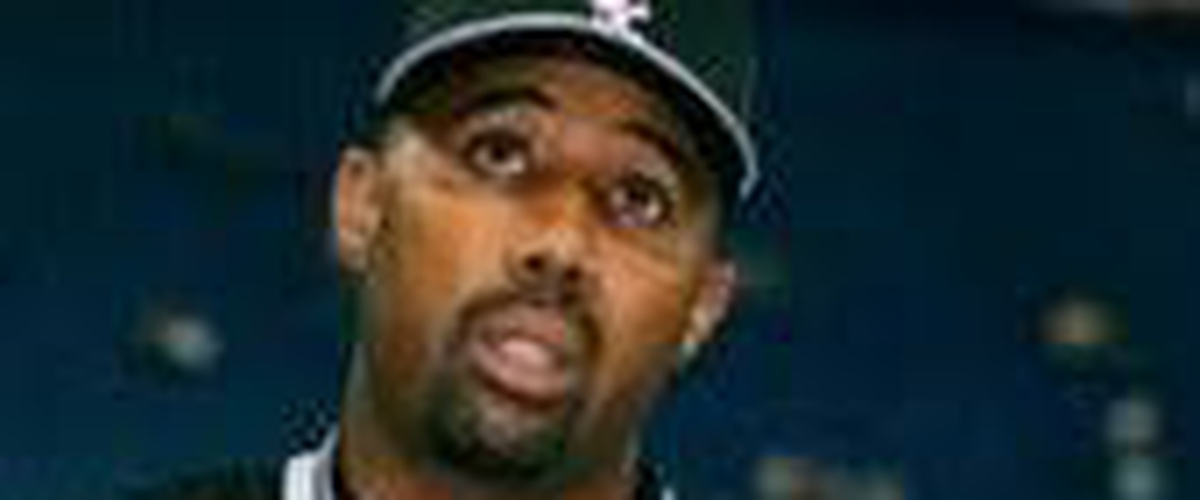 Minds are blown, and this writer is perplexed. How in the fresh hell did Harold Baines get into the Hall of Fame? This is not a post to bash Harold Baines who had a solid career, but it's called the Hall of Fame not the Hall of Really Goods. I would have loved to have seen the phone call between Baines and whoever made the announcement. Even Baines himself probably needed 10 minutes to ensure he was not being Punk'd. After searching around and not finding Ashton Kutcher, he must have realized this was the reality. In a vote that had to have been lead by White Sox fans and homer number one Hawk Harrelson, Harold Baines is on his way to Cooperstown. However, the list of more deserving players gets longer, and even with players getting a metrics boost with advanced analytics, this one makes no sense.
Again, Harold Baines was a really good baseball player, but so was Fred McGriff, Don Mattingly, Moises Alou, Tim Salmon, Magglio Ordonez, Kirk Gibson, JD Drew, Gary Sheffield, Reggis Smith, Dwight Evans, Brian Giles, Sammy Sosa, Barry Bonds, Roger Clemens, Mark McGwire, and lets not forget Larry Walker. Oh, and if Harold Baines gets in let's get this painful process over and put a Chicago White Sox who deserves to be in by his number, Shoeless Joe Jackson. Modern players with a higher career WAR include Jose Bautista, Mookie Betts, Jason Heyward, Shin-Soo Choo, Nelson Cruz, and you can only say with a straight face a handful of these talents are looking at Cooperstown. To add insult to injury, throw in Shawn Gree, Paul O'Neill, Brian Jordan, and Roger Maris to players who have had better careers than Baines. Again, nothing against Harold Baines, but he is not a Hall of Famer. If Harold Baines is a Hall of Famer then Kenny Lofton should be getting a call today.
JAWS for Right Fielders
Among those with higher JAWS than Harold Baines were many of those listed above. Harold Baines ranks 74th All-Time in JAWS among right fielders, but the average JAWS for a Hall of Fame right fielder is 57.8, Baines was 30.1, this does not add up. Sure there have been right fielders who have had lower JAWS than this get into the Hall of Fame, but you're going to make the argument that Baines is more deserving than Larry Walker who has a JAWS of 58.7 and was one of the best defensive RF's to play the game? Let's not even go as extreme as Larry Walker, Walker is a Hall of Famer, but how about Reggie Smith? Smith has a JAWS of 51.7. Smith has had more All-Star games, more votes towards MVP, and a better career in general. Reggie Smith has a Gold Glove, an OBP of .366 compared to Baines .356. Maybe it was Baines 70 more home runs which did him in. Smith accomplished what Baines did and then some in a 17-year career that it look Baines to do in 22. Smith had 10 seasons with a WAR over 4.0, Baines had 1. This is an outrage. Baines is not getting in base on his glove work his career dWAR was -19.5. There is nothing on his resume which signals a Hall of Famer. Baines held a .820 career OPS, Smith had a .855. Reggie Smith's 1977 season alone was better than most of Baines seasons combined.
Other Comparisons
Let's slide down the list further, Smith still a fringe Hall of Famer, let look at Jack Clark and Dave Parker. Nevermind, let's get a bit closer to his WAR bracket and take a look at another man named Reggie, Reggie Sanders, no one thinks Sanders was a Hall of Famer if we can all agree on this. Reggie Sanders was a solid baseball play much like Baines, but not a Hall of Famer.
Sure Baines may have more All-Star appearances, but there are far more numbers than the popularity contest we know as the All-Star game.
Sanders Career WAR: 39.8
Baines Career WAR: 38.7
Sanders Career OPS: .820
Baines Career OPS: .820
Sanders Career OBP: .346
Baines Career OBP: .356
Sanders Career HR: 305
Baines Career HR: 384
Sanders Career RBI: 983
Baines Career RBI: 1628
Sanders with WAR 3.0+: 6
Baines with WAR 3.0+: 2
Sanders dWAR: 1.8
Baines dWAR: -19.5
7 yr. Peak Years WAR Sanders: 26.7
7 yr. Peak Years WAR Baines: 21.4
On paper, these two had relatively similar careers. Sanders held a higher value in his 17-year career, and was a very consistent player if you take away 82' and 84' season there is nothing spectacular about his career. Sanders was clearly the better player, and his glove work at times was some of the best in baseball, the same cannot be said for Baines who at times was a liability.
Answers are Needed
Again, nothing against Harold Baines, but he's not a Hall of Famer. Maybe the voters thought it was his former teammate Tim Raines on the ballot again, but there is no reason why Harold Baines should have gotten into the Hall of Fame, among the White Sox alone there are more deserving talents to get in the Hall of Fame. Robin Ventura, Magglio Ordonez, Dick Allen, and Ray Durham could be argued to have better careers. The voting process only becomes cloudier, what continues to be the justification of keeping deserving players out of the Hall when players such as Baines does not even qualify as a fringe Hall of Famer gets in. This continues to be a puzzling trend with baseball. No one seems to know anymore who is a Hall of Famer. Even with the Steroid connection there is not a valid argument for Baines to be in and Bonds and Clemens do not. There is no argument for Baines to be in the Hall of Fame over Bill Dahlen, Lou Whitaker, Larry Walker, Bobby Grinch, Manny Ramirez, Willy Randolph, Reggie Smith, Dwight Evans, or Buddy Bell who have career WAR's twice that of Baines. This is an injustice, this is a mockery, and the Today's Game Committee needs to answer for this atrocity. On the ballot this year was Albert Belle, Joe Carter, Will Clark, Orel Hershiser, Davey Johnson, Charlie Manuel, Lou Piniella, and George Steinbrenner. Belle makes sense to leave off, he's linked to steroids, his numbers even on the juice were nowhere close to Hall quality. However, Baines over Joe Carter sure I get it, Carter outside of a nice 5-year window was relatively mediocre with a career 19.6 WAR. That's where the line ends though, Will Clark was a far better player than Baines ever was, he posted a 56.5 career WAR, he was a better hitter, and his offensive numbers overall trump those of Baines in nearly every significant category. There is no significant justification for Baines over Orel Hershiser either. Hershiser has a 56.3 career WAR with 204 career wins. Lou Piniella a fantastic manager, Steinbrenner as an owner, something doesn't add up at the end of the day. How does Baines get in when Fred McGriff, Larry Walker, and Gary Sheffield can't even get a look on the writer's ballot.
---