Enough is Enough it's Time for the Cubs to Get their Guy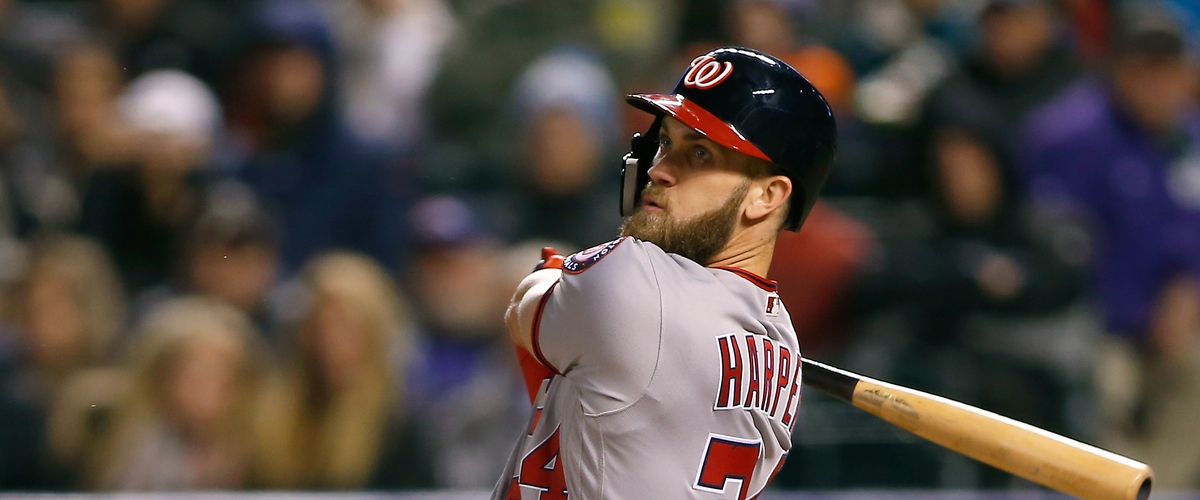 We have been hearing the rumors, and the links and ties, but it's time to stop playing coy. No longer can we watch and let this saga unfold, action must be done. The Cubs need to get their guy. We have seen the sidelines of a Bromance, the interested in the food, the countless flirtation. It's a relationship which everyone on the outside knows should be, but the two parties continue to sit idle at the concept. It's time to end this, it's time to lock him down, and it's time for the Cubs to sign Bryce Harper. I know there are a handful of Cubs fans who just rolled their eyes, and another who have proclaimed they don't need him, but everyone is wrong once in a while. While Theo Epstein didn't go full LeBron promising the next dynasty, winning is expected. That is what they have done since he has been here, but it's time for the next step to occur. With the rise of the Astros, the power of the Yanks, and the depth of the Red Sox, the Cubs need this move to happen. In the National League alone, they need to jump the hurdle, they have the Dodgers to get over, they have the Brewers to the north, the Phillies on the rise, and the Braves are coming. The Cardinals are pesky, and let's be frank, 95 wins are nice, but in the spirit of John Lackey that's only getting a haircut.
We can sit here and point to why this should happen, the constant dinner post of the Bryant and Harper families. We can point to the fact Bryant and Harper are the Vegas boys, childhood friends, but the bottom line is the Cubs need Harper. Sure the Cubs have been burned by big contracts. Jason Heyward has not lived up to his deal, playing good defense does not justify the deal, Yu Darvish has been hurt, and Chatwood has been awful. This one is different because Harper is a difference maker. Harper gives the Cubs options, and Harper makes them instantly the team to beat on paper in the National League.
It's not going to get easier for the Cubs, other teams have caught on, and other teams are getting better. The division alone features the Brewers, Cardinals, and the young improving Reds. It's not often a player of this caliber, at this age, hits the market. You can come up with all the reasons, you can say he hasn't met the hype, but this could mean a ring so get on with your life. One championship is not going to cut it, this fan base wants more. Bryce Harper is how the Cubs get there.
What does this mean if the Cubs sign Harper? It means every other team around them can make the moves they want, but the Cubs are now in the driver's seat. It means the Cubs have five perennial All-Star level talents on the offensive side of the ball in Harper, Bryant, Rizzo, Contreras, and Baez. Throw in Schwarber, Happ, Almora, and more this team is young and elite. Oh, and don't forget the other guys, but, Heyward, and Zobrist. Sure, they are in good shape without him, but being good in never an excuse not to get better.
So let's be real the Cubs likely don't keep Schwarber, Almora, and Happ if Harper is on board, but this only helps them elsewhere because each one of them alone hauls in a solid bullpen piece, which would be the last remaining hole. Harper makes this team better, and it goes beyond a lot of measurable. Adding Harper brings up hypotheticals such as, if Yu Darvish is healthy, this Cubs team is… Maybe this is the season Heyward returns form? Don't forget about Addison Russell as well.
However, forget the hypotheticals, here is a fact this line-up would be stacked, who do you pitch around?
1. Rizzo, 1b
2. Bryant, 3b
3. Harper, RF
4. Baez, SS
5. Contreras, C
6. Schwarber, LF
7. Heyward, CF
8. Pitcher, P
9. Zobrist, 2B
His presence makes this entire team better, and that's just having his name in the line-up card. Illusion aside, Harper can play, you're adding another 30 HR guy, a 100 RBI type guy, and he can do more than hit he can get on base as well. Rizzo's career OBP .369, Bryant .385, Harper .388. Just the top three alone bodes well for success. If you look at this line up only Baez and Heyward are guys you wouldn't call high OBP type of guys.
For those Cubs fans who want to claim they don't need him, his worst season is essentially Kyle Schwarber's best. This coming from a huge Kyle Schwarber fan. The pitching staff is going to love this offense, and did I forget to mention the Cubs have an elite rotation on top of this. Lester, Hendricks, Hamels, Darvish, and Quintana. Sure, you can same Hamels may not be the same dominant force he was, but he's still going to be solid. The only question is whether or not Yu can stay healthy.
Folks, 26 years old, a career 30.7 WAR, 184 HR's, 521 RBI's, .388 OBP, .900 OPS, need I go on. There will be few one run heart breaks, this team will be stacked. Mind you, this Cubs team will change very little to the core. This team won 95 games with Kris Bryant and Yu Darvish on the shelf for most of the year. You can say that they are broke and they can't afford to do this, but enough is enough, it's time to make the move. It's time to get their guy and it's time to make 2019 a phenomenal year of baseball.
---