Hamlin Wins at Richmond - Chase Field Set For Top 16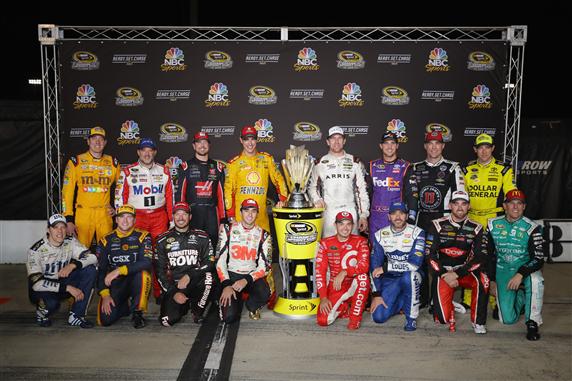 The top 16 Chase For The Sprint Cup Drivers pictured here
16 cautions. 1 red flag. Drivers running out of tires. And patience. The chase field is set after a wild night at Richmond International Raceway. The big story of the night is the contact between Ryan Newman and Tony Stewart. On lap 362 several drivers including Stewart, Newman, Brian Scott, David Ragan and Dylan Upton wrecked when the 14 thought he had the lane clear and came down the track and spun the 31 around, sending them both into eachother triggering a 8 car wreck, with David Ragan getting the brunt of the damage being hit from behind by Brian Scott and crashing into the 31 of Newman, shooting flames out the front of his #23 BK Racing Toyota
Newman had this to say after the race about the 14 and his driving skills, his retirement and Stewart taking him out of chase contention. (Stewart of course had his side of the story.)
Here is a look at the chase points reset after Richmond, with teams heading to Chicagoland next week.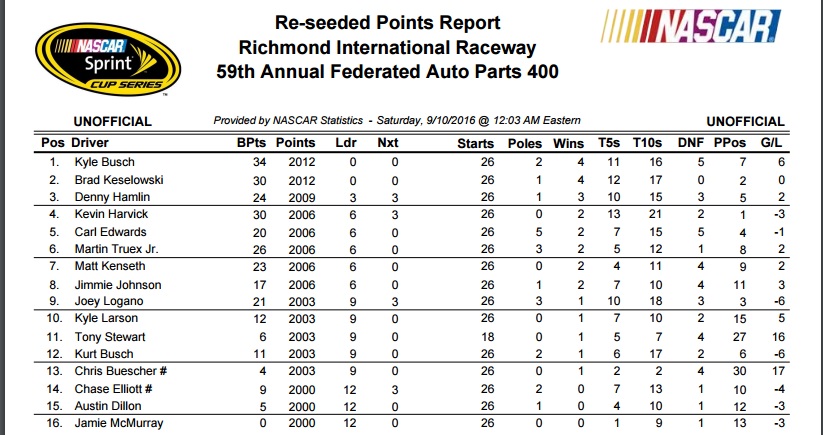 The 47 of AJ Allmendinger had his share of bad fortune during the race, first around lap 85 when he got loose and spun coming out of turn 4 and later in the race with 73 laps to go when he cut a left front tire.
Several speeding penalties were handed out on pit road, as well as several drivers having to serve penalties for uncontrolled tires, including Jimmie Johnson, Matt Kenseth, and Aric Almirola, with Harvick, Truex and Khane getting nailed for speeding. During green flag pit stops Ryan Newman had to get around other drivers and got blocked by the 11 of Denny Hamlin causing a slow pit stop for both cars.
Because of the high number of cautions (16, a new record at the track), teams had to pick and choose when they would come in for new tires or whether or not they would have to reuse tires taken off the car from the last pit stop. Stickers or Scuffs became the strategy on pit road after drivers started blowing out left fronts and right sides as well.
Four rookies are heading to the 2016 chase for the Sprint cup: 20 year old Chase Elliott, 23 year old Chris Buscher, 24 year old Kyle Larson and 21 year old Austin Dillon.
---