Jimmie Johson Wins Atlanta - Ties Dale Sr at 76 On All Time List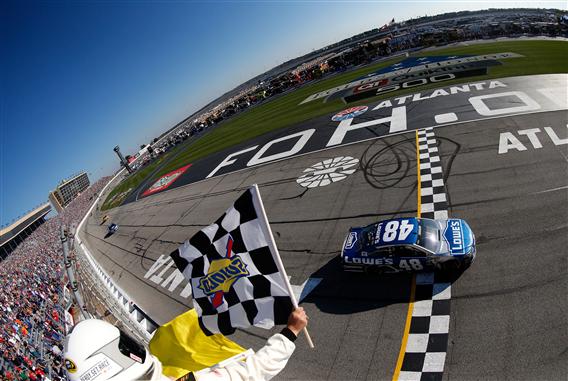 Jimmie Johnson takes the checkered flag under caution at Sunday's Folds Of Honor Quicktrip 500 at Atlanta Motor Speedway Credit: NASCARMedia.com
Jimmie Johnson made his way to victory lane in Sunday's Folds of Honor 500 race at Atlanta Motor Speedway, and as he took the checkered (under NASCAR's new overtime rule), he remembered that he had tied Dale Earnhardt Sr on the all-time wins list at 76. He held three fingers out the window on his backwards Alan Kulwicki lap to honor the intimidator himself.
"It's such an honor," Johnson said. "With the chaos at the end and the crash and wondering about overtime and how it worked these days, I kind of lost sight of that.
"I remembered it on my victory lap coming down, and I had to come by and throw a '3' out the window to pay my respects to the man. There's a huge void in my career that I never had a chance to race with him, but at least I was able to tie his record."
Dale Earnhardt Jr. ran second to his teammate, followed by Kyle Busch, who started 39th after his qualifying time was disallowed because the rear toe of his No. 18 Joe Gibbs Racing Toyota exceeded NASCAR's tolerances.
Pole sitter Kurt Busch was fourth, and Carl Edwards came home fifth.
Johnson's fifth victory at Atlanta probably wouldn't have occurred had crew chief Chad Knaus not made a strategic call that wrested control of the race from Kevin Harvick, whose dominant No. 4 Stewart-Haas Racing Chevrolet led a race-high 131 of the 330 laps.
Knaus brought the No. 48 Chevy to pit road for four tires and gas on Lap 276, nine laps before Harvick pitted from the lead. With the nine-lap advantage on fresh tires—not to mention issues with the left front tire that cost Harvick more than three seconds on pit road—Johnson was 13.631 seconds ahead of Harvick's No. 4 when the green-flag pit stop cycle was completed on Lap 287.
"Definitely a gutsy call," Johnson said. "It was just a great team effort. The No. 4 (Kevin Harvick) car was awfully tough and it was going to take some strategy to get by him. When he told me to whip it as hard as I could there (after the lap 276 pit stop), I just felt like I was going to take too much life out of the tires. But, it worked. And I got rolling around the top and got to where I got this Lowe's Chevy in Victory Lane."
---