Poole-Ing Resources: DC Solar Brings New Technology To Xfinity's Garage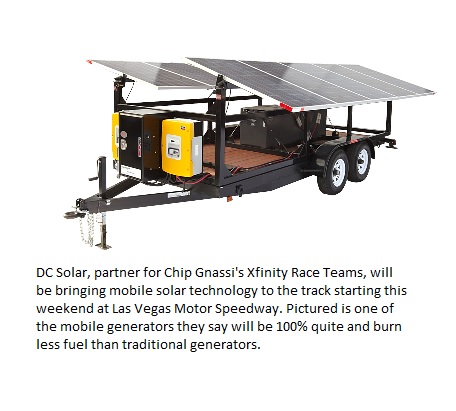 Photo Credit: DC Solar
LAS VEGAS -- Chip Ganassi Racing and team partner DC Solar announced Friday at Las Vegas Motor Speedway that they're bringing mobile solar technology to the race track, starting with this weekend's NASCAR XFINITY Series Boyd Gaming 300 (Saturday, 4 p.m. ET, FS1, PRN, SiriusXM NASCAR Radio).
DC Solar President and CEO Jeff Carpoff came up with the idea after standing on Daytona International Speedway's pit road for the season-opener race with Brennan Poole, driver of the No. 48 Chevrolet, and wasn't able to keep conversation with Poole over the roar of generators and wave of fumes on pit road.
"We were able to find a solution to that by using our patented solar hybrid system," Carpoff said. "We'll be the first ones on pit road with a solar-powered cool-down box generator unit, 100 percent silent, no fumes, no fuel."
DC Solar has constructed the technology in less than two weeks for this Saturday's event. The solar power can also be used at night.
It was announced before the 2016 season began that DC Solar would be the primary sponsor of the No. 48 XFINITY Series Chevrolet.
"The real rubber-hits-the-road for us as a team when we can take the expertise of our partners and help us get better," Steve Lauletta, President of Chip Ganassi Racing said. "Just being able to have Jeff and his team think of this opportunity helps the team get greater, helps us get more innovative, which is what our team is all about."
Poole, 24, voiced the importance for more green initiatives in today's world and how the younger generation is putting forth effort to do so.
"I think there's so many young people that are looking for a way to be greener," Poole said. "You even hear the talks at the Oscars from a week ago about the environment and protecting it and it's becoming an issue that younger people really want to be apart of, so I think it's really awesome for our sport to show the strides that we're making to make it greener."
Poole, who is competing for Sunoco Rookie of the Year honors, drove a part-time schedule last season with two top-10 finishes in 17 starts.
---