NASCAR: The "Cactus King" Closes The Deal at Phoenix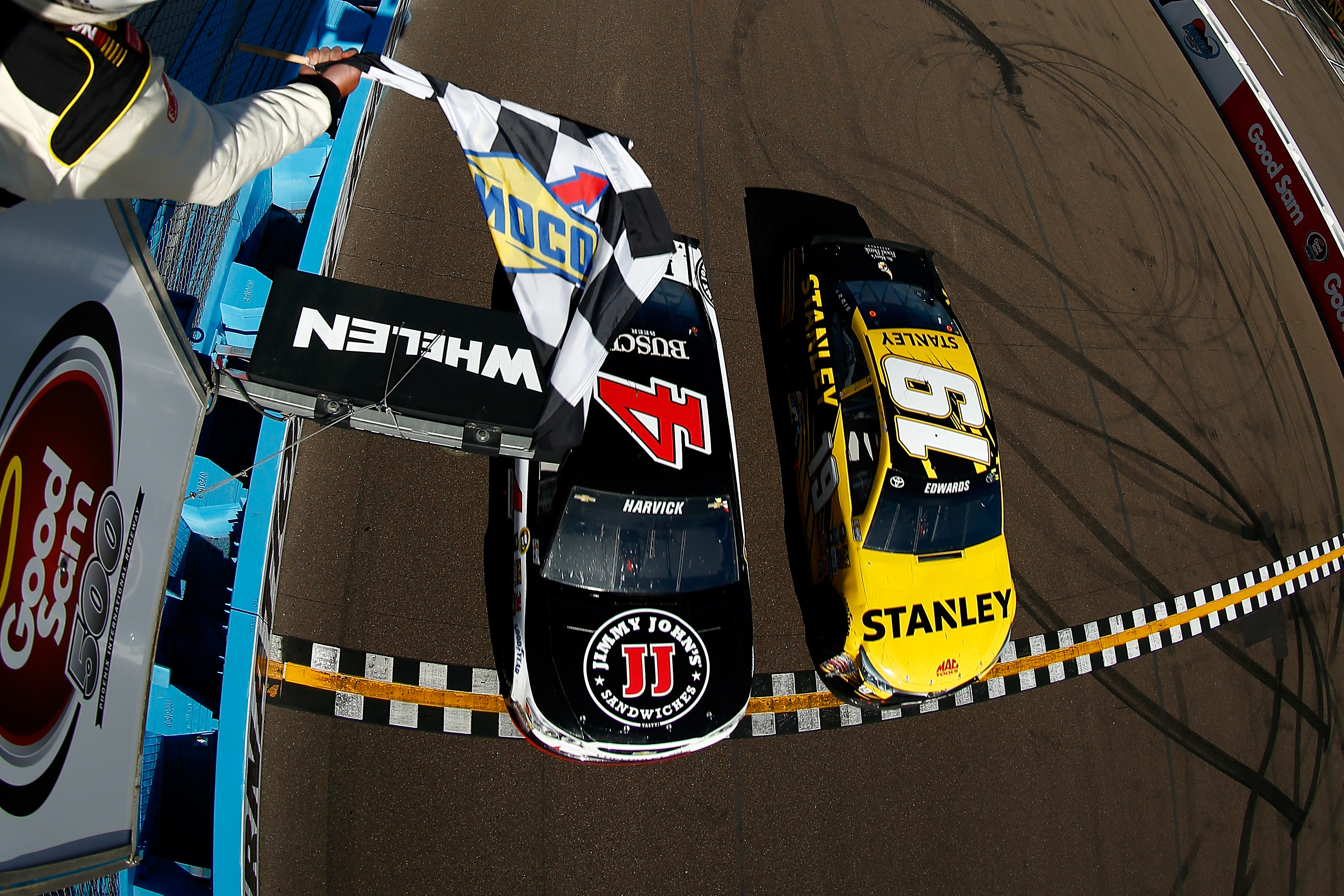 Kevin Harvick crosses the finish line at Phoenix International Raceway just 1/100 seconds ahead of Carl Edwards,
BUMP AND WIN
It was the closest margin of victory in series history. Kevin Harvick picked up his 8th win at Phoenix International Raceway, and as won 5 out of the last 6 races at the track. There was some pushing and shoving between the Stuart-Haas driver and Joe Gibbs drivers. Edwards was all smiles on the track after the race, joking about not wanting to wreck the series champ.
"I should have wrecked him", Edwards quipped about the dogfight to the finish under NASCAR's new overtime rule. Kasey Khane setup the overtime scenario when he had a right front tire go down with just 5 laps to go. He wasn't the only one blowing tires - earlier in the race, the first caution came out for Ryan Newman when he cut a tire in turns 3 and 4, followed by the 17 car of Stenhouse and the 2 of Brad Keselowski in the closing 90 laps.
RCR driver Paul Menard brought out the second caution when he said "something broke" which sent him into the wall. Possibly a brake line, which was the same diagnosis when Brad Keselowski had to spend an extended amount of time behind the wall for repairs. He finished 29th about 6 laps down.
PIT ROAD GAFFES
During a pit stop under caution, the 18 car of Kyle Busch came into his stall too hot and ran over an air hose, needing to back up into his box to be able to service the Skittles Toyota. He still had the car in 1st gear when he lunged forward instead of moving back, resulting in an 18.6 second pit stop, costing him a bunch of time he did not need to lose. Busch restarted 18th but rallied to a 4th place finish.
Joey Logano's crew was not prepared for his pit stop and never had time to make the proper adjustments needed to get his #22 Penske Ford back up to the front, finishing a disappointing 18th place. After last weeks penalty in Atlanta for Matt Kenseth's crewmember placing a wrench on the deck lid during the fueling process, Logano's team wanted to make sure that didn't happen again.
Clint Bowyer made an unscheduled pit stop for a loose wheel, and Denny Hamlin had to serve a penalty for an uncontrolled tire. A crew member was able to retrieve the tire, but not before it rolled out of his pit box.
Here are the results from the Good Sam 500 at Phoenix: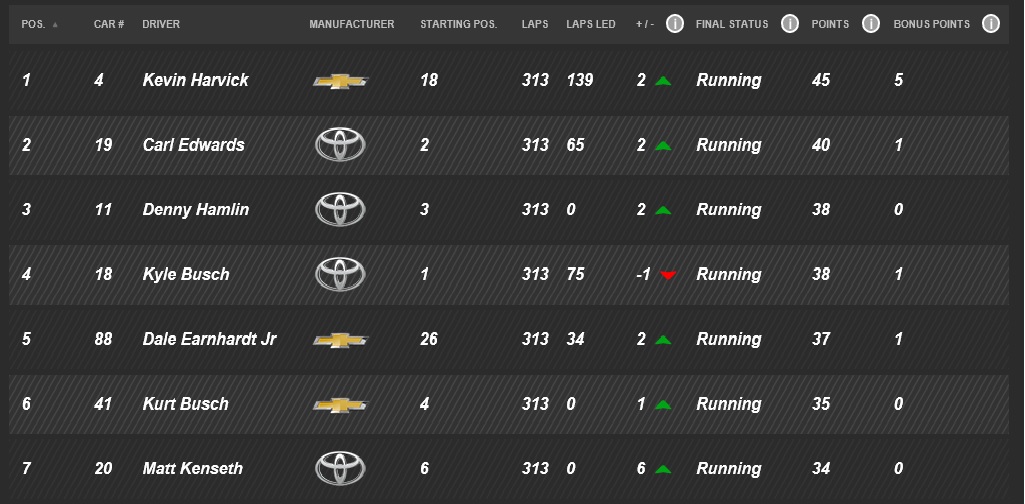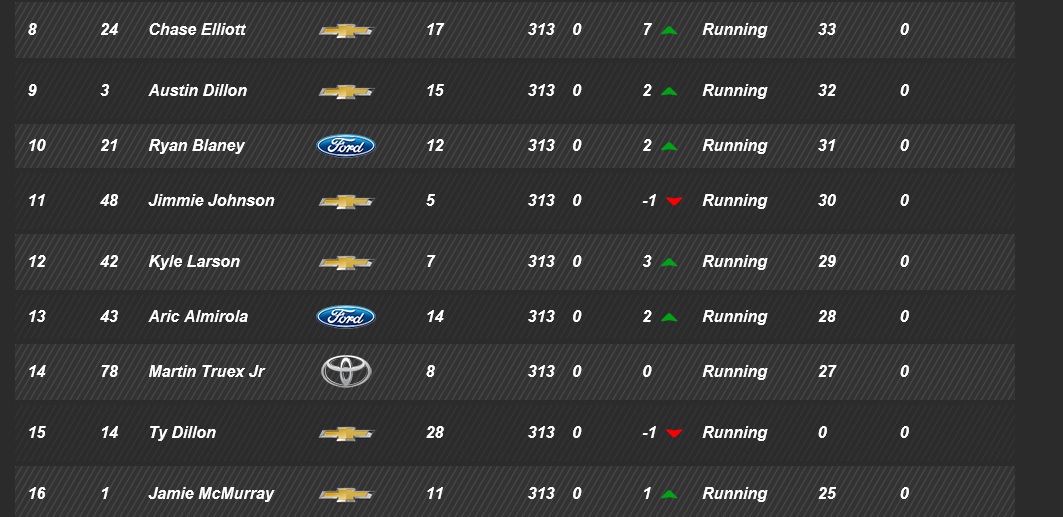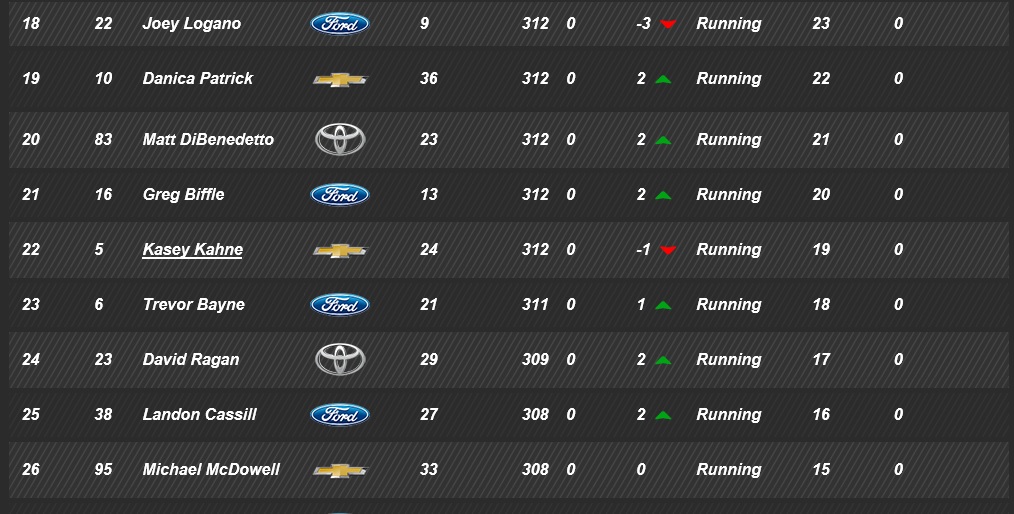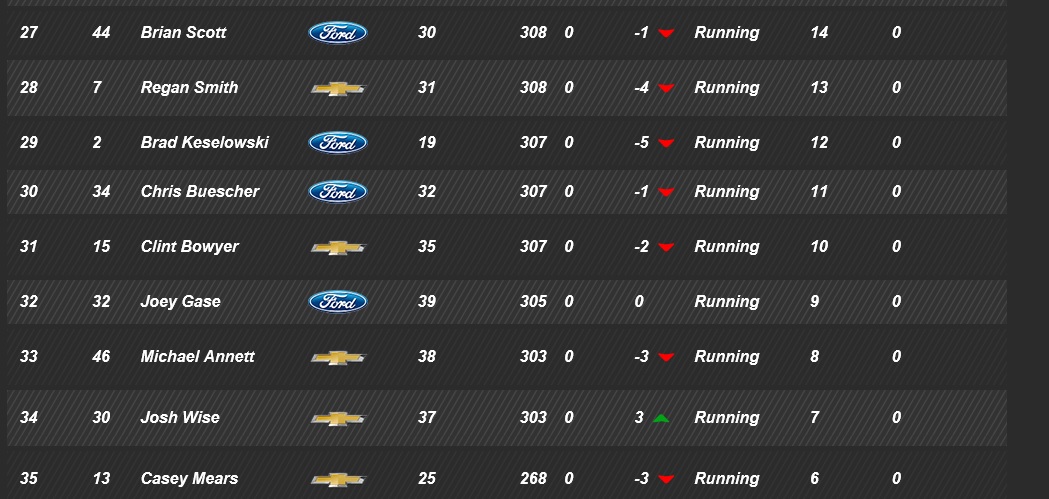 ---