Mike Leach "Air Raids" The SEC About His Offense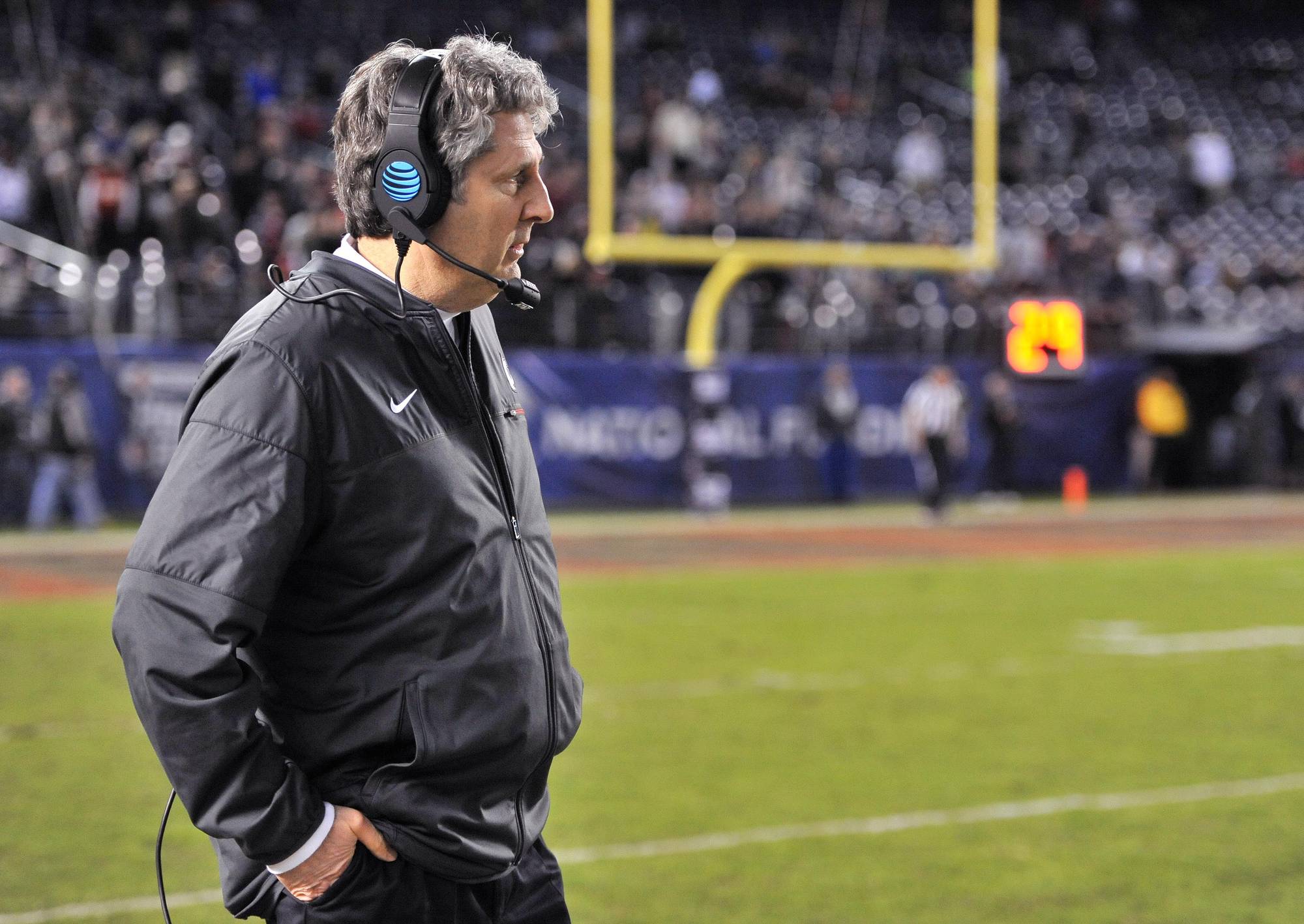 Orlando Ramirez-USA TODAY Sports
So let the conference wars of college football continue. I think the moniker really is the SEC vs. Everybody War. And right now, it seems like everybody is winning. This time, it is a PAC-12 member attacking the SEC: Washington State's Mike Leach.
Leach, who worked as an assistant head coach to Hal Mumme at Kentucky while innovating a high-octane offense called the "Air Raid," which is a lot of flash that puts up tons of points and yards on teams while using a quick-strike style offense, using the no-huddle in the process. In return, the other side of the ball, the defense of the teams that use the Air Raid give up a lot given they are on the field.
But Leach was quoted after Ole Miss hired Phil Longo to be the new offensive coordinator about Longo's Air Raid style: "I've got bad news for all these levels people," Leach told the Jackson Clarion-Ledger in a story about Longo. "Your level isn't special, your conference isn't special. All this different level this, different level that. That's crazy. How is it better? Somebody coaches better athletes, somehow they morph into something smarter, that's crazy. I mean, you still have problems, you still have 11 parts you can wiggle around to counter the other 11 parts."
Shots fired? Yeah. Leach just told an entire region that live & die football their conference wasn't special. Also, you're saying it from a conference that rarely plays the SEC and has no bowl games with each other most of the time. And the games the PAC-12 played, they went 0-3 vs. the SEC (USC and Washington lost to Alabama while UCLA fell to Texas A&M). But.................with all of that said, was he right?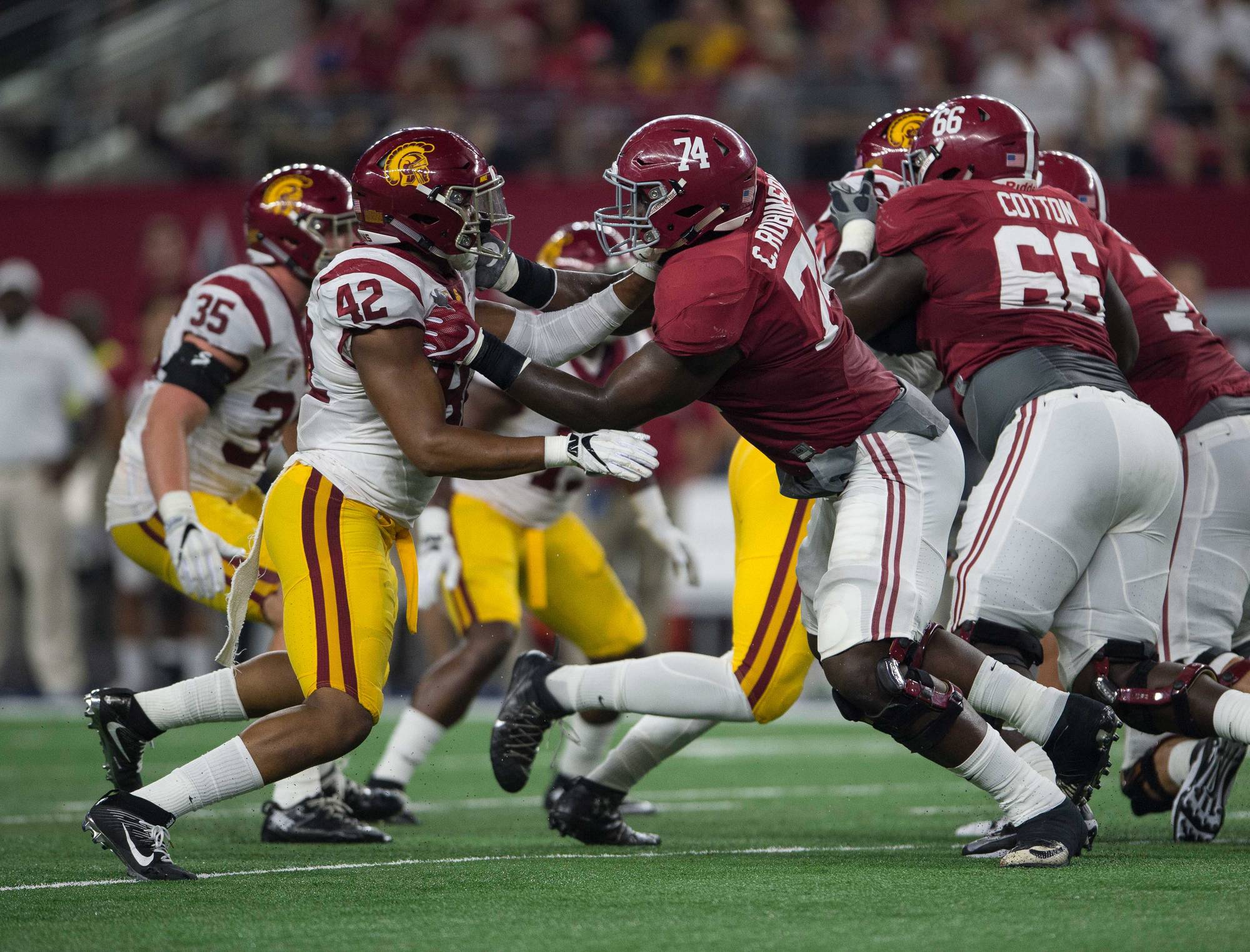 The trenches on both sides of the football is what really separates the SEC schools with the PAC-12/Big 12 schools.
Jerome Miron-USA TODAY Sports
Well, sorta. Leach was right in the sense of athletes at the skilled positions. Because really, both Alabama and Texas A&M had difficulty dealing with wideouts in those games. But, where both won their games was a simple one: up front. The offensive lines USC, UCLA, and Washington had little-to-no answers at all to stop the likes of Jonathan Allen, Ryan Anderson, Myles Garrett and others. On the other side, teams could not put a whole lot of pressure and really did not match up with the physicality of those teams (though Washington held their own against Alabama in the Peach Bowl).
And it is what has lagged the PAC-12 and Big 12 for years, which could be a contributing factor to why both conferences hasn't sniffed a national championship since 2005 (Big 12 in 2005, and PAC-12 in 2004), both the longest droughts of the major conferences. However, we are starting to notice a trend in the PAC-12. Stanford, who has been building on the lines over the years, first under Harbaugh and now under David Shaw, has really been the front-runner of the PAC-12. Now teams such as Washington and Colorado are realizing in order to take it to a competitive level, they need to have strength and power up front, bullying teams around.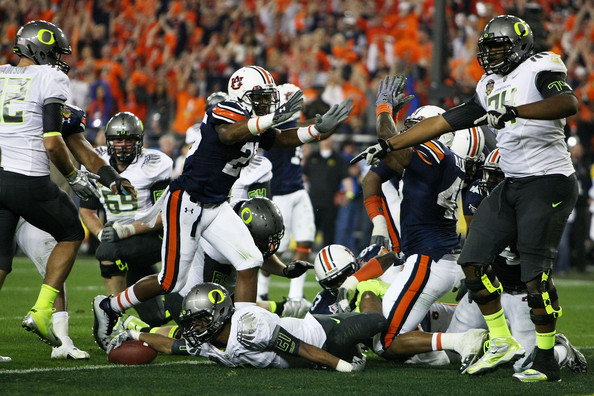 Oregon struggled against Auburn in the national championship game as the Tigers controlled the lines.
It isn't a big secret why Oregon has failed in big games against the likes of Ohio State, Auburn, and Michigan State where they all had strong lines and the Ducks struggled with them. It also isn't a big secret why the Ducks fell to 4-8 this year. They were dominated on both sides of the ball on the lines. Teams played physical with them and the quick strike Ducks offense was struck down (yes, I know Oregon hadn't really implemented Air Raid, but the philosophy is similar).

Leach wasn't wrong however with his overall quote in my eyes, notably the part of levels and everything. We've seen teams that have imposed the Air Raid such as Texas Tech (under Leach and now Kliff Kingsbury), Texas A&M (when Kingsbury was the offensive coordinator), Houston (Sumlin), and California (Sonny Dykes). But the thing is, they have all failed-except Leach. Some have said that the offense is too gimmicky and one-dimensional where passing dominates. And that is fairly true (at least the passing part). However, one reason why Leach has survived to this point has been that he has adapted the Air Raid to be a more "modernized" offense. Yes, he passes religiously, but he is also using a lot of time of possession in the process. Washington State was actually ranked 21st in the nation in total time of possession. Texas Tech? 48th. California was 92nd. Granted Texas Tech was fairly high but given how the other teams also scored at a rapid rate on them it isn't entirely mind-boggling that the Red Raiders were in the top half. But the Washington State bit was a tad bit surprising given the Cougars have an offense similar to that. It means they were able to keep their defense (ranked 62nd in the nation) off the field pretty well. Had the time of possession been less, I don't see the Cougars going 8-4 this year. So what Leach did was make sure that when needed, he kept his offenses out on the field while the defense got needed rest. California and Texas Tech had that lost in their ways.
That is probably why Leach is the best of the Air Raid coaches is because his ability to adapt. Yes, the running game is non-existent in Pullman and it was that way in Texas Tech. But he understands not every drive is or should be a no-huddle, quick-strike drive. Take time off the clock, keep the opposing defenses out on the field while your defense rests. It has to be that way when you have to face other offensive minded squads such as Oregon, California, Arizona, and Arizona State. The Cougars this year won the time of possession battle on all of them and beat all of them somewhat soundly (69-7 to Arizona and 51-33 at Oregon were two highlights of the Cougars season). If you wonder why Dykes is not coaching at Cal this season or Kingsbury is on a very hot seat in Lubbock now, it is because they have not adapted to keep the ball when it mattered (though Kingsbury did a good job at TCU earlier this year, but then reverted back to his old ways).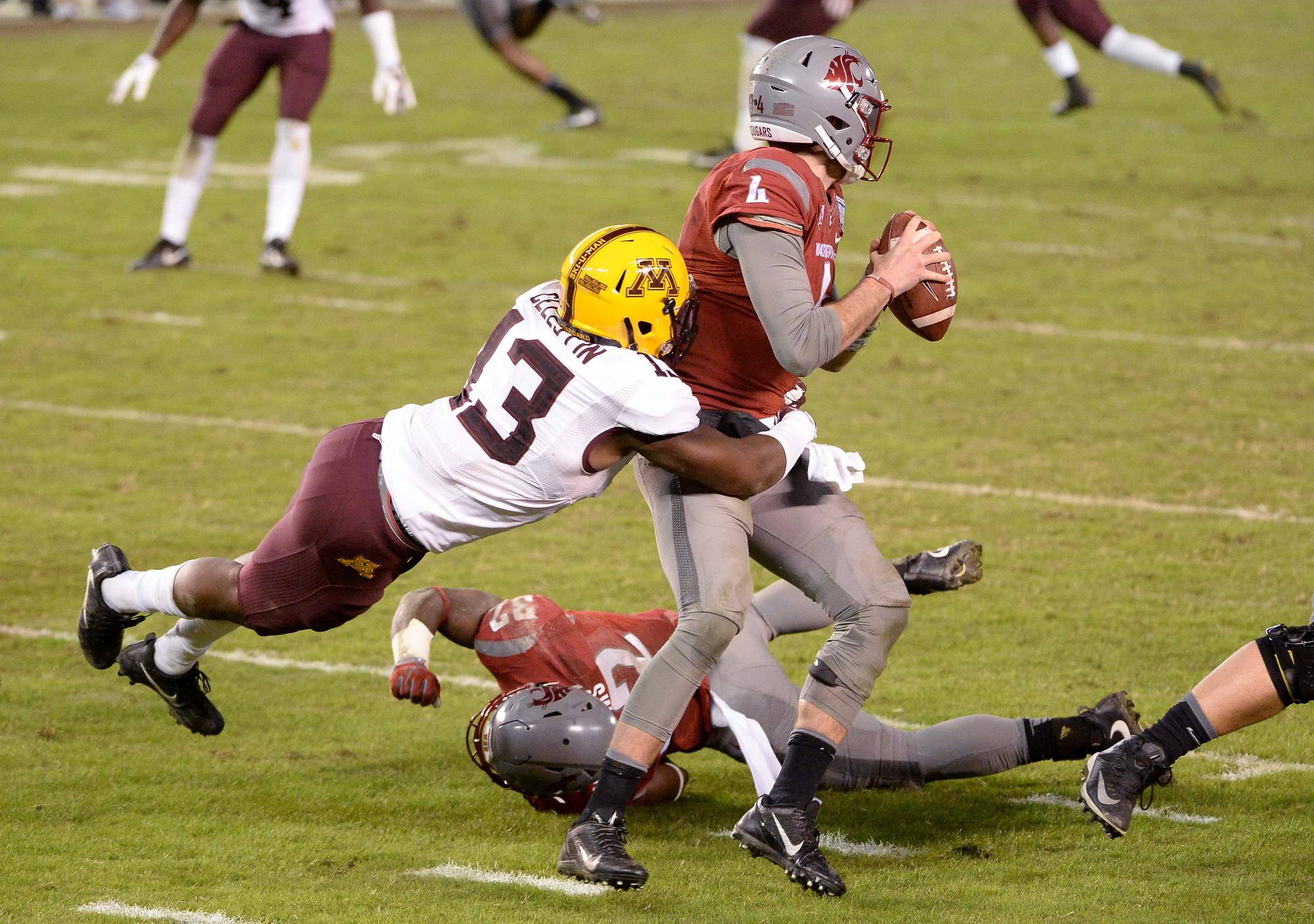 Washington State's offense struggled greatly against Minnesota's defense and got to Falk a lot.
Orlando Ramirez-USA TODAY Sports
However, the only thing that makes me think he is wrong is because of how it looks. Leach's issue and I mentioned why earlier of it is considered gimmicky is because how the offense of an Air Raid is spread out, thus getting the defense spread out, is possibly because of the holes on the offensive lines. If you see why sometimes these offenses tend to get smashed by strong defenses is because the holes are exposed by teams. 3 of the 5 losses were to teams who really had a pulse on the lines and stuffed Washington State from really doing anything (Colorado-24 points, Washington-17 points, Minnesota-12 points). IF Leach could really recruit linemen up in Pullman, then the Air Raid would actually be a deadly sight especially given how he can adapt it to his strength. But I think it is why the Air Raid is not really looked upon by many football purists (and really, myself as well) as a legit offense. Many consider Jared Goff as a system quarterback who will bomb out in the NFL because of this style (and really he's in the similar footsteps as Andre Ware and Case Keenum-also products of the Air Raid offense in college). Whether it is exposing lines or not handling defenses like they needed to in college, that has been the problem.

However, Phil Longo, at Sam Houston State, added another dimension where the Air Raid features a strong ground attack. Now time will tell if it will work at Ole Miss, but if they can run the ball on top of throwing it and keep it out of the hands of offenses such as Alabama, Auburn, and LSU (if they finally get their stuff together under Orgeron), they could really be a sleeper next year (assuming no violations happen). So it will remain to be seen on that end for Ole Miss, and the Air Raid. If it works, great and Leach is spot on with his assessment. If it does not, Leach, and the Air Raid, will really be a myth of success in the college football world.
-Fan in the Obstructed Seat
---