The NCAA Basketball Conundrum: What to Do?
The Yahoo Sports report today obtaining the documents from the FBI over the scandal of programs and players breaking rules by receiving impermissible payments from agents and the shoe companies and whatnot.
To me it has been the whole "worst kept secret" of college sports. Basketball just is the one that you have to think is easier to access given the situation of the sport thanks in part to the one-and-done.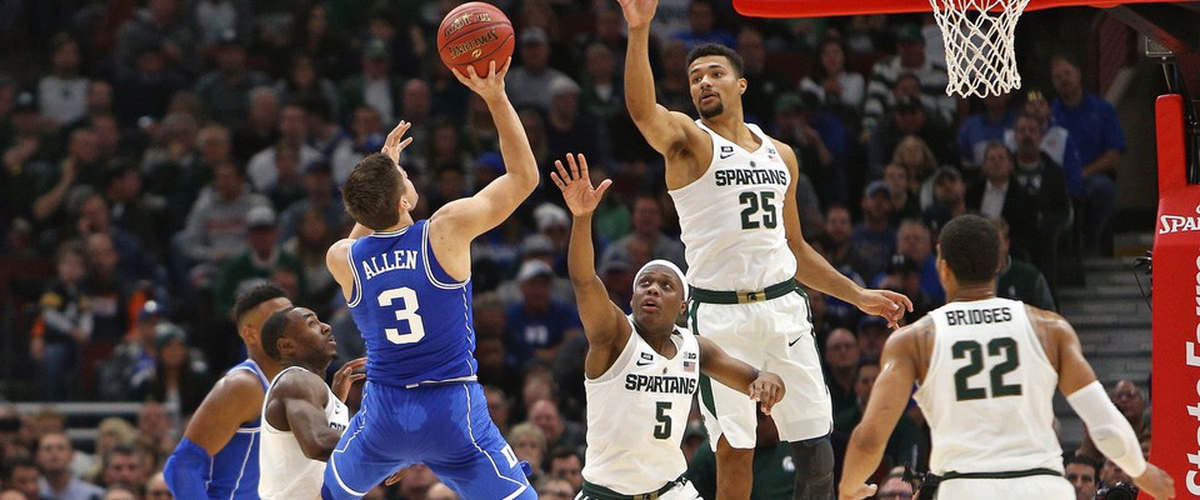 But what really makes this the bombshell isn't the fact that one or two of the big programs have been mentioned, but your true heavyweights of the college basketball world. That's Kentucky, Kansas, Duke, North Carolina, Michigan State, Villanova. This is the Mitchell Report for MLB when the players you saw were on the list for PED use.
Only worse.
When you look at it, the programs that come up, they are all residents of the college basketball top 25 and half of the top 10 is on there (Michigan State, Villanova, Xavier, Duke, North Carolina). Then when you see the top 20 and the likes of Auburn, Wichita State, Clemson, and Arizona (while not implicated, a report has come out that coach Sean Miller had been on conversation of paying star DeAndre Ayton to join the Wildcats) have all had their programs thrown in.
Add the fact that Louisville just days ago ended up slammed by the NCAA for their violations ultimately taking down their 2013 National Championship banner.
Wonderful.
The FBI pretty much has done what the NCAA hasn't done and that has shown how flawed the system has been. I'm not posting this to take sides and whatnot as the two schools I pull for religiously (Michigan State and Alabama-yes, I know an odd couple) are on this list.
To relate it to college football, this is the equivalent of seeing Alabama, Clemson, Ohio State, USC Oklahoma, Georgia, and other top 25 programs on a yearly basis getting slammed.
Which brings the problem: the NCAA is in a no-win situation. These are your heavyweights. These are your prime-time teams where you get the ESPN games covered by Dick Vitale or Bill Walton if you're PAC-12. This is your FOX Sports if you're Big East. This is your CBS if you're Big Ten. Either the NCAA covers their ears until early April and then hands out the punishments to these teams on the FBI list so that when the tournament begins all of these schools are in the tournament, thus getting ratings and then do the same thing to those teams like they have done to Louisville and just remove the title off them had they won. But at the time, those games are a ratings bunch. Granted while Virginia is ranked #1, they still aren't the basketball blue-bloods. So if we get let's say a Virginia vs. Purdue National Championship game April 2nd, how many fans would watch that compared to a North Carolina/Kansas game?
But as I somewhat hinted in that last sentence, let's say the NCAA tells these programs like Michigan State, Duke, Kentucky, that since they used players that were in the report and say whatever games they played were ineligible thus cannot go tot he tournament, you may get that title game of Virginia and Purdue. Granted, it would be a fun game to me. But it isn't the blue-bloods. Or worse, if the schools named, they all go, like Clemson, UNC, Kansas, etc. and you could get a better chance at a Georgia State vs. Murray State National Championship. Again, nothing against those two and I love those mid-majors and I would PERSONALLY love to see it, but from a ratings standpoint, gah.
And what does it mean down the road? Let's say the NCAA acts and enforces this stuff in the 2018-2019 season on these schools. Well......the first NCAA games are the Champions Classic, meaning we see Michigan State, Kentucky, Kansas, and Duke in their traditional tilts with each other. It won't bode well when all 4 are possibly going to be on the sideline in 2018-2019 from participating in March. And maybe those are ratings disasters as until they would be off probation, those squads are really playing "meaningless" games.
The one thing that I keep thinking about is that it all ties back to the one-and-done players. Yes, John Calipari became the poster boy for it when he was at Memphis and carried over at his time in Kentucky. But now you are seeing Coach K follow suit. Bill Self is going that route, and some believe Tom Izzo is going that route with Michigan State. These are coaches who can get the big-time players in the nation to arrive to their campuses and tells them that their program is the easiest way to get to NBA given the media attention. But it is a fight every year to get these guys on their programs. Calipari has religiously had Kentucky #1 in the recruiting which made the likes of Duke, Arizona, Kansas, etc. to up their recruiting game. So you have to wonder if these guys when they do choose one over the other if they are being persuaded by the money.
But now these Hall of Fame coaches such as Calipari (who has had a string of controversy since his days of UMass really), Izzo (who is battling the scandals of Michigan State), Coach K (who is garnering more eyebrows from being a guy looking down on the one-and-dones to being just as much as a "one-and-done" guy as Calipari), Roy Williams (where UNC was plagued in a scandal of their own) and others are now probably gong to have to deal with their reputations.
So what will be the severity? Time will tell. But the schools who are already scrutinized without anything yet will be the ones in trouble. That means your Michigan State, UNC, and Kentucky (in part because of Calipari's history) may be the ones who get the heavy consequences.
But let's face facts however. The NCAA failed to do what they needed to do and uphold these programs from running roughshod. They know that these schools are their meal tickets to ratings and money. And they let them do whatever. And that is a key problem. They know they can't keep these young stars like Colin Sexton, Wendell Carter, and the others before like Ben Simmons from jumping to the NBA so they have to find ways.
Now the question is, "should the players get paid?" And that is another issue. The NCAA will forever be a "no" and a lot of college purists say the same thing. However, the NCAA will use the likenesses from jerseys of these players and make money for sales and such while the players get nothing in return for a bonus. Well, they may, but the NCAA would say it is illegal.....after 8 years it happens.
So what to do with these schools? Pending on the severity that the programs did, obviously punish them. If they have to, remove the tournament to these schools to send a message. Now does that mean a changing of the guard? Perhaps. But that is one thing. The other, is to perhaps change the rules of what teams can do in order to recruit. There are some rules that the NCAA has is beyond silly and if you even breathe funny you get a 1-year probation.
So the NCAA has to make some tough decisions to improve the future of college basketball before it is irrelevant as possible. But regardless, the decisions have to come in soon.
-Fan in the Obstructed Seat