Trying To Analyze Calvin Johnson's Comments About The Detroit Lions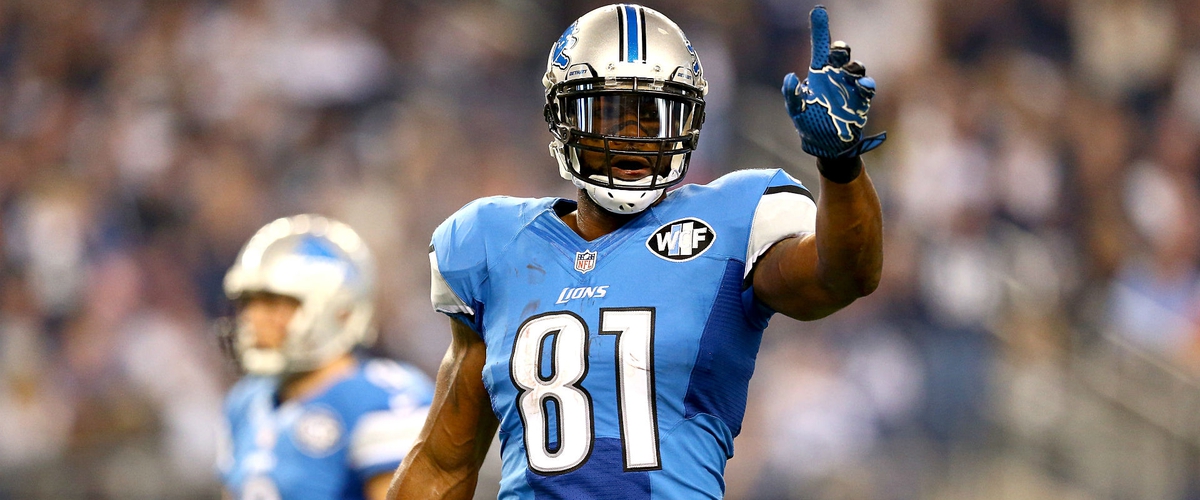 Football is coming up soon, but in the NFL it is really at a "dead point" of the off-season as training camps haven't started and most of the off-season deals are done. So that alongside of kicking the dead horse of the 28-3 Super Bowl collapse has made the NFL right now feels like a standstill.
But Calvin Johnson spiked up some comments this week, adding onto his 1. Original reason for retirement. And 2. His resentment for the Detroit Lions as he left town.
I'll throw out the excerpt:
"Just like in basketball, you know, guys, they create these superteams. But it's not quite like that in football where I had the freedom just to go."
"I was stuck in my contract with Detroit, and they told me, they would not release my contract, so I would have to come back to them. I didn't see the chance for them to win a Super Bowl at the time, and for the work I was putting in, it wasn't worth my time to keep on beating my head against the wall and not going anywhere."
Not going to bash Calvin for his comments, though it does sound rough on the Lions, but more to take in.
But first, of course we heard a similar story 15 years before with Barry Sanders as in retiring early after signing a huge contract just a year or two before, in part because the team was losing, etc.
In 2012, the Lions signed Johnson to an 8-year, $132 mil contract with $60 million of it guaranteed, highest for any WR in football. Because well, at the time, he was the best WR in football. And rightfully so. He could go deep, go short and take it to the house, and take the necessary hit. But in the process, he took too many necessary hits and found himself dinged up on more than a few occasions.
But what it also did, however was eat a chunk of the Lions cap space. What did it mean down the road? Good-bye Ndamukong Suh. Good-bye Nick Fairley. The Lions couldn't get some necessary free agents to help out the team. Now granted, their drafts have been "meh" over the years outside Megatron, Matthew Stafford, and Suh but the salary cap is a crazy thing in the NFL.
Was Calvin Johnson wrong in his logic of the statement? Yes and no.
I think he was wrong on his assumption the team wasn't going anywhere. The Lions made the playoffs in 2014 and after a slow start in 2015 had a competitive squad winning 7 of their final 11 games. And last year without Johnson, Detroit nearly won their first division title in 24 years. So while the Lions may not be considered a team like the Patriots, Steelers, Falcons, Packers, etc. they have been on the upswing for a little bit.
But at the same time, he might be feeling like any other Lions fan has felt for an eternity and that is "it doesn't matter how the season goes, we will always find a way to blow it." Hard to think but that's how it feels sometimes with football in the Motor City.
I get and understand Megatron did everything in his power with his time in Detroit. Honestly with the pieces added in his final years, the Lions were not utter garbage like when he started in 2007, they were better than what he possibly thought. However, Johnson had to have known that the Lions were not just going to let him go with no strings attached. I am pretty certain his contract would have been immovable via trade because it just wouldn't be easy and teams probably could not afford it as is. And he knew it since he wanted to be released from the deal. But while he may not have been the player he was early on with all the hits, Johnson was still one of the league's elite receivers. It is hard to fathom the Lions-or any team to just let a WR of Megatron's caliber walk. Had it been a few years later and he is on the downswing, then I think it would not have been a debate as Johnson would probably be in Atlanta opposite of Julio Jones (okay, I can dream, can't I?) or on the receiving end in Carolina from Cam Newton. But such as not the case here.
In the end, I think Calvin Johnson was frustrated and now venting. Does it have the vibe that he wants back in the NFL on a different team? Perhaps. And while it is a different sport and even he alluded to about superstars joining up on super-teams in the NBA, which has been the talk with Houston, Golden State, etc. The thing is, however, he is in the NFL where 1. Contracts aren't guaranteed and 2. Teams, not the players dictate what happens for personnel moves. Johnson cannot dictate where he goes unless he was a free agent and his contract probably couldn't allow him to go anywhere.
I think perhaps he was venting more at the NFL and not the Lions for the situation he was in. I think perhaps he was angry about how Detroit wanted their money back from him as well as not really giving him any "thanks for your service here" bit which would make sense.
So really, you can see it in both ways for Johnson. You can see it as a guy who poured everything into what he did and save from a contract, not being rewarded in a team manner. But at the same time, you look at it and go "the team made you THE GUY even over the quarterback while sacrificing your top defensive player and this is how you re-pay us?"
In the end, it is just an unfortunate situation all around. For Johnson. For the Lions. And for the NFL.
-Fan in the Obstructed Seat