What's Wrong With The Atlanta Falcons?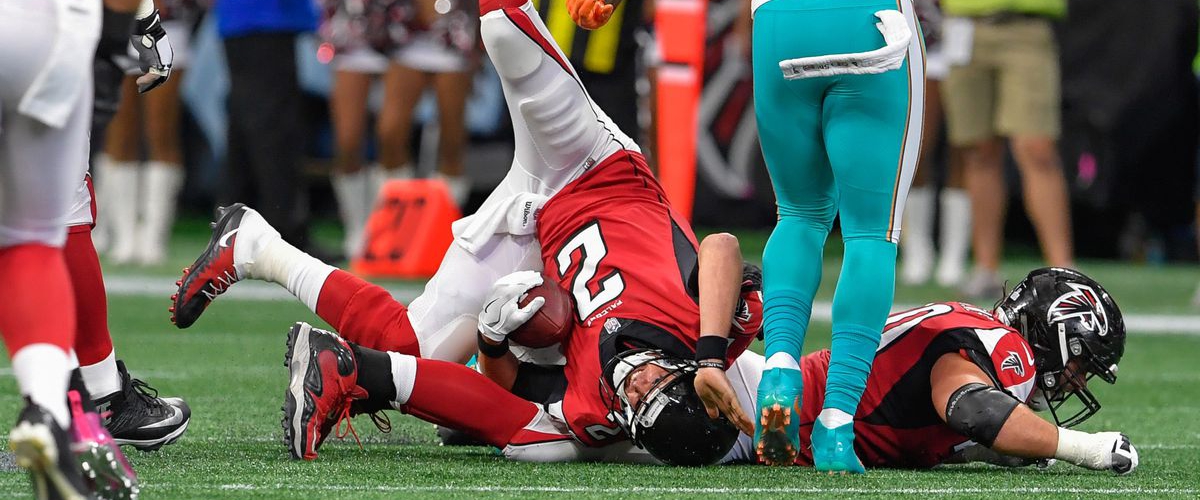 Even with the way the Super Bowl played out, the 2017 season had GREAT hope for the Atlanta Falcons. Stout offense, young and vastly improved defense, didn't lose much on the roster in the off-season, added key pieces, the NFC is weak, new football stadium, etc.
Everything was in place for a season to remember, at least early on.
The Falcons went 3-0 to start the year. 2 of the 3 wins were road wins in Chicago and Detroit where it ended on the final play of the game (a game-winning sack in Chicago and then Golden Tate got stopped short on the one in Detroit) and a home game agianst Green Bay where the Falcons evidently have the magic touch on the Packers now.
3-0 and you had Buffalo and Miami rolling. And this isn't the Buffalo Bills where Marv Levy coached them and you had Jim Kelly, Thurman Thomas, and Andre Reed on the other side. And this isn't the Miami Dolphins with Dan Marino. And they're at in the brand-new spanking Mercedes Benz Stadium. Hello 5-0 and en route to New England to exact revenge on last year's Super Bowl heartbreak.
Except............
You lose to Buffalo and you lose to Miami. Both late in the game.
I honestly did not have much of a gripe with Buffalo as the Bills have a strong defense and I think the Bills WON that game (with Jones and Sanu both injured at halftime and didn't play in the 2nd half). The Miami game? Honestly it made a lot of Falcons fans feel as sick as the 28-3 collapse in February. Maybe more (at least for me) given you blew a 25 point lead to one of the greatest QB's in history in Tom Brady and then you blow a 17-point lead at home to Jay Cutler. Instead, there are problems.
And listening to the local radio stations in Atlanta, there are MANY for the defending NFC Champions. So let's begin. What are the problems the Falcons have?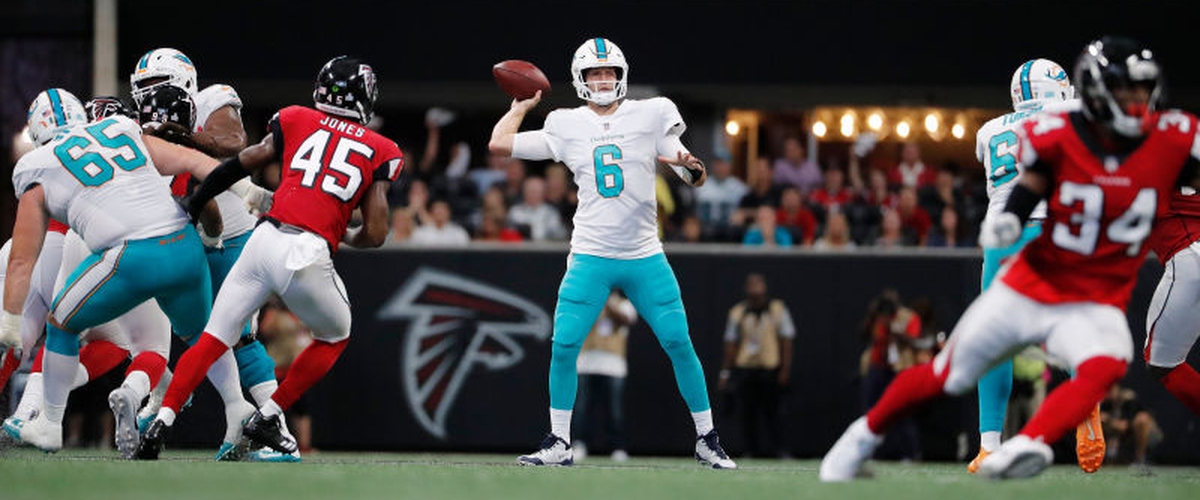 1. THE 2ND HALF ADJUSTMENTS (OR LACK THEREOF): Let's be honest, this has been a massive problem for Atlanta since the days of Mike Smith. They've blown big leads at half time over and over and over. Don't believe me? Look at the 2012 NFC Playoff where they blew two big leads to Seattle and San Francisco at home. I am not sure if it is a coincidence Mike Smith and Dan Quinn both have that issue or maybe it is Matt Ryan not managing the game well in 2nd halves, but it is too odd to see this happen for what really has gone on for 8 years now in Atlanta. As one radio commentator said it, it is IMPOSSIBLE to just toss out the entire playbook at halftime and start anew. Yet opposing teams make those adjustments and either make a blowout look too close or the game ends in a far different result than we all expect. It seems like and I know this is cliche but the Falcons keep playing NOT to lose instead of playing to win. Is it a hangover from the Super Bowl? Honestly, no. This is a trend that keeps happening with this franchise.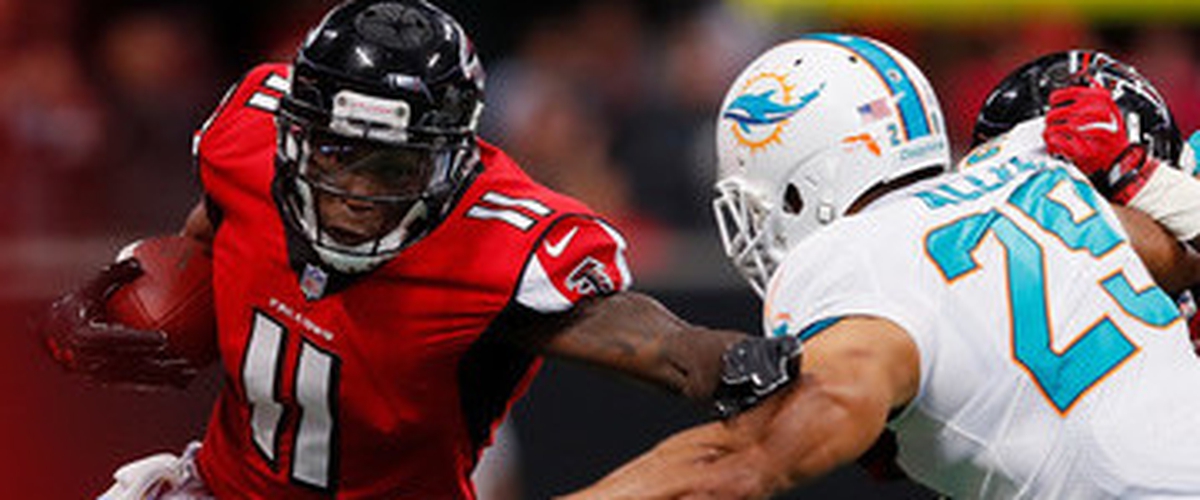 2. JULIO JONES AND DEVONTA FREEMAN ARE NOT INVOLVED ON THE OFFENSE: Blame Steve Sarkisian? Perhaps, and I am not sure if Dan Quinn is overly fond of the offensive play-calling to this point. Can you blame Sark or Matt Ryan? Anyway, Sarkisian looks like he is slowly getting maligned in Atlanta for the play-calling that against Miami didn't see Freeman take over and Julio was once again non-existent. Jones has proven he is a top 3 receiver at worst in this game and for the offense not to use him like he should is a massive problem. Freeman also got paid this off-season and having him only with 9 carries Sunday against Miami was a joke (and yes, that is a Sark problem). Sarkisian has not gotten the stars involved and you have to win with your star players. That is evident.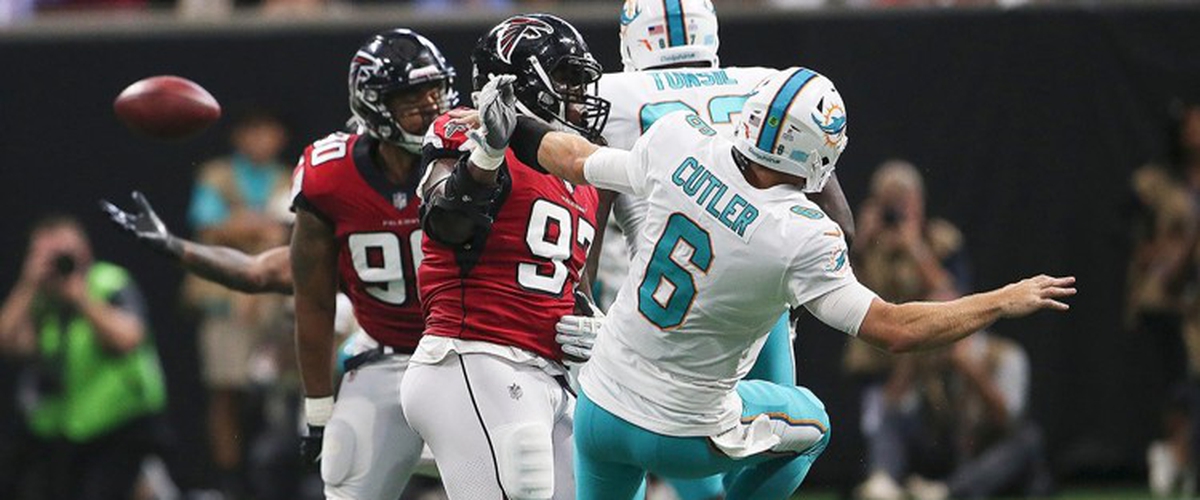 3. THE DEFENSE IS PLAYING UNINSPIRED: This really goes to the game last week against Miami. It just had a vibe of the game of (again) in the 2nd half the Falcons defense just came out flat on that first drive on Miami. The Dolphins took nearly the half of the third quarter with possession and got some key third and fourth downs to keep the drive. There was no pass rush against a line that was dinged up. There was no jumping around to get amped up and excited on defense and it just like they went through the motions. So on the second drive, the same thing happened almost, but instead of allowing first downs on 3rd and long plays, the issue arose of dumb, bonehead penalties such as late hits and pass interferences. Say what you want, but those plays are just nonsense. The defense cannot play like that.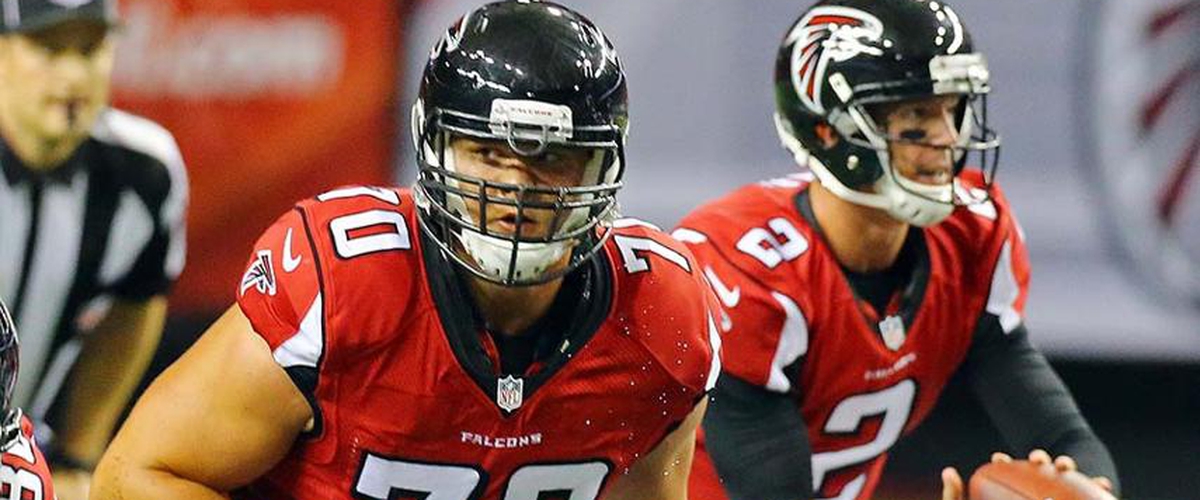 4. OFFENSIVE LINE IS NOT UP TO SNUFF: Ryan Schraeder's concussion against Green Bay did sting the Falcons in Detroit and their loss to Buffalo when he sat out. He came back against Miami and probably needed to sit out that game too. But Schraeder's absence is one issue. The right side of the line has been a mess since day one. Yes, Wes Schweitzer was maligned early on and Ty Sambrailo hasn't been good, but it isn't just them (if anything Schweitzer hasn't been any problem). Jake Matthews has been very problematic again this season, getting a dumb penalty called on him that nullified a big play and the hold wasn't even one he needed to do. The whole line needs to play better and give Ryan some time. This is reminiscent of 2015 when Matt Ryan ran for his life half of the game and made some questionable passes then. I guess the lone positive has been at least Alex Mack can snap the ball. But Ryan under pressure or when he thinks he's under pressure is a very bad thing to see. And you have to give him that comfort level that he needs or he is not an MVP candidate by any means.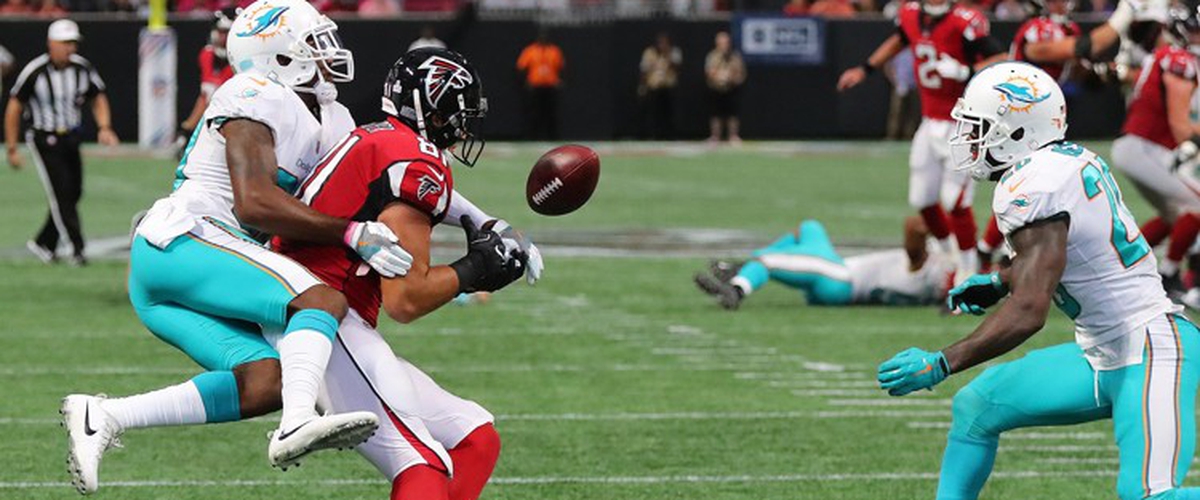 5. THE RECEIVING CORPS HAS UNDERACHIEVED: Many have given Ryan a free pass so far though he has made some questionable passing plays, but 3 of his interceptions this year were not his doing. They hit the receivers of Sanu and Hooper in the hands only to get picked off on the deflection. It may come back to if Jones gets his share of touches he needs and the team needs to get better and the load gets taken off of Gabriel, Sanu, and Hooper. But right now, the receivers are not anywhere near as reliable as they were last year.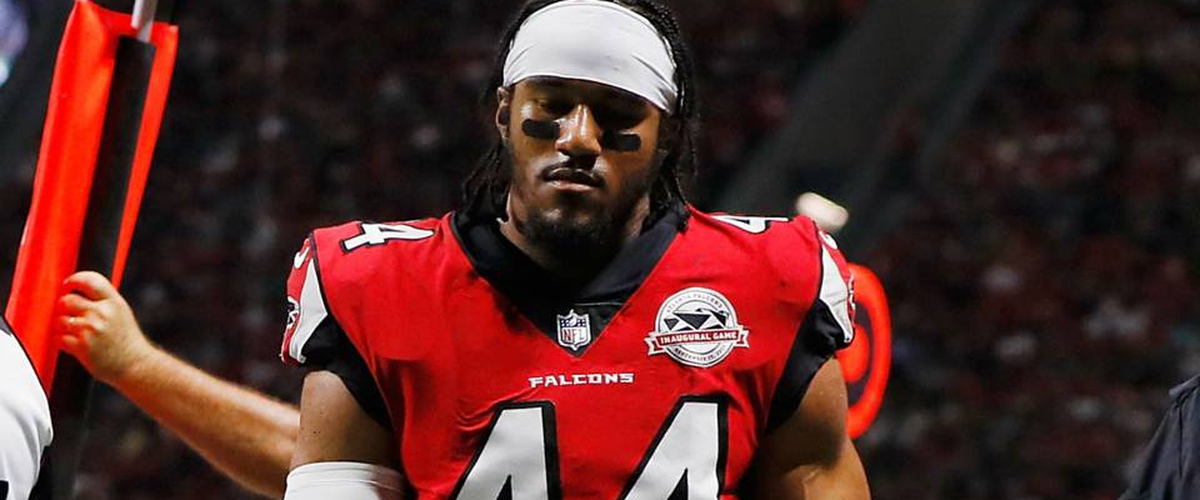 6. INJURIES: Yes, blame the injury bug as teams like Green Bay, New York, Tennessee, etc. all have their shares of injuries and probably far worse than Atlanta. But the Falcons had only one key injury last year and that was Desmond Trufant. The team was healthy. We've already seen Vic Beasley miss a few games and Mohamed Sanu is slated to probably miss another game while Jack Crawford's loss stings the depth on defense as did Ricardo Allen on concussion protocol. Ironically the team that had depth on defense is already getting worn thin.
So is there an easy fix for the Falcons woes? Not really. Yes, Sarkisian can orient the ball more towards Freeman and Jones and probably you can get the defense a little more amped while the receivers Ryan has can get better. But the offensive line may be one long mess all year round and you cannot control the injury factor. And the concerning part is the 2nd half issues that has plagued this team still.
When I picked Atlanta as my Super Bowl pick, I may have used more of my heart than my mind. Yes, they are talented enough to win it, but they need to start showing those talents as they are not the same team as they were down the stretch last year. Maybe it is seeing New England is what the doctor ordered for them. Who knows, but right now the season for Atlanta has not gone as expected and they don't know how to handle the adversity just yet. A stretch where it may not be easy for them is coming up so we will see what the 2017 Atlanta Falcons are really made of.
-Fan in the Obstructed Seat
---