A Glimpse into the future....Kind of.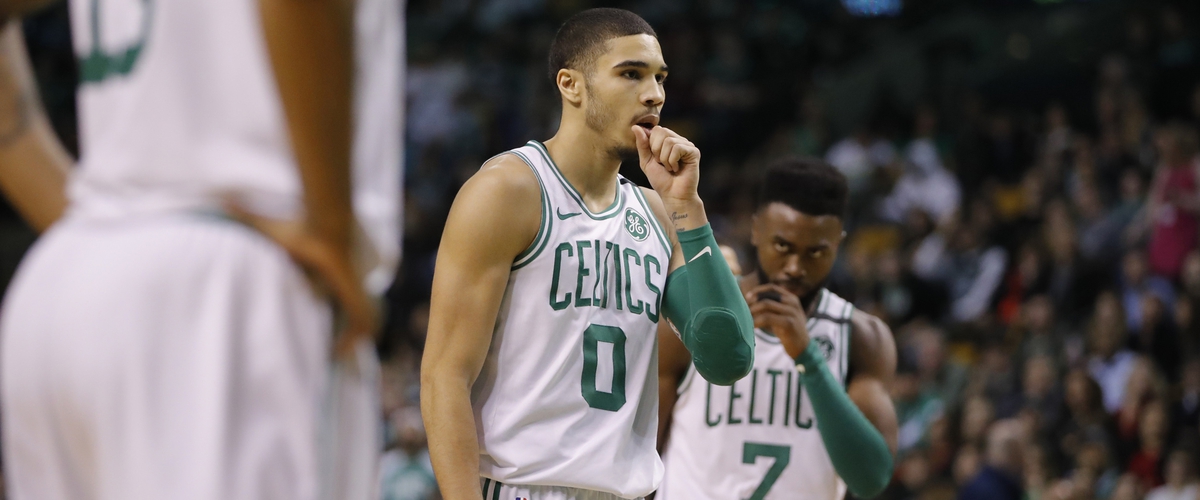 In times like these it is really hard to talk about what-ifs and what could have been. Since the first five Minutes of the season the Boston Celtics have been without their star free agent signing that was a huge piece in making this team have NBA Finals aspirations. These seemed to be shaken after the Hayward injury, but they continued on playing and after a 2-2 start they went on a 16 game winning streak and shocked many. They were in the upper tier of Eastern Conference talent for the rest of the season and their record spoke to that. In March, their season changed again. Kyrie Irving had two procedures to help mend what was left of his fractured knee cap from the 2016 Finals. Kyrie dealt with the soreness of the knee ever since and finally had to call it quits for the season to get treated to be (hopefully) 100% healthy next season.
From what I am seeing and what many others across the NBA and media is that, Jaylen Brown and Jayson Tatum are the real deal. Throughout this year Brown has shown strides of really progressing from his rookie season.
Take a look at these numbers:
Jaylen Brown 16-17 vs 17-18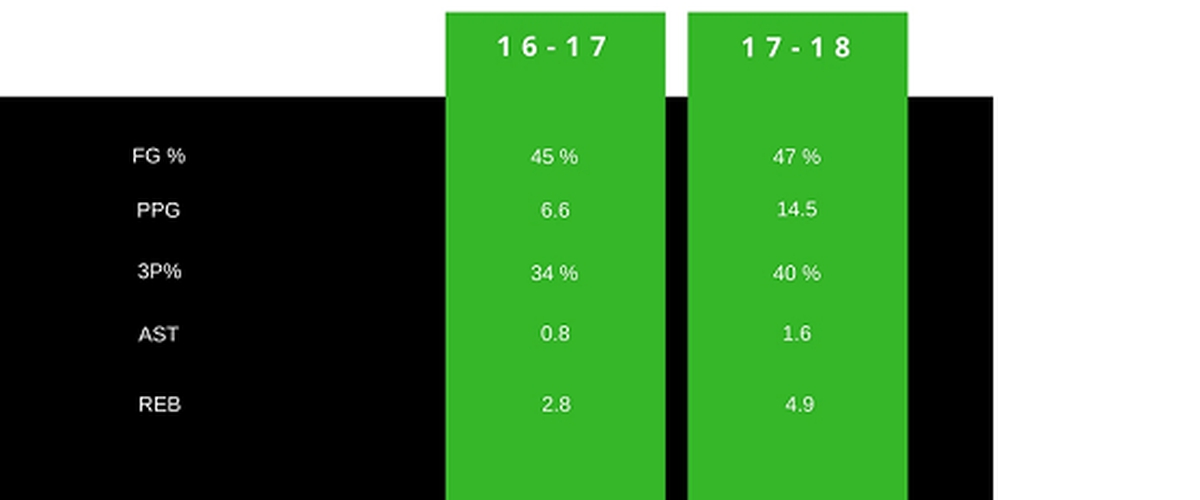 These numbers do not really account for what he has meant to this team. These stats do show however how much of a leap he has made since just last year at this time as a rookie. Obviously his points production is up but even from when he was in college many scouts said he was never going to be able to adapt to the 3-point ball in the NBA. He is really answering that question this year and especially in this postseason as he is shooting 47% from deep. The realization especially as you saw in Game 4 of this series Jaylen is learning how to take over games in the playoffs in the big moments. If you told me Jaylen Brown would be setting the NBA scene on fire last year I would still be a little surprised at how little time it has taken for him to become a guy you can rely on.
Jaylen Brown will continue to looking to improve his game in any way he can and will succeed in doing so with his high basketball IQ, athleticism, and pure grit. Barring any major injury or trade, the Celtics should be very excited about the development of Brown. He and the next man I will talk about Jayson Tatum are going to have a real hand in help leading this team to a championship within the next 3-4 years. They are gaining the real playoff experience and that is building a resume for them early in their career that they can compete and produce in the playoffs.
Jayson Tatum
Tatum has been a horse for the Celtics since he jumped on the scene in the summer league. As most of us know Danny Ainge has said time and again that he would have taken Tatum with the #1 pick. Celtics fans are really coming to see why this was the case and why Danny Ainge was so high on the young gun from Duke. Tatum has come in and provided scoring and defensive versatility which has helped propel the Celtics to the best defensive efficiency rating this year.
These plays are all in his first year. Tatum was said to be the most ready scorer of the draft. I am sure that people may be saying that Tatum is not the talent that Donovan Mitchell is at the moment, but he has been able to flourish in a system where he doesn't have to shoulder the load game in and game out. We are seeing that he can at certain times but I believe that coming to a team like Boston, he has not only gotten invaluable experience but also the opportunity to learn from some great talent.
The overall offensive readiness Tatum has come with is something that many take at least 1-2 years on developing how to score in the league. Tatum started off hot and then did hit the rookie wall as suspected too a couple months into the season. The persistence remained and helped him finish the season in a good way. Tatum and Brown account for 55 of Bostons 102 points. They were clearly the best players for the Celtics in Game 4 and moving forward they need to be the important pieces for them if they want to get past the Bucks this year.
Whats Next?
The Celtics may not reach the finals this year, and they may not even reach the next round of these playoffs. What is clear is that the Celtics have maybe the brightest future of any team in the NBA. Just imagine next year bringing out the lineup of Irving, Brown, Hayward, Tatum, and Horford to finish games. I am not sure if your can bring out a better finishing 5 to a game. This is not to mention that on the bench they would have Baynes, Theis, Rozier, Morris, and Ojeleye, If they can bring back Marcus Smart and Greg Monroe the Celtics will be on many people's list for the NBA finals.
If LeBron does something like go to Philadelphia that will be the biggest competition that the Celtics could face moving forward. If LeBron stays or moves out West it should be very clear that the Celtics are the top team in the East. The amount of versatility this team has on the offensive and defensive ends is what really sets them apart from many other teams. The rest of the NBA has been put on watch about Jayson Tatum and Jaylen Brown. Don't be surprised next year to see the Boston Celtics securing Banner 18 for the city of Boston!
Till next time,
JP
---