OKC Stunned, As Mitchell Soars to help Jazz to 3-1 Commanding Lead!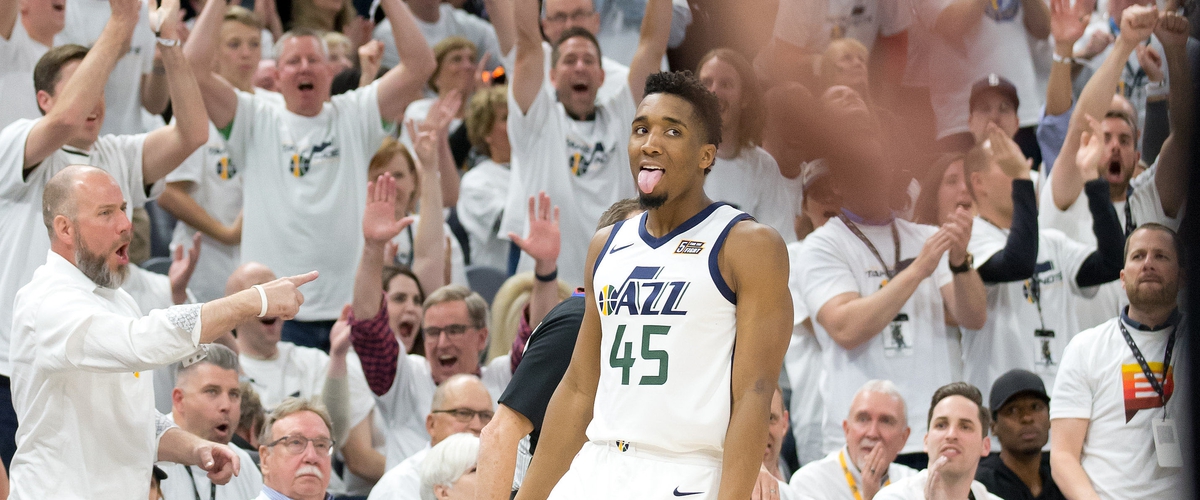 Oh boy does Russell Westbrook have a problem now. His Thunder are now in a 3-1 series hole after the Jazz defeated the Thunder 113-96 in game 4 Monday night in Utah. Westbrook said that he was going to "Shut that (expletive) down" , meaning stop Ricky Rubio. Unfortunately for Westbrook who went 7-18 shooting and had 14 rebounds, 3 assists, and a -14 net rating for the game did not uphold his end of that promise to the media. Rubio put up 13 points, 8 rebounds, and 6 assists, with a plus 22 rating for the game.
A Star is Born!
The real hero of this game and the man that was speechless in the post-game interview because of the fans showing love was Donovan Mitchell. Mitchell has been great all year and in this crucial Game 4 he put up 33 points, 7 rebounds, 4 assists, and a plus 22 rating. He not only passed Karl Malone's 31 points Rookie record for scoring, but in the first four games of the postseason he has scored 110 points which is right behind (guess who), Michael Jordan and Kareem Abdul Jabar. Mitchell is really letting the NBA know that rookie or not he is coming for glory and he is doing it while playing genuine team basketball.
Whats Next For OKC?
The Thunder seem to be in a lot of trouble. The big 3 for the Thunder have really been what they have been all season and that is inconsistent. It is unfortunate that the team that people thought could make some real noise in the Western Conference is now one game away from elimination. The Thunder are really struggling to play like a team. They cannot seem to put together a strong run of games to compete with high quality playoff teams. They went from 10 minutes left in the second quarter and the whole third quarter without an assist. This cannot lead to a good result for the team. Russell Westbrook had 3 assists which was his lowest in two calendar years.
What i think the future holds for this team is honestly disaster. I believe that Paul George will be walking during Free Agency all the way to Los Angeles and they are now stuck with Carmelo and the $28 Million he is guaranteed if he opts in next year. This team is stuck with a huge salary cap and no way to help improve the team over the next 3 seasons due to the fact that Westbrook and Steven Adams have huge contracts on the books. They are also in one of the smallest NBA markets there is and that is not going to change.
Settle in OKC fans, unfortunately it could only be going downhill from here.
---