Spring Game Report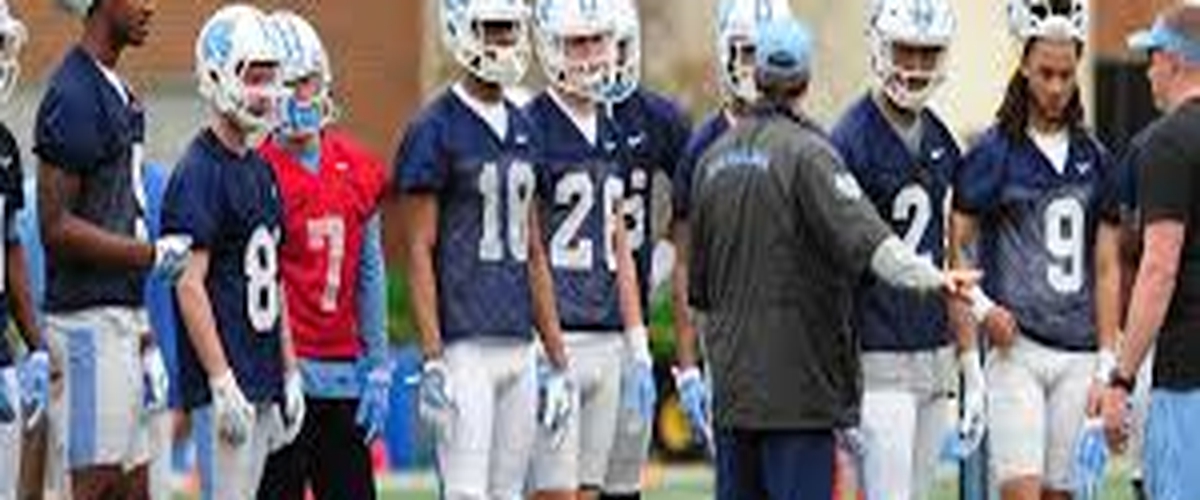 With the basketball national championship in the hands of Carolina, Saturday was where the focus began to shift towards football season. This years spring game was moved from Kenan Stadium to Fetzer Field due to construction going on inside of Kenan (second time ever it's been hosted in Fetzer; 1995). There were many storylines coming into the game and the Heels may leave with just as many questions as answers. The day was owned by the defense, who built a massive lead before the offense made a late push. After almost two hours of action, Larry finally called it, giving the defense an 80-70 win.
Offensively, every position group had to replace production from last season. At quarterback, four players saw action. Nathan Elliott had the best day of the group, showing good arm strength and solid accuracy. Logan Byrd had some good moments throwing, as well, while also displaying his mobility. Chazz Surratt showed some flashes, but doesn't possess as strong of an arm as the other two do. Manny Miles saw some time as well and looked decent.
At running back, Jordon Brown was out due to an injury, while Stanton Truitt will not join the team until fall. This meant that true freshman Michael Carter was the only scholarship running back playing, opening the door for the walk-on running backs. Carter ran well, but was hurt late in the first half. Darius Graves carried the ball 21 times and showed some good things. Jacob Schmidt looked solid before taking a big hit and receiving attention. Antonio James showed some flashes, especially with his speed.
The receiving corps was looking for someone to step up with the top three receivers from last season departed. Austin Proehl showed signs last season and built on that today. Thomas Jackson had a nice day, building on his production from a year ago. Juval Mollette had a special day, catching three touchdowns and showing that he may be the deep threat this season. Roscoe Johnson had a strong showing, displaying good hands and an edge that helps him stay on his feet. Josh Cabrera put his name in the conversation as well.
The offensive line struggled to close out last season and today wasn't that encouraging for fans. The defense threw in some different looks and the offensive line couldn't adjust. On the day, the offensive line allowed 9 tackles for loss, including 7 sacks. This will have to be a focus in fall camp. If not, it could be a long season up front.
Defensively, there were definitely some encouraging things to take away. The 9 tackles for loss is definitely one, especially Dajaun Drennon's 3 sacks. The defensive line looks great, even without Jeremiah Clarke and Aaron Crawford on the field. Jason Strowbridge had a strong performance, as did Malik Carney.
The linebacking corps returns in full from last year, and they showed how well they can work together today. Cole Holcomb had a strong day and Andre Smith looked good as well. Cayson Collins was looking solid until he was injured in the second half. Ayden Bonilla showed once again that he can perform well when needed. Dominique Ross had some more flashes today.
The secondary had some good moments, but also some bad moments. In run defense, the secondary was fantastic. Sophomore safety D.J. Ford led the team in tackles with 13. His great performance along with J.K. Britt's strong outing were extremely encouraging. Myles Wolfork performed well on Saturday at corner, as did walk-on's Zach Goins and Thomas Brown at times. The fact that they allowed 464 yards passing, though, has to be a little nerve-racking.
On special teams, the concern lied at kicker. Freeman Jones handled all of the kicking duties and looked impressive. New holder Hunter Lent was perfect on the day and Jones looked strong in kickoff duties, as well. Austin Proehl caught every punt with relative ease on a sunny day in Chapel Hill.
From what I saw, this team is taking steps in the right direction, especially on defense. However, there are a lot of areas that still need work. The Heels will pick it back up in early August for fall camp.
Passing:
Nathan Elliott: 8-12, 213 yds, 3 TD
Logan Byrd: 12-21, 120 yds, TD
Chazz Surratt: 5-14, 90 yds
Manny Miles: 3-8, 41 yds, TD
Rushing:
Jacob Schmidt: 16 rush, 70 yds
Darius Graves: 21 rush, 65 yds, TD
Michael Carter: 9 rush, 31 yds
Logan Byrd: 9 rush, 31 yds
Antonio James: 6 rush, 30 yds
Manny Miles: 3 rush, 13 yds
Chazz Surratt: 4 rush, 10 yds
Nathan Elliott: 3 rush, 2 yds
Receiving:
Austin Proehl: 4 rec, 109 yds, TD
Juval Mollette: 7 rec, 100 yds, 3 TD
Roscoe Johnson: 3 rec, 88 yds, TD
Thomas Jackson: 4 rec, 46 yds
Josh Cabrera: 3 rec, 30 yds
J.T. Cauthen: 2 rec, 23 yds
Defense:
D.J. Ford: 13 ttkls
Ayden Bonilla: 10 ttkls, 1 TFL
J.K. Britt: 9 ttkls
Myles Wolfork: 7 ttkls, 1 PBU
Andre Smith: 7 ttkls
Jason Strowbridge: 5 ttkls, 1 sck
Dajaun Drennon: 5 ttkls, 3 scks, 1 PBU
Allen Cater: 5 ttkls
Malik Carney: 5 ttkls
Zach Goins: 3 ttkls, 2 PBU
Tomon Fox: 2 ttkls, 1 TFL
Thomas Brown: 2 ttkls, 2 PBU
Jalen Dalton: 2 ttkls, 1 sck