Tar Heel Pro Day Recap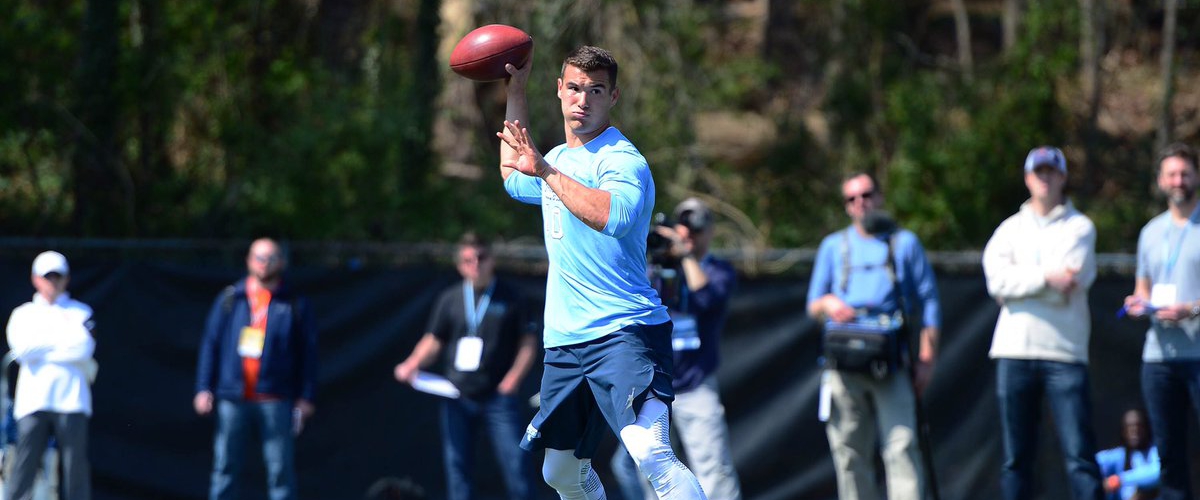 Navy Field was the center of the entire football world on Tuesday morning as Mitchell Trubisky and the other Tar Heel draft prospects took to the field for Tar Heel Pro Day. Let's take a look at what happened on this great day in Chapel  Hill
Who Helped Themselves?
Mitchell Trubisky looked good missing only three throws by my count (not counting drops). With the attention on him, Trubisky looked comfortable and under control. Bug Howard once again caught everything that came his way, proving his drop issues in college were more mental than physical. Elijah Hood had a much needed stock building performance. Hood ran a solid 4.58 40, a time that is positive for someone his size, and looked good in drill, minus a few moments when he looked out of control. However, the prospect who helped themselves the most was Khris Francis. Similar to Romar Morris from last year, Francis came out of nowhere to have a great day and get his name on people's mind. He ran a 4.59, which is solid and then followed it up with a stellar performance in the drills. Francis could end up making a roster after this performance.
Who Hurt Themselves?
No one really completely killed their draft stock, but a few prospects may have dropped a little on people's draft boards. Mikey Bart didn't run great and then looked extremely winded after a few of the drills. Dominique Green ran well in the 40, but in drills, really struggled catching the football. The person that struggled the most, though, was Des Lawrence. Lawrence, like Green ran a quick 40 time, but struggled catching the ball in drills. Lawrence was also extremely tight hipped and struggled in an out of breaks. Even with his tough day, tape will show that Lawrence should make an NFL roster.
Who Stayed Relatively Put
T.J. Logan followed up a terrific combine with a solid pro day. Logan looked decent in on field drills, as well. Ryan Switzer only participated in receiving drills and look good once again, displaying a ridiculous catch radius. Caleb Peterson and Lucas Crowley looked solid, but weren't shown much on the ACC Network coverage. Naz Jones looked solid in drills, but ran two completely different times in the 40. Nick Weiler and Joey Mangili went through drills, but were not shown on the broadcast. Former Heels such as Jack Tabb, Kameron Jackson and Sam Smiley were also out there going through drills. Mack Hollins was in attendance, but did not participate in any drills, more than likely because the quad injury that removed him from the Combine. Jon Heck was not in attendance and there is no explanation as to why.