NFL Backups That Could Start at the End of the Season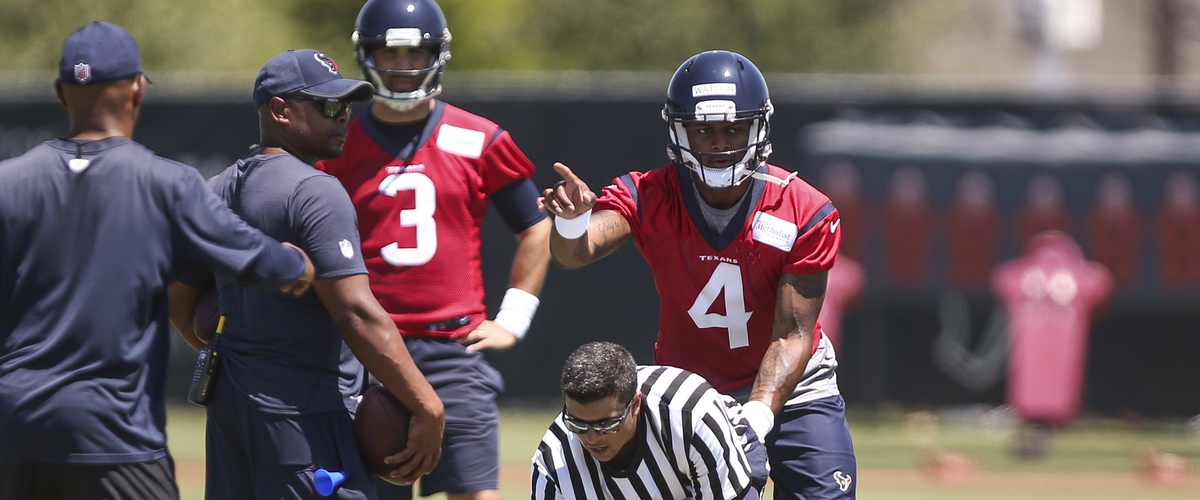 The NFL regular season is just around the corner as teams have already begun hosting organized team activities (OTAs). There is still plenty of time for teams to edit their rosters. Every month of the regular season primary quarterbacks risk losing their starting spot, going down with a major injury, or get cut. Here is a list of a few secondary quarterbacks that could get a promotion at the end of the regular season:
1) Houston Texans quarterback Deshaun Watson
As of right now, Tom Savage is expected to be the starting quarterback for the Texans. That could change sooner than you think depending on how well Savage performs early on in the regular season. The quarterback position is very competitive, and Watson will be itching for every opportunity he can get.
"I don't know if people believe us," Texans general manager Rick Smith said soon after drafting Watson 12th overall in Philadelphia, per ESPN.com's , "but we're comfortable with Tom Savage as our quarterback."
It is hard to believe that the Texans gave up two first-round picks for a quarterback that will keep the bench warm. Savage has a 74.9 passer rating, and zero touchdown passes on 92 attempts in the NFL.
2) Raiders running back DeAndre Washington
There is little to no chance that recently unretired running back Marshawn Lynch will be the primary runner all season long. Lynch is 31 which is ancient for that position. The truth is that Lynch has not effective since 2014. He averaged 3.8 yards per carry in 2017 and only surpassed a 75-yard game once in seven starts.
If Lynch is not going to be a starter, that means there will be a battle between DeAndre Washington and Jalen Richard for the starting spot. Washington has a slight advantage since he did better in college.
3) Seattle Seahawks wide receiver Paul Richardson
The Seattle wide receiving core has been a hot mess as of late. Lots of receivers going down to injuries and not producing well on the field. Jermaine Kearse was one of the most targeted receivers last season but performed terribly. During the 2014 and 2015 season, he only caught 59.4 percent of passes. In 2016 Kearse only caught 53.9 percent of passes. He had the fifth-worst reception rate in the NFL and drew a ton of flags last season. Kearse has little room for error this season.
If Kearse does not succeed this season that allows for Richardson to move up in the ranks pretty quickly. Richardson played well behind Baldwin and Kearse during his rookie season but then lost his entire second season to a torn ACL injury. Lockette was forced to step up until he went out with a leg injury. Richardson has caught 71.4% of passes thrown his way.