ATP Schedule for Post-COVID-19 is Highly Problematic
Barring any unforeseen changes, men's tennis will return on Aug. 14, 2020.
The ATP released their revised schedule on Wednesday with seven events to take place over a nine-week span, including three Masters 1000 events and two Grand Slams, without spectators of course.
It is going to be hectic.
It is also extremely problematic.
Sure, it is great to think that sports will be starting up again soon. It has been an incredibly long and stressful three months during the COVID-19 pandemic at the best of times. The immediate reaction to the news that tennis is coming back is excitement.
But think about it for one second and the positive feelings fade.
If the ATP thinks this is going to be business as usual, they are in for a shock. Will these tournaments be played? Maybe, but just because they are scheduled does not mean they are going to happen. Will the best players in the world show up? Maybe not. And even if they do, what kind of quality will there actually be on court? And what kind of damage are they doing to the function of the tour and the rankings by forcing such a jam-packed restart?
These are just some of the questions swirling around this restart that could doom it entirely, or at least delegitimize any results.
First of all, there is still no guarantee that these tournaments are going to played.
Yes, putting a date on events which allow players to begin to prepare and make travel arrangements make things easier. And yes, in many places around the world, COVID-19 cases are diminishing. And the events will be played without spectators and with enhanced health and safety precautions.
However, one place where cases are still going up at a monstrous rate is the United States, which will host the first three events on the schedule: the Citi Open in Washington D.C., the Western and Southern Open and US Open, both of which will be held in New York City.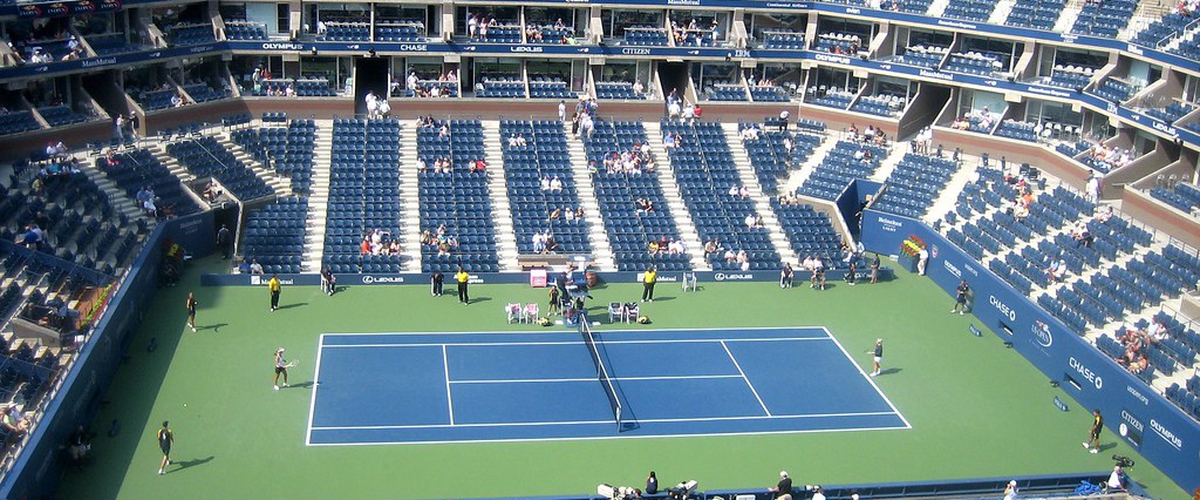 Arthur Ashe stadium will host both the Western and Southern Open and US Open according to the ATP's new schedule
The US is still seeing more than 20,000 new cases every day, only Brazil can compete with those numbers.
Moreover, New York state leads the nation in total and daily new cases. Worse still, within the state of New York, the county of Queen's, which is where the Billie Jean King National Tennis Centre, the host venue of the W&S and US Opens, is located, has the most total and new cases in the state of New York.
That's right, the ATP is planning on hold two tournaments in the epicentre of the epicentre. Good luck with that.
Even once the tour moves out of the US, it is not exactly planning on moving to the safest countries.
Spain, Italy and France have been some of the worst-hit countries by the pandemic. Italy was the first major hot spot in the west and Spain was not far behind and both countries still rank in the top ten in the world in total COVID-19 cases and deaths. However, the daily new infection rate in both countries has dropped way off, averaging less than 400 new cases per day, so it is not too bad.
But by September, the anticipated second wave of the pandemic could be arriving and these will be countries to watch. One would hope that their experience in the first wave would help prepare them, but Mutua Madrid Open tournament director Feliciano Lopez says he wants fans in the stands for the tournament which certainly does not send the right message about preparedness.
These concerns are not just those of a bored 20-something on his couch in the basement of his house in urban Toronto. Several big names have expressed their concerns about travelling, particularly to the US, for tournaments.
Rafael Nadal, the defending US Open champion, has been vocal about taking precautions when returning to play, going as far as to suggest that the ATP should cancel the entire remainder of the 2020 season. He is on record saying that he will not fly to the US if it is not completely safe, which he said it currently is not.
World number one Novak Djokovic has made similar comments, saying holding a tournament under such tight restrictions is not possible.
With Roger Federer already out for the remainder of 2020, the US Open faces the possibility of holding an event without the Big Three, which would completely delegitimize the tournament (more on that in a few days).
And it is not just the Big Three expressing their concerns. Other players, most notably Nick Kyrgios, have come out against the holding of the US Open while the pandemic continues to rage and the United States remains the epicentre.
With health concerns and travel restrictions, it is entirely possible that most of the world's top men will not show up, which would forever taint the tournament. What is the point of having a Grand Slam event without the world's best?
Putting the pandemic aside, the actual timing of the events is absurd. The ATP calendar is cramped enough as it is, but now shoving three Masters 1000 events, two Grand Slams, a 500 and a 250 into a nine-week span, not to mention the ATP said in a tweet that events will be held in October after this preliminary schedule is through, is adding gasoline to a fire that players have already been expressing concerns about for years.
If the travel was not already an issue that was going to keep players out of tournaments, having tournaments back-to-back for nine straight weeks means big names will skip events.
It is unlikely that any top stars will go to Washington. It is only a 500 and an easy cut. The W&S Open should be ok because it is being held in the same venue as the US Open so no travel involved. But any player who makes the quarterfinals or further of the US Open will almost definitely skip Madrid as it starts on the same day as the final in New York.
Most players will probably only play one of Madrid or Rome. While they are normally held back-to-back, there is a week between them and the French Open. Not in this new schedule. True, the French Open is spread out over an extra week, but the tournament still begins the same day as the Rome final.
Odds are players who lose early at the US Open (if they make the trip across the Atlantic at all) or skip the US Open entirely (which don't be surprised if players like Nadal and Djokovic do), will play Madrid. The players who go deep in New York will take the week off after and play Rome as their French Open warm-up. But since most big names like to take the week off before a slam, expect a depleted field in Rome.
And of course, it's entirely possible that many North and South American players won't make the trip to Europe, just as the Europeans may not make the trip to the United States, although this seems less likely as Spain, Italy and France are way less dangerous than the US.
Oh yeah, and do not forget there is a surface change here. The US leg will all be played on hard courts before going back to Europe for the clay. And should some of the regular October tournaments go ahead, it will probably be back to hard court.
Players do not tend to like the surfaces switches as it is. The most likely outcome is you will see two completely different sets of players on the two legs. The same guys will play the US hard courts and then skip the clay, while another gang, likely containing Nadal and Djokovic, will skip the US hard courts and play the clay.
The result will be watered-down fields in both legs.
Long story short, not one of these tournaments will have a draw as strong as any one of them would in a normal year or could have had with a better schedule this year. Some of these Masters 1000 events will be lucky to look like 500, if not a 250. It is a joke.
No one is going to play more than four events during this schedule.
That is not to say that players won't try. Men like Dominic Thiem and Stefanos Tsitsipas have always been very cavalier about trying to play every event. But watch out. This much tennis, this much travel, and the surface switches will almost definitely lead to an increased injury rate.
Players are going to have to pull out of some of these events just to protect their bodies. Even in his prime Nadal probably would not try to play all these tournaments. Best case scenario for him is probably four here.
And what happens when these players get hurt? That leads to our final question for now, what about the rankings?
The ATP rankings have been frozen during the pandemic. But if a player withdraws over health concerns or travel issues, is the ATP going to rip their points away?
That is hardly fair when the tour is forcing them to play in inappropriate conditions.
And some players have a ton of points to defend, most notably Nadal. He is the defending champion at both the Slams that are going to be played as well as Rome. That is 5000 points right there. If he pulls out of the US Open for safety concerns, he will essentially be penalized almost 20 per cent of his ranking points. But it is not as if he's just skipping for no reason, he's concerned for his health. Who can blame him?
And if a player tries to play all the events they would normally play and get hurt, their ranking could suffer when normally, with a properly paced schedule, they may not have been injured. The ATP would be responsible for that injury.
The ATP has not made any statement addressing these rankings concerns yet, but it would be apparent to any neutral observer that players either unable or unwilling to play at any of these tournaments due to the COVID-19 pandemic should not be penalized in the rankings.
But making exceptions in the rankings would be incredibly complicated and could have long term ramifications.
There is no easy solution. It is going to be tough one way or another.
Well, there is one easy solution.
Do not mess with the schedule.
Just because these tournaments do not want to cancel themselves, like the Rogers Cup did on Wednesday, doesn't mean the ATP has to bow down to them.
If the ATP wants to come back on Aug. 14, start with the W&S Open and stick with the regularly scheduled season.
Will the French, Spanish, and Italians be pissed off? Sure. But everyone is losing in this situation.
And by forcing the square peg of this schedule into the round hole of the calendar and sport, the future and integrity of the sport is being put in jeopardy.
Follow on Twitter @PeteB_93
---