Can Roger Federer come back from injury again?
Roger Federer's seemingly out of the blue announcement on Feb. 20 that he had undergone knee surgery and would be out until after the French Open sent shockwaves through the tennis world.
It also instigated another round of nobody's favourite game, writing Federer off and saying his career is over.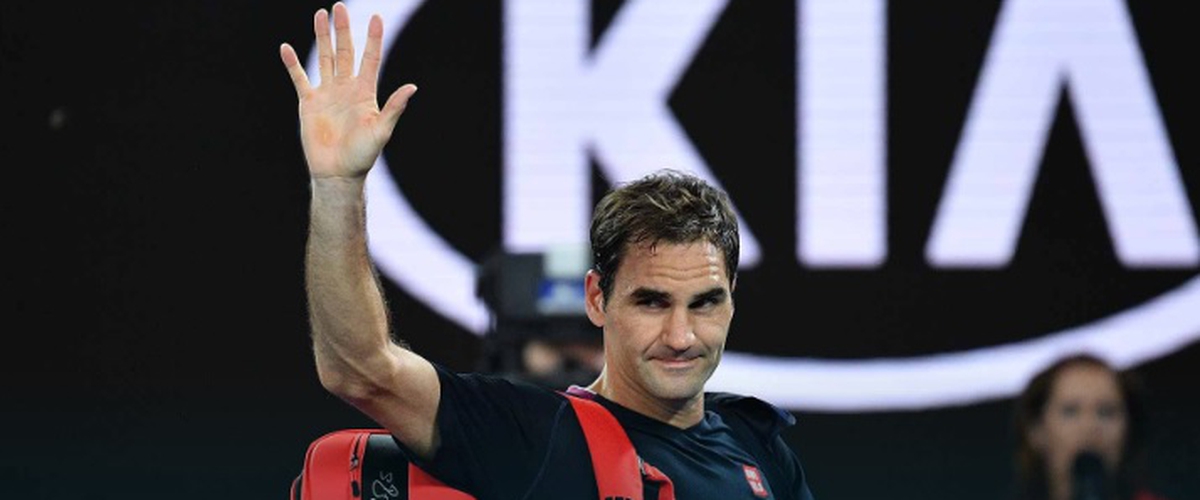 Federer leaves the court after his semifinal loss at the Australian Open. Photo: Peter Staples/ATP Tour
It's not the first time the 20-time Grand Slam champion's career has appeared to be in jeopardy. Who knows if it will be the last?
Well, things do feel a little different this time.
Injury History
This is by no means the first time that fans, journalists, and others on the internet have started writing obituaries for Federer's career.
As long ago as 2008, when the Swiss was only 26 and still number one in the world, already many predicted the end of Federer's run as a result of Rafael Nadal's improved play off of clay and the rise of Novak Djokovic, combined with Federer's drop in form due to a bout of mononucleosis.
The first time the injury bug really bit Federer was 2013, when back problems saw him fall out of the top five for the first time in over a decade, dropping as low as No. 8 in January 2014. He was 32 at the time, an age at which many players call it quits.
In 2016, Federer had his first surgery on his left knee after a fluke off-court accident. He returned to the tour that year, only to call it quits after Wimbledon because of continued knee pain.
Every time Federer was written off, but every time he bounced back.
In 2008, he closed the year by winning the US Open and then completed his career Grand Slam by finally winning the French Open in 2009, which he followed up by breaking Pete Sampras' men's Grand Slam singles title record with a 15th major title at Wimbledon. All that within a year of being dethroned at the top by Nadal. He finished 2009 at number one.
After his back issues in 2013, Federer reached a pair of major finals in 2014 and finished the year at No. 2 behind Djokovic.
He saved his best for 2017, coming back from the worst injury of his career in 2016 to win the Australian Open in his first tournament back, his first major title in nearly five years. He won three slams after that injury and briefly returned to No. 1 for the first time since 2012.
The lesson from history here: bet against Federer coming back at your own peril.
Tougher with Age
The thing is, recovery gets harder as a human gets older. The body does not heal as quickly.
Of course, everyone said that when Federer hurt his back at age 32 in 2013 and when he hurt his knee at 34 in 2016.
But the Swiss is now 38. He'll be 39 in August. Four years may not seem like a lot, but it is. Only a handful of professional athletes in any sport play at such a high level for this long. Federer is already a freak of nature, but Father Time remains unbeaten and the longer Federer plays, the older he gets, the more injuries will be a problem.
The fact that Federer managed to stay pretty healthy until 2013, 15 years on the tour as a pro, is already incredible. But considering how healthy he was for so long and the troubles he's had since (the back injury continues to dog him regularly, just because he plays through it and wins doesn't mean it's not there), create a concerning pattern.
The fact that he's now had surgeries on both knees is also problematic. The optimistic way to look at it is that at least he doesn't have one knee that is constantly causing problems. The pessimist's view is that he doesn't have a good knee, so double the likelihood of re-injury.
That being said, Nadal seemingly can't go four tournaments (give or take) without pulling out with a knee injury so maybe it's not that big a deal.
But beyond Federer's age. The game is changing around him. The young players are (finally) breaking through and contending for big titles. Just look at the last two ATP Finals winners.
They hit harder. They move faster. They have better endurance. Tennis is becoming an even more physical game than it already was and the top contenders have the stamina go out there and bash away for hours.
The endurance game was always one Federer was not as good at, at least compared to Nadal and Djokovic. Previously, he could serve and volley his way past that problem. But if his body is aching and these young bucks can go all day, it's hard to see the Swiss being able to keep up for much longer.
The Rankings Factor
All the stuff about Federer's age and body has been said before. The Swiss has earned the benefit of the doubt on those fronts, despite obvious reasons for concern.
In a way, Federer is catching a break with the rankings this time around, but it could still be trickier than it appears on the surface.
Since he will be missing a chunk of the season where he did quite well last year, he could see a noteable fall in the rankings which could make the comeback more difficult than before.
Federer is planning to come back for the grass season. Between now and then, he has 3180 points that will drop off his ranking. That's the downside of having a great spring in 2019 where he won Miami and Dubai, reached the final of Indian Wells, and the semifinals of the French Open.
Based on the current rankings (time of publishing, Feb. 27, 2020), Federer would fall to around No. 7, only four spots.
To put that in perspective, in 2008, he never fell out of the top two. In 2013/14, his low was No. 8. When he came back from surgery in 2017, he was No. 17. Tricky, but really only for one tournament since his Australian Open title put him back in the top 10.
So in theory, this should not be as tough as 2017 was.
The difference here is he comes back to two tournaments where he has a ton of points to defend and can't really increase his ranking. He is the reigning champion in Halle and was the runner-up last year at Wimbledon.
If Federer is rusty and struggles early, he could drop as much as another 1700 points (if he loses in the first round of both) which would see him fall down to around No. 15.
Again, that's not too bad. And in theory, this layoff should help him be rested for a part of the season where he has historically done fairly well and the surfaces, generally fast hard courts, work well with his game.
But to compare this comeback to 2017, the actual rankings can be deceptive based on who would be ahead of him.
In 2017, when he got back into the top five within three months, the players ahead of him were not as strong as today. Andy Murray was No. 1 in the world and he and Djokovic were both struggling with injuries. Milos Raonic started that year at No. 3.
Other notable players ahead of Federer included Marin Cilic, Tomas Berdych, Gael Monfils, David Goffin and Lucas Pouille. Solid players, without question. But today's young crop of Thiem, Medvedev, Zverev, and Tsitsipas, not to mention a full-strength Nadal and Djokovic, pose a far bigger threat to keeping Federer boxed out of the top tier.
The End of the Federer Era?
Federer has been a presence on the ATP Tour for so long, it's hard to imagine the tennis world without him. This writer can't even remember the time before he was a star.
But all things must come to an end and the mountain Federer is currently facing seems more daunting than the ones he's previously successfully climbed.
That being said, this is Roger Federer we're talking about. Probably only Rafael Nadal can claim to have successfully rebounded from injury more times than the Swiss.
While there are lots of reasons to be concerned for the Federer's career, more than usual this time, there are reasons to be optimistic as well.
Don't be surprised if he bounces right back and finds himself in the top three again by season's end. Heck, don't even be surprised if he's holding that golden cup he's lifted eight times previously on July 12 at the All-England Club.
But now more than ever, you could be forgiven for writing down some notes for a celebration of the end of Roger Federer's incredible career.
Follow on Twitter @PeteB_93
---