Felix Auger-Aliassime's poor finals record is no reason to panic... yet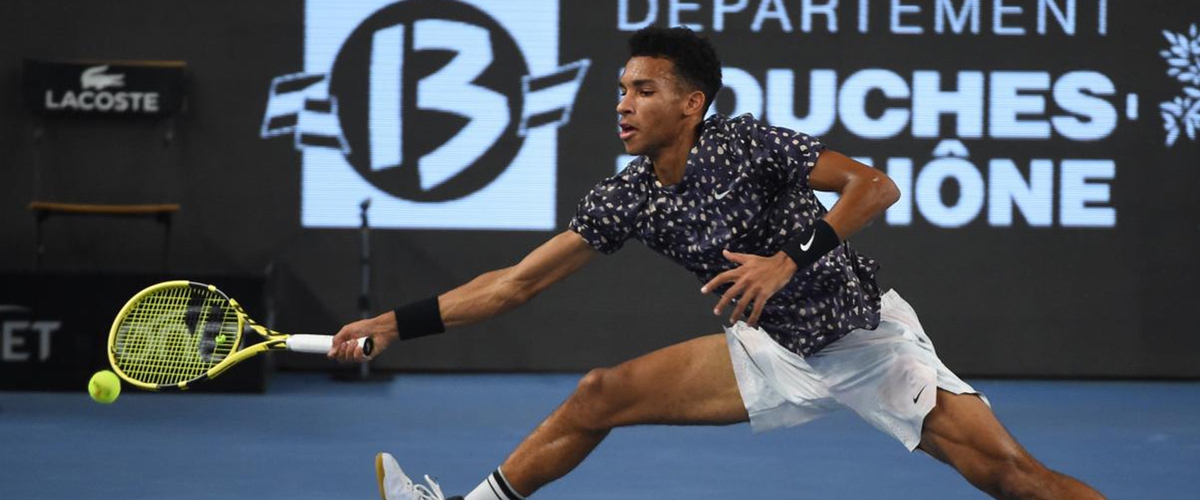 (Felix Auger-Aliassime. Photo: Corrine Dubreuil: Open 13 Provence)
There are lots of reasons to like Felix Auger-Aliassime.
At age 19, he's already the No. 19 men's tennis player in the world. He was a junior stud, has set a number of "youngest-ever" records on the ATP and Challenger tours, including youngest semifinalist at the Miami Open. He's the top-ranked player born in the 2000s. And he plays an exciting, hard-hitting, heavy-spinning brand of tennis that looks like a cross between Rafael Nadal and Andy Roddick.
If there's a reason to be skeptical about him, it's his record in ATP Tour finals.
On Sunday, Auger-Aliassime fell in straight sets to Stefanos Tsitsipas in the final of Marseille. It was his second finals loss in as many weeks. His fifth finals loss out of five total. All of his losses were in straight sets.
Ever since he became the youngest player ever to qualify for a Challenger event at 14 in 2015, Auger-Aliassime has been touted as a future star. But his poor career start in title matches does not bode well for extended success.
So is his 0-5 record in finals reason to doubt his potential?
The Five Finals
Just over a year ago, Auger-Aliassime, then ranked 104 in the world, took out four top-notch clay court players to become the youngest ever ATP 500 finalist at the Rio Open, only to lose to Laslo Djere in straight sets.
Next up was Benoit Paire in Lyon, again on clay, the week before the French Open in May. Same Result.
After his best results came on clay to start, Auger-Aliassime showed himself to be a man for all surfaces when he reached the final on grass in Stuttgart. But the new surface failed to produce a new result as he lost to Matteo Berrettini in straight sets.
The Montreal-native went cold in the latter half of 2019 and started 2020 poorly before racing into the final over Rotterdam earlier in February, his first on a hard court. But he was no match for defending champion Gael Monfils.
He bounced back to reach the Marseille final the following week, but again couldn't hang with the defending champion Tsitsipas.
Losing your first five finals, all in straight sets, is bad. There is no sugar-coating it.
And Auger-Aliassime mostly looked bad in those finals. These were not necessarily instances of opponents having a better day. His serve was off. His forehand looked magnetically repulsed from the court. He tried to rush his shots and do too much. In each of these five finals, he played worse than he had in the earlier rounds.
That being said, there is some reason to cut the kid some slack.
He was the lower-ranked player in three of those finals: Rio, Rotterdam and Marseille.
In the two where he wasn't, there were some extenuating circumstances. In the Lyon final, he was dealing with a leg injury. In Stuttgart, Berrettini was building momentum towards a summer that saw him reach the US Open semifinals and enter the top ten.
On top of ranking, he was the less-experienced player in four of the five finals. Only in Rio, his first, did he play an opponent with just as many finals played as Djere was also playing his first. In every other final he's played, the player had already won at least one title and had played more career finals.
And in these last two weeks, he played the defending champion both times.
So there are plenty of excuses for these losses. Auger-Aliassime has hardly had it easy.
However, that still doesn't explain his bad form in the finals. Only Lyon, where he was injured, could his bad play be blamed on anything but himself. In the other four, he simply wasn't good enough. He made far too many errors and failed to impose his game on his opponents.
His mental fortitude needs to improve if he's going to buck this trend. It's just not possible to be a top-tier player on the ATP Tour and regularly choke in finals. And these are just 250 and 500-level finals. Masters 1000s and slams are going to be much tougher.
The good news, while he didn't play his best, his Marseille final against Tsitsipas was probably his most solid performance of the five, so combined with his late surge in the final set in Rotterdam, the 19-year-old may be trending in the right direction.
Historical Precedent
The goal for every tennis player ever is to become No. 1 in the world and win Grand Slam titles.
While Auger-Aliassime has not come close to either one yet, his early record in big matches does not bode well. Especially when you consider players who have reached the top of the mountain.
Of the 26 players to be ranked No. 1, none lost their first five finals. One lost their first four.
That was Bjorn Borg, who went on to become one of the greatest players of all-time. So if he's the example you're following, there's no reason to panic. But then again, not everyone is Borg.
That being said, there are lots of reasons to draw parallels between Auger-Aliassime and Borg. Both were teen sensations. Both had early success on all three surfaces (Borg reached clay and hard court finals before winning his first title on grass). Their styles, strong baseline game behind heavy-spinning groundstrokes, are very similar.
So even though most future No. 1's had more early success, and should he become No. 1, Auger-Aliassime would be the first to do so after losing his first five finals, there is some precedent for the youngster turning things around.
Besides, just because they didn't lose their first five doesn't mean all world No. 1's started hot. Roger Federer lost four of his first six finals. Many lost as many as they won before beginning to dominate.
At the end of the day, the fact that he's even made five finals before the age of 20 is more than most tennis players can say.
Reason for Optimism
2019 saw Auger-Aliassime steal the spotlight in his native Canada from 20-year-old countryman Denis Shapovalov, who had suffered from similar late-tournament disappointments early in his career. However, a hot finish to 2019 saw the slightly-older Canadian regain the spotlight.
How? He won a title in Stockholm and then reached the Masters 1000 final in Paris in November.
What that run made everyone forget was how bad Shapovalov had been in semifinals prior to October 2019.
Shapovalov was 0-7 in semis before breaking through in Stockholm.
So while Auger-Aliassime may be 0-5 in finals, he's still made three more than his countryman.
In total, Auger-Aliassime is 5-3 in ATP semifinals. Shapovalov is 2-7.
The point is Shapovalov showed how much one title can change the narrative. Most players would say reaching five finals is better than two. But since Shapovalov won one and Auger-Aliassime is 0-5, Shapovalov's star has risen higher, and expectations with them.
The mere fact that Auger-Aliassime is making finals regularly, all five have come since February 2019, shows that he has the game to beat lots of good players.
All it could take for Auger-Aliassime to take off and rocket to the top could be one finals win. The first five could be forgiven and forgotten.
And he's only 19. He is still gaining experience. Sure, one would hope that it would not take this many finals losses for the Montrealer to learn the important lessons, but there is still plenty of time for him to figure out how to win under pressure.
These things can take time. Players are maturing later than they used to. The last teenager to win a Masters 1000 title was Djokovic back in 2007.
To use the Federer example again, which may be a good one since he and Auger-Aliassime share a birthday, after that 4-6 start in finals, he went 31-2 over his next 33. Momentum and confidence builds over time.
However, if this losing trend continues, if Auger-Aliassime does not begin to play better in finals, and play better at the Masters 1000 and Grand Slam level in the early rounds, then it may be time to lower expectations for the highly-touted teen.
Follow on Twitter @PeteB_93
---