Where could Tom Brady play in 2020?
The new NFL year is now just over two weeks away, and with it the free agency period.
Over the last few days, Tom Brady's name has been in hot circulation as rumours begin to swirl about whether or not he will re-sign with the New England Patriots, or finally move on in free agency.
On Thursday, ESPN's Jeff Darlington caused a firestorm when he said that Brady intends to test the free-agent market and he would be "stunned" if Tom Brady stays in New England.
Conversely, NFL Network's Ian Rapoport said the same day that Brady is in the Patriots plans for 2020.
As strange as it may seem, Brady walking off the field after the Patriots wild card loss to the Tennessee Titans may be the last time we will ever see him on the field in Patriot navy and silver.
At age 42, Brady has played his entire 18-year NFL career in New England. After all that time, the idea of him donning a different jersey just doesn't feel right.
But his contract is up, he's selling his house, and with his frustration with the team, especially their handling of the wide receiver situation all year which culminated in a sub-par offence and their first wild card game appearance and loss in a decade, it genuinely seems like the Brady era is over in Foxborough.
As well, he reportedly has not met with the Patriots since the end of the season, despite rumours of a planned meeting at this week's draft combine. As far as the public is aware, no meetings are currently scheduled between the team and their long-time QB.
So, if he really is going to meet his oft-mentioned goal of playing until he's 45, where might Tom Brady call home in 2020?
Let's play the game of speculation. Here are the ground rules: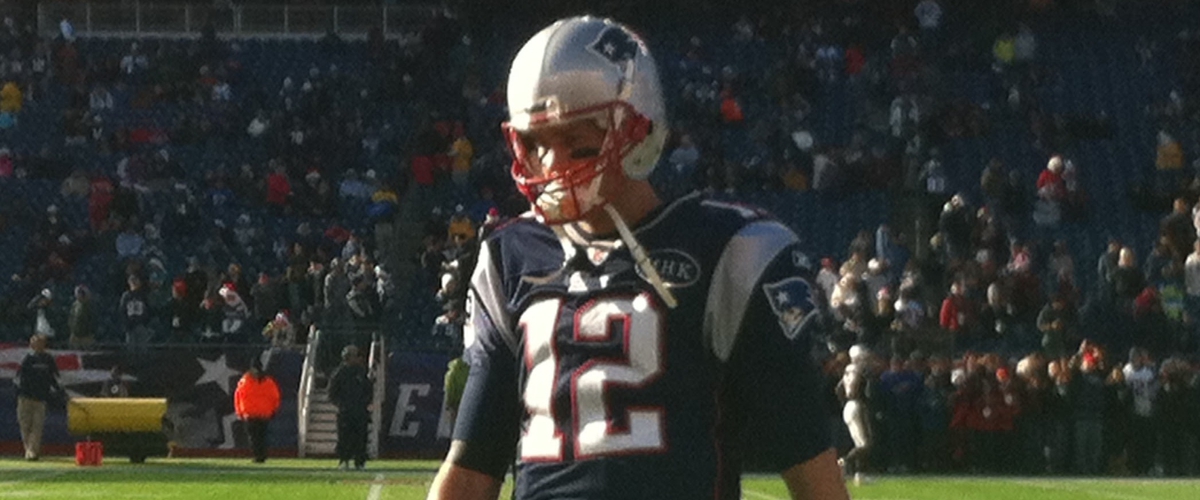 A quarterback vacancy and Brady's clout won't be enough to make a good fit for the six-time Super Bowl champion. There are certain factors that need to line up for a team to want Brady and for Brady to want to play for them.
First of all, Brady is not going to be a backup. He wants to start. There will be no mentoring like Eli Manning did last year (and look how that turned out for the Giants).
Second of all, he wants to win. There are a number of lowly teams who need a strong quarterback. But the Bengals and Dolphins are more than a quarterback away from success, so it's unlikely he will walk into a situation like that.
Brady needs a team that has potential, already has offensive weapons, and could be in a position to win if they add his experience.
Genuine Possibilities
Chargers
After being a win away from the AFC's top seed in 2018, the Los Angeles Chargers may have been one of the biggest disappointments in the NFL this year, going a measly 5-11 and finishing last in the AFC West.
The Chargers were touted by many to be a Super Bowl contender. Considering their strong lineup, a bounce-back in 2020 is entirely possible.
They have plenty of toys for a quarterback to play with, but currently have a vacancy under centre. The team recently announced that they will move on from Philip Rivers after 14 seasons in which he started every single game.
Last season was one of the worst of Rivers' professional career which was a big reason why the Chargers struggled.
However, look at the tools they have and there's plenty of reason for optimism. Melvin Gordon proved his elite status, picking up 612 yards and 8 TDs in the run game despite missing the first four games of the season. Even with Rivers struggling, Keenan Allen and Mike Williams both had over 1000 yards receiving. And Austin Ekeler was a devastating dual-threat, falling just short of 1000 yards through the air while adding 557 yards on the ground.
The Chargers are a team that could easily turn things around next year. A more reliable quarterback with a ton of winning experience could be the piece that finally gets the Chargers over the hump.
They certainly have the offensive weapons that a quarterback would love to play with. The very kind the Patriots did not have in 2019. They also have the sixth overall pick at this year's draft which they could use to pick up another toy for Tom.
Not to mention Los Angeles is far closer to home for the San Mateo, California-native Brady.
Titans
The Titans shocking playoff run may have increased the likelihood that Ryan Tannehill will stick around, but the Titans do not have a starting quarterback under contract for the 2020 season.
The Titans came on strong late in the season largely due to the play of Tannehill, who took over under centre from Marcus Mariota in week six and never gave the starting job back.
But with both being unrestricted free agents, the Titans can do some exploring and could consider an upgrade, if the QB they beat in the wildcard game would be considered an upgrade.
Under Tannehill, the Titans offence showed how lethal they can be. The question is who do they want to give the reigns to. It certainly seems like the team has given up on the former second overall pick Mariota.
In theory, Brady could do wonders with that offence. The running of Derrick Henry would take the pressure off his ageing arm, while he would have a top receiver in A.J. Brown waiting for him.
Even though Brady's passing numbers were not great in 2019, Tannehill barely threw the ball in the playoffs. It worked, but it's hard to win consistently with that strategy. Teams will eventually find a way to stop Henry. The Chiefs did.
But with Brady under centre to keep the defence honest, knowing passes could be coming, the Titans offence could be even more deadly as Henry could exploit unprepared defences.
On top of the on-field reasons, the Titans are coached by Brady's former teammate Mike Vrabel and the pair reportedly have a very strong relationship.
Also, Gisele was rumoured to be looking at private schools in Nashville.
Raiders
A new home, a new start, a new face for the Oakland- sorry, Las Vegas Raiders?
Over the last few years, the Raiders have been one of those teams that always seems close to success, but still finds a way to lose.
They needed a miracle to get into the playoffs this season and came scarily close, falling a win and a Titans loss short.
For a team that traded away so much of its potential, see Khalil Mack and Amari Cooper, over the last few seasons, they keep coming close.
Maybe Brady could have been the difference when the margins were so thin.
Derek Carr has had his moments but has not shown himself to be an elite quarterback. While the Raiders could maybe use some more weapons to support Josh Jacobs and Darren Waller, the Brady touch could be enough to at least get them into the playoffs.
Thing is, Carr is under contract for three more years with a $22-ish million cap hit, so he'd have to be shipped out. But considering he was booed off the field during the Raiders final home game of the season and an apparently rocky relationship with head coach Jon Gruden, he may be happy to move on.
There is some reason to believe that the Raiders will be deeply involved in the Brady sweepstakes. ESPN's Adam Schefter reported earlier in February that they are planning to make a serious push for the six-time Super Bowl champion. Further reports, albeit less reliable ones, have said that Raiders are planning to offer Brady a two-year, $60 million deal.
Gruden also loves Brady.
And how funny would it be if Brady brought glory back to the Raiders after he swiped it from them courtesy of the tuck rule back in 2002.
Other potential long shot destinations:
Bears: The Bears are good. Mitch Trubisky is not. He regressed big time in 2019 and the Bears missed the playoffs. They have an elite defence that would take the pressure off of Brady and could bail him out on bad days, much like the Patriots defence did in 2019. However, the Bears have said they are willing to give Trubisky another year.
Colts: Brady's former backup Jacoby Brissett started strong but faded in his first year as the starter in Indianpolis. The Colts were a strong team during with a healthy Andrew Luck before his sudden retirement. An elite quarterback like Brady could be the only thing standing between Indy and contender status. And the Colts have openly said they are willing to explore their options at any position, including QB.
Panthers: Speculation is rampant that Cam Newton is finished, but Kyle Allen and Will Greer didn't look particularly strong in his place while the former MVP was out with injury. With a new coach, the Panthers look to be set for an overhaul, but they already have some big weapons on offence Brady could enjoy playing with. The Panthers come with a No. 1 receiver in D.J. Moore and a devastating run game with Christian McCaffrey which would take the pressure off of Brady's arm. All that being said, reports emerged earlier this week that the Panthers are planning to stick with Newton.
Buccaneers: Jameis Winston's contract is up after five meh seasons with no playoff appearances. Brady would provide stability under centre. True, he won't throw 30 touchdowns or lead the league in passing yards, but he won't throw 30 interceptions either. Winston's numerous offseason surgeries also cast some doubt into his future with the franchise.
Steelers: Wait wait wait wait wait hear me out. The argument could be made that the quarterback position was the only reason the Steelers missed the playoffs last season. IF, and only if, Ben Roethlisberger is done, the Steelers are in a position to win now and neither Mason Rudolph nor Devlin Hodges seem like the quarterback to get it done, so they could use someone with experience but doesn't necessarily need longevity. Besides, Brady knows how to win at Heinz Field in the playoffs, he's 2-0 there in the postseason.
The Sunset
There is no denying Brady's greatness. He is the GOAT.
He will also be 43 in September 2020 when the season begins.
How many teams really be looking for an ageing quarterback coming off one of, if not THE worst season of his professional career?
Especially if Brady wants to play for at least three more years. That's a big commitment, and a gamble, for a team to take.
It's part of the reason why he could be available. If the Patriots aren't willing to bet on him, how many teams will there really be?
Surely someone will give Brady a contract. But the league is getting younger and the quarterback position is evolving. It's all about mobility now with Patrick Mahomes and Lamar Jackson setting the new standard. Brady is a bit of a relic of a different age of quarterback play.
That doesn't mean he can't still play and succeed in the NFL. But Brady wouldn't exactly be the choice of teams looking to keep up in this changing league.
So will be there even be much of a market for Brady? He may be overestimating what he can get at this point in his career.
The Titans are probably the only 2019 playoff team that might be looking for a quarterback. A lot of the teams that just missed out either have a young quarterback or are in position to draft one.
And he won't play for the Dolphins.
So if Brady can't find a team that is in a position to win and will pay him what he wants for the term he wants, might he decide to walk away entirely from the game?
There would be no shame in that. There is little more he can do to add to his legacy. He's the GOAT whether he plays another snap or not.
It would be a change of course from the goals he's been talking about for years. And he said after the wildcard loss this year that it's "unlikely" that he'd retire. He's also insisted during the offseason that he has more to prove and has said, most notably in a Super Bowl commercial that he cryptically teased in an Instagram post that set off a social media firestorm, that he isn't going anywhere.
But if there is no market for him, or it's not what he wants, it is possible that Brady could retire. Don't be on this option though.
On to…. Foxborough?
Just picture it. Brady tests the market, but doesn't find a new team. No contenders are willing to take the chance on him (yes, giving Brady at this stage of his career after the season he had a chance is a gamble), he doesn't want to play for a garbage team, but he is still desperate to play.
He can't live the with options on the table. Where does that bring him? Back to New England.
Maybe it doesn't come to that. Maybe the two sides sort a deal out before he even tests the market. But at this moment in time, Feb. 28, 2020, that seems unlikely.
A lot could depend on what the Patriots do in free agency and who they can acquire to bolster their receiving corps. A lot of changes are needed and it's unlikely Brady will return to the same offence.
But if they are willing to meet Brady's terms, the Patriots may still be the best fit for him.
As long as Belichick is on the sideline (although if rumours are to be believed, that may be part of the problem), and the defence continues to dominate, the team will have a shot at contention.
Barring a real shock elsewhere in the league, Josh McDaniels will also be back since all the coaching vacancies has been filled. His departure would have seriously hurt the Patriots odds of bringing Brady back, although perhaps Dante Scarnecchia's retirement will have a negative effect.
Considering that New England will be drafting 23rd and Jarrett Stidham hasn't shown much as a potential replacement, finding a way to keep Brady is still in the team's best interest as they are not really in a position to replace him.
Besides, team owner Robert Kraft has said on numerous occasions that he wants Brady to retire as a Patriot and just recently was quote as saying the team plans to keep him. And if Brady is going to listen to his fellow legends, the Joes, Namath and Montana, have both publicly recommended that he stay in New England.
The legal tampering period, when teams other than New England can speak to Brady, begins on March 16. The new league year, and free agency, begins on March 18 at 4:00 pm ET.
Follow on Twitter @PeteB_93
---