Tennis should not add a fifth Grand Slam
With the cancellation of the BNP Paribas Open in Indian Wells this week, the tennis world lost one of its marquee events.
For a long time, Indian Wells has referred to itself as tennis' fifth slam. For good reason. With prize money (equal for men and women) reaching nearly $20 million USD and attendance bested only by the actual four Grand Slams, it is the largest non-slam event on the tennis calendar.
It will be missed.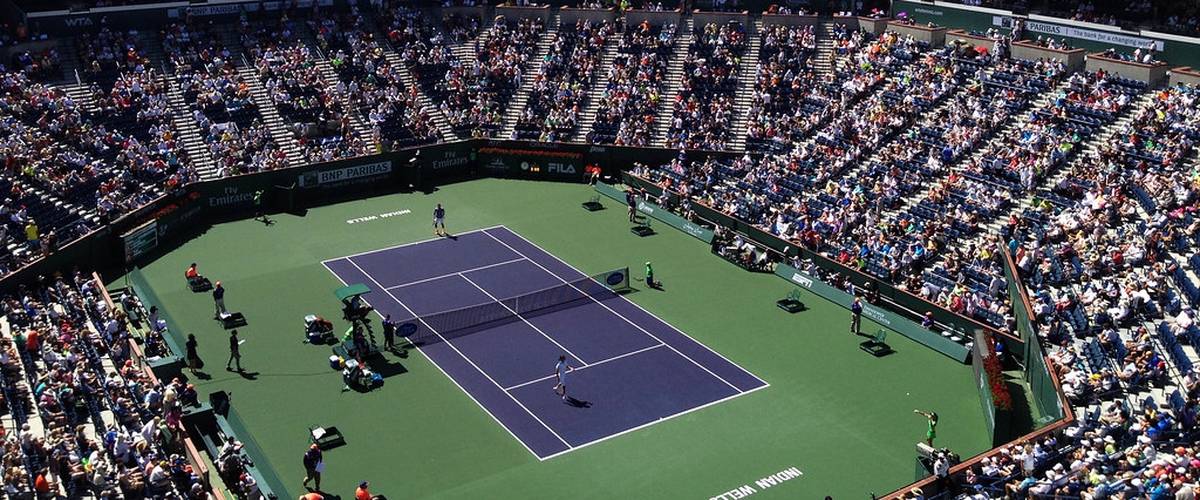 But that nickname of the "fifth slam" is interesting. The discussion over whether or not to add a fifth Grand Slam to the schedule always seems to be cooking, no matter how unrealistic.
If Indian Wells wants to call itself the fifth slam, that's fine. But under no circumstances should the International Tennis Federation actually add a fifth slam, in Indian Wells or anywhere else.
Importance of the Slams
First of all, there is history attached to the slams. Wimbledon is the oldest tennis tournament on the planet. The US Open is not far behind. Only the French Open is under 100 years old in its current form (although the French Championships, which were for Frenchmen only until 1925, dates back to 1891).
A fifth slam would not fit with that motif.
As well, the addition of a fifth slam would mess with records.
Say a fifth slam was added in 2021 and Bianca Andreescu goes on to win 30 Grand Slam singles titles, is there an asterisk next to that record because she had one more slam each year to win? How would you compare her record to Serena Williams' 23?
It's already hard enough to compare pre-Open Era slams, especially those in the 1960s when many of the tour's best men were playing professionally and were banned from the majors, to the Open Era. Adding a fifth slam would needlessly complicate an already annoying GOAT debate.
Not to mention bye bye the hopes of a calendar-year Grand Slam. It's been 32 years since Steffi Graf swept all four. Only five people have ever done it at all. And that was just winning four.
In the Open Era, three times women have won five or more consecutive Grand Slam titles: Margaret Court from 1969-71 (6), Martina Navratilova in 1983-84 (6), and Steffi Graf in 1988-89 (5). Only one man, Don Budge in 1937-38, has won more than four straight slams, winning six in a row.
Completing the Grand Slam is already one of the toughest tests in all of sport. It would be nearly impossible if a fifth slam was added.
And what about legacies? Do Roger Federer, Rafael Nadal, and Novak Djokovic get to keep their career Grand Slams if a fifth is added and they never win it? What about Andre Agassi, who would never have the chance? Or Rod Laver's double slam in 1962 and 1969? Does it count anymore? It would just be needlessly complicated.
All Booked Up
Then there's the issue of scheduling. Both tours, especially the men, are too long as it is. Adding a second two-week event would be brutal for the players and could also negate any financial gain by forcing the cancellation of other tournaments.
A slam is two weeks long. There is literally nowhere in the tennis calendar where there is a two-week gap to fit in a new slam.
Even if a current event were to be upgraded, in which case only one week would need to be added, that would likely still force the cancellation of other events.
Part of why Indian Wells fits as the "fifth slam" is that it is one of two non-major events, the other being the Miami Open which comes just after Indian Wells, that it already spills into a second week. So it would actually work as a "fifth slam." It and Miami are the only two that could.
But adding a fifth slam would have to stand for something more than just money, which is already what big events like Indian Wells are all about.
Globetrotting
A big argument for the addition of a fifth slam is it's a chance to grow the game globally, which makes a lot of sense. Tennis is already one of the most global sports on the planet, at least its tours are. Its expansion into Asia has been a big success.
So putting another slam in the US would not make any sense. The tour has been moving away from the United States and it's still disproportionately well represented with a slam already and three Masters 1000 events.
And it cannot be said enough. The United States CANNOT have two Grand Slam events. So Indian Wells will never be an official slam. Never.
But adding a slam in a part of the world that doesn't have one is not the worst idea.
The two candidates most often discussed are Asia and South America.
Asia makes a lot of sense. The Masters 1000 event in Shanghai is one of the most popular among the men. Singapore hosts the WTA Finals. The tournaments in Tokyo and Beijing are among the biggest on the tour.
And the tennis world has been trying to expand into Asia for years and it seems to be working. The game is bigger than ever in the far east. Look no further than Roger Federer's endorsement deal with Uniqlo as evidence.
The biggest problem with Asia would be scheduling. On the men's side, the Shanghai Masters would either have to go or it would become the new Grand Slam. That would be acceptable, although still too bad that Asia can't have both.
But the Asian swing is so short as it is and is cramped in between the US Open and the final European swing so there really isn't time for both a Masters 1000 event and a Slam.
It would also affect the events in Beijing and Tokyo. Normally, the tours try to allow a week between big events and the slams. Tokyo and Beijing are 500s on the ATP Tour. Tokyo and Wuhan are both Premiers on the WTA. They would have to be pushed around to accommodate a slam, likely into (or further into in Wuhan's case) September, but that would force them to be super close to the US Open.
Over recent years, the tours have tinkered with the schedule to push the French Open and Wimbledon further apart. They are not going to add another slam in the fall to create a similar problem.
On the WTA side, the tour wraps up in Asia at the end of October, so adding a slam right before the WTA Finals would make things even more complicated.
Lastly, the surface. An Asian slam would almost certainly be played on hard court. That would mean three hard court majors, one grass, one clay. This can't happen.
It's bad enough that the tour skews so much towards hard courts as it is, it would weaken the meaning of slams if a player can win three Slams per year on the same surface and run up their total without having to win on clay or grass.
What about South America?
Considering the successful history of South American players, it's surprising how little attention the continent gets on the tour.
On the men's side, the biggest event is the Rio Open, which is a 500, but often gets overlooked by both fans and top players in favour of Dubai, which is played the same week.
The WTA almost entirely ignores the continent, only holding one tiny event in Colombia.
There is tons of room for expansion in South America, both in terms of actual tennis and money.
The problem with Indian Wells and Shanghai is those tournaments are already huge and therefore have less room for growth. A place like Rio, which is a smaller tournament, getting a slam would increase its percentage of fan and financial growth far more than a place that already has a big tournament.
And it would almost certainly be on clay, which would keep more surface parity and would cause fewer injuries than another two weeks grinding on hard courts.
Although the Federer and Djokovic fans would almost certainly object to Rafael Nadal getting an extra slam to dominate every year that he remains healthy.
Scheduling is the biggest issue with South America. The Rio Open is already squished in between the Australian Open and Indian Wells. Something would have to move to accommodate the at least month required between it and Melbourne.
But as we're seeing from the Indian Wells cancellation this year, there really isn't anywhere else to jam it in. Permanently changing the schedule would not really be any easier and would require other tournaments to be cut.
Indian Wells certainly isn't going anywhere. Nor is Miami. The clay and grass seasons are short enough as it is. There really just isn't space.
As a tennis fan, I would love another two weeks of top-gear, high-stakes tennis. But it also has to make sense. Players can't play every week of the calendar, but it also wouldn't be fair to other cities to cancel their tournaments.
It may be interesting to discuss, but an actual fifth slam is out of the question.
So for now, Indian Wells can keep its nickname, although someone else will have to step up in 2020. Let's hope there are no new cases of Corona Virus in Florida this month. We already know the Italian Open is probably doomed.
Fingers crossed for no outbreaks in Paris.
Follow on Twitter @PeteB_93
---