Top 5 Phillies Prospects I'm Most Excited to Watch in 2018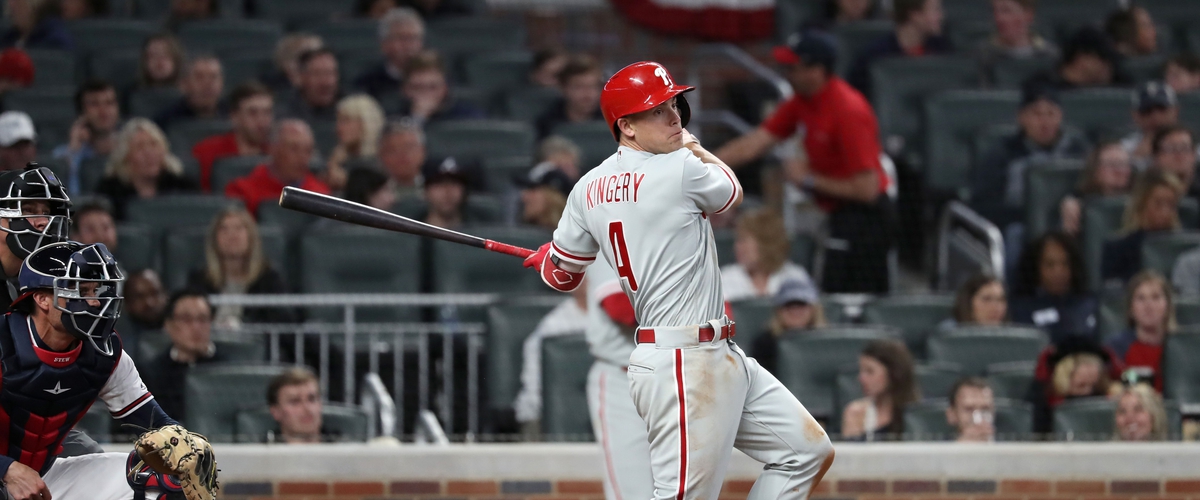 Full-season minor league teams begin their seasons on Thursday. Despite several top prospects graduating from prospect status, the Phillies still own one of the best farm systems in baseball. While there are many more than just five exciting prospects in the Phillies' farm system, these are the five I believe are the most exciting to watch this year.
5. Adam Haseley - OF
The Phillies selected Haseley with the eighth overall pick in last year's draft. In 58 games with the Gulf Coast League Phillies, Williamsport Crosscutters, and Lakewood Blueclaws, Haseley hit .284 with three home runs and 28 RBI's. He struckout 44 times and drew 22 walks. The Phillies have Haseley slated to start the season with the Clearwater Threshers, giving him the opportunity to continue his rapid ascension through the Phillies system. MLB.com ranks Haseley as the Phillies' sixth-ranked prospect.
4. Jorge Alfaro - C
The Phillies acquired Alfaro from the Texas Rangers several years ago as a key piece of the Cole Hamels trade. Alfaro had a brief stint with the Phillies at the end of the 2016 season, but has seen most of his MLB time last year. Alfaro struggled with AAA Lehigh Valley in 2017 but was called up to Philadelphia, where he hit .318 with five home runs and 14 RBI's in 107 at-bats. One of the main concerns with Alfaro is his plate discipline. Despite hitting above .300 with the Phillies last year, Alfaro struckout 33 times in his 107 at-bats. He also walked just three times. Alfaro has consistently posted high strikeout rates and very low walk rates throughout his professional baseball career. If Alfaro can at least be a mediocre hitter and call a good game behind the plate, he can be a good player. However, he needs to keep the K's to a somewhat reasonable level. MLB.com ranks Alfaro as the Phillies' seventh-ranked prospect
3. Scott Kingery - IF
The Phillies drafted Scott Kingery in the second round of the 2015 MLB draft. Kingery really burst onto the scene last year, as he tore it up with Reading and Lehigh Valley. In 132 minor league games, Kingery hit .304 with 26 homers and 65 RBI's. He also stole 29 bases. Kingery proved himself as a player who can hit for both average and power, steal bases, and make great plays in the field. He then managed to tear it up in spring training this year and has been so impressive that the Phillies signed him to a huge contract several weeks ago that will keep him with the Phillies for the next 6+ seasons. Kingery has started the season with the Phillies, playing several different positions with Cesar Hernandez having a hold on second base. MLB.com ranks Kingery as the Phillies' second-ranked prospect.
2. Jhailyn Ortiz - OF
Few hitters in the Phillies' minor league system have the potential that Jhailyn Ortiz has. The Phillies signed Ortiz in 2015 and the slugger has been living up to expectations so far. The power-hitting 19-year-old tore up the New York-Penn League last year with the Williamsport Crosscutters. Ortiz hit .302 with 8 home runs and 30 RBI's in 159 at-bats. He walked 18 times and struckout 47 times. He also managed to steal 5 bases and play solid defense. Even though Ortiz is still far away from reaching Philadelphia, he's shown the potential of being a star. To me, Ortiz is the most exciting bat to watch right now in the Phillies farm system. MLB.com ranks Ortiz as the Phillies' eighth-ranked prospect
1. Sixto Sanchez - P
Just like Jhailyn Ortiz, Sixto Sanchez has limitless potential. The 19-year-old pitcher also signed with the Phillies in 2015 and has been dominating the minors ever since. In 174.2 minor league innings, Sanchez has posted a 2.47 ERA, striking out 146 and walking just 32. Sanchez is a special talent with ace potential. The Phillies have been careful with him to help keep him healthy since he's a hard-throwing pitcher that is still just 19. He's likely starting the year with the Clearwater Threshers, whom he made several starts with to finish last season. If all goes according to plan, Sanchez should at the very least, finish the year with Double-A Reading, giving him the chance of possibly reaching Philadelphia late next season. It won't be too long until one of the best prospects in baseball will be joining a rotation with Aaron Nola and Jake Arrieta. MLB.com ranks Sanchez as the Phillies' top-ranked prospect.
---