Philadelphia Soul Grind Out Win vs Baltimore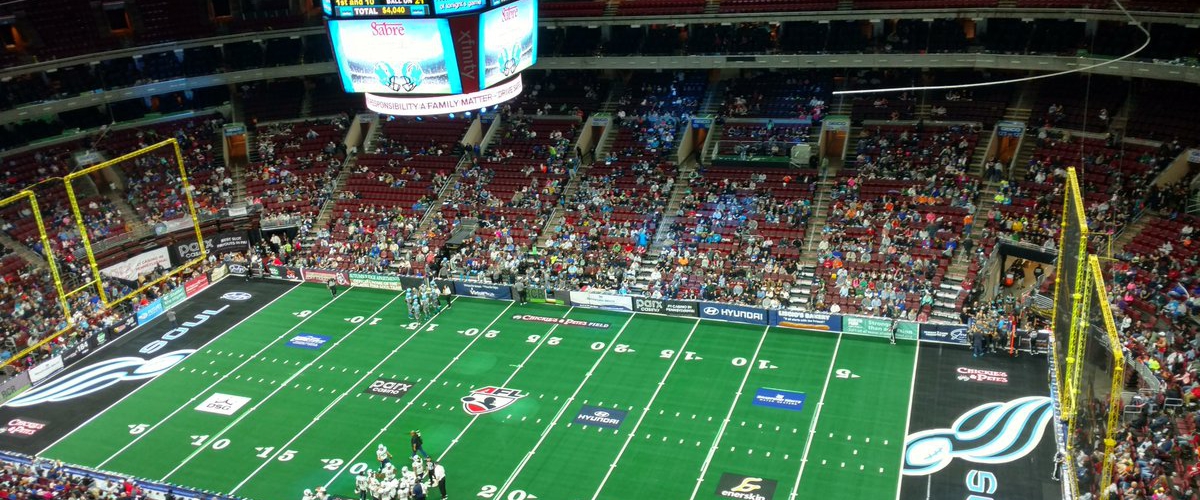 Philadelphia PA: As defending champions you have a target on your backs as teams try to take their best shots to take you down and that is what we had on Saturday night from the Wells Fargo Center in South Philadelphia as the 4-0 Philadelphia Soul took on the 1-3 Baltimore Brigade. The Soul comes into game off a tight win over Cleveland while Brigade enter battle against the Soul off a loss to Tampa Bay. The Soul beat the Brigade 69-34 back on April 29.
The Soul won the toss and they deferred to the 2nd half as Baltimore got ball to start the game and they would get right to business as QB Shane Carden would throw touchdown to Julian Talley from 14 yards for the 7-0 lead. On the Soul 1st drive of game, QB Dan Raudabaugh would throw INT which would be returned for touchdown and 14-0 lead for Baltimore at the end of 1st Quarter. The Souls would get on the board in the 2nd quarter as WR Darious Reynolds catches 31 yard TD as the Soul would be down 14-7. The Soul and Baltimore would each trade touchdowns in the 2nd quarter as Baltimore would take a 28-21 lead into halftime.,
Soul got ball to start the 2nd half and they would strike right away as Raudabaugh finds Reynolds for TD which would tie the game at 28. The Brigade would not back down from the Soul and they would keep throwing big punches where it would hurt the Soul which was the deep ball as the game would be tied at 35 through 3 quarters. Every time the Soul would score touchdown to tie the game, Baltimore would answer right back. The Brigade would take a 56-49 lead with 52 seconds left, the Soul would score touchdown and miss the extra point to be down 1 . Baltimore would try to run the clock out but they would fumble the ball away and Soul DL Sean Daniels would return the fumble 39 yards for the touchdown and the 61-56 lead. Baltimore would have 1 final attempt and they would not get it as the Soul would grind out a 61-56 win. A Crowd of 9,857 saw an exciting game. With the win, the Soul move to 5-0 on the season and now prepare Cleveland on May 20 while Baltimore would fall to 1-4 on the season and look to rebound from this loss as they take on Cleveland on May 27.
Final Stats:
Philadelphia Soul:
QB Dan Raudabaugh: 22-32 for 268 yards, 8 TD, 1 INT
RB Mykel Benson: 6 rush attempts for 24 yards
WR Darius Reynolds & Ryan McDaniel each with 3 TD
Baltimore Brigade:
QB Shane Carden: 20-34 for 291 yards5 TD, 1 INT, 3 rush attempts for 3 yard
RB Rory Nixon: 7 rush attempts for 6 yards
WR Julian Talley & Kend Thompkins: each with 2 TD
Video:
Philadelphia Soul coach Clint Dolezel
https://www.youtube.com/watch?v=RKsdgqph7jA
Philadelphia Soul QB Dan Raudabaugh:
https://www.youtube.com/watch?v=ZWyNxsjYQGU
---