Soul Knockout Gladiators to go 6-0 on Season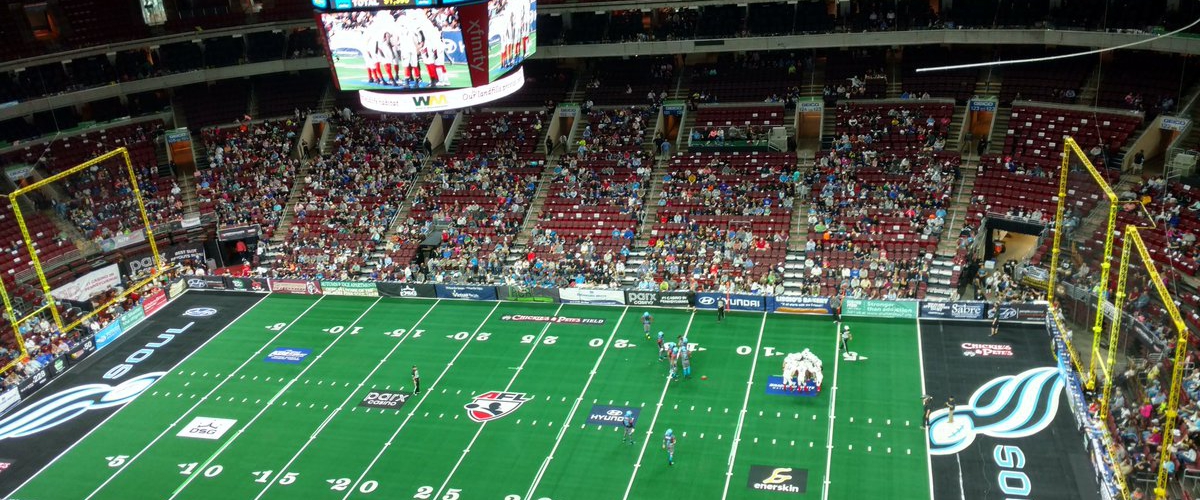 Philadelphia PA: The Bight lights of Saturday night football on CBS Sports came to the Wells Fargo Center in South Philadelphia for an interesting Arena Football game as the Philadelphia Soul took on the Cleveland Gladiators. The Soul enter the game with 5-0 record and off a win over Baltimore on May 13 while Cleveland comes into battle against the Soul off their Bye Week, their last game was a Loss to the Soul back on May 6.
Cleveland Won the toss and deferred and the Soul would start the game with the ball. Soul would take their opening drive and score Touchdown as QB Dan Raudabaugh finds SK for the Touchdown. Soul would add to the lead as Ryan McDaniel catches 19 yard TD for 14-0 lead at the end of 1st QTR. Cleveland would get on the board in the 2nd quarter as QB Arvell Nelson finds WR Larry Brackins for wide open touchdown to cut into the Soul lead ast 14-7. The Soul would answer the Cleveland touchdown as Darius "Money" Reynolds scores from 9 yards out to make it 21-7. The Gladiators would keep this game close as Brandon Thompkins takes Kickoff for Touchdown and miss extra point, Soul lead 21-13. Gladiators would try onside kick & recover it but it was illegal touch so the Soul got it back and Touchdown Soul by Reynolds for 27-13 lead. Darius Reynolds would score his 3rd touchdown of game to increase the Soul lead to 34-13 at Halftime.
Cleveland got ball to start the 2nd half and the Soul would continue to make things very difficult for the Gladiators to come back into the game, The Soul would lead 48-26 at end of 3rd and they would continue to put it on. A crowd of 7,667 saw the Philadelphia Soul take down Cleveland by the score of 64-46. With the win, the Soul remain undefeated on the season at 6-0 and now look to road game at Washington on May 27, with the loss , Cleveland falls to 1-5 ont he season and look to get back to their winning ways with battle at Baltimore also on May 27.
Final Stats:
Philadelphia Soul:
QB Dan Raudabaugh: 16-24 for 176 yards, 8 TD
RB Mykel Benson: 10 rush attempts for 22 yards & 1 TD
WR Darius Reynolds & Shawn Kauleinamoko each with 3 TD
Cleveland Gladiators:
QB Arvell Nelson: 25-40 for 282 Yards, 6 TD, 2 INT, 3 rush attempts for 22 Yards
WR Quentin Sims: 10 Catches for 100 Yards, 2 TD
WR Larry Brackins: 4 catches for 55 yards & 4 TD
Video:
Philadelphia Soul Coach Clint Dolezel:
https://www.youtube.com/watch?v=7jrYWgUfueg
Philadelphia Soul QB Dan Raudabaugh:
https://www.youtube.com/watch?v=VFnMRz-rKYs
Philadelphia Soul LB Joe Goosby
https://www.youtube.com/watch?v=FY24uVfjy88
Cleveland Gladiators WR Larry Brackins:
https://www.youtube.com/watch?v=Rotexp2aJvU
---