Soul Clinch Home Field in Win over Washington Valor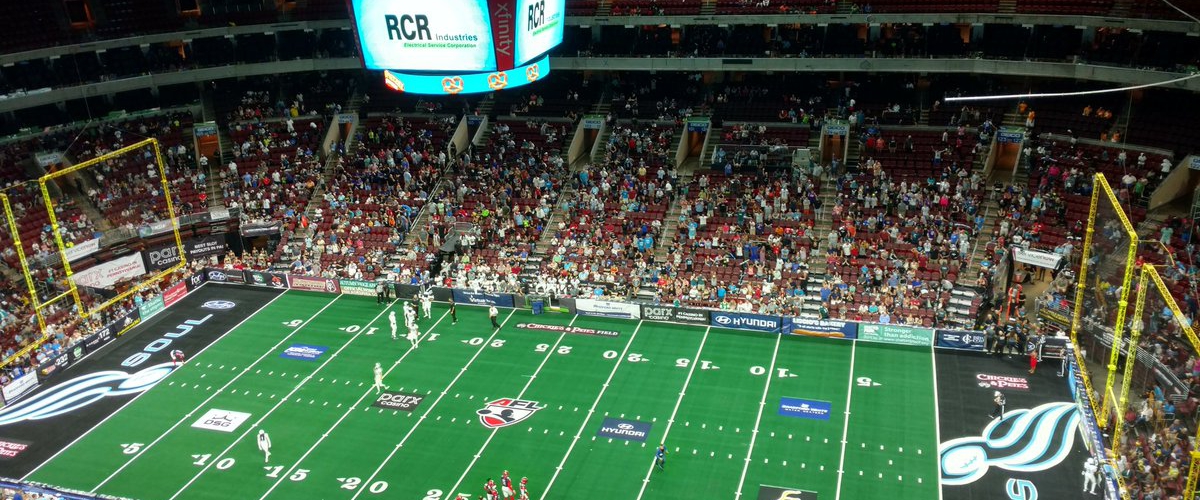 Philadelphia PA: After losing for the 1st time this season, the Philadelphia Soul look to get back to their winning ways as they took on Washington Valor on Saturday night from the Wells Fargo Center in South Philadelphia. The Soul enter the game with a 10-1 record and off a shocking loss to Baltimore on July 8 while Washington enters battle against the Soul with 1-9 record and off a Bye week.
Soul won the toss and defers to 2nd half as Washington started the game with the ball and they would drive down and score right away as QB Sean Brackett winds WR TT Toliver for the early 7-0 lead, the Soul would answer the touchdown as QB Dan Raudabaugh finds WR Shaun Kauleinamoku to even the score at 7. Soul would take 14-7 lead at the end of 1st, Both teams would trade scores in the 2nd quarter as the Soul would lead 34-28 at Halftime.
Soul got ball to start the 2nd and they would come out and drop the hammer on the Valor and Washington had no answer to get back into the game. A crowd of 10,149 saw the Soul cruise to a 68-41 win and in the process they clinched Home Field through the entire Arena Football Playoffs. With the win the Soul now go to 11-1 on the season and they head into their Bye Week while Washington falls to 1-10 and look to get back to winning as they take on Baltimore on July 22.
Final Stats:
Philadelphia Soul:
QB Dan Raudabaugh: 26-30 for 330 Yards, 9 TD, 1 INT
RB Mykell Benson: 4 rush attempts for 8 yards & 1 TD, 2 catches for 19 yards & 1TD
WR Shaun Kauleinamoku: 10 catches for 126 yards , 4 TD
Washington Valor:
QB Sean Brackett: 22-37 for 216 yards, 4 TD, 2 INT, 4 rush for 25 yards & 1 TD
RB Will Corbin: 2 rush for 7 yards & 1 TD
WR TT Toliver: 5 catches for 82 yards & 2 TD
Video:
Philadelphia Soul QB Dan Raudabaugh:
https://www.youtube.com/watch?v=9pjZfWgr768
Philadelphia Soul Coach Clint Dolezel:
https://www.youtube.com/watch?v=2KbotpTYvoo
Philadelphia Soul DB James Romain:
https://www.youtube.com/watch?v=ReC7MOeIAJo
Philadelphia Soul WR Darius Reynolds:
https://www.youtube.com/watch?v=glh_lRij3dE
---