Blockbuster Trades that the Clippers Must Make
After watching the Warriors play with the Clippers psyche in a 133-120 win on February 2nd (following up a 46 route less than a week ago on January 28th), Clippers President of Player Operations, Doc Rivers, can't feel good about his team's chances of beating the Warriors in a 7-game playoff series. Even with a healthy CP3, it's hard to imagine a scenario where the Clippers could win a series against the Western Conference Champs. If the Clippers want to re-establish themselves as one of the top teams in the West, they need shake up their roster. Below I run down the major blockbuster moves that the Clippers will need to pull off if they want to re-write Clipper history.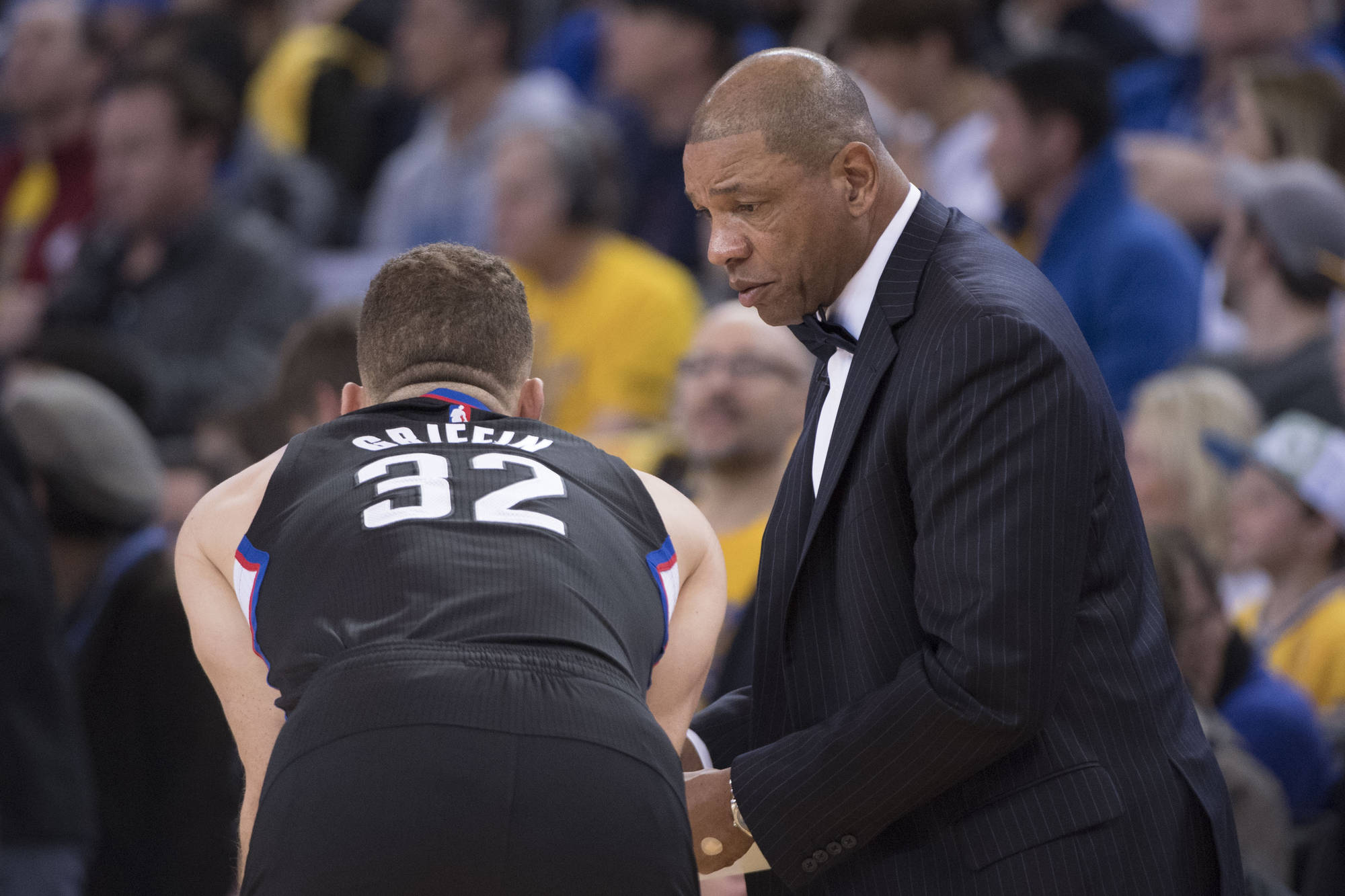 Kyle Terada-USA TODAY Sports
Trade for Carmelo Anthony
Adam Hunger-USA TODAY Sports
It's not everyday that a franchise caliber player becomes available on the market. However, in the case of the Knicks, President of Basketball Operations Phil Jackson has all but said that they are ready to move on from Carmelo Anthony. Given the Clippers' dire need to get a starting SF that can score, the Clippers must strike while the asking price for Melo is low. According to a recent article in the LA Times by Broderick Turner, initial talks between the two teams stalled due to the fact that the Knicks weren't willing to take on Jamal Crawford's contract of a little over $28 million over the next two seasons. The chart below from ESPN's NBA Trade Machine explains why the Cleveland Cavaliers are the 3rd team that would take Jamal and make a deal for Carmelo possible.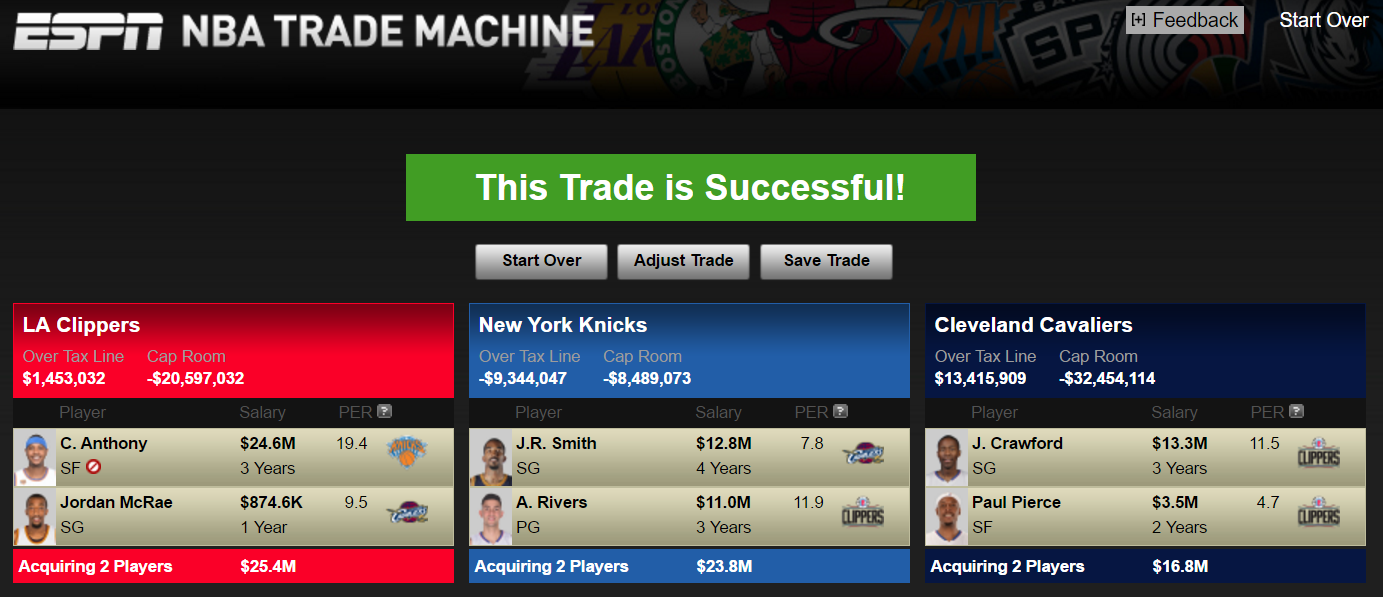 Before the recent New York drama, the talk of the league had been about LeBron James calling out Cleveland management for not surrounding him with more playmakers. Jamal Crawford solves this problem for LeBron, especially with Kevin Love out 6 weeks during a critical stretch of the season as the Cavs try to hold onto the number 1 seed in the Eastern Conference. Jamal is accustomed to leading the Clippers' second unit offensively as he often dribbles the ball into the front court and is responsible for setting up the offensive and getting players into position as the decision-maker. LeBron will appreciate having a quality shooter and playmaker in Crawford who knows how to compete and isn't afraid to take big shots in key moments of a game. In addition to making the numbers work, the Cavs would receive Paul Pierce, who can provide great value as the 10th man in the rotation given his championship pedigree. All the Cavs would have to give up is an already injured J.R. Smith returning from thumb surgery (who is even more expendable with the addition of Kyle Korver) and SG Jordan McRae who is currently averaging about 10 minutes a game. From New York's standpoint, they would get the promising young Austin Rivers to pair with Kristaps Porzingis and Willy Hernangomez to lead the way for the future. Additionally for added depth, the Knicks would receive J.R. Smith from the Cavs to help offset the scoring loss of Carmelo Anthony. All teams involved stand to gain valuable pieces to their organization if this trade were to happen. Most importantly for the Clippers, they would finally secure the elusive starting SF position that they have been searching for, while also not neglecting their team's future by adding Jordan McRae who has a knack for scoring.

Just Getting Started
After landing Carmelo, Doc's job should be far from over. The next player that the Clippers should trade is Blake Griffin. A Griffin trade might sound surprising for a Clippers organization that has seen their number 1 draft pick actually live up to the hype. However, as the league continues to evolve, it is clear that the Blake's skill set is not what the Clippers need to compete for championships in the short and long term.
Reasons for Trading Blake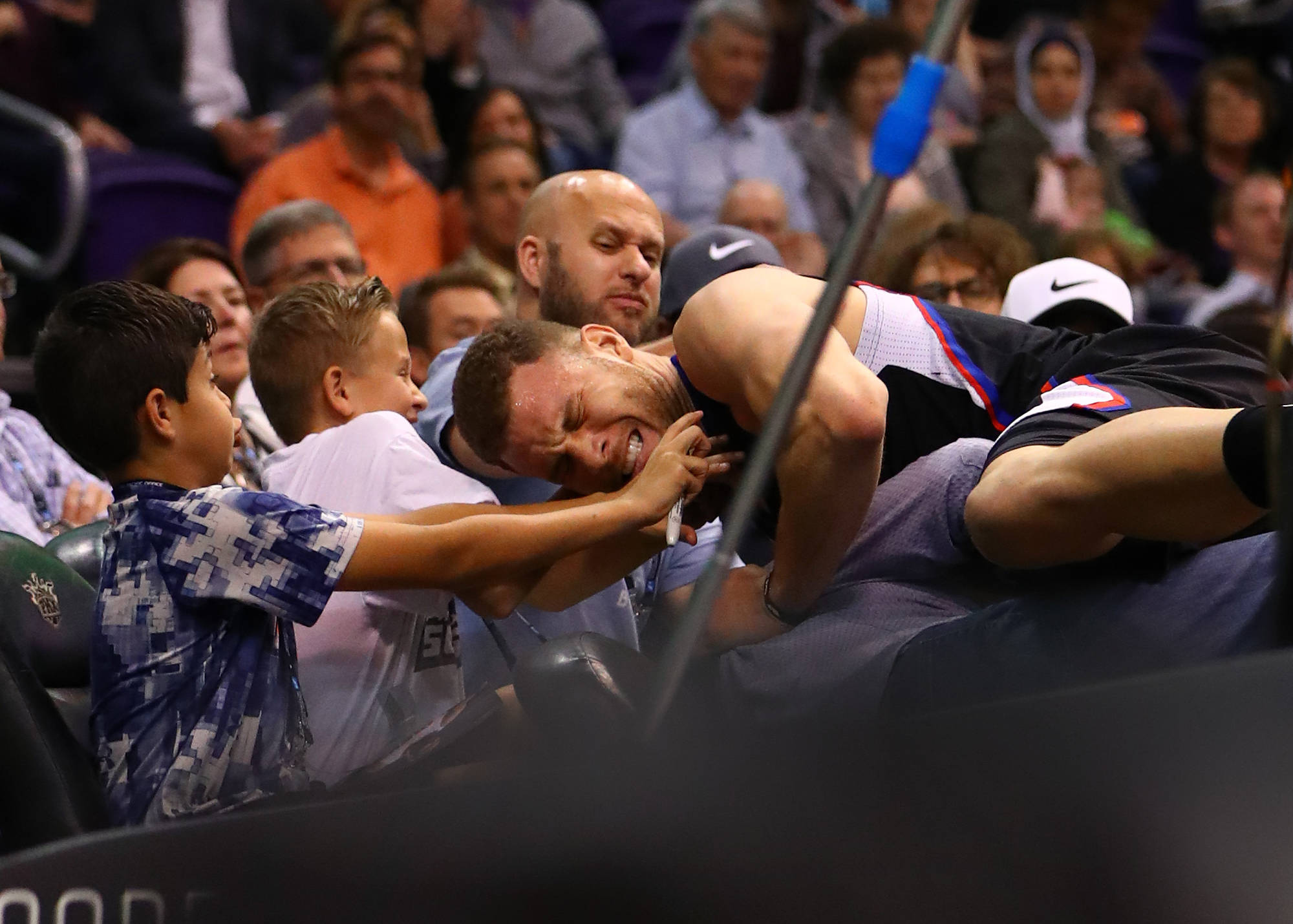 Mark J. Rebilas-USA TODAY Sports
The Clippers should trade Griffin for 3 reasons: injuries, unresolved defensive issues and lack of 3-point shooting range. Since 2012, Griffin has undergone surgeries to his elbow, hand and left knee twice. Given his aggressive style of play and reliance on his athleticism, it is only a matter of time before Blake's body starts to give out on him. While Griffin will only be 28 years old come March 16th, the Clippers would be wise to shop him while healthy as his game is largely predicated on his jumping ability. Defensively, Griffin has not lived up to his full potential. In 7 seasons in the NBA, Griffin has yet to record a season in where he has averaged more than 0.7 blocks per game. For a guy who can elevate and put players on posters on a nightly basis, the Clippers would like to see some of that athleticism translate into defensive highlights. Whether it be a lack of interest defensively compared to scoring, an over-reliance on DeAndre Jordan as bail out, Griffin's game has yet to take the next steps defensively as he gets lost on defensive rotations. If anything were to happen to Jordan, the Clippers would be in trouble. Lastly, Griffin's lack of 3-point shooting ability puts him at a scoring disadvantage to almost any high volume scorer in the league. To put this into perspective, Klay Thompson averages more points than Griffin even though he is the 3rd option on his team. The Clippers are better off having a smaller lineup where they can get more offensive output from a player who can make 3s and get similar if not better defensive production. The league has changed into a perimeter game where the most effective Big 3s consist of perimeter players and one low post player. Just look at the past four champions including the 2015-16 Cavaliers (Kyrie Irving, LeBron James, Kevin Love), 2014-15 Warriors (Steph Curry, Klay Thompson, Draymond Green), 2013-14 (Tony Parker, Kawhi Leonard, Tim Duncan) 2012-2013 Heat (Dwyane Wade, LeBron James, Chris Bosh). Given the formula for success from the past 4 NBA championship teams, the Clippers are better off exchanging one of their elite bigs for a premier perimeter player. From my GM perspective, the Clippers should keep Jordan for his shot blocking ability, rebounding and overall better health history. Griffin, for all his athletic dunks, lacks basic defensive production for his size as he averages under 10 rebounds a game for his career and less than 1 block per game. From the Clippers' perspective, Doc Rivers should be looking to trade Griffin while he is healthy and reap the rewards from one of the following 3 deals outlined below.
Paul George & Rakeem Christmas for Blake Griffin & Alan Anderson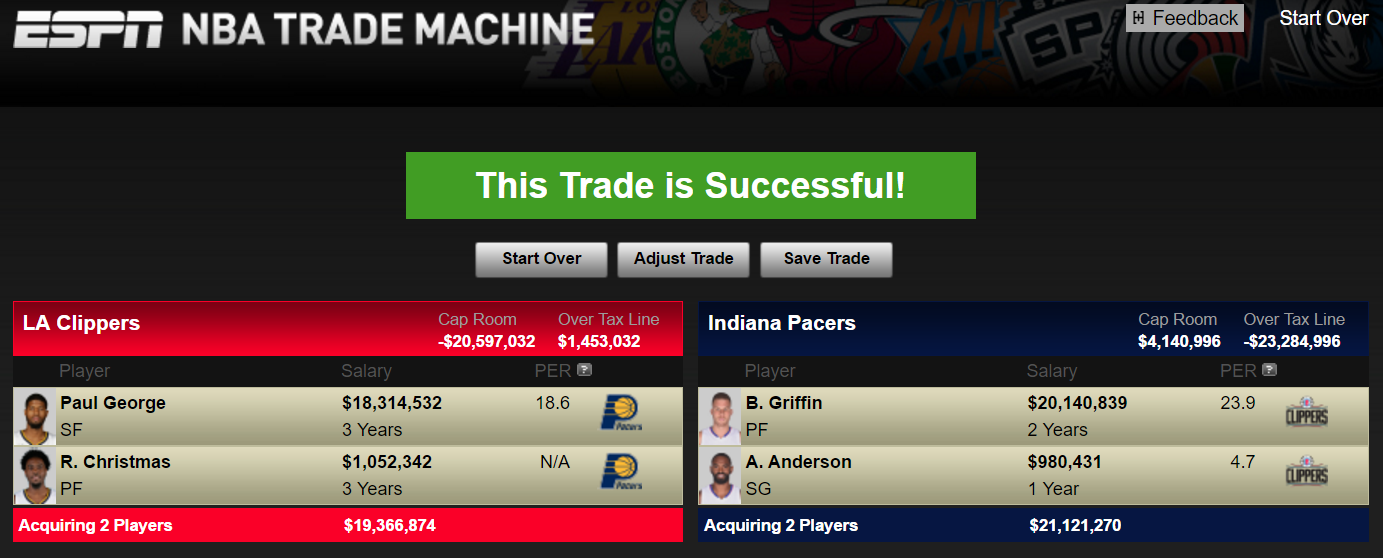 Paul George should be the number one player the Clippers target in an exchange for Griffin. As a First Team NBA All-Defensive Player in 2013-2014 and Second Team NBA All-Defensive Player in 2012-2013 & 2015-2016, PG-13 would be an instant upgrade defensively for the Clippers. In addition to George's defensive capabilities, Paul George has experience in the Conference Finals, going toe-to-toe with LeBron James showing no signs of fear or intimidation. What makes this trade even more of a possibility was George's comments made yesterday to Marc Stein as he stated, "I always want to play on a winning team. I always want to be part of a team that has a chance to win it [all]. That's important." This puts pressure on Indiana's GM Larry Bird, to calculate the likelihood of George resigning with the Pacers. Even though Bird may not want to trade George, he may trade the 4x All-Star to avoid an OKC scenario that saw Kevin Durant leave with nothing in return. From Indiana's perspective, trading for Griffin gives them insurance of replacing a superstar with another superstar. As a native to Southern California, George should be intrigued to join a Clipper roster that has a potential starting five of Chris Paul, J.J. Redick, Carmelo Anthony, Paul George and DeAndre Jordan. While it is still unlikely that the Pacers move on from George, Doc Rivers should be actively presenting a doomsday scenario to Bird and trade Griffin for George.
Jimmy Butler & Nikola Mirotic for Blake Griffin & Wesley Johnson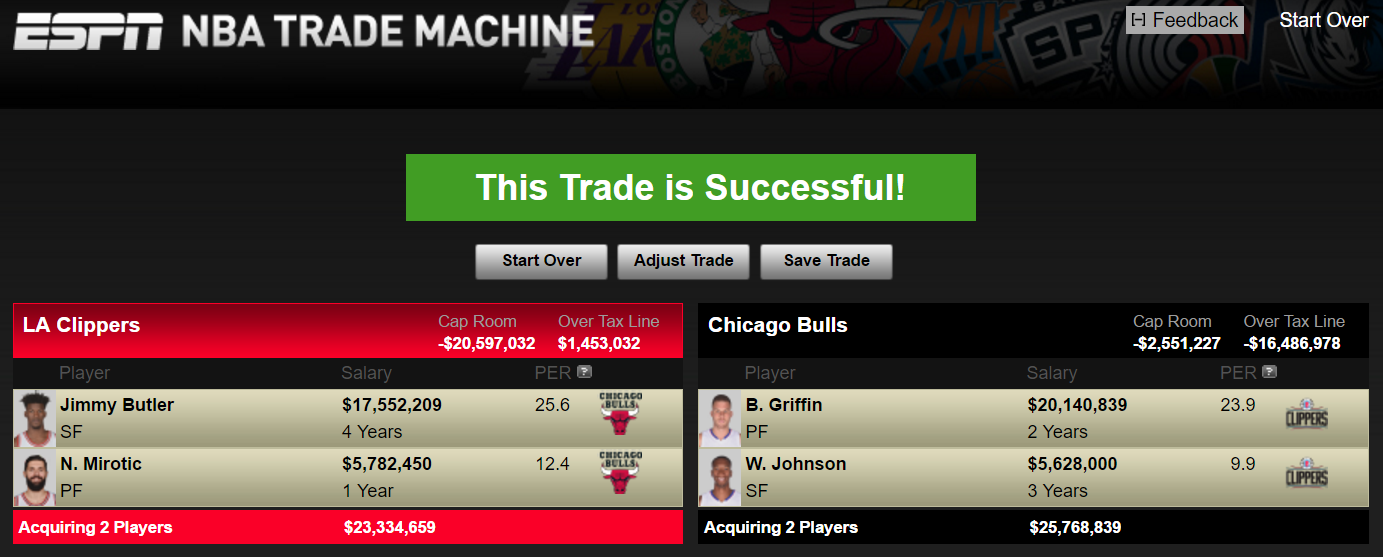 While Indiana management has shown more public signs of support for their superstar, the Chicago Bulls management has been less convinced about the future of Jimmy Butler. Both Executive Vice President of Basketball Operations John Paxson and General Manager Gar Forman have not shown long-term signs of commitment to Butler. From questions about Butler's leadership to continuing to not shut down talks of potential trades, it seems inevitable that the relationship between Butler and Bulls is approaching a crossroads especially with the report by K.C. Johnson of the Chicago Tribune indicating that ownership has guaranteed job security for Paxson and Forman even if the Bulls miss the playoffs. With all this surrounding speculation, the Bulls may be intrigued at the prospect of building around Blake Griffin. Griffin has a more proven track record with 5 All-Star appearances compared to Butler's 3 and would sell tickets due to his showmanship style of play through electrifying dunks. The key question will be whether the Bulls feel more confident building around Butler or Griffin. Given the uncertainty and rumors surrounding Butler, the Clippers would want to see if they could take advantage of an undecided Bulls management and swoop in to get Butler. Jimmy would excel in the SF role pushing Melo to the PF position. An underrated aspect of this trade would be the acquisition of Nikola Mirotic. Mirotic would be able to spread out the floor with his 3-point shooting ability as it is an integrated part of his game. With Blake Griffin and Wesley Johnson, the Bulls would have two solid pieces to start their rebuild campaign while still offering trades for Rondo and Wade in exchange for draft picks. 
Nicolas Batum, Christian Wood & 2017 and 2018 1st-round draft picks for Blake Griffin & Alan Anderson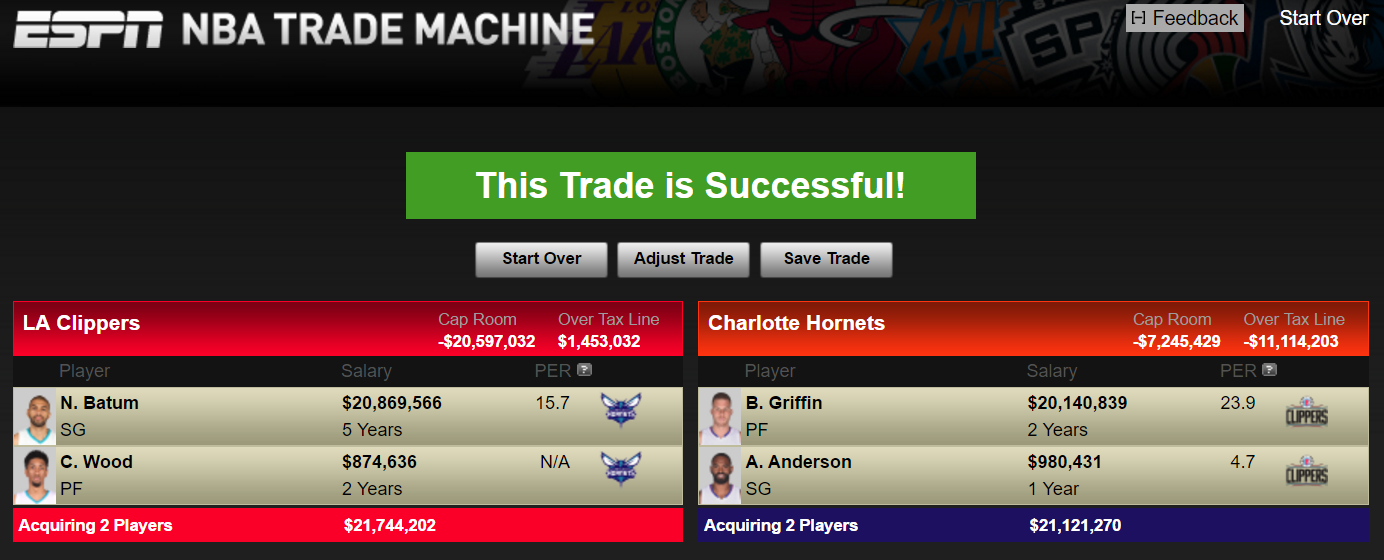 While this trade would definitely receive more scrutiny than the trades above, trading with the Charlotte Hornets takes a balanced approach of steadily improving the roster while also re-acquiring draft picks for the future. What Batum lacks in pure scoring numbers (compared to George and Paul), he makes up for in rebounding and assists, averaging 7.1 and 6.1 respectively. This trade helps the Clippers immediately in increasing their scoring ability from behind the arc, while also strengthening their future which has been sacrificed in previous season trades leaving no guaranteed 1st round picks until 2021 (LA Clippers 1st round picks 2017-2020 are protected only if they finish with one of the 14 worst records in the NBA; difficult to achieve when you have an All-Star in CP3). Nicolas Batum has playoff experience from his time in Portland and for a shooter is a willing passer with above average court vision. Batum would provide ample scoring offensively as he spreads out the floor with his outside jumper and moves the ball around to the open player. From the Hornets' perspective, acquiring Blake would give them a big to build their team around along with Kemba Walker. For the Clippers, this trade helps them better matchup with Golden State while also restocking draft picks to better position themselves as Paul enters the final years of his prime.
Conclusion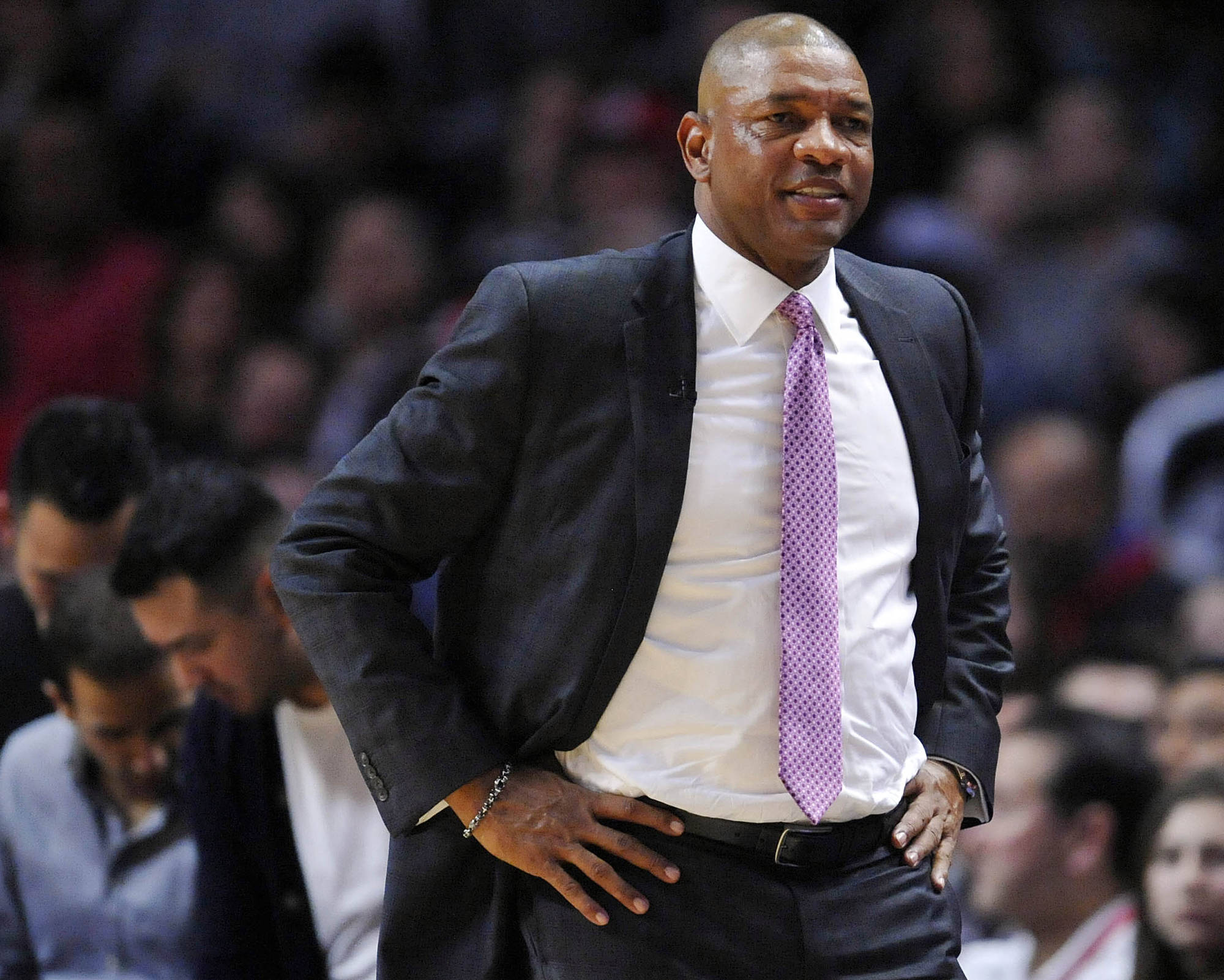 Gary A. Vasquez-USA TODAY Sports
Making any of these moves plus the addition of Carmelo Anthony would get the Clippers back towards a top 2 seed in the West, as well as realistic opportunity to knock off the Warriors for the Western Conference crown. While a lot of coordination would have to take place, blockbuster deals like this would change the landscape of the game as potentially one of the last super teams to be created. Playing the Warriors was a reality check of just how far off the Clippers currently are in competing with them come playoff time. While trading Griffin may feel like the wrong move, as Griffin begins to lose his athletic ability due to a litany of injuries, it will become apparent that the Clippers made the right move. Now we wait and see what decisions Doc Rivers and Clippers management will make.

---