Los Angeles Angels 2016 Starting Pitching Preview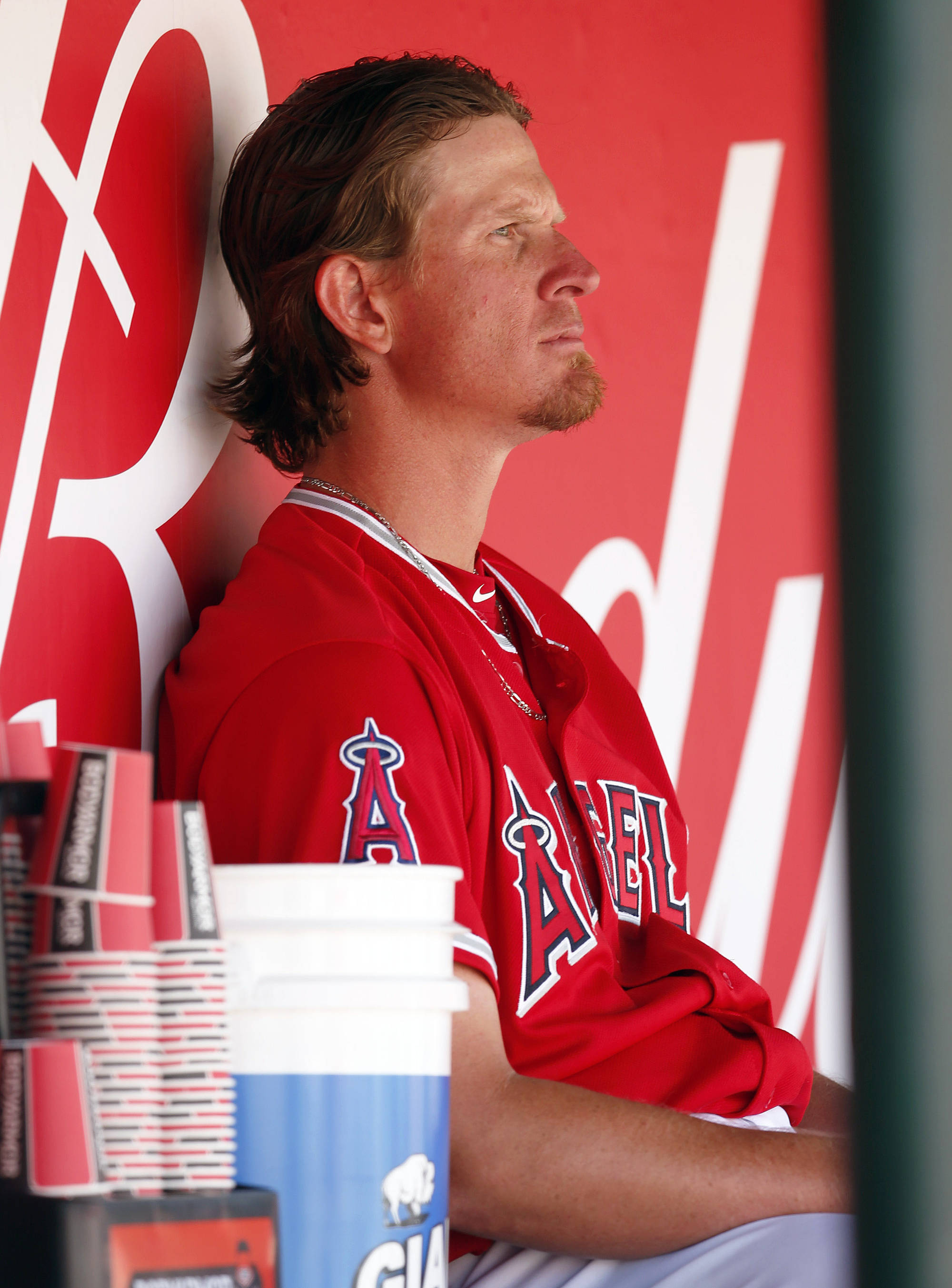 Rick Scuteri-USA TODAY Sports
The Los Angeles Angels starting pitching comes into the 2016 season with a lot of skeptics and questions after a disappointing 2015 season. By Angel standards, the team under performed by not breaking into the top 10 in team starting pitching stats in ERA or Wins. To add even more uncertainty, the Angels will not be at full strength at the beginning of the season with veteran CJ Wilson out for the foreseeable future with a nagging shoulder injury and the tentative health of Jered Weaver who seems to develop new injuries every couple of weeks. The lack of veteran pitchers will be a concern throughout the season however, I believe that the Angels have structured their pitching staff to withstand these most recent injuries and exceed expectation for the 2016 campaign.

Garrett Richards #43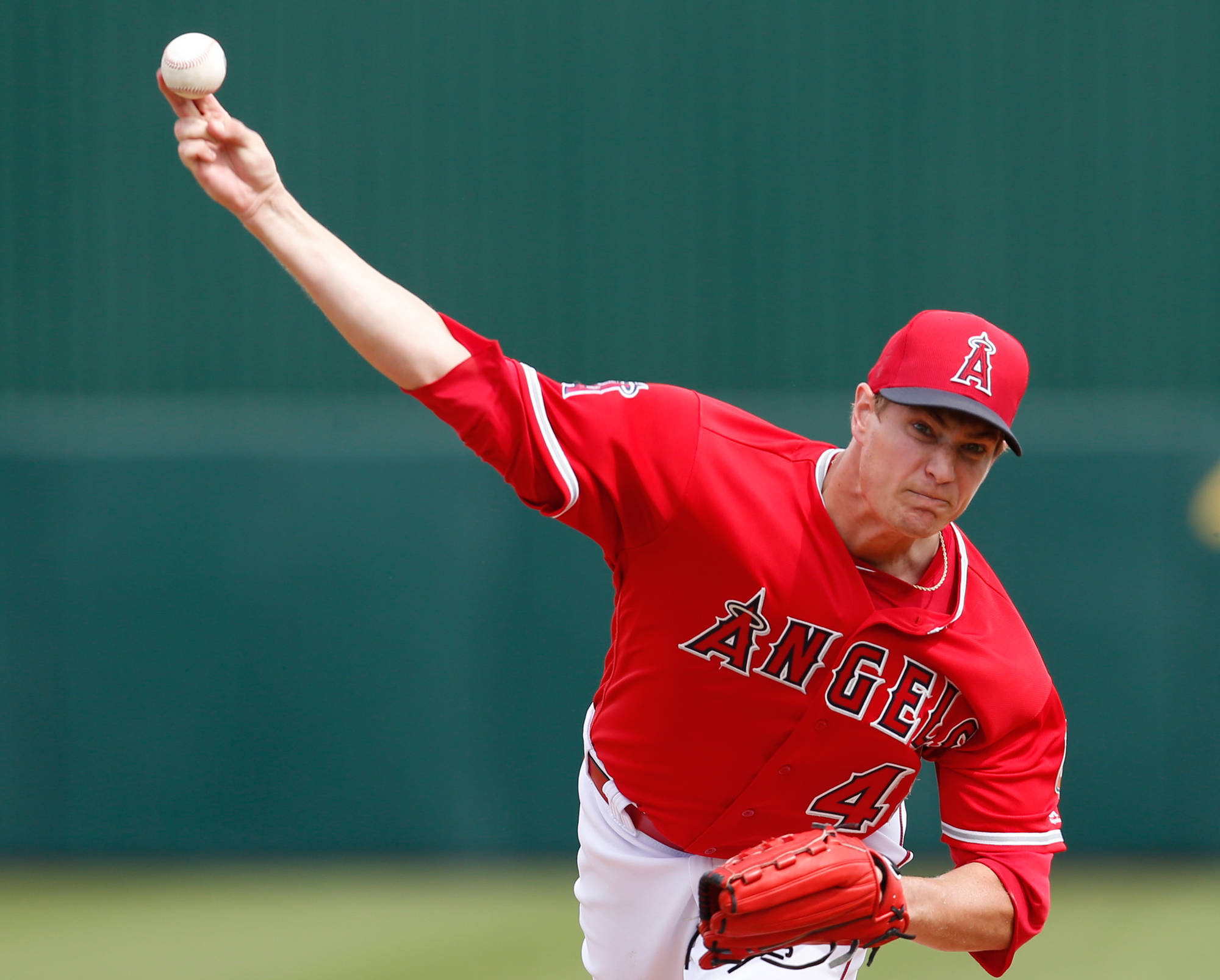 Rick Scuteri-USA TODAY Sports
Expectations are extraordinarily high for Garrett Richards to become the new ace of the staff. As one of the longest tenured starting pitcher for the Angels expected to be healthy opening day, it will be important for Richards to set the tone for the rest of the young staff with an efficient and dominant start. Garrett is your typical strikeout pitcher who by far throws the hardest out of all the pitchers on the team, leading the Angels in strikeouts last season with 176. Richards should look to surpass 200 Ks and compete for the most strikeouts this season. Richards was considered the next elite pitcher for the Angels that saw his best season in 2014 with 13 wins and a 2.61 ERA before his season ended early with an ACL tear on a bizarre misfooting while covering first base. Fans, players and management are expecting great things from him this season and it wouldn't surprise me if he finished with 16-18 wins on the season if he is able to locate his fastball.
Andrew Heaney #28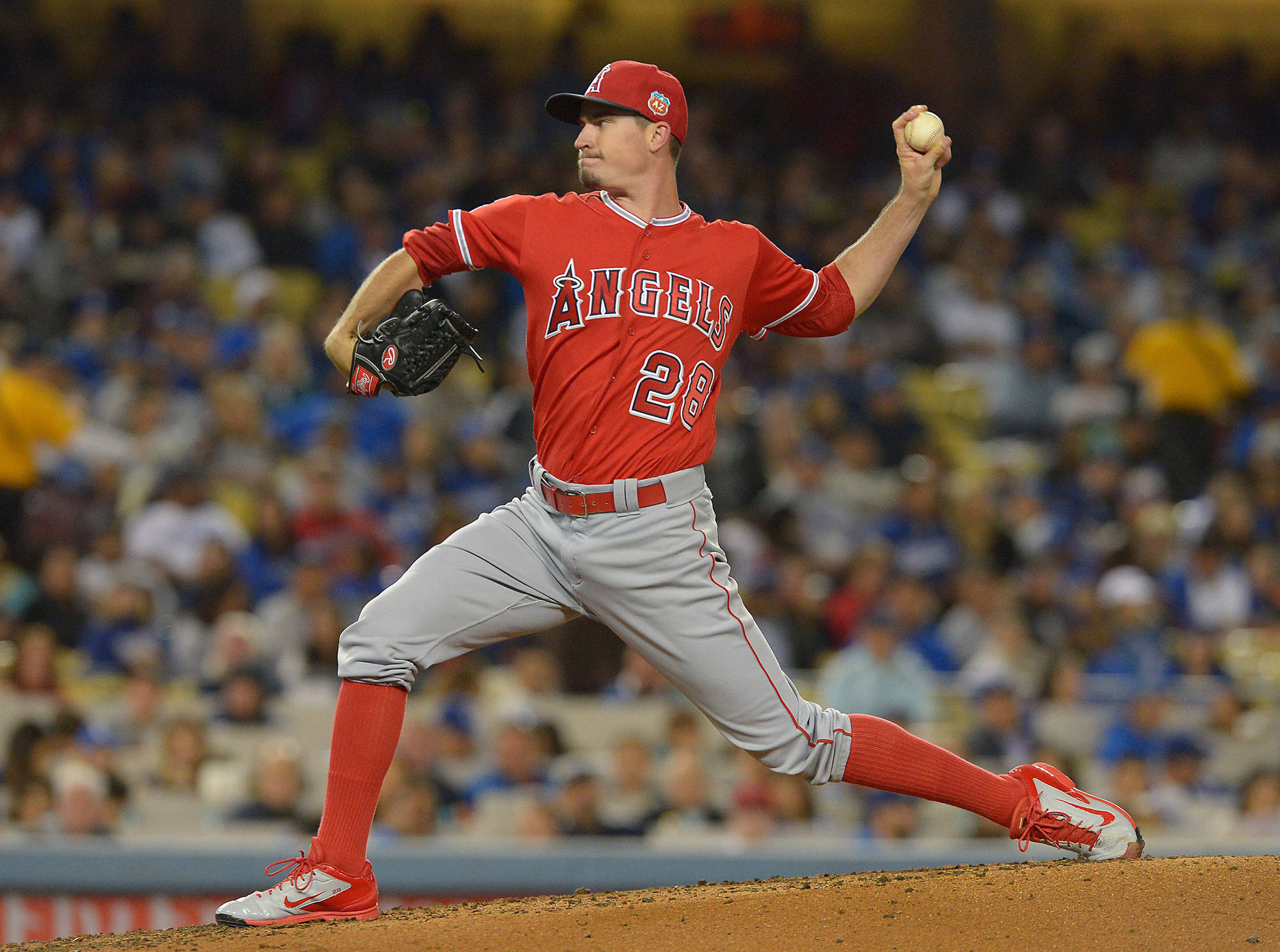 Jayne Kamin-Oncea-USA TODAY Sports
The most consistent starter by far last season, Andrew Heaney performed at a high level in his first season with the ball club. Traded from the Dodgers for Howie Kendrick, there was a lot of doubters who couldn't believe that the Angels had traded away an anchor of their defense in Howie. Now the Angels must feel pretty good that Heaney provides consistency every time he steps onto the mound. While only finishing with 6 wins, the stat that jumps out to me is that over 105.2 innings pitched, Heaney only gave up 9 home runs. This was key for his success last season, as he could have accumulated a lot more wins as there were 8 no decisions. I don't expect a sophomore slump for Heaney in his second full season with the Angels,and in fact can see him become the number one starter if Richards is not able to regain his form. Heaney relies on a fastball, curveball and changeup and is not afraid to throw any of these pitches at anytime in the count. Look for Andrew to do well as the number 2 starter and expect at least 12 wins this season from him.
Hector Santiago #53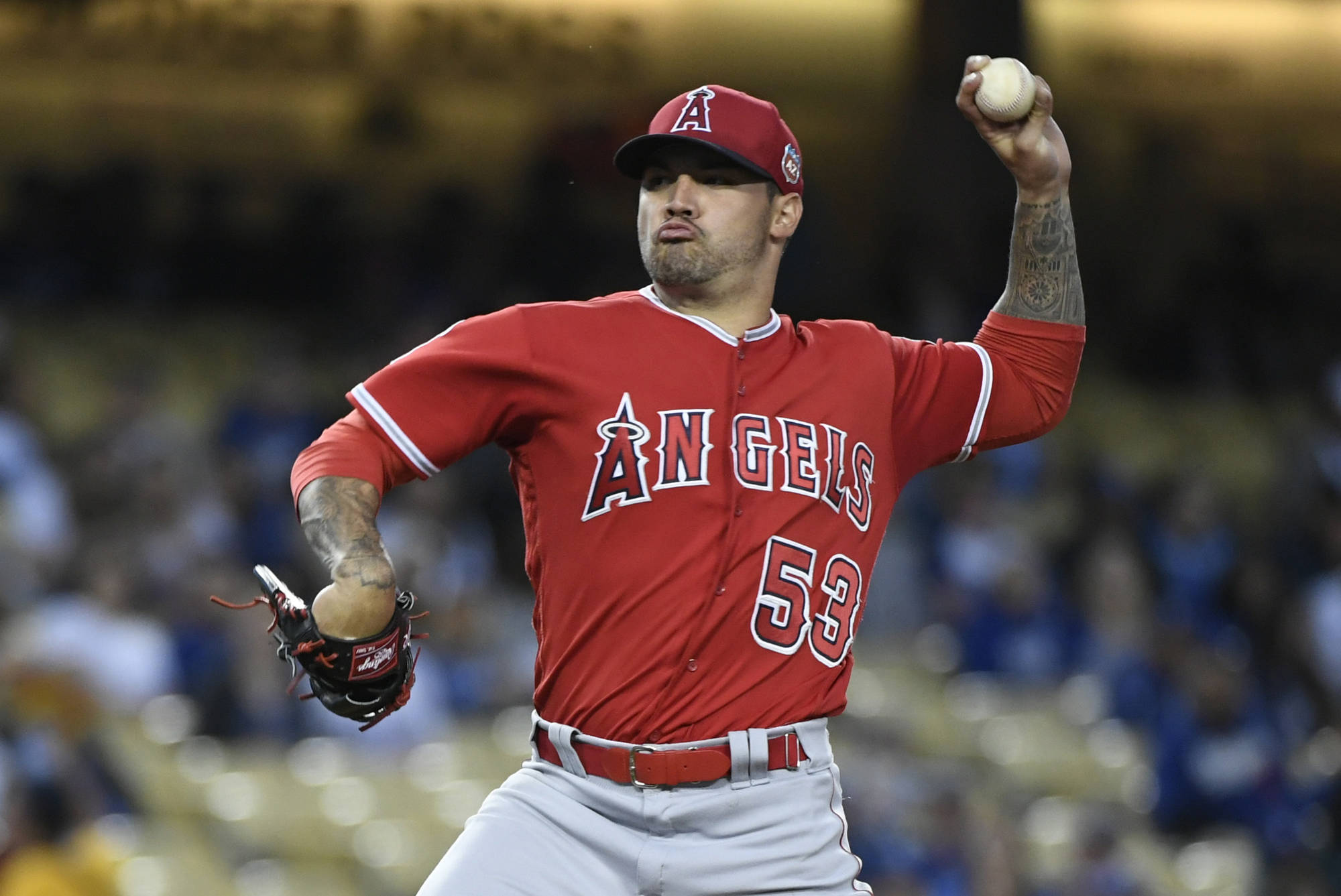 Richard Mackson-USA TODAY Sports
Coming off a career high in innings pitched, wins and strikeouts, Hector Santiago comes into the season with the opportunity to further improve on his All-Star season from a year ago. Coming into last season no one could have predicted that Hector would have had the start of the season as he did last year as he entered the All-Star break with a 2.33 ERA and 98 strikeouts. Santiago unfortunately, wasn't able to keep the same pace the rest of the year as he went on to add only 3 wins following the All-Star game. In 2016, there is expectation that Santiago will play an important role and will need to pitch more like the player of the 1st half of last season. Hector does a great job getting through opposing team's batting order the first time through, however as he pitches late into games, he becomes more predictable and loses control of his spots resulting in more walks and more home runs allowed a as he lead the team's pitching staff in this category with 29. In order for Santiago to continue to improve, he will need to get ahead in the count and be able to mix up his pitches and finish off batters whenever he has the opportunity. Look for Hector to have similar results to last year finishing with 8-11 wins.
Jered Weaver #36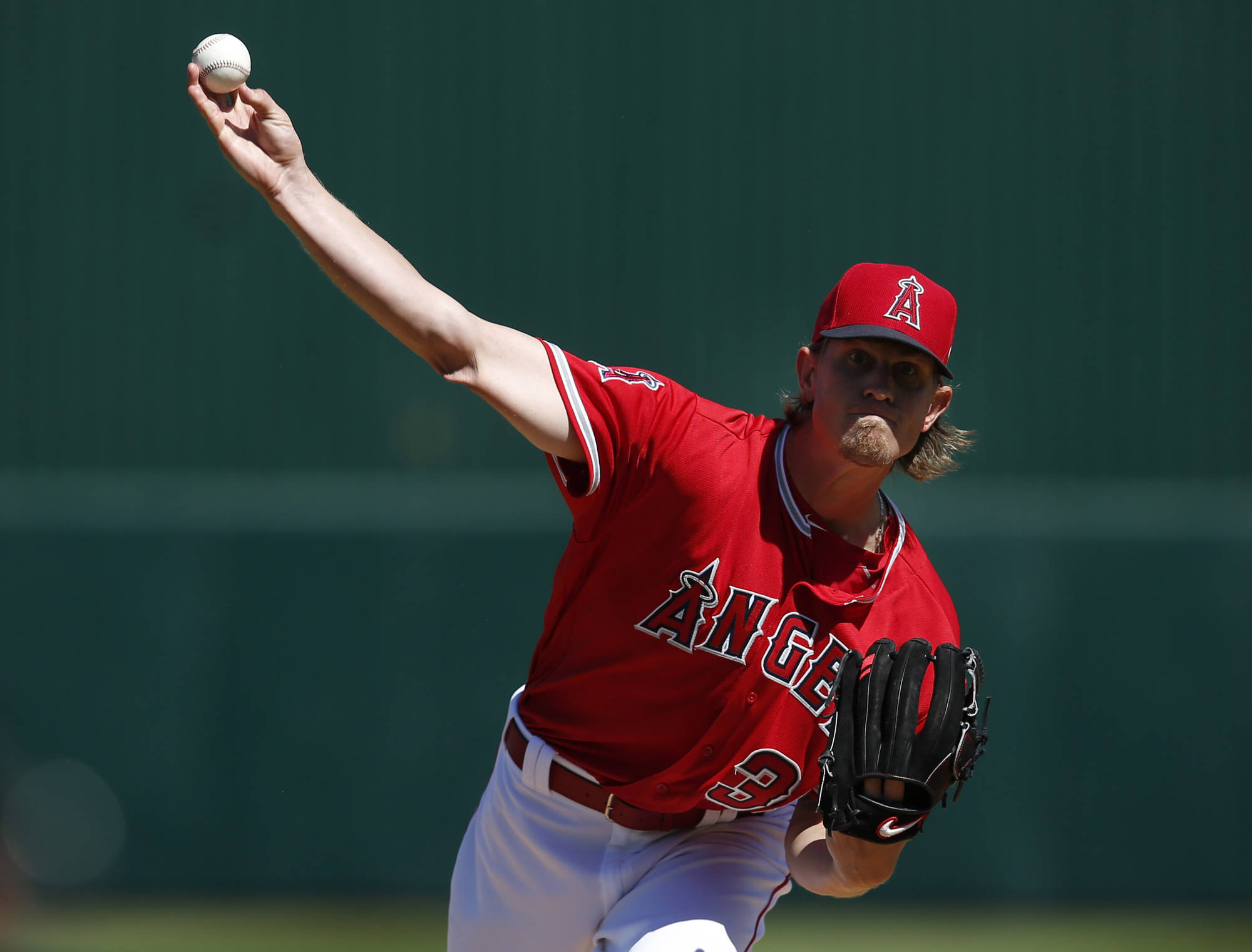 Rick Scuteri-USA TODAY Sports
Once known as the most feared pitcher on the Angels staff, it is looking more and more that the most Jered Weaver can contribute at this point in his career is as a number 4 or 5 starter in the rotation. With his fastball velocity down to the low 80s and his inability to make batters miss, it is difficult to see how Weaver could end up starting over Richards, Heaney and Santiago. Jered came off his worst season in 2015, with a 37% winning percentage and the highest ERA of his career at 4.64. While many hoped that last years performance was due to various injuries, it has become clear that Weaver's age is catching up with him. With a full offseason to heal, Weaver's latest injuries seem like they won't go away with tightness in his neck and a diagnosis of a degenerative spine. Mike Scioscia has shown loyalty to the Weave by giving him the benefit of the doubt and believing in his ability, however no one can deny that he is being surpassed by younger arms on the team and may find himself struggling to hold down a spot if he can't figure out how to get people out. It is difficult to see his game decline so rapidly, however if Weaver can find his All-Star form, he will be a valuable player come playoff time as the third pitcher in the rotation. For now, management can only pray that his velocity comes back to the heat of 88 mph and that his body will be able to hold up the whole season.
Matt Shoemaker #52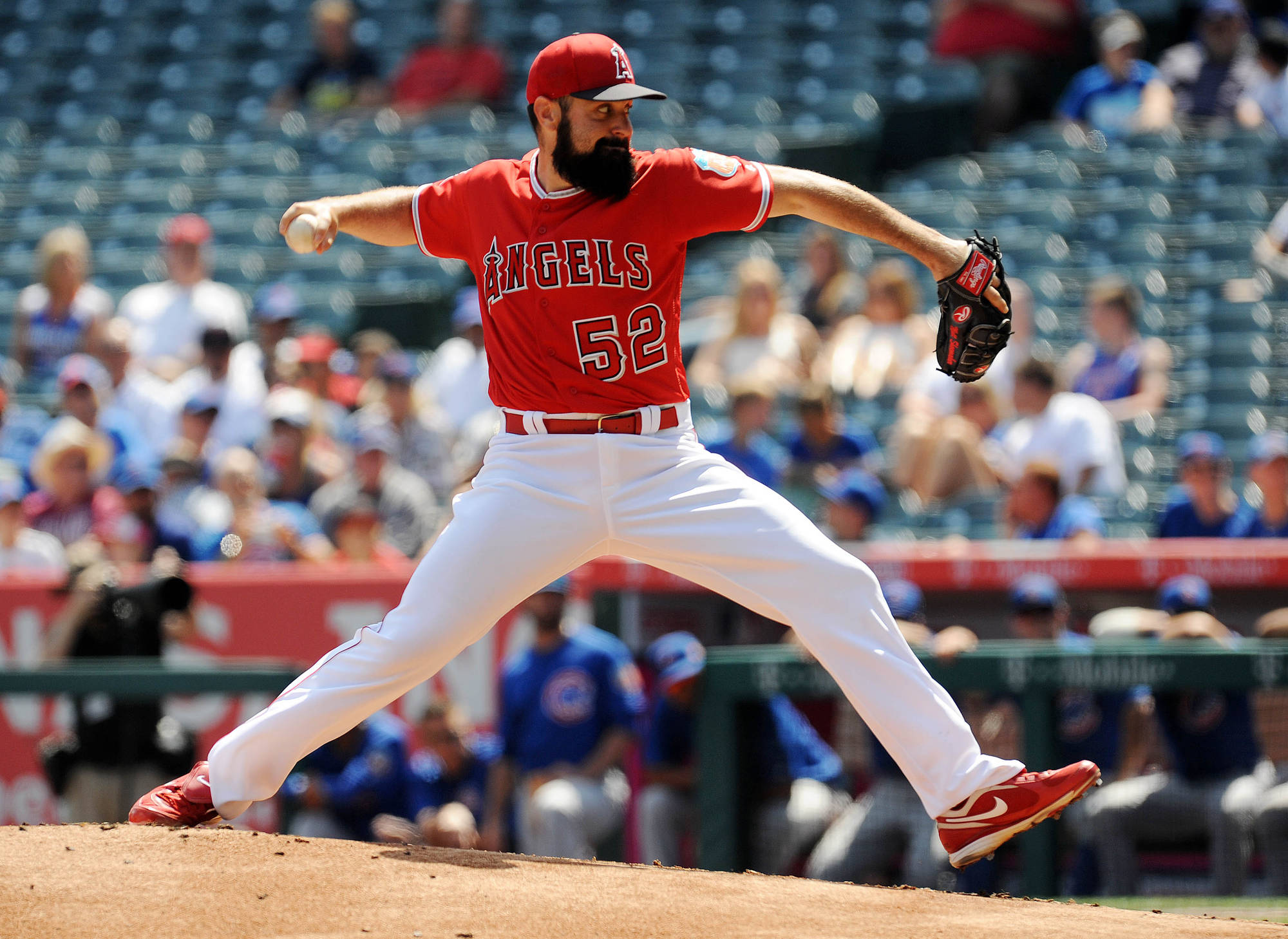 Gary A. Vasquez-USA TODAY Sports
It was a tale of two seasons for Matt Shoemaker the past couple of years. 2014 saw Shoemaker win 14 games out of 20 games finishing 2nd in the WHIP and ERA for Angel starting pitchers. Whether his success was predicated on the fact that a lot of teams hadn't faced him before, 2015 was a completely different story as Matt was unable to get into any type of rhythm throughout the season finishing with 7 wins in 24 starts and the 2nd highest ERA on the starting staff with a 4.42 ERA. Matt doesn't have any overwhelming pitches. He is a blue collar grind you out type of pitcher who doesn't take any start lightly. Look for Shoemaker to find the most success as one of the bottom in the rotation who will more than likely perform somewhere between his 2014 and 2015 stats.
Tyler Skaggs #45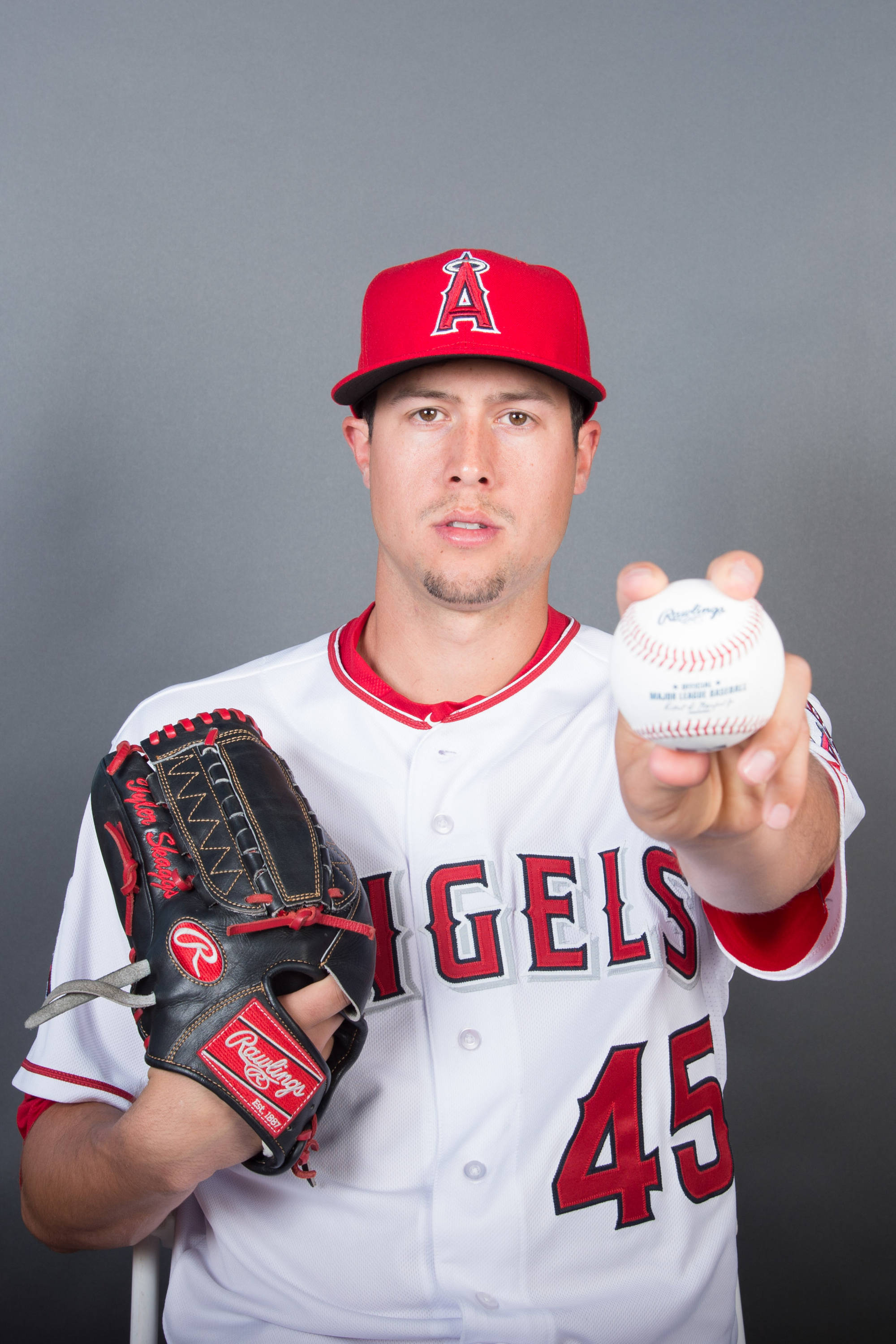 Kyle Terada-USA TODAY Sports
The wild card of the staff is Tyler Skaggs. Acquired a couple of seasons ago in the trade for Trumbo, Skaggs tenure with the Angels has been derailed by Tommy John surgery which kept him from making any starts in 2015. Before that in 2014, Skaggs went 5-5 with a 4.30 ERA in 18 starts. While Skaggs has yet to prove his worth as a 1st round draft pick by playing over the course of a full season, the potential to be a top three starter in the rotation is there with a deceptive curve ball and command of the fastball that reaches as high as 97 mph. Skaggs needs to have a healthy year for the organization to determine the outlook of their pitching prospect. Management should be cautiously optimistic as the extra rehab and rest should have given his arm plenty of time to strengthen and endure the long baseball schedule. While he won't be ready until the end of the month, look for Skaggs to make a direct impact and solidify himself as one of the best Angel young arms.

C.J. Wilson #33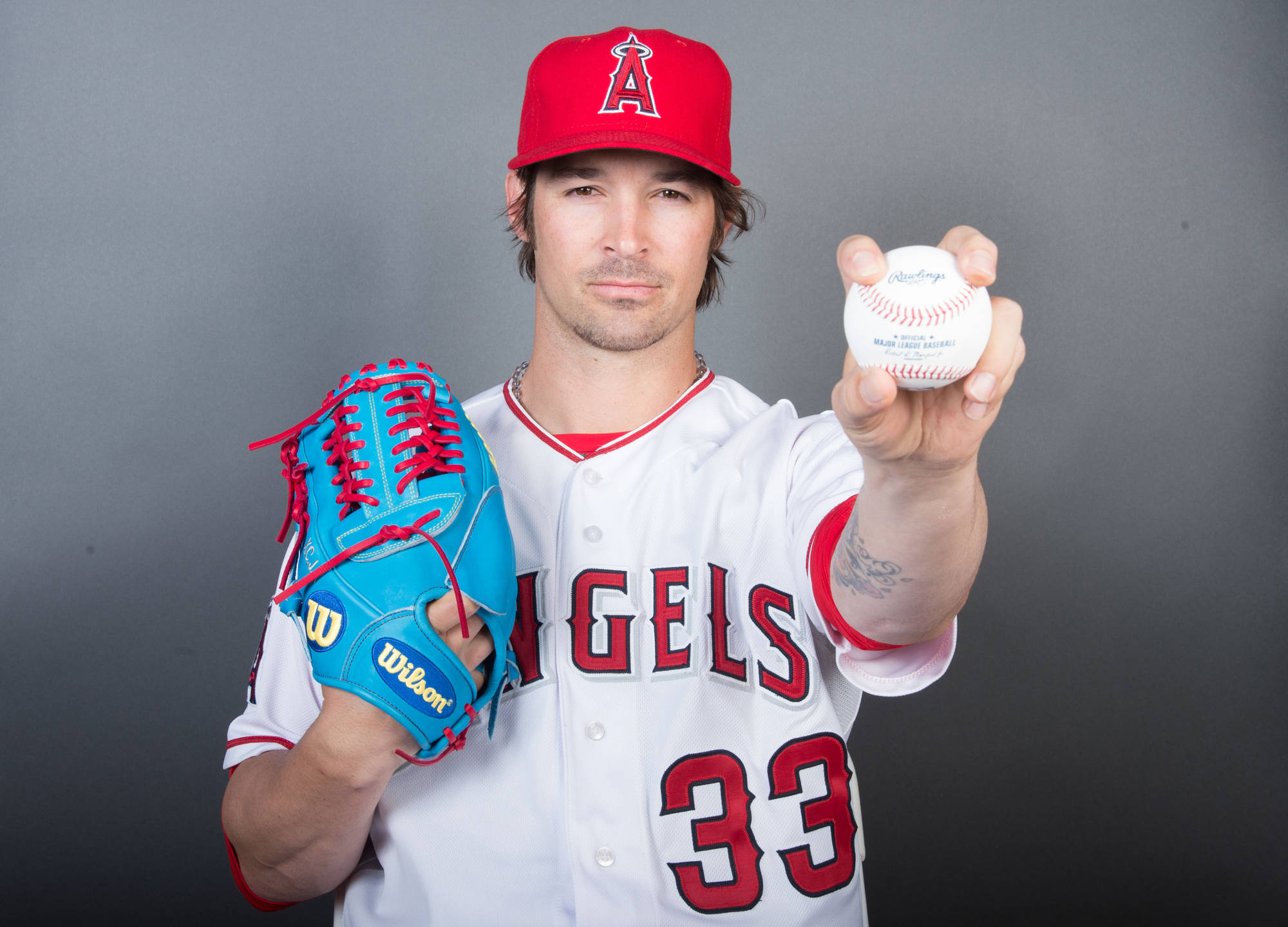 Kyle Terada-USA TODAY Sports
C.J. Wilson finds himself in a similar declining state of his career as Weaver except he will definitely not be ready for the start of the season. Once a two time All-Star, Wilson will be put on the shelf to open up the season, with a recent setback of shoulder tendinitis. With no official timetable set for a return, the Angels will have to prepare as though he will not pitch for a considerable part of the season. It is a tough pill to swallow given that C.J. will make $20 million this season, however best case scenario, he will return within a couple of weeks and be able to contribute as part of the rotation as his velocity has not dramatically tailed off like Weaver. Looking towards the needs of the Angels, Wilson may find his best contribution coming out of the bullpen where the Angels ranked 18th in ERA at 3.86 and 21st in strikeouts. Angels management should be tired of trading away players with bad contracts (i.e. Josh Hamilton, Vernon Wells) and find a way to utilize Wilson's arm once completely healthy.
Predictions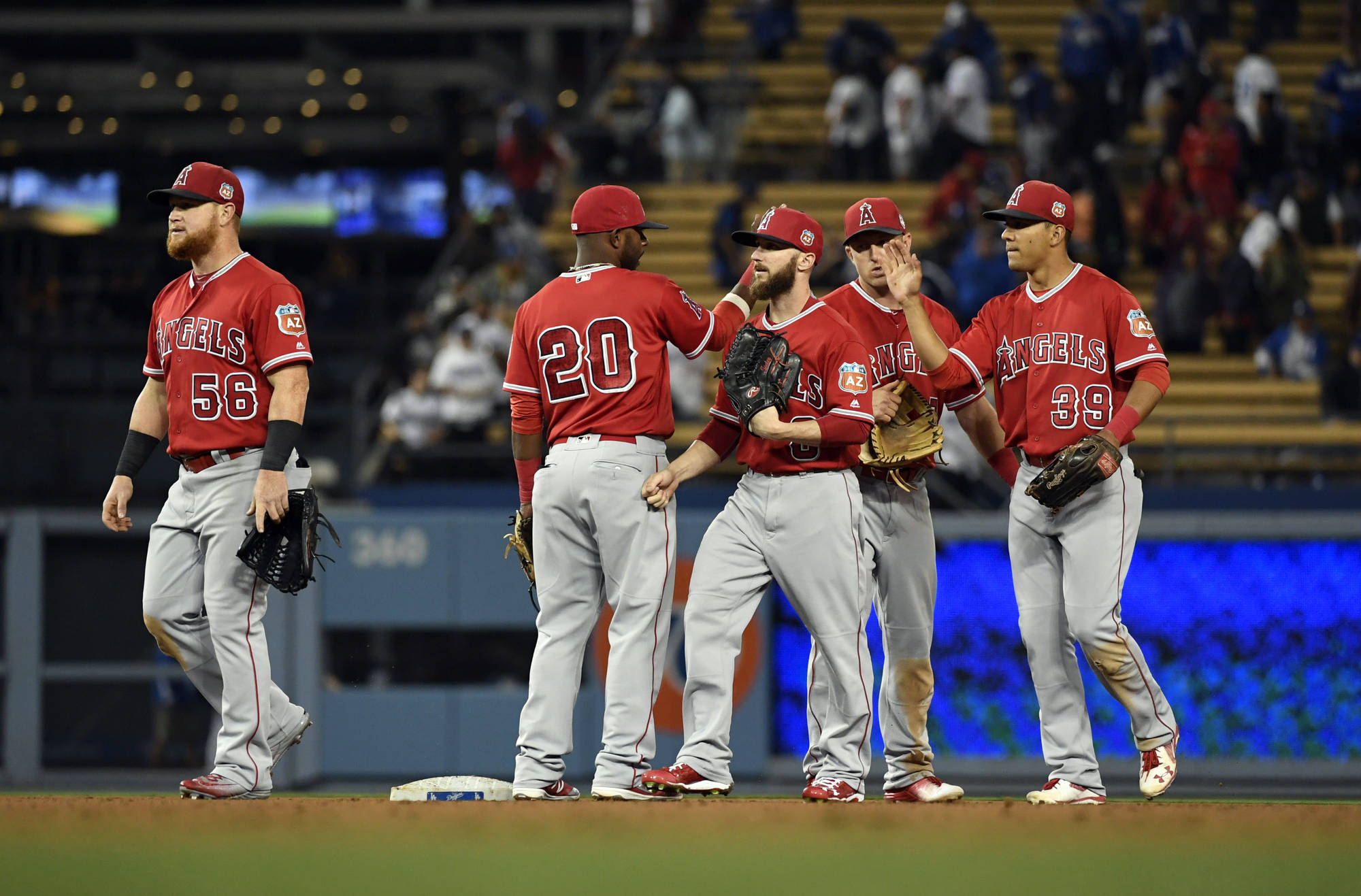 Richard Mackson-USA TODAY Sports
On paper, I believe that the Angels can match up against any starting pitching staff in the majors if they can stay healthy and pitch to their potential. Last season saw the starters collectively take a step backwards as well as the offensive power heat up in the A.L.West as the division will be the toughest in the majors top to bottom. If injuries persist for Weaver or if another top three starter goes down, the Angels could find themselves in trouble as they will have to rely on arms such as Nick Tropeano and Kyle Kendrick. Given the under the radar status for the ball club, I see the Angels thriving this season and reaching 90 wins as the starters transition to a younger generation of arms that are ready to take the next steps and get the Angels back to the playoffs.

---