Are the Colorado Rockies legitimate contenders in 2017?
?To answer to the title of my article, the answer is yes. The Colorado Rockies will be in contention from opening day, until the final out of 2017.
Colorado has never won a division title, have only appeared in the playoffs 3 times since their existence in 1993 and have not come close to reaching the playoffs since 2009. Last season the Rockies won 75 games, which was the most since a 2nd place finish in 2010 with 83 wins. Since their last playoff appearance in '09, Colorado has gone through 3 managerial changes and 2 general manager changes as well. For the past few seasons, Colorado's win total has increased every year since 2014. Thanks to MVP like play from third baseman Nolan Arenado, to other feared sluggers in Colorado's lineup such as Carlos Gonzalez and Charlie Blackmon. After adding OF/INF Ian Desmond to a 5YR/$70M this offseason, Colorado has continued to add on to it's prexisting strength being offense. However, pitching continues to be Colorado's achilles heel and it will continue to keep them away from contention if they do not find a solution soon.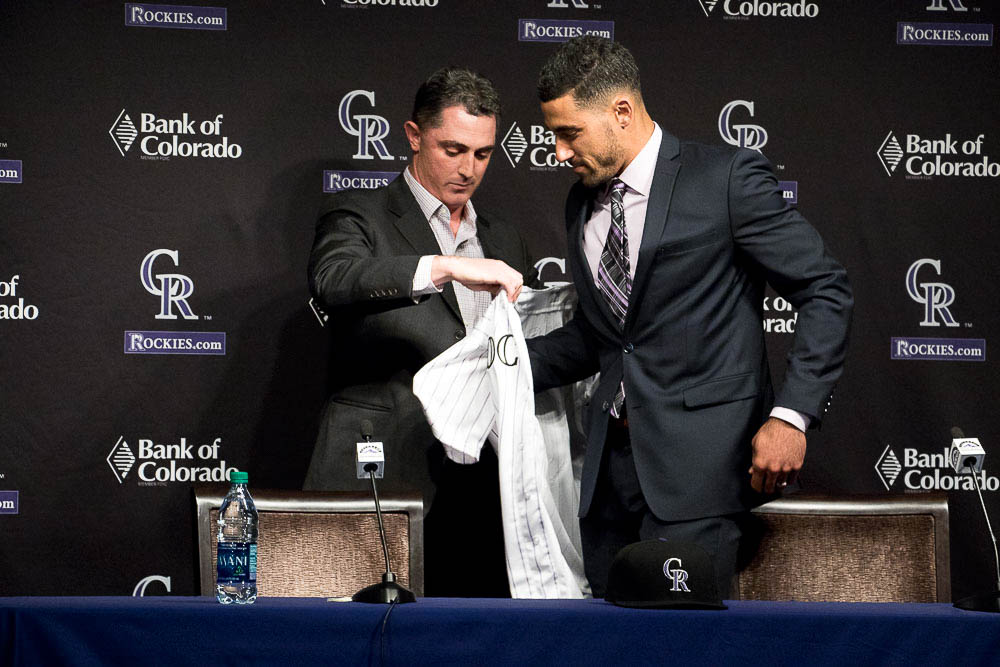 GM and President of Baseball Operations Jeff Bridich (left) introducing new Rockies first baseman Ian Desmond (right)
With new Rockies GM and President of Baseball Operations Jeff Bridich, he has every intention on bringing back winning baseball to Colorado. Like I said earlier, the signing of Desmond initiated the direction in which Bridich wants to take the Rockies in. Also deciding to not trade valuable outfielders Carlos Gonzalez and Charlie Blackmon, who would create an excellent return in forms of prospects. Colorado, excluding last season, finished last in the National League in ERA and Innings Pitched in every season since 2010. Even in 2010 with a 2nd place finish, they were 13th in ERA and with their more recent postseason teams in 2007 & 2009, they placed 8th in ERA both years. With their current pitching staff coming off a combined 4.91 ERA (13th in NL) they gained experience in their young starters such as former 3rd overall pick Jon Gray who is projected as the ace of the staff and Tyler Anderson and Tyler Chatwood who both had ERA's under 4.00 which is very hard to accomplish considering around half of their games started were at Coors Field. Along with veteran presences of Jorge De La Rosa and Chad Bettis, I believe Colorado needs to acquire a proven pitching commodity to put them over the top like a Jose Quintana, Sonny Gray, Chris Archer, etc... They do have the prospects in starting pitcher Jeff Hoffman and shortstop Brendan Rodgers to headline a package for an above average starting pitcher if they decide to do so.

Surprisingly, I believe Colorado has built themselves a solid bullpen that can keep that in contention all season long. If closer Jake McGee can stay healthy, along with new veteran lefty Mike Dunn and right hander Adam Ottavino, the Rockies could have a solid enough bullpen to take some pressure off the starting rotation. We have seen in baseball now a days that the bullpen will either make or break a season for a contending team (Giants last year in the postseason for example collapsing, Indians riding their bullpen to game 7 of World Series last season.) If healthy, I believe if the Rockies can place somewhere between 7th-10th in ERA, and 8th-10th in Quality Starts, there is no reason why behind the Rockies offense this pitching staff would look pretty good for a contending Rockies team next season.
Like every Rockies team in years past, the offense is the centerfold for their success in 2017. After having 4 players mash 20 HR's+ last season, (Arenado, Story, Gonzalez and Blackmon) there is no reason why that cannot be duplicated again. With the addition to Ian Desmond in the middle of the lineup and a full healthy season from rookie sensation Trevor Story, and continued excellence from young outfielder David Dahl, this Rockies lineup will easily top 200 HR's. They finished 1st in the National League in 2016 with team hits and runs scored, and 3rd in HR's (204). I understand they do play 81 games at Coors field, but if you put Nolan Arenado or D.J. LeMahieu on any other team in any other league, their numbers might dip a small percentage, but they would mash either way. If the Rox offense can provide consistent production 1-8 all season long and stay healthy, there will be a lot of W's occurring in the Mile High city this summer.
The Rockies also hired long time Padres manager Bud Black as their new skipper, releasing Walt Weiss after one 3rd place finish, one 4th place finish and two last place finishes over a course of 4 seasons. Black has tons of experience as a manager in the NL West and as a former pitching coach who was apart of the 2002 Los Angeles Angels World Series team. Black provides the type of leadership and direction it takes for a winning ball club. Although Black only led San Diego to a wild card game, he led San Diego to two 90 win seasons and ended up as their 2nd winningest manager in franchise history with 649 wins.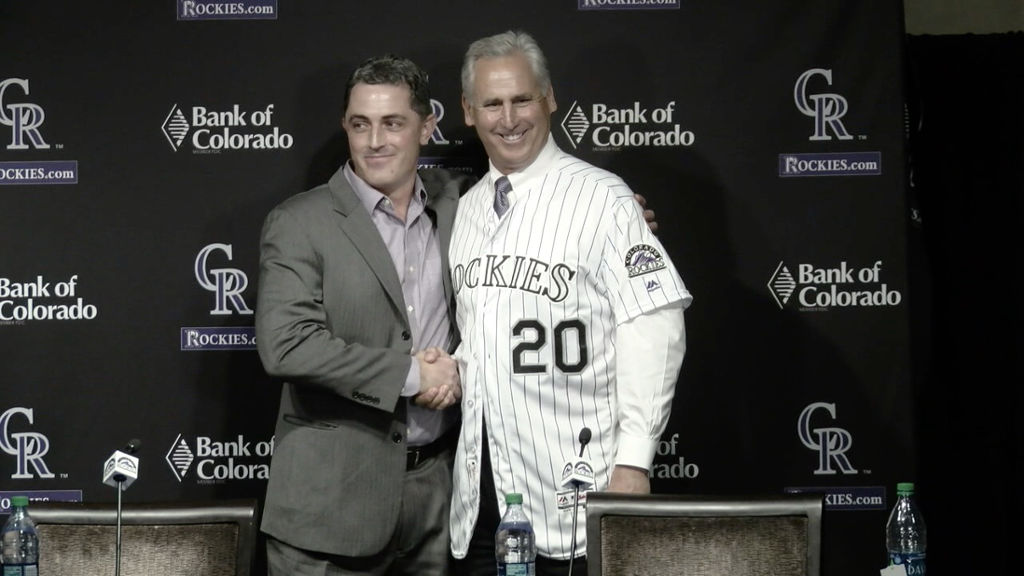 Bud Black (right) being introduced as the 7th manager in Rockies history.
With an underrated bullpen, potentially stable pitching staff and National League best offense, don't be surprised if come October fans of the Rockies will be able to enjoy some postseason baseball once again.

---