Where will Jose Bautista sign?
Arguably the most controversial and productive player left on the free agent market, is in the form of power hitting outfielder Jose Bautista.
Bautista, 36, remains as the top offensive player remaining in free agency. Yes, you could argue Mark Trumbo with his league leading 47 HR's last season, or Chris Carter who clubbed 40 HR's for the Brewers, but Bautista provides a potent offensive bat in the middle of any order while providing an above average arm in right field. Last season, Bautista played just 116 games, his fewest since 2013. Bautista still managed to hit 22 HR's and walk at an above average rate. His slugging percentage dipped below the .500 mark for the first time in 3 season due to injury, but make no mistake about it, Jose Bautista can be the solution to a contending team's missing piece, or a veteran leadership ability on a younger rebuilding team. But which group is in more need of Bautista's services?
I really do believe at Bautista's age, he can still be a very productive player on a contending team as long as he can stay on the field and avoid getting into fist fights with Rougned Odor. Although Bautista's on the field antics (bat flipping, antagonizing opposing team, physical confrontations, etc..) no contending team would at that as a factor on whether or not to pursue someone of Bautista's offensive caliber. One thing that helps Bautista's case in signing with a contender is believe it or not the draft pick that team loses for signing Bautista. Thanks to the new CBA (Collective Bargaining Agreement) a team can no longer lose a 1st round pick to sign a player like Bautista. Plus, a contending team would not have a top 10-15 pick to begin with so the value of the draft pick for that given team would not mean as much for a lower level rebuilding team. Here are a few teams that I believe would make sense for the 36 year old slugger: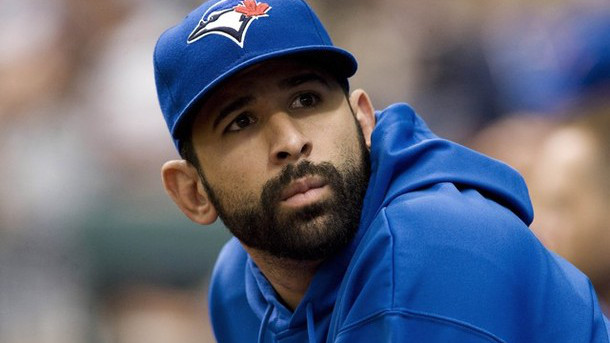 Whichever team that does indeed sign Jose Bautista, will have to forfeit a second round draft pick for his services.
??Toronto Blue Jays

?Although Toronto has not been "persistent" when it has come to re-signing Bautista according to reports, he is the embodiment of the Toronto Blue Jays. Bautista found his way in Toronto and has been arguably the heart of the team since he mashed 54 HR's for the Jays' back in 2010. If Toronto plans to stay in contention and take things one step further and get past the ALCS for the first time since 1993, signing Bautista is a must. With the loss of Edwin Encarnacion to the American League champion Cleveland Indians, the Blue Jays lineup is in need of a big bat for the first time in a long time. Also, the potential loss of Michael Saunders in free agency would put an even bigger emphasis on the Jays' to rekindle with Bautista. Bautista is a huge fan favorite up north of the border, they're familiar and embrace his "swagger" that he brings on the field and let's not forget he's a 30+ HR guy with an OBP of .400+ if he stays healthy. I would not be surprised in the least bit if Bautista went back to Toronto even on a 1 year deal.
??Seattle Mariners ??

With the recent reports of outfielder Seth Smith being traded to the Orioles for pitcher Yovani Gallardo, that currently leaves a vacant spot in right field for Seattle. There have been no inklings of Bautista and Seattle as a potential fit, but as of right now it is a definite possibility. Signing Bautista would allow the Mariners to keep Nelson Cruz at DH and have a pretty sizebable upgrade defensively in right field. Bautista would also be a perfect number 2 hitter for an intimidating Seattle lineup. With newly acquired second baseman Jean Segura to sit a top the Seattle lineup, Bautista has proven in Toronto to be a very good number two hitter. His ability to get on base, (.350 OBP or higher in each of his past 6 seasons)and his extra base power to be able to score a speedy Segura on a HR or XBH (20 2B's & 20 HR's in each of past 4 seasons). With the signing of Bautista, Seattle's 1-5 couldn't potentially turn into the most productive 1-5 out of any team in baseball in 2017.
??San Fransisco Giants
??This possibility might seem stunning to a lot of people, but it really does make sense when you look at it. The Giants already have a very formidable starting rotation with Bumgarner, Cueto, Samardjiza, Moore, and Cain. Offensively, there is a good amount left to be desired. With Hunter Pence battling injuries the past few seasons, along with the Giants not sure on who their opening day left fielder will be in 2017, a move from right field to left field for Pence will be ideal so Bautista can slot right into right field. An outfield of Pence, Span, and Bautista is a pretty damn good offensive outfield and slightly above average defensively. The Giants the past couple of seasons have hadn't trouble scoring runs consistently. Besides consistent production from Buster Posey, Brandon Belt and Brandon Crawford, the Giants offense has been wildly speratic otherwise. The Giants finished 9th in the NL in runs and still managed to win 85 games and advance to the NLDS. Having Bautista hit in between Posey and Belt would provide much needed production and would make the hitters behind him look that much better as well. Just like Seattle, their has not been any reports of contact between San Francisco and Bautista, but I would expect some soon if the Giants plan on competing with the Dodgers in 2017.
??PREDICTION: Seattle Mariners sign OF Jose Bautista to 2YR/$34M deal; with player option for 2019.
My reasoning for Bautista heading to Seattle is that it makes way too much sense for Seattle to not capitalize on. Seattle has failed to reach expectations since signing big names like Robinson Cano and Nelson Cruz a few seasons back, but with new and aggressive GM Jerry DiPoto at the helm, I believe Seattle goes the extra mile to acquire Bautista; making them not only instant favorites in the AL West but in the American League as well.

Thank you for reading!

Please follow me on Twitter @real_rob2017 for any other baseball related news or if you'd like to talk about baseball in general!

---