Can the Hall of Fame turn into the Hall of Shame?
I was just 2 years old when Barry Bonds became the single season home run king, and I was only 5 years old when 41 year old Roger Clemens recorded his 7th and final Cy Young award in 2004. Records and accolades are used heavily to determine the value and overall performance of a player at the end of his career. It could provide the much needed information on whether or not a player was good or bad, legendary or just plain ordinary. But how are those numbers perceived when they are tainted? Can we still value that player the same way? The answer is no, and it shouldn't be questioned.
In August of 1994, the game of MLB had to endure its first player strike in it's rich 120 year history. The players association and owners could not settle upon a salary dispute so the owners locked their doors and decided to cancel the remainder of the regular season and postseason play as well. Commissioner Bug Selig was uncertain of how baseball would resume at the start of 1995 season, but he could not have predicted the immense drop off in attendance around ballparks all over the country.
Commissioner Selig sat back and observed empty stadiums all across MLB for another season until halfway through the 1998 campaign where a pair of NL Central sluggers brought baseball and their fans back with just one swing of the bat.
'Slammin' Sammy Sosa and Mark 'Big Mac' McGwire were their names. Two NL Central rivals began the 1998 season hitting baseballs out of ballparks at an unprecedented rate. Come mid-June Sosa and McGwire began to make front page news and that summer forever became known as the "Home Run chase of '98".
Sammy Sosa (left) Mark McGwire (right) went on to combine 136 HR's during their historic 1998 home run chase.
For the next decade or so after that, MLB was at its highest popularity point it had ever been at, and it was all thanks to the home run ball mysteriously coming back. Nobody had a second thought as to why balls were being hit harder, and the men that were hitting them resembled super human like beings. Until stories like BALCO had revealed Bonds was connected too and even distributing performance enhancing drugs (PED'S), Clemens with Winstrol injection, Sosa with a corked bat and steroid injection, and McGwire as well with steroid and PED drug injection. Baseball had once again been put in a crisis period, and here we are 10 years later, deciding whether or not the men of the 'Steroid Era' should be immortalized.

My stance is fairly clear when it comes to awarding a player with the highest individual honor of being enshrined into the HOF: earn your own achievements. Discussions have been had on whether to determine when and where steroids started to become apart of a certain player's pre-morning work out routine. It should not matter when it began, the whole point is that it happened. That the men that had taken anabolic steroids of any kind were only in it for two things: themselves and the money. I'm not saying determining a player's hall of fame status is done by a judge of character, but a lot of it does have to send out with the message it would send to future generation baseball fans like myself if we decided to put the Bonds & Clemens of the world in the Hall of Fame. It creates a predecessor for my generation to follow the same mind set as Bonds & Clemens and whoever else had enhanced their game illegally for an example. The entire mindset of a generation of baseball players will change. It will show the kids that "hey, it's okay to do whatever it takes to win as long as I win." Not exactly a message you want to teach youthful minds as they start to develop their own indenties.
I try to understand a baseball writer who would vote in a steroid user because of their numbers. But the more I think about that logic, I think to myself why only put in one piece of the pie (the popular piece is Bonds or Clemens) and leave out the rest who have "Hall of Fame numbers" but are left out due to many thinking they would not even be on the ballot if it were not for steroids. The entire thought process honestly disgusts me. It's coming out and saying "yes all of these guys did in fact cheat, but since we believe this one cheated for a longer period of time, he deserves to be punished even more." The men that fall under that category are Sammy Sosa, Mark McGwire, and Rafael Palmerio who have all received less than 10% on the Hall of Fame ballot and will not be elected in. Compared to the likes of Bonds & Clemens who "began to juice at a later date" have been climbing the past few years on the Hall of Fame ballot as they both sit in between 44-50% (a minimum of 75% is required to be elected into Hall of Fame.)
If Bonds, Clemens, Ramirez, and eventually David Ortiz were to ever be elected, you might as well begin to dig up Shoeless Joe Jackson's old grave and elect him in too for cheating the game. Yes, it was a different type of cheating, but cheating nonetheless. The same would go for baseball's all time hit king in Pete Rose as well.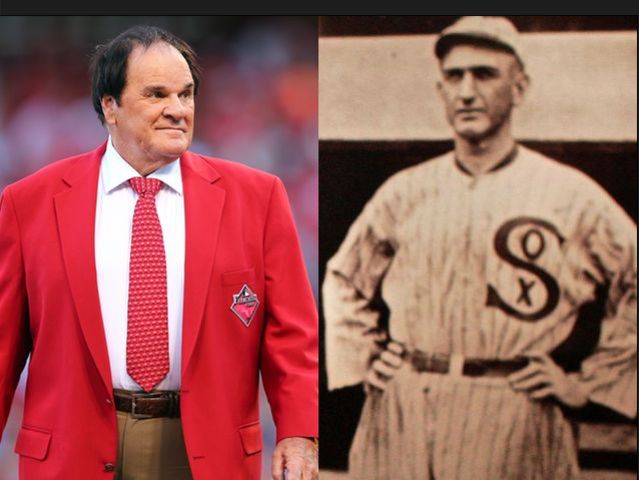 Pete Rose (left) Shoeless Joe Jackson (right) both are ineligible to enter the Baseball Hall of Fame for their participation in gambling and betting against their own team.
Major League Baseball is very close to entering another controversial period in time if baseball writers decide to elect a player from the 'steroid era' into the baseball hall of fame. For the integrity of the game, I would highly advise those who have read this to leave your own comments and thoughts on who you believe should be inducted into this year's Hall of Fame class, and if you would elect a player from the 'steroid era' and why.

Thank you for reading!

Follow me on Twitter @real_rob2017 and message me for any baseball related conversations you'd like to have!

---