If the White Sox were to move Jose Quintana, where would he go?
?Rick Hahn, Kenny Williams, and White Sox owner Jerry Reinsdorf have been very quiet these last few weeks since the White Sox traded Adam Eaton to the Washington Nationals for 3 highly regarded pitching prospects. According to FOX Sports correspondent Ken Rosenthal, the White Sox could be on the verge of committing even more to their rebuild by trading away co-ace Jose Quintana: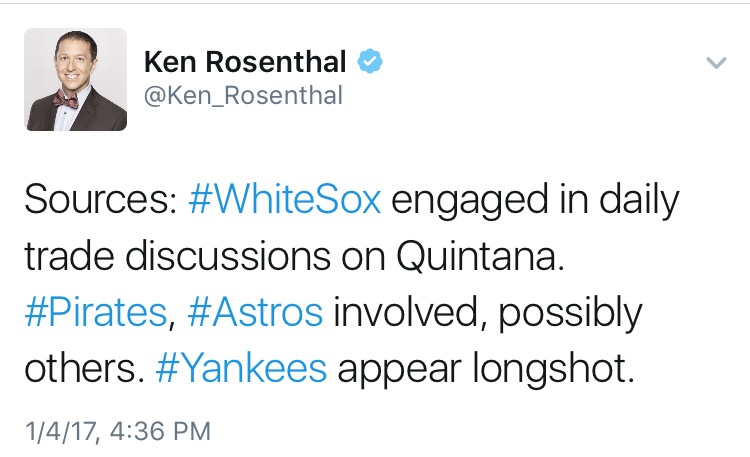 Quintana, 27, came off another impressive pitching campaign last season as he recorded his 4th straight 200+ inning season. Quintana also finished with a 13-12 mark with a career low 3.20 ERA and his first ever all star appearance. What is possibly even more impressive than Quintana's pitching line, is how club friendly his contract is. Quintana is signed through 2018 and has vesting options for 2019 & 2020, which would potentially set him up for 4 years of club control. If he was to exercise his 2019 & 2020 options, his contract would be worth $37M over 4 years. Considering the weak starting pitching market this offseason, Quintana's value could not be higher, but that could also be why he has not been traded yet.
Some potential trade candidates for Quintana are: Pittsburgh, New York, Houston, Los Angeles, and Colorado.
Pittsburgh & Houston seem the most likeliest destinations for the very talented left hander.
Pittsburgh has had a bi-polar like offseason as they had discussed trading former MVP Andrew McCutchen during the winter meetings, but instead have found themselves as the front runners for Quintana. Pittsburgh has made it clear that they indeed still need to dump salary before adding Quintana (who has the friendliest of contracts to begin with.) They most definitely have the prospect package to acquire Quintana's services. Tyler Glasnow, Josh Bell, Austin Meadows and Jameson Taillon would headline some sort of combined package to come back to Chicago.
Houston & Chicago have possibly had the deepest talks when discussing Quintana. Red Sox beat reporter Peter Gammons released a trade proposal earlier this offseason that Houston declined. The offer consisted of pitchers Joe Musgrove, Francis Martes, and outfielder Kyle Tucker. The deal would not include potential superstar Alex Bregman, or highly talented prospect Daz Cameron. I believe that proposal is more than fair for both sides, if not being a little generous for Houston. Although those talks did not come to a head, a edited proposal of that trade could re appear sooner rather than later.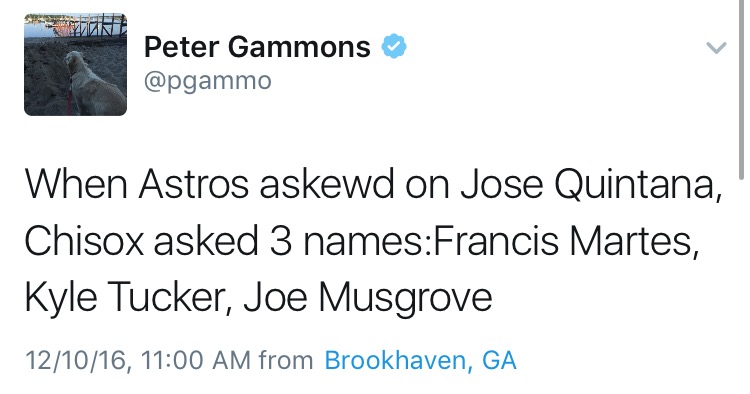 The Yankees at one point seemed like a front runner, but are not willing to trade top prospects Clint Frazier or Gleyber Torres, who they acquired at the trade deadline last season when they entered their "rebuild mode." Cashman is one of the more intelligent GM's around baseball, but if the Yankees plan to contend in the near future, they're going to need a lot more than Masahiro Tanaka in their rotation to do it.
The Dodgers and Rockies are two other destinations where Quintana could possibly go.
The Dodgers have a surplus of prospects; including Julio Urias, Jose De Leon, and Cody Bellinger. A rotation consisting of Kershaw, Hill, and Quintana would easily have the Dodgers as the winners of the NL West.
Colorado is an interesting option as they invested $70M into Ian Desmond earlier this offseason. A lineup fortified by Charlie Blackmon, Carlos Gonzalez, Ian Desmond, and Nolan Arenado will strike fear into the hearts of National League pitchers all year long, but with a weak starting rotation only consisting of Jonathan Gray, Chad Bettis, and Jorge De La Rosa, Quintana could turn the Rockies from pretenders into contenders. They also have the prospects to do it as well. Jeff Hoffman and Brendan Rodgers would headline a package if a deal were to occur.
I expect Quintana to be dealt before spring training. Pittsburgh is the likeliest spot for Quintana to go, with Tyler Glasgow and Josh Bell most likely to come in return for the deal.
Thank you for reading!
Follow me on Twitter @real_rob2017 for any baseball related news and conversations!
---