#2 Buckeyes Over Power the #14 Sun Devils at Home Opener
A cold and brisk November Sunday afternoon brought nearly 4000 wrestling fans to the St. John's Arena as the seats filled up quickly for their home debut of the 2017-2018 season.
Starting off the dual and substituting in for Senior Nathan Tomasello; Central-Ohio local, 125 lb Braken Mead a True Freshman,held in tough against Ryan Milhof a transfer from Oklahoma who left during the Mark Cody catastrophe. Milhof eventually turned him over and caught him flat for the fall, which added +6 for Arizona State to start of the dual in pinning fashion.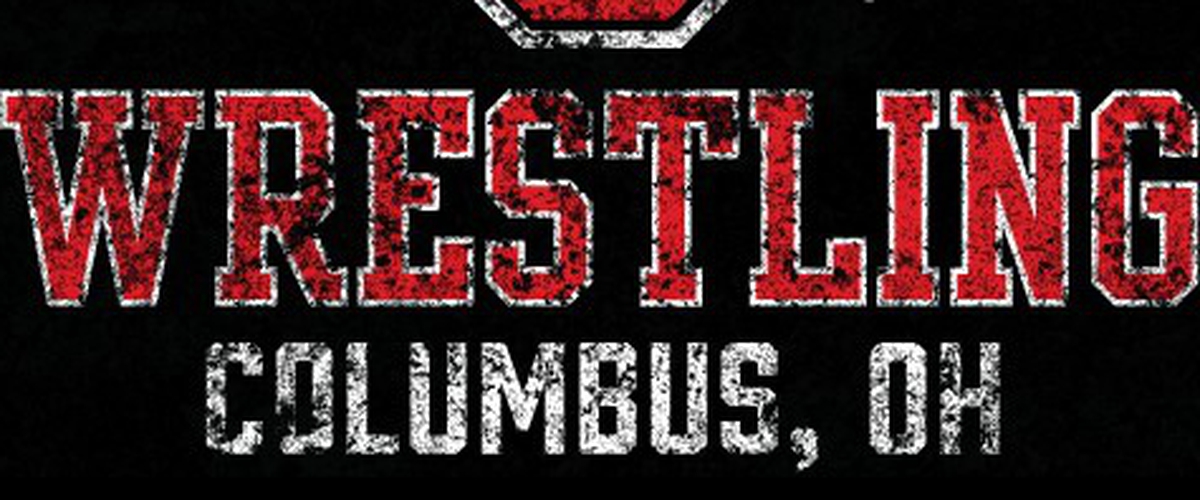 Following the fall, Luke Pletcher of LaTrobe, PA boy faced Nasar a Cali kid who placed 3rd at Michigan State Open, Cliff Keen in Vegas and Journeyman Classic last season. Pletcher with a single and threw it by for a takedown. Nasar reversal right before the end of the 1st period. Nasar an experienced senior giving the #10 ranked wrestler at 133 a run for their money. A match that battled mainly on their feet, goes into Sudden Victory starting back neutral at the center. Pletcher gets in on an outside single and does not give up until Nasar surrenders to take the victory in overtime and put the Buckeyes on the board!
A treat for wrestling fans as Former Blair Buc Joey McKenna breaks out of the tunnel in a Buckeye singlet for the first time this season to make his debut for Ohio State! McKenna who is a recent transfer from the Stanford farm with an impressive 2-year career record of 58-6, 2 PAC-12 Championship Titles and an All-American honor placing 3rd in 2016. with. Quick off the start, Joey takes a 4-1 lead to give himself a little confidence heading into the remaining periods.
[ FOOD FOR THOUGHT--> Take a step back and think if Arizona State was not in the same conference as Stanford, maybe McKenna would have stayed out West to compete with the Sun Devils and Sunkist club at ASU?! ]
McKenna controls the remainder of the match with the classic Jeff Buxton claw and tight waste offense ontop to eventually ride out a solid 6-1 victory to start off his Buckeye campaign.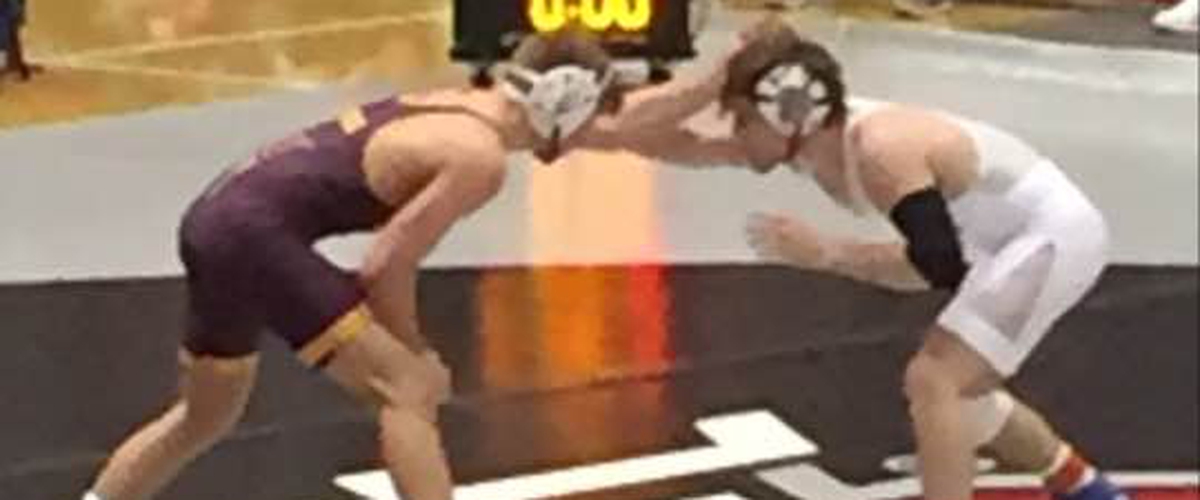 At 149 pounds, Ke'Shawn Hayes is tested once more against a top 20 opponent in just over 1 week after defeating #12 Baby Bannister of Maryland to take the Princeton Open title in NJ. Hayes coming in facing an opponent at the 7-1 mark and last years Pac-12 Champion. Following a successful Zeke Jones challenge, the match resumes after a questionable set of near fall points. Stalling by Hayes on top and looks like he can be in better shape coming into the start of the season. Hayes nailed a TD with 5 seconds left at the edge of the ASU bench to lead 4-2 with over a minute of riding time. Hayes in the 3rd looking tired is caught by his ankle at the edge of the mat and ready to give up a takedown but scatters away without getting the fleeing call against him?! Hayes holds on to take the win at home.
The Sound of "Sail" blasts upon the St. Johns Arena speakers as Micah Jordan bursts out to take on undefeated #12 ranked Josh Shields at the 157 weight class. Micah comes out quick and snags a takedown to set the tone however Shields quickly got up to drag Jordan down and nearly to his back to end the period knotted at 4. Micah trailing 5-3 resorted to an underhook to work in on Shields, which is a sign of fatigue from the Buckeye. Match comes to a conclusion with Shields edging out the gassed Jordan 7-4.
Bummer for the Bucks leading into intermission.
INTERMISSION
A spark from newcomer Te'Shan Campbell starting his Buckeye stint undefeated thus far at 165 pounds with a Princeton Open title already under his belt, squares off against the struggling Anthony Valencia. Campbell came out and tilted Valencia all across the mat to start out leading 8-0 into the 2nd. Campbell ended up winning 13-0 to earn a lop-sided major decision win.
Marquee match of the night arrived as the anticipated #1 Valencia faced off against Poppa #4 Bo Jordan. Valenica recently earning his top rank over Penn State's Mark Hall after defeating him at the NWCA Classic. Valencia spear doubled Bo off the mat. Valencia got rough pushing Jordan which sparked excitement from the Sun Devil bench. Valencia ends up on top and looks better than ever to put Arizona State back on the board.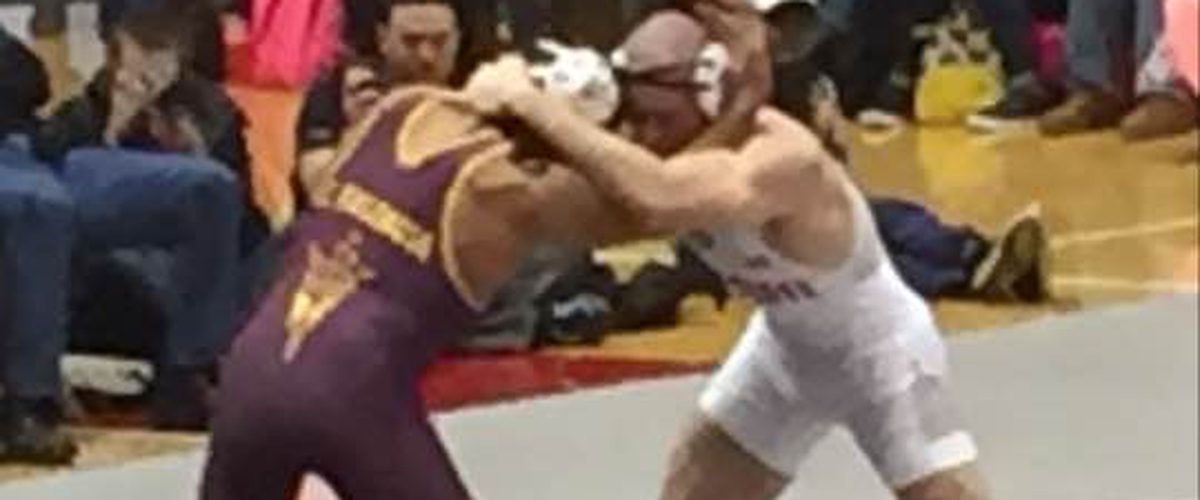 Heading into the last three weight classes, Ohio State led the Sun Devils 13-12.
Following the Sun Devils victory, a Sun Devil freshman Norfleet who was quickly thrown to his back by Ohio State junior # 2 Martin countered an attempted throw and earned a pin for the Buckeyes and the right to sway to PIN-CHAIN!
An unfortunate FORFEIT at 197 for killer Kollin Moore put the score at 25-12 in favor of Ohio State.
Tanner Hall flaked out against #1 Kyle Snyder for the final match of the night at Heavyweight. Instead ASU sent out Harris and he could not contain Snyder's powerful offense. Synder picked up the pin and 6-points for Ohio State.
The final score of the dual meet ended up being 31-12.
Although ASU ended the weekend 0-2, the Sun Devils' youngins were able to hold their own. As for the Buckeyes, the boys will compete again before a fall recess at the THANKSGIVING THROWDOWN against inner-state foes Kent State and Cleveland State for their last competition for the year at the St. John's Arena (WHY?!?!?! MINN MATCH SHOULD SHOULD PACK THE St.JOHNS!)
COMPLETE RESULTS |
125 lbs | No. 7 Ryan Millhof (ASU) def. (OSU) | PIN, 5:16; Team Score: 0-6
133 lbs | No. 10 (OSU) def. Ali Naser (ASU) | SV1, 7-5; TS: 3-6
141 lbs | No. 6 (OSU) def. Cory Crooks (ASU) | D, 6-1; TS: 6-6
149 lbs | No. 11 (OSU) def. No. 13 Josh Maruca (ASU) | D, 6-3; TS: 9-6
157 lbs | No. 12 Josh Shields (ASU) def. No. 5 (OSU) | D, 7-6; TS: 9-9
165 lbs | No. 7 (OSU) def. No. 6 Anthony Valencia (ASU) | MD, 14-0; TS: 13-9
174 lbs | No. 1 Zahid Valencia (ASU) def. No. 3 (OSU) | D, 9-4; TS: 13-12
184 lbs | No. 2 (OSU) def. Kordell Norfleet (ASU) | PIN, 4:31; TS: 19-12
197 lbs | No. 1 (OSU) wins by forfeit; TS: 25-12
285 lbs | No. 1 (OSU) def. Austyn Harris (ASU) | PIN, 6:18; TS: 31-12
-Ron John Rinaldi
[PHOTOS BY: RON JOHN RINALDI]