Kyrie vs. IT,Whose the better player?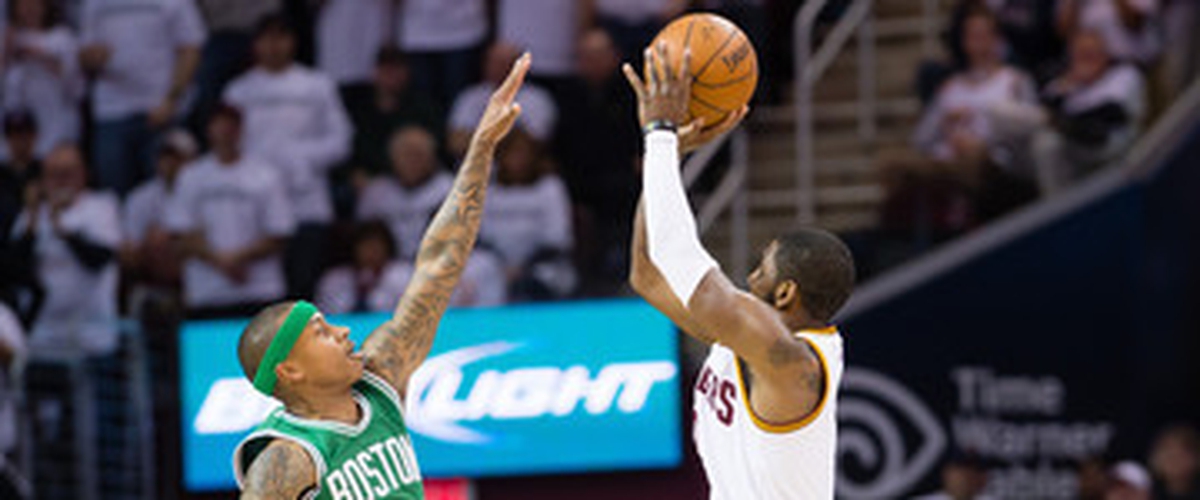 With all the trade buzz surrounding Kyrie Irving, of course the Celtics are supposedly "interested". Assuming that the trade would include a lot of picks and players, one player included would most likely be Isaiah Thomas. Let's compare the two and see who the overall better player is.
We'll look at it in different categories.
Finishing:
Given the height of IT, it is obviously going to be much harder to finish at the rim, but that does not stop the 5"9 PG from finessing his way through the defense. IT is no doubt a great finisher, but compared to Kyrie it is hard to put any current player on top. Kyrie is the king of finishing, he can finish either left or right no problem at all. The way he gets to the basket is an art, and the way he can move his body mid air is just amazing to watch. As much as I love IT I got to give this category to Kyrie.
Kyrie: 1 IT: 0
Passing:
Both Kyrie as well as IT are "score first" types of players. They both pass well, but it is not the best part of their game. The Cavaliers offensive setup is much different than the Celtics offense. The Cavaliers offense usually includes a pass to either Kyrie or LBJ, and then they take it to the hoop. Basically their offense is more of a "take the ball and attack the rim" kind of setup. Whereas the Celtics like to be patient, move the ball and find the open man. The Celtics offense requires a PG who can move the ball, so even though he may not end with a lot of assists, he sets up a lot of plays with his ball movement. It's nothing negative towards Kyrie, he can obviously pass, and I'm not saying he's a ball hog, but in their respected offenses IT is required to set up plays with passing. Overall I give the passing aspect of the game to IT.
Kyrie: 1 IT: 1
Handling:
This is another one of those categories that you have to give to Kyrie, simply because he is on top of the league when it comes to handling the basketball, with names such as "Ankletaker" (Which I found on https://www.basketball-reference.com/players/i/irvinky01.html). Isaiah Thomas is obviously not well known for his handles, but that does not mean that he has none. IT can handle the ball fairly well, he rarely turns it over averaging 2.8 TOV's per game (https://www.basketball-reference.com/players/i/irvinky01.html). IT is no slouch when it comes to handling, he may not be as quick and have as many moves as some, but he uses his handling to help him get to the rim when he needs to. As I said earlier Kyrie wins this category, easily, but I wanted to at least put up an argument for IT as well as I could. Kyrie has the fastest hands as well as amazing moves such as a "killer crossover". He is head and shoulders above the league with his dribbling skills, making this an easy win for Uncle Drew.
Kyrie: 2 IT: 1
Shooting:
Both IT and Kyrie are great shooters. Both were shooting above 45% from the field, and above 35% from the 3 last season (https://www.basketball-reference.com/players/i/irvinky01.html). This is a close one between the two, as I believe both shoot lights out from the field as well as stroke it from deep. This category I am "stat looking" to provide a full argument as to why Kyrie has an edge on shooting compared to IT. Shooting is an okay category to "stat look" in my opinion because no matter if you watch or do not watch the game, the shots are still either are in or out. I used (https://www.basketball-reference.com/players/i/irvinky01.html) to help make the official decision (in my opinion) that Kyrie is a better shooter, only due to the fact that in the playoffs he shot 46.8% from the field, and 37.3% from deep compared to IT's 42.5% from the field, and 33.3% from deep. The playoffs are where everything matters, and when we need our stars more than ever. Therefore the player with the better stats during the most important part throughout an NBA season, wins this battle. Once again both are great shooters, but Kyrie had better stats throughout the playoffs, so I had to go with him.
Kyrie: 3 IT: 1
Defense:
Kyrie and Isaiah are both offensive players, therefore their defense does not standout. This decision is as clear as day due to the fact that Isaiah is an actual liability on defense. As much as I would like To make the the argument for Isaiah, there is just no argument to be made other than the fact that he is 5"9, but us Bostonians say that enough already. Even he would tell you himself that he is a terrible defender. I am not saying that Kyrie is a great defender but, it's almost as if I am comparing Kyrie to air in this category. Sorry IT, but the D just is not there.
Kyrie: 4 IT: 1
Importance to team:
Both players have signifcant roles in their respected teams, but in this category we are going to bring it to a more in depth look at the surrounding team to help us make the decision. The Cleveland Cavaliers currently have a big 3 consisting of Lebron James, Kyrie Irving, and Kevin Love. Kyrie's importance to this big 3 is substantially large. In all honesty it is more like a dynamic duo between Kyrie and LBJ, and Love is there to grab some boards and hit some 3's. Do not get me wrong Love is important, but let's all be honest, the two most significant are Kyrie and LBJ. Now this is where it gets interesting (and soon to be realistic), take Kyrie off the Cavs and what will they be? In my opinion they will still make the playoffs, and they will probably make the 2nd-3rd round, but they may not have won the championship in the year prior to this year. Kyrie has come up huge in big moments, and even the King himself has noticed this, saying multiple times that "he was made for that moment". This obviously shows how important Kyrie is to the team. As for Boston, we are going to use last years roster to help us decide. IT was playing with the likes of Avery Bradley, and Al Horford. That was indeed the Celtics big 3, it is a downgrade compared to the Cavaliers. IT was the epicenter of the team, without IT I question if we even make the playoffs. IT is the sole reason the Celtics can run their offense and find that open man, as well as just about the only pure scorer the Celtics have to offer. I give the overall most importance to the team to Isaiah, because he not only is he the go to guy for points when we need them, he is the epicenter of a team that without him, would not have gotten as far as they did.
Kyrie: 4 IT: 2
Final Score:
Kyrie Irving: 4
Isaiah Thomas: 2
As much as I love IT, and as much as he means to this city, I have to say I believe Kyrie is a better player overall. He has the better handles, height(of course), defense, shot, as well as ability to finish. Do not forget we are comparing a player who is 5"9 to a player who is 4 inches taller than him (6"3). Let us not forget Isaiah's heart and his desire, he is the definition of a Boston player, and we love him.
---