Three takeaways as Nashville SC is blanked by Atlanta United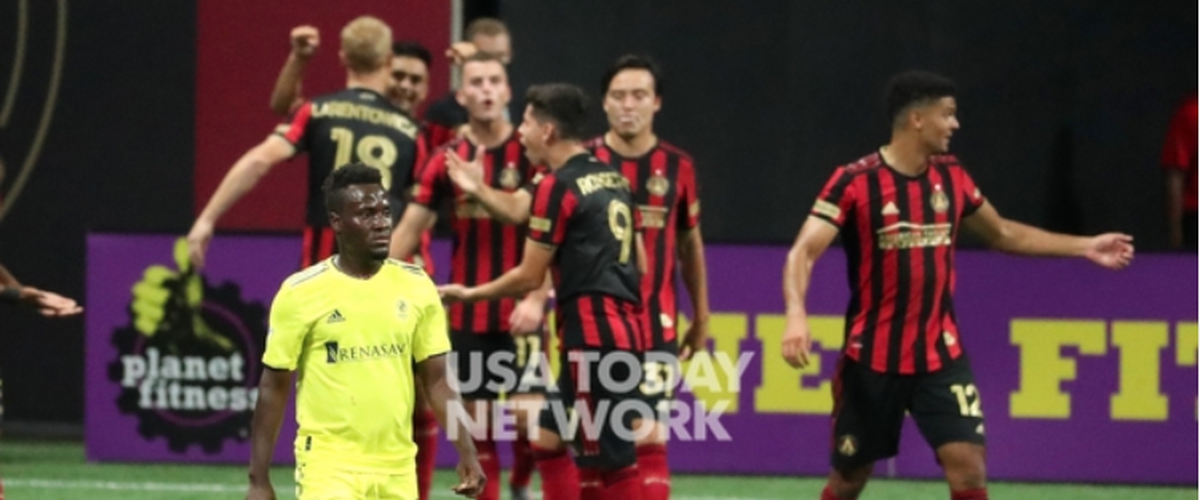 Atlanta United has the number of Nashville SC it seems right now. After defeating The Boys in Gold 2-1 in February, the side hailing from Georgia was tested by Nashville on Saturday night, but two stunning goals from Gonzalo 'Pity' Martinez helped United win their first match since March 7th.
It was a special night for ATL interim boss Stephen Glass who won his first match in charge since taking over for Frank de Boer who was sacked following the team's group stage exit from the 'MLS is Back' tournament from Orlando.
Despite the scoreline, there are plenty of positive takeaways from this match.
The expected goals and shots don't match the scoreline
For those who do not know, there is a statistic used in soccer called 'xG.' This stands for expected goals and gives you an idea of how well a team did while on the attack. It takes into consideration clear cut chances created, shots on and off target, and possession in the final-third of the pitch.
Sometimes, the expected goals do not materialize and that is exactly what happened here.
As you can see, the stats say Nashville should've won this game 2-1. But, Atlanta had three clear cut chances to Nashville's one (just before Martinez scored his first).
And just like we saw in both games against FC Dallas, Nashville was sharp in the defensive third and in midfield. The biggest problem remains the end product.
Expected goals higher than the other team? Check. More shots than your opponent? Check. More goals than the other team? Not quite.
I think the argument could be made that Nashville deserved a 0-0 draw, but Pity Martinez made all the difference and helped Atlanta over the line.
Looking for help at right-back
The emergence of former Wake Forest standout Alistair Johnston has been the biggest and brightest news for NSC's youth ranks. In two consecutive starts as a right winger/midfielder, the 21-year-old has been solid.
He has played 133 minutes and has been lethal pushing the ball with pace. And while Johnston has been solid pushing forward, manager Gary Smith has struggled to find a regular to play behind him and provide defensive support.
It was Jalil Anibaba who started in that spot for the second consecutive match and could not handle the pace of Bello, Rossetto, and Adam Jahn.
Eric Miller has also made two starts at right fullback and Taylor Washington has provided little coming on as a sub in the last two game, so, finding a reliable defender for that flank is the second highest priority behind getting a reliable number nine right now.
Nashville's defense has been quite good through five games, but against a high-powered attack like ATL, there cannot be a gap in the armor.
Five huge matches in less than three weeks
Nashville is not done with Atlanta just yet (sadly). NSC will face United once more before September 12 and will play a home-and-home with Inter Miami and Orlando City SC.
After playing five of their first six fixtures on the road, Nashville will play three in the friendly confines of Nissan Stadium. Without the stress of travel and with no fans in attendance, can Nashville get their first MLS victory in the Music City?
Orlando, Miami, and Atlanta have been impressive in the attack (Miami won their first ever MLS match with three goals), therefore, the focus will once again be on the two points we already discussed: help on defense down the right side and a more reliable number nine.
Let's forget about this result and turn our focus to Wednesday!
---