Isaiah Thomas leading the Celtics in the playoffs, but is he really worth the MVP award?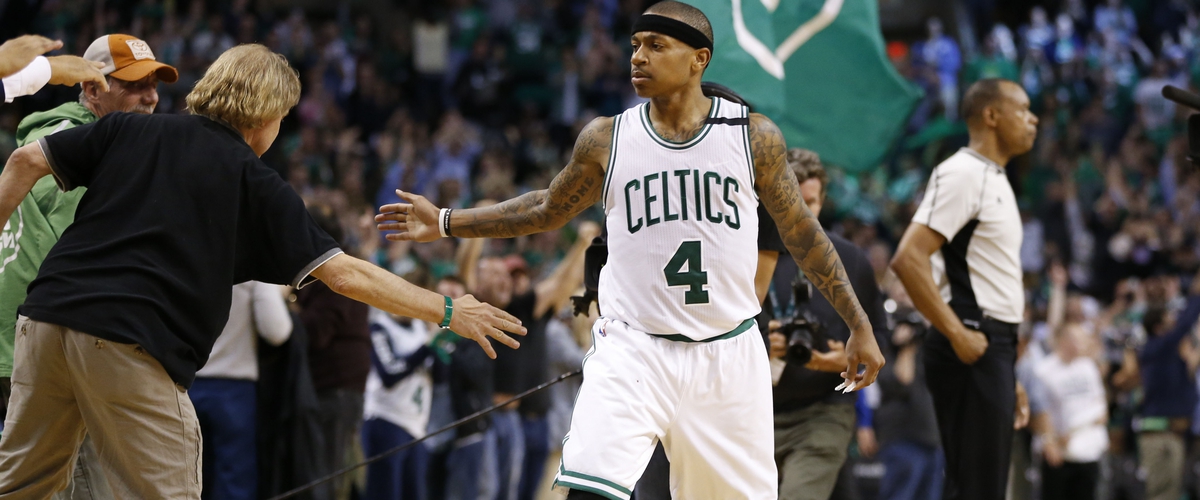 The Boston Celtics are currently leading the Wizards 2-0 as of today. They defeated the Chicago Bulls 4-2 in the 1st Round with Rajon Rondo being injured with a broken right thumb. Isaiah Thomas played very well throughout the whole playoffs. He is currently averaging 28 points in the NBA Playoffs. In Game 2 against Washington, he scored 53 points to help the Celtics obtain a comeback against the Washington Wizards. It was also Isaiah Thomas's sister birthday on the day he scored 53 points. He has been dealing with the loss of his sister since the beginning of the playoffs, but it didn't affect him as a player because he still contributes in every game. The Boston Celtics have a good chance to beat the Wizards, leading 2-0 in the series. They could advance to the Finals to face the winner of the Raptors/Cavaliers series, but it is very likely that the Cavaliers will advance to the Eastern Conference Finals.
Besides the Playoffs occurring, the MVP race is getting hot and the NBA playoffs will make an impact on the candidates. The five candidates are LeBron James, Russell Westbrook, Kawhi Leonard, Isaiah Thomas, and James Harden. Isaiah Thomas is obviously rising in the MVP Ladder. He has made a huge impact for the Celtics through the entire season. The Boston Celtics are viewed as an average team, but adding Isaiah Thomas could make a deadly roster. Many basketball fans are claiming the lack of competition in the Eastern Conference, but they are some teams on the rise such as the Raptors, Bucks, and Wizards. LeBron James is the main reason why the Eastern Conference is less competitive because whatever team LeBron James is on, he will most likely come out of the Eastern Conference. Going back to Isaiah Thomas, he is contributed so much to the Celtics. His sister died, but he still try to help the Celtics win, he is the best 4th quarter player in the entire, he helped the Celtics become the #1 seed, and he is one the best scorers in the league, so he deserve some recognition on the MVP Ladder and he deserve to win the MVP award.
---