Why Does Tyrod Taylor Get No Respect?
Ask twenty football fans who their top 10 NFL quarterbacks are. Any of them mention Tyrod Taylor? Okay, your friend from Buffalo doesn't count. But any of the others? Tyrod Taylor probably doesn't even cross their mind when thinking of the best quarterbacks in the league.
There are lots of QBs in the league with more experience than the 28-year old, the starter for the Bills the past three years after being Joe Flacco's backup in Baltimore for four years. The past two years, how has Tyrod proved he's a better quarterback than other guys? They've gone 8-8 and 7-9 the past two years. He hasn't been working with much support, though. Last season, 2014 first round pick Sammy Watkins only played 8 games, and the defense disappointed. And the offensive line? Well, Tyrod Taylor got sacked 42 times. That's more than any quarterback in the league last year.
But what does his team's shortcomings say about Taylor himself? There's no secret that his mobility is one of Taylor's best and most distinctive qualities as a quarterback. How good is it? Well, behind a line that allowed their quarterback to be the most sacked QB in the league, Taylor managed to lead all QB's in rushing yards, and have the 2nd most rushing TD's from any QB, behind Offensive Rookie of the Year Dak Prescott of the Dallas Cowboys. That says a lot about his offensive capability.
So, he's a good runner. What else is he? He can definitely protect the ball. He had just 6 interceptions last year. The only quarterbacks with fewer interceptions (min. 200 attempts) were Sam Bradford, Colin Kaepernick, Dak Prescott, and Tom Brady. Pretty good company, particularly the guy with five rings.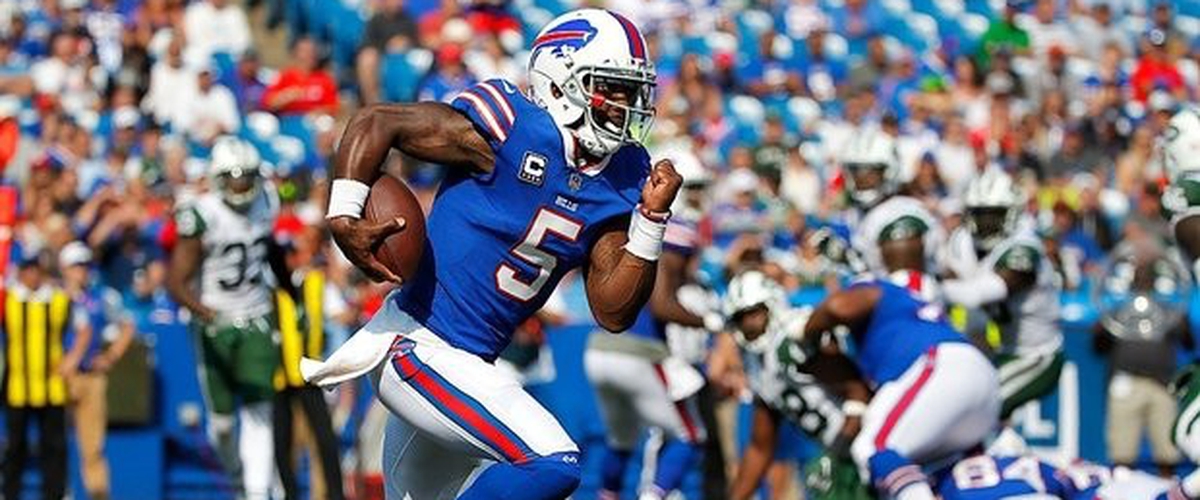 Today, Taylor went 16-28 and threw for 224 yards, including 2 touchdowns and a rare pick. The interception bounced off the hands of tight end Charles Clay into the hands of Jets cornerback Juston Burris. But again, what was most impressive was Taylor's escapability. He had 38 yards on the ground in 8 attempts, one of which was enough to put the game out of reach on a late third down attempt. As was the case many times last season, it was the play of Shady McCoy and Tyrod Taylor that fueled the Bills to victory past the division rival New York Jets.
Taylor made barely any mistakes, and made the big plays he needed to get the win. Expect more of the same to come out of Buffalo this year. Even with the massive upheaval of the offense and defense, the Bills should be a surprisingly good team this upcoming season.