'There's Only One Ball' Is a B.S. Argument--Especially for OKC
Throughout the offseason, one argument has been constantly used against new NBA superteams--"there's only one ball." This cliché has been used mostly to question the Houston Rockets' acquisition of Chris Paul, along with other teams, and many times has been said while questioning the Thunder's new look squad consisting of All-Stars Russell Westbrook, Paul George, and Carmelo Anthony. But does this argument even make sense? No, it doesn't.
Okay, maybe it does in the case of the Rockets. After Harden's MVP-caliber year running the point in Houston, it sure is questionable to acquire Chris Paul, a guy who has been touted as the only "true point guard" left in the league. But, I digress. When discussing OKC, this argument makes no sense. Here's why.
This is a situation Carmelo Anthony has never found himself in. No longer is the lone perimeter scorer on his team, as he has been in the first 15 years of his career. Better yet, he's the third option in Oklahoma City now. Melo, throughout his career, has been one of the league's top scorers, but rarely with a high shooting percentage.
And he's never passed the second round of the playoffs.
And while we're on the topic of passing, the most assists per game he's ever averaged is 4.2.
Look for all of this to change. By waiving his no-trade clause to accept going to the Thunder, Anthony has taken a step in the right direction in his career. Don't be surprised if Melo averages the fewest points he ever has in his career, and doesn't make the All-Star Game for the first time since 2009, his last full year in Denver. But don't be surprised if he averages the most assists per game he ever has in his career. And don't be surprised if he makes the Conference Finals for the first time in his career. Because by being willing to go to an OKC team already stacked with Russell Westbrook and Paul George, Melo has accepted a role as the third best offensive player. Don't expect him to get in the way of the flow of the offense.
As for the mesh between Russell Westbrook and Paul George, it could be a similar basketball relationship that Westbrook and KD had back in KD's Thunder days. Don't get me wrong--KD and George are very different offensive players, and KD is far more talented on that side of the ball. Westbrook will still be more ball-dominant, but George will get his fair share of shots this season. Having three go-to guys in the final possession of the fourth quarter is a very, very good problem for Billy Donovan to have.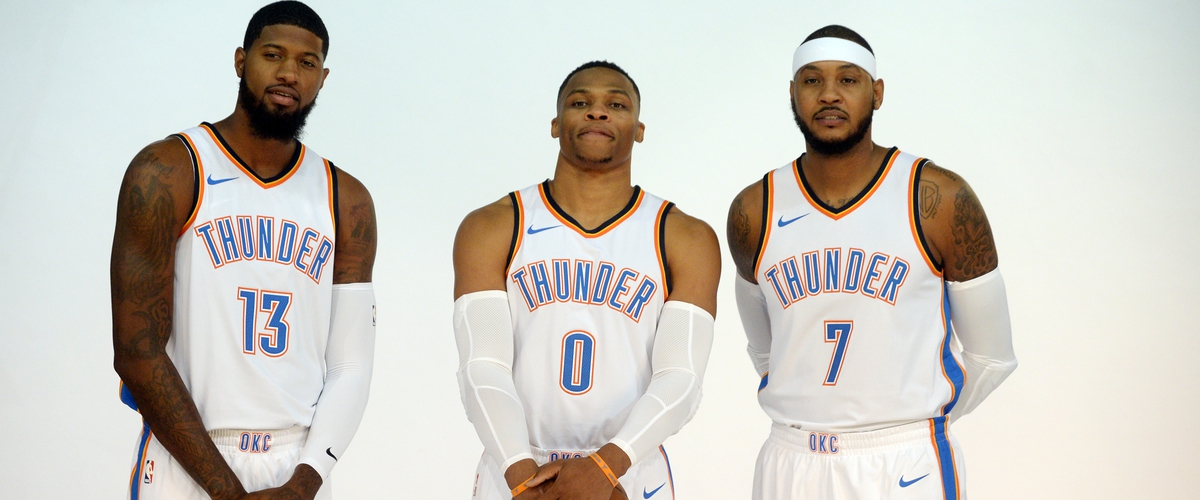 And finally, not to be forgotten is the defensive side of the ball. This season, the Thunder have improved vastly on defense. The Thunder have arguably the best defensive wing duo in the league in George and Andre Roberson. And while Melo is by no means a good defender, he is a much better defender than Enes Kanter, who was sent to New York in the Melo deal. The 2017-18 season offers much more promise than last year for OKC, and lifts a huge weight off of Russell Westbrook's shoulders on both sides of the ball. It's a tough task, but this season has potential to be better than any season the franchise has had since arriving in Oklahoma City.