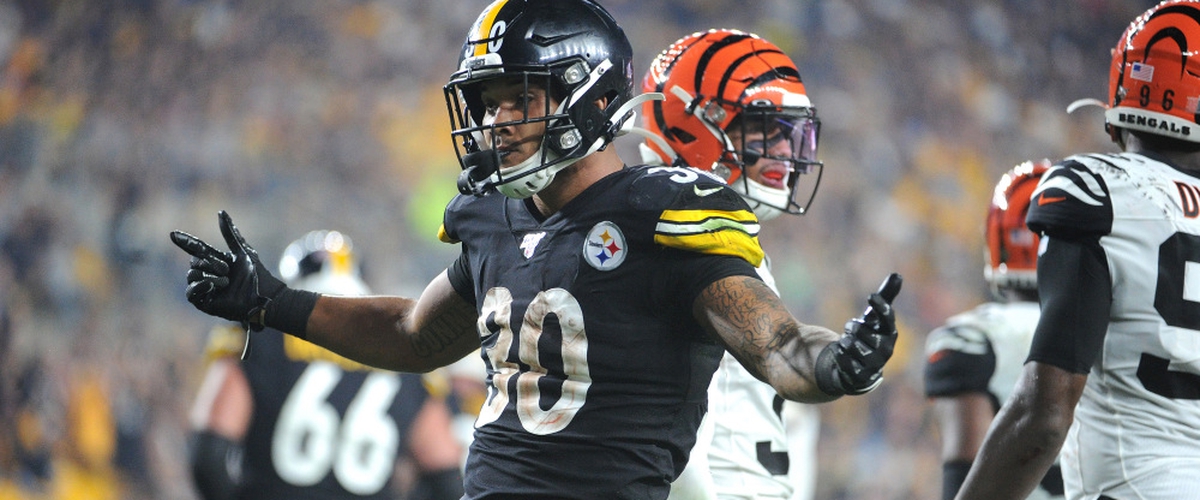 James Conner and the Pittsburgh Steelers were all attitude Monday night, pummeling the Cincinnati Bengals 27-3 to earn their first win of the season.
The Stack is back on this Tuesday and we the baseball playoffs start today! Woohoo! Hopefully Dish and FOX work out a deal before Friday so that Dish customers (and Sling customers too) can catch the baseball playoffs on FOX and FS1. Work it out and don't be children FOX and Dish! We'll preview the play-in games plus MNF and college football so let's get right to "the stack" for today, Tuesday, October 1st:
Steelers beat down Bengals on MNF
When two winless teams meet at this point in the season, someone is bound to beat up on the other one pretty good. Or they will play to a 6-3 game. The former happened Monday night. The Pittsburgh Steelers destroyed Cincinnati 27-3. Steelers quarterback Mason Rudolph was fine, rarely throwing the ball down the field more than 3-5 yards. His second touchdown of the night went the furthest of any throw going to Diontae Johnson. Otherwise it was the Conner and Samuels show for the Steelers on offense.
Defensively, the Steelers showed no mercy to poor Bengals quarterback Andy Dalton, sacking him eight times. Don't look too far at the result of this game though. The Bengals are a bad team with injuries to their offensive line and no A.J. Green. The Steelers were good one week, but they are not a good team overall and will struggle the rest of the season.
College football weekend recap
The college football season and world was nearly flipped upside down Saturday had North Carolina just been able to convert that two-point conversion and take down #1 Clemson. They couldn't though and lost 21-20. Clemson does not look good. They do not look like the team from last year though when your entire defensive line gets drafted, that is tough to replace. They need to get back with that edge though.
In a battle of ranked teams, #10 Notre Dame beat #18 Virginia 35-20. Virginia has looked awfully impressive so far this season. #17 Washington took care of #21 USC 28-14. USC's schedule is really tough.
Georgia Tech stinks. They earned a safety, a SAFETY! in a 24-2 loss at Temple. Baylor and Iowa State played a good game. Okay, it was a good ending. Baylor won 23-21.
#5 Ohio State embarrassed Nebraska 48-7. So much for College Gameday being there to help give Nebraska a boost. #12 Penn State certainly impressed Friday night shutting out Maryland 59-0. Yikes! Anything else stand out from the weekend? Not much. Hopefully this weekend will be better. It should be with #7 Auburn and #9 Florida.
Baseball wild card play-on games
NL
Milwaukee Brewers @ Washington Nationals 8:08 PM ET TBS
The Nationals have had their fair share of playoff disappointment since relocating to D.C. This year, they don't have Bryce Harper, but the fact that they were twelve games under .500 at one point (19-31) and are in the playoffs is somewhat remarkable. Their pitching is very good. The Brewers have had a great run in September to get to the playoffs, even after losing NL MVP (last year and presumably this year) Christian Yelich. I see it coming to an end tonight.
Pick: Nationals
AL
Tampa Bay Rays @ Oakland Athletics 8 PM ET ESPN
Both teams have outstanding pitching. I'll give the slight edge to the Rays. The A's were in this spot last year and lost to the New York Yankees. I like the A's offense a little more and though I would rather see the Rays come through and get the win, I think Oakland is just a little bit better overall.
Pick: A's
Coming up Wednesday: 2019-20 NHL season preview
---