"The Stack" 1-1-20
+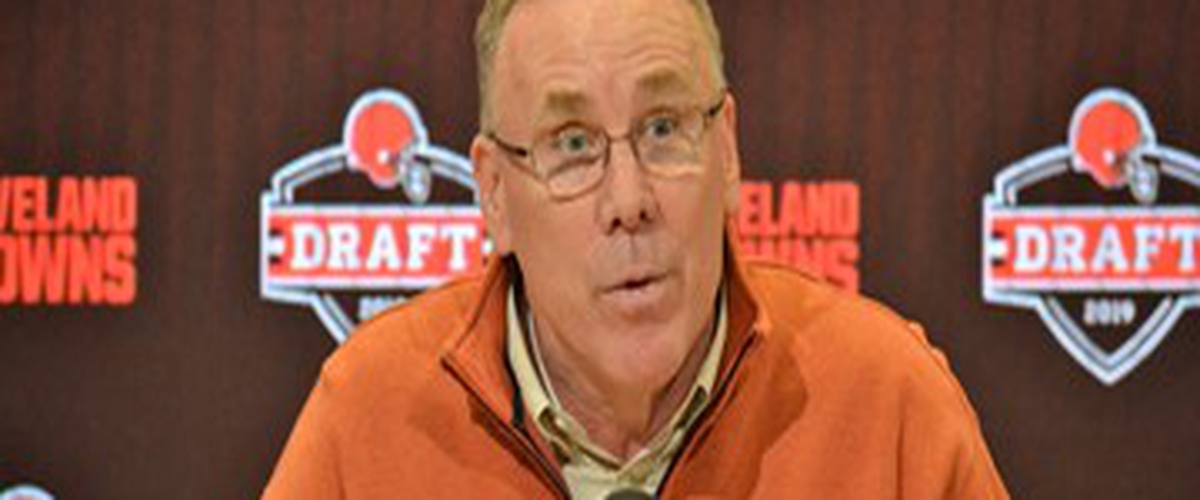 John Dorsey is out as GM of the Cleveland Browns after two seasons, Once again, the Browns will be looking for a new head coach and GM. Stability is needed!
Happy New Year, everyone! Welcome to 2020 and the first posting of "The Stack" this year. Hopefully everyone had a good, responsible time celebrating and ringing in the new year last night. We have more bowl games to pick and NFL news to discuss so let's get right to "the stack" for today, Wednesday, January 1st:
NFL head coaching/front office news
Washington has filled their head coaching vacancy as we discussed yesterday, naming Ron Rivera their new head coach. He's taking former Jacksonville Jaguar and Oakland Raider head coach and current ESPN analyst Jack Deli Rio as his defensive coordinator.
Doug Marrone will remain the head coach of the Jacksonville Jaguars. ESPN got this one awfully wrong considering Saturday they had a report that Marrone was told he would be fired and the team denied that any decision had been made. Whoops! And Jason Garrett is still the Dallas Cowboys head coach. We'll see if anything happens today.
The big news yesterday happened in Cleveland where GM John Dorsey and the team agreed to part ways because they couldn't agree on the vision and structure of the Browns. What am embarrassment! Dorsey brought credibility and the Browns now once again have to start over in the front office and with a new head coaching staff. Bring some stability to the organization, ownership. The Haslams are not great owners. They need to get this one right. I feel sorry for that fan base and that team in general. They have talent, but without any direction, that ship is sailing into the open sea not knowing where they are going.
We'll see if anything else happens today.
Outback Bowl (Tampa, FL)
10-2 #18 Minnesota VS 9-3 #12 Auburn 1 PM ET ESPN
What an amazing year Minnesota has had. Losing to Wisconsin, however stings. Couple that with their offensive coordinator leaving and I'm wondering where the team's mindset is at. We know head coach P.J. Fleck wants to win and will motivate his team the best way he knows how. They are underdogs so that will help. Auburn played great against rival Alabama in their last game. I have a feeling they can have that sort of effort today in a win.
Predicted winner: Auburn
Confidence points: Mid teens
VRBO Citrus Bowl (Orlando, FL)
9-3 #14 Michigan VS 10-2 #13 Alabama 1 PM ET ABC
I may sound like a broken record, but motivation is always something to look at and how motivated is Alabama to be playing in something that isn't the College Football Playoff? I believe they will have several guys who have first or second round potential in this year's draft sitting out which makes this a perfect spot for Michigan to win. I hope I'm not wrong Nick Saban. Don't make me wish I had taken the Maze & Blue.
Predicted winner: Alabama
Confidence points: Low 20s
Rose Bowl Game Presented By Northwestern Mutual (Pasadena, CA)
11-2 #6 Oregon VS 10-3 #8 Wisconsin 5 PM ET ESPN
Perhaps the premier bowl game of the year, every year. Soon to be first round pick quarterback Justin Herbert leads the Ducks along with a stout defense, but Wisconsin has running back Jonathan Taylor. He is a handful to bring down. Advantage Badgers.
Predicted winner: Wisconsin
Confidence points: Mid single digits
Allstate Sugar Bowl (New Orleans, LA)
11-2 #5 Georgia VS 11-2 #7 Baylor 8:45 PM ET ESPN
Last year in this same building, Georgia lost to Texas. They will be without several players in this game by the sounds of it. Both teams are coming off defeats in their respected conference championship games. I keep going back and forth on this one and may still until right before kickoff.
Predicted winner: Georgia
Confidence points: Mid-single digits
Coming up Thursday: Bowl game picks plus other headlines & big news from the sports world
---