"The Stack" 1-6-20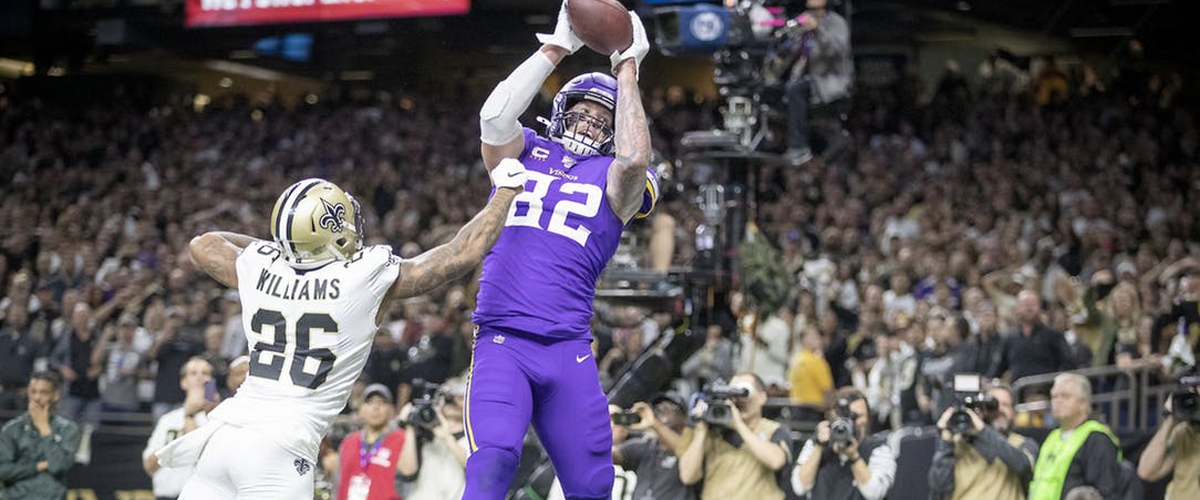 Kyle Rudolph's leaping touchdown grab helped the Minnesota Vikings upset the New Orleans Saints 26-20 in overtime. Did he push off? Yes, a little bit. Nothing so egregious as to have a flag thrown though after no flag was thrown in the first place. Every play is scrutinized because the NFL overreacted to last year's no-call between the Saints and the Rams. Now the Saints get burned again.
The Stack is back on this Monday morning and we are still in disbelief, but beyond ecstatic with the Minnesota Vikings victory yesterday. We have reaction to all four Wild Card games plus news out of Dallas & a bowl game to pick so let's get right to "the stack" for today, Monday, January 6th:
Bills 19 Texans 22 (OT)
What a game to kickoff Wild Card weekend. The Buffalo Bills drove down the field the first possession of the game and scored when wide receiver John Brown threw a pass to Josh Allen. The Bills dominated this game in the first half. The Houston Texans couldn't get anything going offensively. The Bills looked like they were going to take full control of this game in the second half when they were driving once again…until J.J. Watt sacked Allen. When that happened, I said it out loud that that would wake the Texans up and would change the momentum in the game. The Bills got a field goal to go up 16-0, but then Deshaun Watson and the Texans offense went to work. Watson made some Houdini like plays, but the Watt play ignited the entire team. They eventually got the lead only to see Allen lead the Bills down for a game-tying field goal. Game went to overtime and Watson made an absolutely incredible play slipping out of two defensive players' arms and finding a running back who ran the ball to the Bills ten yard line. They would kick the game winning field goal and I will say it again. They won this game because the Watt sack amped up the crowd and swung momentum to the Texans side. It woke them up. It's a very tough loss for the Bills, but they will be back. This is a team with a bright future.
Titans 20 Patriots 13
So there was a winter storm named Henry that made its presence felt in the New England area on Saturday. Then the birthday boy, Tennessee Titans running back Derrick Henry came in and bullied the Foxboro faithful to the tune of 182 yards, the most yards the Patriots have given up to a running back in the playoffs in a long time. Since 2001 I believe. Tom Brady and the New England offense really struggled to get much going, going scoreless in the second half. The cherry on top for the Titans was a pick six by the Titans with only seconds to go in the fourth quarter with the Patriots at their own one yard line. Logan Ryan probably should have just gone down instead of score, but it was a truly magnificent game by the Titans who now get the tough test of trying to stop Lamar Jackson and the Baltimore Ravens.
Vikings 26 Saints 20 (OT)
I will try and keep this as short as I can, because I could go on and on and on and on about this game. The New Orleans Saints offense was held in check largely the entire game when Taysom Hill wasn't involved. He became the first player in NFL history with 25 rushing yards, 25 receiving yards and 25 passing yards in a playoff game. But that was pretty much the only way the Saints could get the offense clicking. Drew Brees was off almost the entire day and that was in large part thanks to the Minnesota Vikings defense and the different looks they gave New Orleans. They lined up defensive ends Everson Griffen and Danielle Hunter inside and it confused the Saints. The Saints had an NFL low eight turnovers for the season. The Vikings forced two turnovers. Brees was sacked only twelve times this year. The Vikings sacked him three times. For all of the issues they had with Hill, they did a number on Brees.
And then there is Vikings quarterback Kirk Cousins who played a very good game making several big throws like the couple of third down throws to Stefon Diggs and the throw to Adam Thielen in overtime that was absolutely perfect. Dalvin Cook ran very hard and very well outside from a couple of ill-advised pitches that resulted in lost yards and a near fumble late in the fourth quarter. Cook had two touchdowns, but all anyone can talk about is the last play of the game. The Saints did a zero blitz which essentially means that everyone was playing man to man coverage. Tight end Kyle Rudolph was split out wide left. The cornerback that was on him was six feet tall. Rudolph is 6 foot six. Advantage Rudolph. Cousins threw a fade and Rudolph went up and got it. However he did extend his arm that created separation. No flag was thrown on the field. Would they truly call offensive pass interference, wiping out the game-winning touchdown. Al Riveron and New York reviewed it and they determined no, it was not egregious enough. People are upset, but both guys were going at each other. Yes Rudolph did push off a little bit, but this doesn't raise to the level of what happened in last year's NFC Championship game. Unfortunately, this is taking away from the Vikings win and that is unfair. They were the better team in this game. The Saints are left wondering now what if.
Seahawks 17 Eagles 9
Back in week 12 when these two teams played in Philly, the final score was Seattle 17, Philadelphia 9. The Eagles had a lot more turnovers in that game. They didn't in this one, but once Carson Wentz left the game with a concussion after Seahawks defensive end Jadeveon Clowney hit Wentz from behind and it his helmet forcing Wentz's helmet into the ground with force. No flag was thrown. It looked unintentional. A lot of people took issue with it, but tough. Yes, this injury is different than the other injuries Wentz has suffered, but he still puts himself in these situations. He's done very well when healthy, but that is the problem. He can't stay healthy. This year he did in the regular season and did the best job in his entire career given all of the weapons that went down due to injury. This was his best work. Unfortunately he wasn't able to keep it going in the playoffs. For the Seahawks, this was the DK Metcalf show. The rookie wide receiver had what, 160 receiving yards and a touchdown? He was fantastic. The Seahawks are going to need another big game from him next week if they want to beat the Packers. Wow, Wild Card weekend was fun!
Jason Garrett out in Dallas
After a week of speculation and a number of reports that he was out without any official word from the team, the Dallas Cowboys finally announced on Sunday that head coach Jason Garrett is out as Cowboys head coach. I don't know if this was the right decision because he wasn't the one out on the field dropping passes, missing tackles and underachieving, but at the end of the day, the buck stops with him. The Cowboys released a statement and they want their next head coach to have had previous experience. They already interviewed Mike McCarthy and Marvin Lewis even before the announcement came that Garrett was out. Jeff Fisher has even had a phone conversation I believe. The Cowboys continue to botch things and there appears to be some dysfunction. We'll see where they go from here.
*Update: A mere 12 hours or so after they finally fired Garrett, the Cowboys have announced that Mike McCarthy is their new head coach.*
The former Green Bay Packers head coach is a good head coach, but this is a bit of a puzzling hire. Is McCarthy going to be any better than Garrett? I'm not so sure. McCarthy only won one Super Bowl with Aaron Rodgers as his quarterback. Dak Prescott is not Aaron Rodgers. Not saying it's a terrible hire, but it is not a hire that the Cowboys would normally make. Maybe not. I don't know. I have mixed feelings and reactions to this. I don't know if he can get the Cowboys over the hump and get them to NFC Championship games and the Super Bowl. At least he can't as this team is currently constructed.
Lendingtree Bowl (Mobile, AL)
10-3 Louisiana VS 8-5 Miami (OH) 7:30 PM ET ESPN
Louisiana is the far better team. If they show up motivated for this bowl game, they will have no problem taking down the fighting Ben Roethlisbergers. That's the big question though. Will they show up? Will they be motivated? They better. I think they will.
Predicted winner: Louisiana
Confidence points: Mid 30s
Coming up later this week: NFL Divisional Playoff previews & picks and other head coaching news