"The Stack" 1-14-20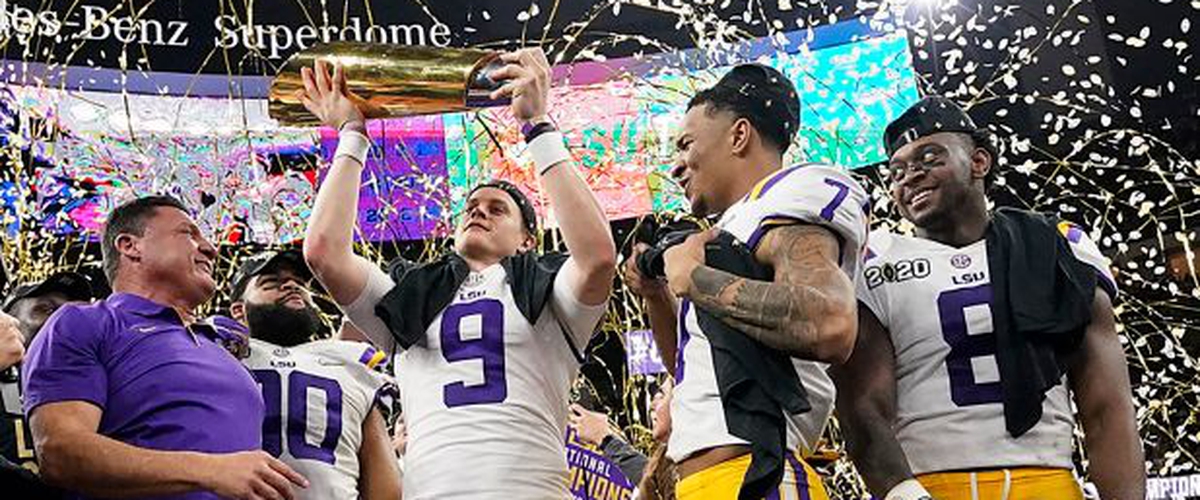 It's a great day for LSU and the great state of Louisiana! LSU won the National Championship Monday night, 42-25 over Clemson to go undefeated and hand Clemson their first loss in over 700 days. Joe Burrow was named offensive MVP.
The Stack is back on this Tuesday and what a performance that was by the LSU Tigers last night. If there was any question if Joe Burrow should be the number one overall pick in the NFL Draft, he answered it last night. LSU is your national champions of the college football world. We'll have reaction to that plus a couple of other big headlines so let's get right to "the stack" for today, Tuesday, January 15th:
LSU tops Clemson to win National Championship
It's a great day for the great state of Louisiana. I don't know how many times Coach O (Ed Orgeron) has said that since the LSU Tigers knocked off Clemson last night 42-25 to win college football's national championship. It didn't start out great for Joe Burrow and the LSU offense. They went three and out on their first two possessions. Clemson drove down the field their first two possessions, but their drives stalled and they had to punt. They finally scored on a Trevor Lawrence touchdown run to take a 7-0 lead. That would be the lone real highlight for Lawrence on this day. He was off. Inaccurate. Flustered. A lot of credit goes to the LSU defense for that. They even forced a fumble of Lawrence.
It was 17-7 Clemson in the second quarter and then it was like a lightbulb turned on and everything clicked for the LSU offense. The Clemson defense could not stop them. LSU wide receiver Ja'Marr Chase in particular was a beast. He had nine catches for 221 yards and two touchdowns. On a critical third and ten late in the second quarter, Burrow ran on a draw picking up big yards and getting near the 10-yard line. LSU would cash in on a touchdown pass to Thaddeus Moss, Randy's kid, and the Bayou Bengals were up 28-17 at half.
Clemson rallied to start the second half, forcing a three-and-out by LSU and then scoring a touchdown themselves. After going for two and succeeding, it was 28-25. That would be the last time Clemson would score a point. Burrow and the LSU offense went to work. Later in the third quarter, just when it seemed like Clemson might have stopped LSU and gotten some momentum, linebacker James Skalski, who had been wreaking havoc all game long on the LSU offensive line and Burrow, was charged with targeting and ejected. It was the right call (which is of little solace to Ohio State fans). Anyway, from that point on, it was LSU's game to lose. They didn't and they won. The Superdome was going crazy. Burrow was happy. Coach O was beside himself. It was a fantastic moment to witness. Kirk Herbstreit said during the game that this may be the best offense (LSU) he's ever seen. It's hard not to argue. Burrow put up historic numbers this year and the LSU offense was so in synch. So unstoppable. What a year they had. Congrats to LSU! What a great year!
Houston Astros served big penalties in stealing signs case
A bombshell on the night of college football National Championship was dropped by Major League Baseball on Monday. The league announced, after they had conducted an extensive study, that the Houston Astros were indeed guilty of stealing signs with the use of technology during their 2017 World Series year and part of the 2018 season as well. That brought about the following punishments:
· A one-year suspension to manager AJ Hinch and GM Jeff Luhnow
· No first or second round draft picks in 2020 and 2021
· Team fine of $5 million
Baseball wanted to make the punishments severe enough as to deter this kind of thing from happening again with any other team (the Boston Red Sox also are about to get the axe swung down on them for doing the same thing during their World Series year in 2018). If you ask me, a postseason ban for this year would have been the better route to go. Maybe even two years. You really want to deter teams? No chance at the postseason would certainly do that.
Shortly after Major League Baseball made the announcement, the Astros announced they had fired Hinch and Luhnow. Astros owner Jim Crane conducted a press conference saying a whole lot of nonsense, because truth be told, given what has all happened with this organization within the last year, I think he is culpable as well in all of this. Either way, the Astros will have new management in the club house and the front office. This is a bad look for baseball, and especially the Astros (and Red Sox once they receive their penalties…if any). Baseball wanted to put this to bed, but if there are more investigations and we find out more teams have been doing this, it's going to be a long time before baseball can get this resolved once and for all.
Kevin Stefanski named new Browns head coach
After that magnificent offensive performance Saturday against the San Francisco 49ers, you knew it was only a matter of time before Minnesota Vikings offensive coordinator Kevin Stefanski was named a head coach. Turns out it was a mere 12 hours or so. The Cleveland Browns hired Stefanski to be their new head coach Sunday morning. It's a move that shouldn't surprise anyone. Stefanski was a finalist for the job last year before ultimately the Browns gave the job to Freddie Kitchens. Maybe it would have turned out better if Stefanski was hired last year. Front office head honho Paul DePodesta is an analytics guy and wanted Stefanski last year, but was overruled. This year, he got his way. It may work out really well. Stefanski led a good Vikings offense this year, but at times they were lifeless and the offensive line wasn't very good. Guess what isn't good in Cleveland right now? The offensive line. Surely that will be addressed at some point. Again, this may turn out to be a good hire for the Browns, but in light of what the Vikings did on offense Saturday against the 49ers (and it wasn't much), this just seems like another bad hiring in a long list of bad moves made by the Browns since they came back into the league in 1999.
Coming up no later than Friday: AFC & NFC Championship game previews & predictions
---