"The Stack" 1-19-20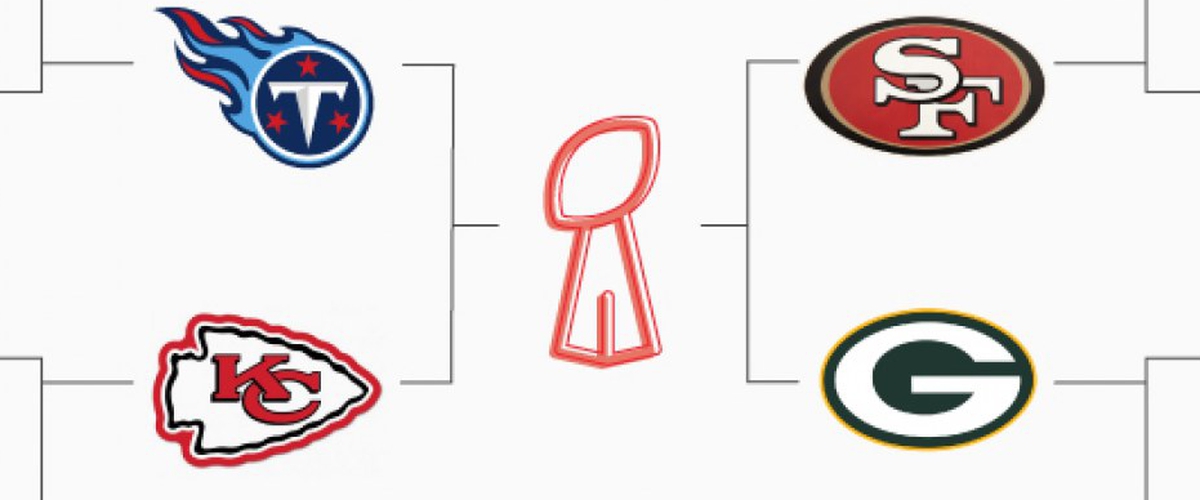 It's Championship Sunday in the NFL. Who will be playing in Super Bowl LIV in Miami? We will find out at the end of the day.
The Stack is back on this Sunday (why didn't you do a blog on Friday? I don't know. Get off my lawn) and it's Championship Sunday in the NFL. Who will be playing in Super Bowl LIV in Miami two weeks from today? We're about to find out plus some more thoughts on the sign stealing scandal in Major League Baseball so let's get right to "the stack" for today, Sunday, January 19th:
AFC Championship Game
#6 Tennessee Titans @ #2 Kansas City Chiefs 3:05 PM ET CBS
Derrick Henry has been carrying the Titans on his back during this postseason run. The NFL's leading rusher during the regular season has been killing it against the Patriots and Ravens. He can do it again against this Kansas City defense, a defense that will likely be without defensive lineman Chris Jones. That hurts. But this Chiefs offense is something the Titans haven't gone against in the playoffs thus far. The Chiefs erased a 24-0 deficit in minutes last week against Houston. While a 24-0 deficit against the Titans would be far more difficult to overcome, the Chiefs offense can score points in a hurry when the offense is rolling. As much as the Titans are going to play ball control, I don't think they have enough to stop this high powered Chiefs offense.
Prediction: Chiefs 31 Titans 21
NFC Championship Game
#2 Green Bay Packers @ #1 San Francisco 49ers 6:40 PM ET FOX
The Packers lost 37-8 to the 49ers in the regular season in San Francisco. The game was closer than the final score would indicate as the 49ers offense really didn't do much against the Packers defense. That was before rookie wide receiver Deebo Samuel really emerged. Tight end George Kittle is healthy. Running back Raheem Mostert is playing well and the defense is healthy. That's the big thing. If they can generate pressure on Aaron Rodgers with just their front four, the 49ers will win this game with ease. Well, they also need to stop Aaron Jones too. I just thing the 49ers are too talented.
Prediction: 49ers 31 Packers 14
Sign Stealing fallout continues in MLB
Nothing new on the sign stealing scandal that has rocked Major League Baseball this week. Major League Baseball was hoping this story would come and go after they released news on the penalties for the Houston Astros on Monday, the day of the National Championship game in college football. It's only getting worse and the voices are growing louder that something needs to be done to the players. Players like Jose Altuve are being accused of wearing an electric device like a buzzer. Video has once again surfaced of Altuve rounding third and heading home after the Astros beat the New York Yankees in the ALCS and he's clutching his jersey and can be heard something to the effect of, "Don't rip my jersey off." He says it is because his wife was embarrassed the last time his jersey was ripped off. What a crock of shit. Something was under that jersey that he didn't want us to see.
Players want these guys punished. Several pitchers have come out and said they would rather pitch to a guy using steroids than someone who knows what pitch is coming. Major League Baseball had said previously that no players would be punished, but with the growing rage and crowd thirsty for blood, they may have to reverse course. If Altuve did wear a device (which he has steadfastly denied doing), he has to punished severely. Like lifetime ban worthy? Potentially, but only if he were the only one who had been wearing a device. A season or two suspension is the far better option.
On the managerial front, Alex Cora is out as manager of the Boston Red Sox. Sounds like he was the major brains behind this whole sign stealing deal so he had to go. No penalties have been announced for the Red Sox yet, but they are coming. The New York Mets have fired manager Carlos Beltran since he too was on the Astros. No penalties are coming to the Mets though.
Some New York Yankees and Los Angeles Dodgers players think the Astros should be stripped of their World Series championship. That's not going to happen. They are also being mentioned as maybe cheating as well so that wouldn't be a good look for them. This thing is far from over. I will be curious to see what happens going forward.
Twins sign Donaldson
After swinging and missing on several big free agent pitchers during the offseason, you'll have to excuse Minnesota Twins fans for being down and frustrated with a team that doesn't spend much, but has a team that can win and do great things. This week brought a little bit of change to that though as the Twins signed slugger and third baseman Josh Donaldson to a four-year, $92 million deal that could be worth $100 million in the end. It's a huge contract dished out by the Twins and this guy is worth it. He's a great defensive player and his offensive numbers are impressive. The Twins can move Miguel Sano, who they just signed to a new deal as well, to first and let Donaldson play third. The Twins hit the most homeruns in baseball history last year. There's no reason to think that their offense is going to take a nosedive this year, especially with the addition of Donaldson. Now, if only he can pitch.
Coming up Monday: Reaction to the AFC & NFC Championship games
---