"The Stack" 1-27-20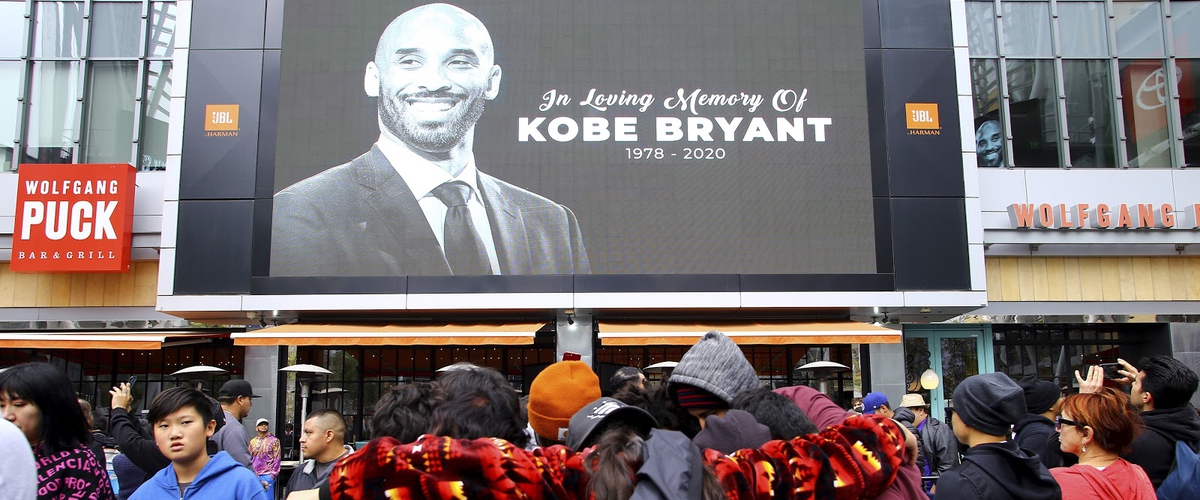 Kobe Bryant's unexpected death on Sunday has shocked the world, both sports and beyond. He was 41.
The Stack welcomes you on this Monday. A somber Monday. A somber Monday not just in the world of the sports, but the world, period. We should be talking about the Super Bowl that's this week between the San Francisco 49ers and Kansas City Chiefs. We will do that another day. Nine lives were cut short yesterday. Nine lives gone far too soon. I had something in mind for today, but have scrapped it. It can be said tomorrow or another day. Today's "the stack" is about Kobe Bryant and the awful tragedy that has befallen him, his daughter, the Bryant family and the other families of those who lost loved ones in the helicopter crash Sunday in the Los Angeles area.
Kobe Bryant and daughter Gianna among nine dead in a helicopter crash
I want to preface this and prepare you for what's to come. I'm not void of emotion. But what you are about to read is something you won't read anyplace else. I am in the minority (maybe the only one) who feels the way I do when I heard of Kobe Bryant's untimely death and the aftermath and tributes that have followed in the hours since.
First, let's state this for what it is: a tragedy. Nine lives were taken from us yesterday. It's not just the Bryant family that lost a father, husband, daughter, sister. It's the other seven lives and the families that have been impacted. It's the basketball world and all of the other lives that Kobe Bryant touched.
I don't like the NBA. I haven't been a fan for a very long time. I'm a big college basketball fan, but my love of basketball just doesn't transition to the pros. Maybe that is why I don't feel the pain or emotion that so many people felt yesterday or today. I've been an anti-Laker fan ever since Shaq left the Orlando Magic for Showtime and the Los Angeles Lakers. That doesn't help matters either. I also didn't like Bryant. There was something about his personality on the court that was very off-putting. He is without question one of the best players in NBA history. His talent was unquestionable. His 81 points scored against the Toronto Raptors in 2006…unforgettable. He did things that very few people on this earth cold do. He was a great player.
But when I think of Bryant, I also can't help but think of what happened in Colorado and the lives that were changed by that. That's a part of his history. I know he has grown since then, but he did something very inappropriate there, probably even criminal, and we will never really know what truly happened. I'm sorry, but that's part of his legacy so I can't get all caught up in the emotions of the tragedy of his passing without remembering that.
To me, Kobe's tragic and untimely death reminds me of Michael Jackson. Immediately after Jackson died, also unexpectedly if I remember correctly, the tributes that poured out, the gushing over Jackson and his music, it was almost overwhelming. And it was kind of like everyone forgot about Jackson dangling a baby over a balcony and the other nutty things that he did. When news of Kobe's death came up, it was the same sort of thing. And not one time did I hear Sunday (and maybe it was said and I just didn't hear it) about the Colorado case. There is a time and a place, but that has to at least be mentioned briefly somewhere.
I try to not be a glass half-empty guy, but that is in part what I thought of on Sunday. What also angered me were the cries to cancel the games scheduled for Sunday. If Kobe were an active player, it would have been different, but he was retired. I get the circumstances are incredibly difficult and he was incredibly young, but if they weren't going to cancel games when David Stern passed away (and he did more for the NBA than Kobe did and I am not a Stern fan so for me to say this says something), I didn't think it was appropriate to say that the NBA should cancel games on account of Bryant's death. Everyone dies. I'm not trying to be cold-hearted, but this is a fact. Would people be asking this to happen when Bill Russell passes away or Kareem? I'm not sure they would. It has to be because of the age and the unexpectedness of what happened. For me, I just didn't find it appropriate.
I get that many of you reading this are probably mad at me and don't think I have any clue what I'm talking about. I wondered when I went to bad last night if I would wake up and feel any different today than what I did yesterday. I do feel a little different. I really liked what Rebecca Lobo and others said about Bryant's love for women's basketball and the coaching that he did with his daughter's team. That is the Bryant I like and wish I could continue to know more about and know more of. His daughter was going to be a special basketball player. Carry on the Black Mamba's legacy. That unfortunately will never happen. Everyone is entitled to feel differently and grieve the way they need to. I am not here to cast judgement on that.
Again, this is an incredibly tragic situation. I feel terrible for Bryant's wife and his three daughters. I feel terrible for the other families of the members who passed away. I feel terrible that his daughter , Gianna, has passed away. I feel like a broken record saying this as many times as I have. To everyone out there who is feeling down today, I'm sorry. Kobe's impact on so many lives, both for the game and outside of the game will not be forgotten. Maybe one day I will get there myself, but I'm not there today. That still will never take away how tragic Sunday was and how awful it is that nine lives are no longer with us on this Monday. Rest in peace Black Mamba. Rest in peace Gianna. Rest in peace everyone.
Coming up Tuesday: A look back at the other big stories from last week plus any other major headlines from today.
---