"The Stack" 1-8-20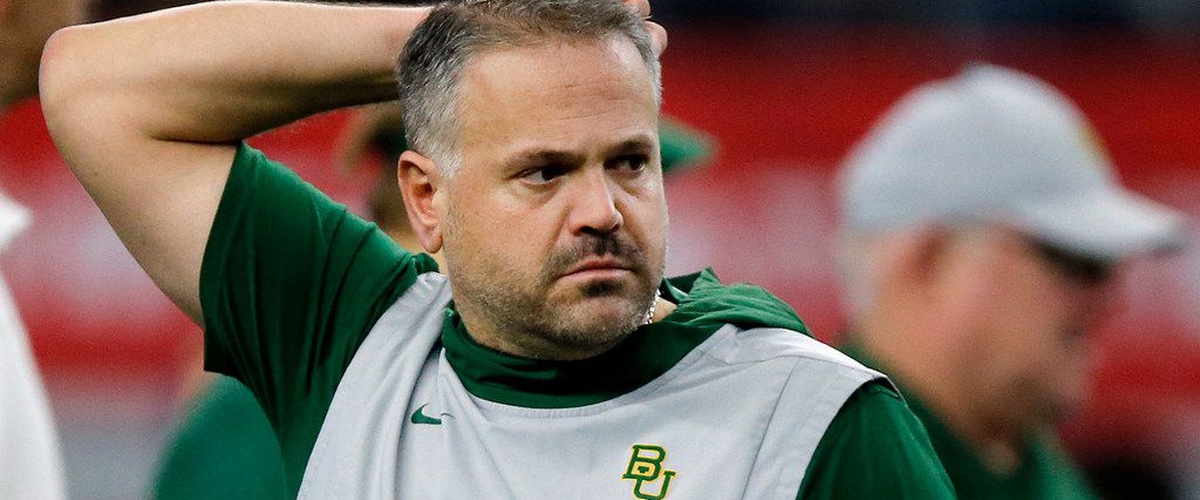 Matt Rhule is the new head coach of the Carolina Panthers. Baylor's head coach is leaving the college ranks for the pros and will receive a seven-year, $60 million deal with a chance to make up to $70 million in incentives.
The Stack is back on this Wednesday with some football news on the coaching front and also a decision that affects the NFL Draft. We'll get right to "the stack" for today, Wednesday, January 8th:
Matt Rhule hired as Panthers head coach
Carolina Panthers owner David Tepper has put his stamp on the franchise and in doing so has raised a lot of eyebrows not with who he hired as the team's new head coach, but the contract that was given out. The Panthers on Tuesday hired Baylor's Matt Rhule to be the team's next head coach. The deal is seven years for $60 million with incentives that can reach up to $70 million. That is unheard of for a coach outside of Oakland's Jon Gruden. Rhule was a sought after candidate and just a week ago said that his intention was to stay at Baylor. We can all say stuff like that, but when $60 million with a chance to make an additional $10 million is offered, it's hard to say no. Rhule turned a Baylor program that was near death after all of the scandals under Art Briles into an 11-3 team this year, losing in the Sugar Bowl. They were 1-11 a couple of years ago. Rhule also was targeted by the New York Giants (more on them in a moment). This is a high profile pick for the Panthers and for Tepper. Rhule will be given plenty of time. We'll see if he can live up to the pressure and the money.
Joe Judge hired as Giants head coach
All rise! An unknown candidate to just about everyone, the New York Giants hired New England Patriots wide receiver coach Joe Judge to be their new head coach. After Rhule took the Panthers job, the Giants acted quickly. There was the thought that the Giants would go after Jason Garrett, who is no longer the head coach of the Dallas Cowboys, but Judge apparently wowed them enough in his interview with the team that they began contract negotiations soon after. Judge had also been a special teams coordinator with the Patriots. He has worked under both Bill Belichick and Alabama's Nick Saban. Special team's coordinators are good hires such as John Harbaugh with the Baltimore Ravens. While this is still a bit of a puzzling move, the Giants saw something and we'll see if the Judge can deliver.
Tua declares for the NFL Draft
On Monday, Alabama quarterback Tua Tagovailoa announced during Nick Saban's press conference that he was declaring for the NFL Draft. This is the smart decision. Tua suffered a gruesome hip injury November 16th and his recovery time will take him long into next season. If the doctors can provide NFL teams with good news on his progress, and I anticipate they will and there won't be any long-term effects, Tua will be the second quarterback taken in April's draft, only behind LSU's Joe Burrow. Tua is a great quarterback who will succeed at the NFL level. I can't see him falling past pick five where the Miami Dolphins are at. A team will need to trade up to get him before they do. Maybe the Detroit Lions at three (I heard this one from a friend). It's a possibility. Bottom line, if you're going to be in rehab, make some money while you are doing it and that is what Tua will be doing. Good decision, even it if was a tough one.
Coming up Friday: NFL Divisional Playoff previews & predictions
---